Birther Queen Orly Taitz Explains to Judge: She Is Pretty Much Thurgood Marshall, Yo
News
January 05, 2013 11:37 AM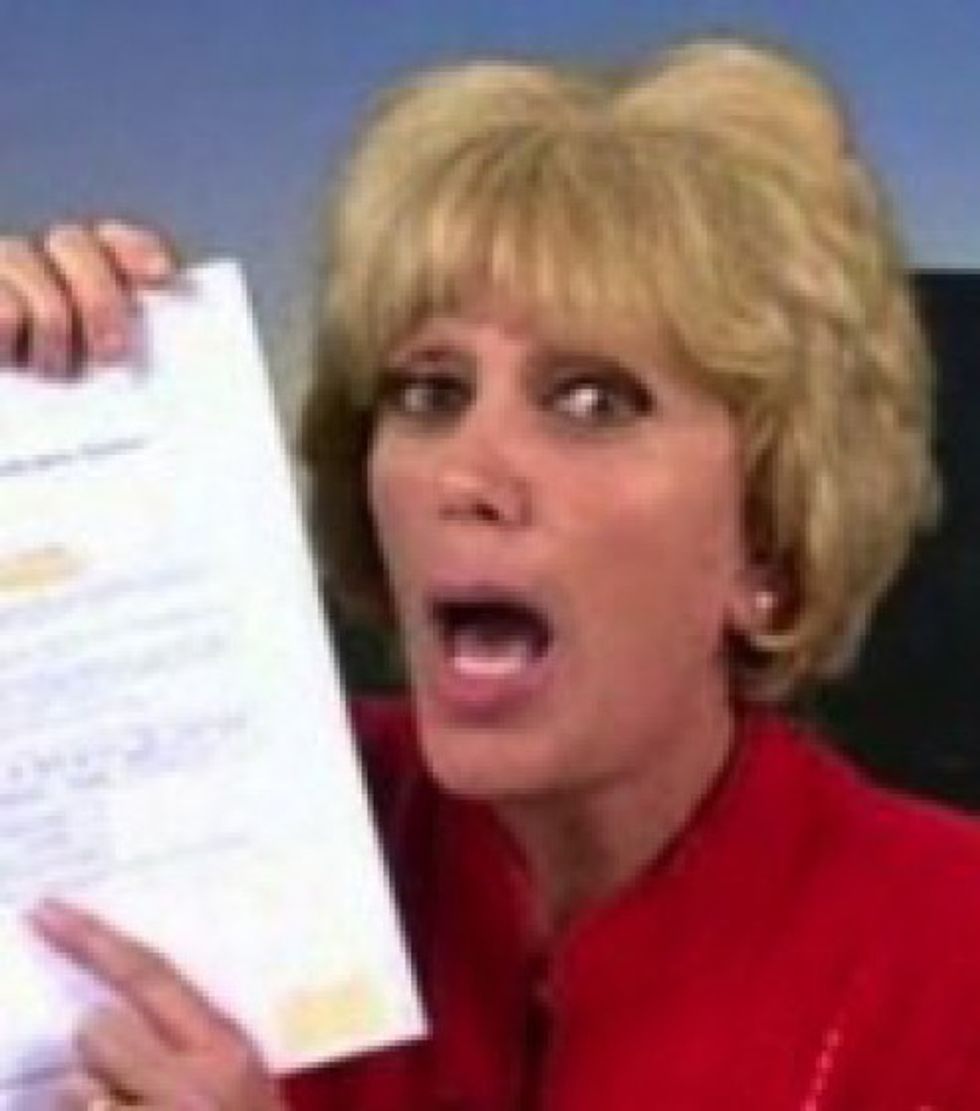 Help! We are having trouble keeping track of all the crazy shit that weird melted plastic creature lawyer Orly Taitz has done. We need some sort of Orly Taitz tracker, or day planner, or iPhone app.Just last month, she lawsplained to us all that if a judge won't force a private college to reveal The One's transcripts, we are all living in Nazi Germany. Six months before that, she ran for Senate in California and released an amazing clip art YouTube horrorshow of a campaign video. She has filed lawsuit after lawsuit after lawsuit (oh, for fuck's sake, use the Google. We're not going to embed that many hotlinks back to Wonkette) with levels of insane ranging from epic to batshit. And the hits just keep on coming:
---
The 52-year-old lawyer-dentist-real estate agent from Laguna Niguel brought her years-long battle to oust Barack Obama from the presidency to a federal courtroom Thursday in Sacramento.

Her appearance was part of a last-minute bid to stop the counting of electoral college votes in Washington, D.C., that will pave the way for the president's second inauguration Jan. 21.

She failed. Again.
We know, we know, gentle readers, that there's nothing particularly crazy about this yet. Well, it would be crazy for yr Wonkette or a (hopefully) decent-sized chunk of our commentariat to decide to stop electoral vote counting, but it is pretty low-level nonsense for the best-looking birther. Confession time: we are totally burying the lede here because sometimes you have to build up to the very bestest parts.
First, there was the utterly delightful part of the hearing where the judge
argued with her for an hour
and told her "Your argument, it doesn't make any sense whatsoever." Judge whoever you are, we love you so hard right now. THEN there was the beautiful moment where the judge
asked her
(in our Orly Taitz fanfic, this judge part is spoken in a sort of breathless, pleading exasperation) "Why do you keep filing these lawsuits when they keep getting rejected?" In response, there was, perhaps, the best statement by a dentistlawyer in
Law and Order: Special Birther Division
history:
Taitz responded by comparing herself to Thurgood Marshall and his persistence in filing suits to fight segregation. She explained that one of the plaintiffs is a Republican elector for Mitt Romney, who came in second to Obama in November.
You know what? We got nothing. Reality has exceeded parody by SO FUCKING FAR now that the Editrix can likely get rid of us all, as Orly Taitz' mere existence will provide enough material forever and ever.
[SacBee]