Birther Who Described Orly Taitz's Sex Parts Sells Nude Painting of Her
News
April 13, 2011 02:35 PM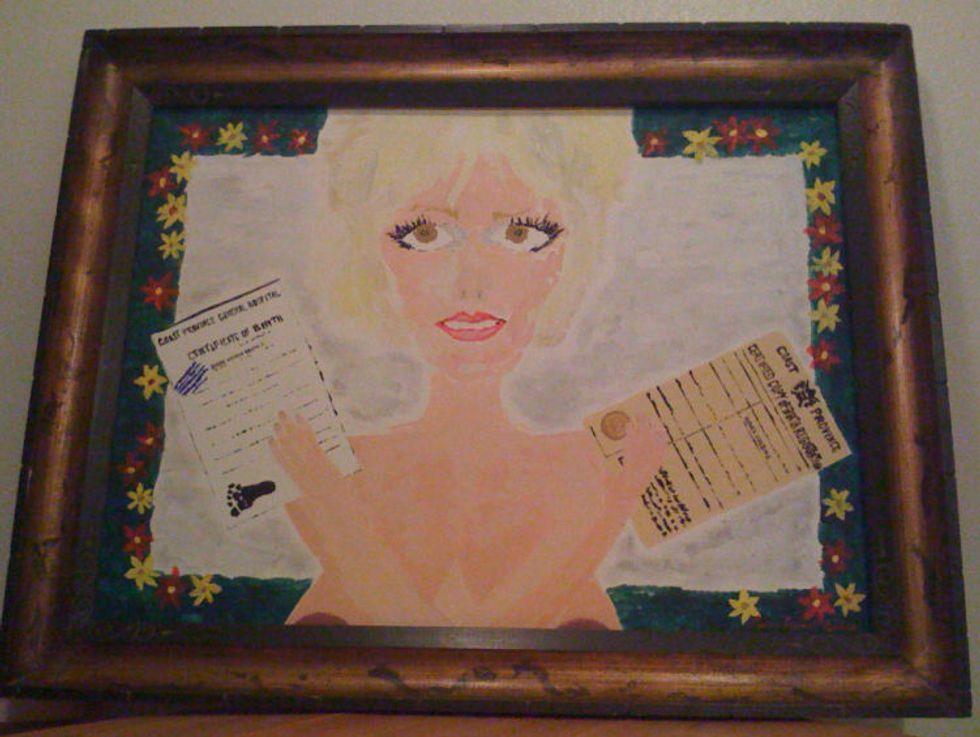 In an effort to keep yourself from vomiting, you should probably close your eyes as you read this post. Birther Lucas Smith, whowas last seen in an affidavit claiming Orly Taitz asked him to perjure himself and also recounting another birther guy's claims about the narrowness and viscosity of her womanly passages when she was having an extramarital affair with him, has painted and sold a nude portrait entitled "Orly Taitz and her Exhibits," a seminal work for one lucky eBayer's seminal fluid. Oh, are you still not vomiting? Let us repeat a sentence from that affidavit: "Orly's better in bed than 99% of the much younger girls I've ever met: you name it, hotter, hornier, wetter, tighter, more of a nympho than I've ever met." There you are.
---
Oh, but Smith had a very special experience with Taitz himself!
We left the restaurant and walked to her home which was nearby. I was looking forward to hearing all about Barack Hussein Obama"s birth in Kenya.

As we entered her home she asked me to please take a seat. She walked into the bathroom, left the door open, and to my astonishment she began to disrobe. She then called me into the bathroom. I entered and started telling her that I was a married man and that I was only interested in hearing more about Barack Hussein Obama's birthplace in Kenya. She then striped herself of her under garments, told me to wait for her, and gracefully stepped into the shower. I then stepped out of the bathroom and took my seat in the other room again. I really didn't know what to do. I wanted to get her story but I wasn't prepared to trade my body for her account of Barack Hussein Obama's nativity story.
And that's the inspiration for this painting? We can only assume, because we are already covered in vomit and don't care to read more. But, oh, what's the worst that could—
She sat very close tome. She took my hand and placed it on her purple-black bare chest.
WHAT THE FUCK? WHAT THE FUCK? IS SHE A VELOCIRAPTOR OR SOME SHIT?
Anyway, the painting went for $350. And part of that is going to some good causes:
7.5 % of the total net profit from this auction will be donated to attorney Orly Taitz. She is welcome to use the money in a manner that she deems appropriate and responsible (e.g., cover costly expenditures such a litigation costs, court fines, work related travel and other bills).

Another 7.5 %, equal to the 7.5 % that will be donated to Orly Taitz, of the total net profit from this auction, will be donated to Lieutenant Colonel Terry Lakin or designee that is authorized to accept donations on his behalf.