Blagojevich Spends His 'Trial Eve' Making Playtime
News
June 03, 2010 09:33 AM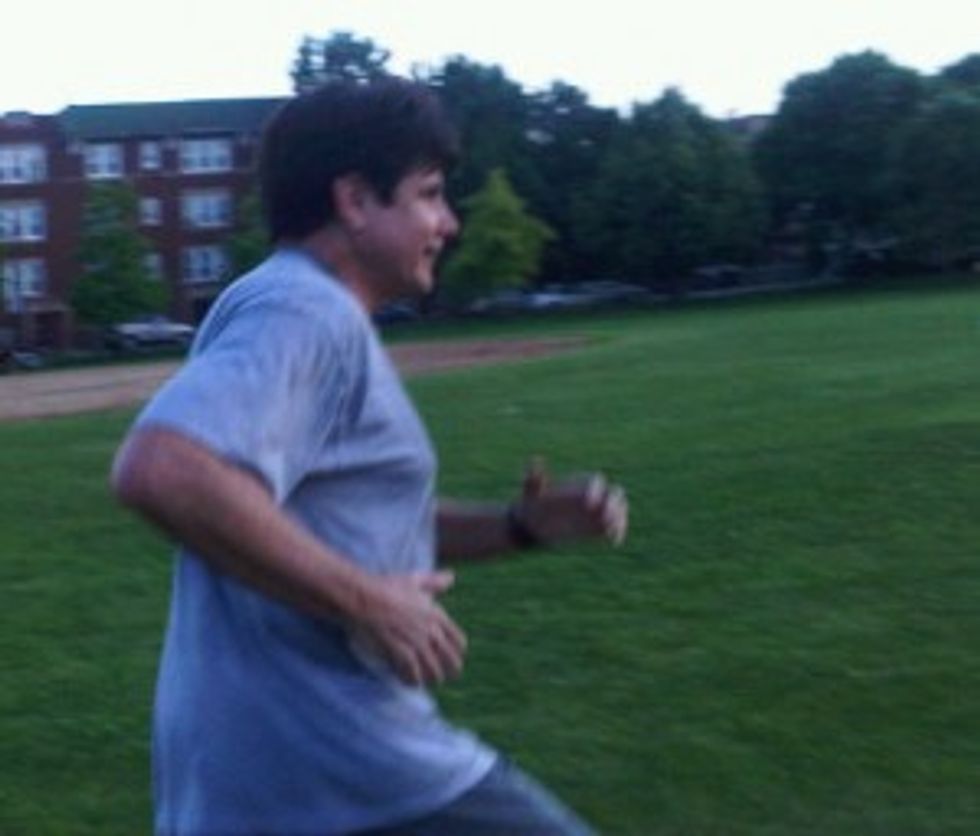 It's an important day in world history:the kick-off of Rod Blagojevich's Effing Golden, Parachute-Me-There Courtroom Circus Spectacular. So how does one go about mentally preparing for the stress of facing 24 federal criminal counts? Maybe a nice jog through the mean streets, or some kickball?
---
For Illinois's most extraordinary "Champion for Ordinary People," the answer lay in an evening run, during which he consoled Mary Magdalene and a few weeping gang members as he made his way down the tough streets of Chicago. He also stopped by a neighborhood park and indulged in a little kickball action, proving once again his commitment to serving the People of Illinois with balls.
Marcus Gilmer, editor of the online newspaper Chicagoist, was embedded at Winnemac Park in Chicago's north side when he witnessed the unexpected Blago sighting:
The participants hollered at Blago to come back and try a kick and take a picture. Never one to say no to a camera, he obliged. But how did he do kicking? We'll never know: just as the ball approached home plate, he took off, still jogging jogging jogging towards freedom, proclaiming he had to get home for "very important appointments" ....
Gilmer speculates that the People's Governor wanted to go home and watch his Blackhawks defeat the Philadelphians in "The Stanley Cup Finals," a good vs. evil morality play-on-ice that is similar to Blagojevich's own story. But another witness on the scene said that Blago talked about reviewing his list of people he still has to subpoena, which includes everyone he has ever met plus Bo Obama the dog. [Chicagoist]