Bless This InfoWars Idiot's Fucking Heart, As He Just Found Out Hitler NEVER DIED!
News
November 02, 2017 04:50 PM
Alex Jones's Mini-Me
---
Meet Owen Shroyer, a young InfoWars dipshit who guest-hosted the Alex Jones program on Thursday, we guess because Jones was off getting his nipples waxed with molten Texas barbecue sauce. Usually, Shroyer is a man-on-the-street type "reporter," out there doing the thankless work of stickin' it to the liberals day in and day out. But not today! He's sittin' in the big chair like the big boy he is.
Young Master Shroyer opened the show by explaining he is upset about the LIES. The Las Vegas massacre was a false flag and JFK never even existed and also, did you know Adolf Hitler is still alive? It's true! He's eating a late brunch right now and then he's going to watch Netflix, because EXTREMELY OLD PEOPLE LIKE HITLER get to do whatever they want all day, like hipsters.
Passing the mic to Shroyer:
Welcome in to The Alex Jones Show folks. It's amazing, here we are, so much news and the news is so big and the news is so frequent that the biggest news every day becomes a back-page story the next day. The Las Vegas massacre cover-up, nothing. The JFK files being declassified, Hitler still alive. All the history textbooks lied to us. I was lied to my entire life about JFK, knowingly, by my government. I was lied to my entire life about Hitler, knowingly, by my government. And that's just a nonstory now because you've got another radical truck running people down in the streets.
We ... what ... huh?
OK, we get where this is coming from. Conspiracy theory idiots whose brains are entirely made of the shrapnel of exploded dildos are OUTRAGED over a piece of the JFK files that says the CIA at least looked into rumors that Hitler was alive in Argentina back in the 1950s, even though he totally suicided himself in 1945. But we didn't realize they also believed that, after not dying, Hitler went on to become the world's oldest man, a spry whippersnapper at 128 years old. Wouldn't he have probably keeled over, at the very latest, sometime during the Reagan administration?
But maybe they are right! Maybe the US government is hiding how Hitler has the world's oldest balls and is living in Argentina or Albuquerque right now! Maybe he is one of those demon goblins who dresses up as a drag queen and reads The Poky Little Puppy to kids! MAYBE HITLER IS NEXT DOOR TO THE INFOWARS STUDIOS RIGHT NOW, PEEPING THROUGH THE WINDOWS AT OWEN SHROYER'S FANNY LIKE A COMMON GLADYS KRAVITZ.
If that is the case, then The Googles are in on the conspiracy too, because look what happens when you Google "Hitler alive":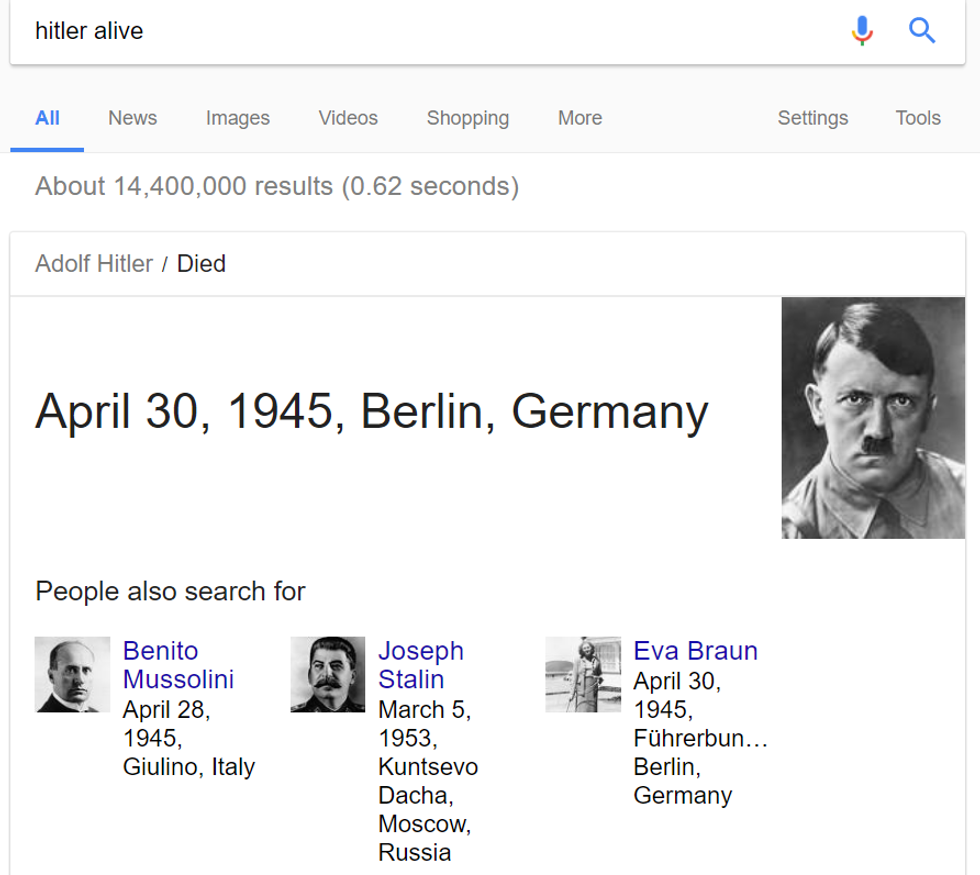 In a just world, the first link would go to truth teller and sane person Alex Jones.
Oh well. Maybe Donald Trump will appoint a special counsel (Sean Hannity) to look into whether Hitler helped Hillary Clinton do uranium sexxxes to Russia. Trump does think the Alex Jones show is "news," after all.
Tell us all the places you've spotted Hitler recently (Big Lots probably) in the comments of this, your open thread.
Follow Evan Hurst on Twitter RIGHT HERE.
Wonkette salaries, servers, and all of the things are fully funded by readers like you! If you love us, click here to fund us!
Evan Hurst
Evan Hurst is the senior editor of Wonkette, which means he is the boss of you, unless you are Rebecca, who is boss of him. His dog Lula is judging you right now.
Follow him on Twitter RIGHT HERE.