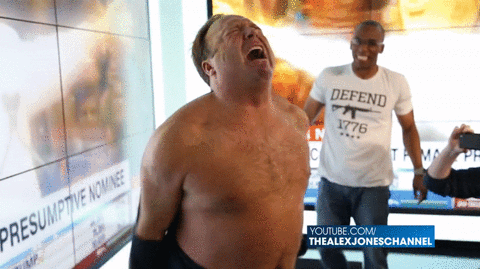 Giphy
Today Alex Jones's second Sandy Hook defamation trial gets underway in Waterbury, Connecticut. The first trial was wild, culminating in this infamous moment where the plaintiffs' attorney Mark Bankston confronted Jones on the witness stand with the fact that Jones's genius lawyers had managed to put a digital copy of his phone in a shared evidence Dropbox folder, and when confronted with the fact, had failed to do anything to get it back.
\u201cAttorney Mark Bankston told #AlexJones that his attorney messed up and sent him Jones' entire cell phone history. "Did you know that your lawyers messed up and sent me your entire cell phone texting history 12 days ago?" Bankston asked. "You know what perjury is right?"\u201d

— Law&Crime Network (@Law&Crime Network) 1659546909
The lawyers are now facing sanctions motions in both Texas and Connecticut for failing to protect the Sandy Hook plaintiffs' medical records, which were somehow on Jones's device. As was a naked photograph of Jones's current wife, Erika Wulff Jones, which Jones forwarded to Roger Stone. Which is disgusting, but perhaps not surprising in light of his long history of gross misogyny.
Rolling Stone's Adam Rawnsley and Asawin Suebsaeng have a story out today on some of the other texts from Jones's phone, and SPOILER ALERT, they are disgusting. Jones reportedly spent years surveilling both his current wife and his ex-wife Kelly Jones using both digital tools and in-person spies.
---
The texts reveal Alex Jones had enlisted Tim Enlow, a former Blackwater mercenary on his security detail, to track his wife. In the texts, Alex Jones would repeatedly check in for updates on Wullff Jones' location. Enlow's responses included screenshots of a GPS phone app that he said was tracking her car, as well as Enlow's own descriptions of her physical location, according to the source.
Jones's custody dispute with Kelly Jones after their 2013 divorce has been terribly ugly, with Jones losing custody of the couple's three children in a dramatic jury trial back in 2017. (Texas has jury trials in custody disputes? What???) After another courtroom battle in 2021, Jones paid for a helicopter to fly menacingly over her house.
And apparently he's had her under constant surveillance for years.
The texts describe extensive surveillance during his multi-year custody battle with his ex-wife Kelly Jones — including information on her activities and whereabouts, three people familiar with the matter tell Rolling Stone. One of the sources says the pundit's ex-wife was being monitored by a ragtag "spy ring" of human intelligence.
"Alex is obsessed with me, has had me followed for years, has done everything to infringe on my liberties and personal freedom to impose himself into my life," Kelly Jones told Rolling Stone. "My life is a gauntlet of waiting for his next nefarious or disingenuous or overtly threatening move. I'm not surprised to find out that he's engaged in this activity. I would really like to find out the extent to which this has occurred, [and] if it's even legal."
The whole thing is filthy, and, as Rawnsley and Suebsaeng point out, more than a little ironic from someone who makes his living flogging conspiracies about government plots to infringe on Americans' civil liberties and erect a police surveillance state.
Follow Liz Dye on Twitter!

Click the widget to keep your Wonkette ad-free and feisty. And if you're ordering from Amazon, use this link, because reasons.
Liz Dye
Liz Dye lives in Baltimore with her wonderful husband and a houseful of teenagers. When she isn't being mad about a thing on the internet, she's hiding in plain sight in the carpool line. She's the one wearing yoga pants glaring at her phone.