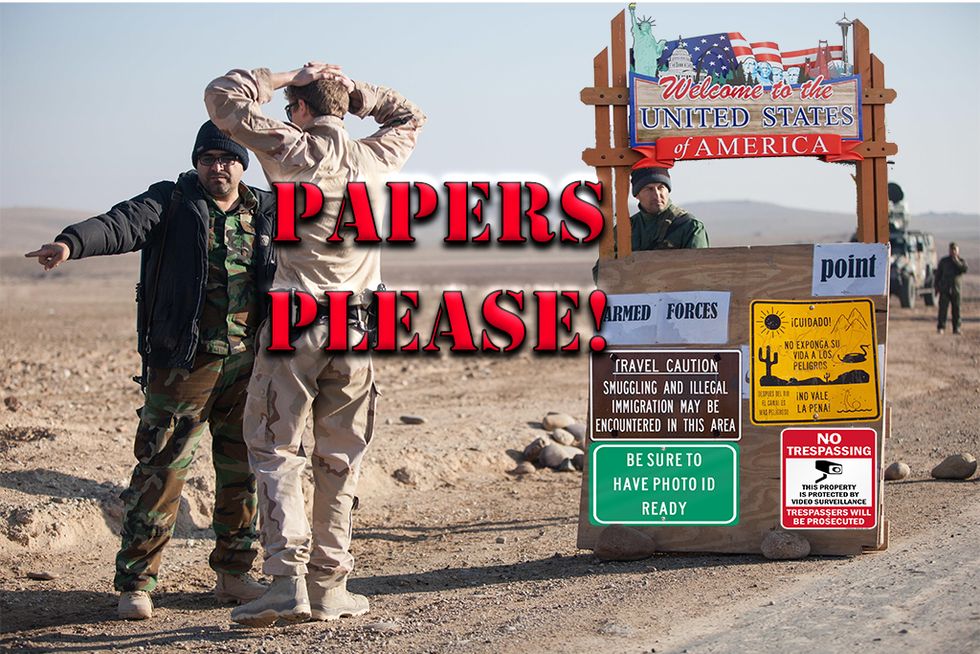 Morning Wonketariat! If you're in DENVER, we will see you TONIGHT! Wynkoop Brewing, 1634 18th St., 6-8 p.m. We will buy you beer and appetizers! Now here's some of the things we may be talking about today.
---
Robert Mueller told whatever's left of Trump's legal team that Trump is still under investigation, but he's not a criminal target (yet), adding that he'd like to interview the president, and that he's preparing a report on potential obstruction of justice.
Despite the Trump administration's attempts to kill healthcare for millions of Americans, the Centers for Medicare and Medicaid Services is reporting 11.8 million Americans signed up for ACA health insurance plans. Thanks (again), Obama!
Since Mexico and the Democrats won't pay for his wall, Trump wants to station US troops along the Mexican border. Maybe he's not aware that we still have soldiers in actual war zones surviving on a diet of cheap energy drinks and Cliff Bars.
A shooting at Youtube's San Bruno, California, headquarters left three injured. The shooter, who has been described as a disgruntled Youtuber by her father, apparently took her own life. This morning there is criticism from medical professionals and some of the biggest names in tech about a lack of gun control.
Trump is still mad Democrats got money in the budget, so Republicans want to use an obscure budgetary procedure to cut funding from the omnibus bill they just approved.
More people are calling for Scott Pruitt to be "You're Fired," and Trump is just pissed that Pruitt is occupying prime real estate on the front pages.
The rank and file really don't want to go through more confirmation hearings, but Mitch McConnell is threatening to lock the doors and steam roll low-level appointments to the administration.
Bookmark this infographic that shows every Trump official who's been quit-fired, "You're Fired," and retired.
In a dissenting opinion, Supreme Court Justice Sonia Sotomayor noted that a decision in a case involving an Arizona woman shot outside her home in 2010 sends a signal to the public that the police can "shoot first and think later."
The John Bolton Super PAC has spent millions of dollars and several years supporting war-hawks and running ads to make Mr. Mustache seem like a normal human being.
Fresh out of ideas, Republicans up for reelection are running against Nancy Pelosi and her vagenda, leading many Democrats in contentious House races to essentially say, "Fuck it."
The Congressional Leadership Fund raised $15 million in the first quarter of 2018, and they plan to use all that money to spread Paul Ryan's poor-fucking agenda.
Rep. Beto O'Rourke hauled in $6.7 million in the last quarter, more than any Democrat running for the Senate. Even more awesome is 141,000 donations totaled $50 or less.
Michael Grimm, the ex-con running for his old House seat in New York, swears he didn't tell someone to file an anonymous tip with the Office of Congressional Ethics and trigger an ethics investigation.
Kentucky Congressional candidate and former fighter pilot Amy McGrath is kicking ass in Kentucky, centering her campaign around economic and manufacturing issues with rural voters.
GOOD NEWS EVERYONE! Wisconsin has a new state Supreme Court Judge in Democrat Rebecca Dallet by a margin of 56 to 44, AND voters shot down a measure to abolish the state treasurer. The outcome of the race caused Walker to warn fellow Republicans of a Blue Wave.
Colorado Republicans are protecting pervy Republican state Senator Randy Baumgardner against "credible" allegations that he's been grabbing bums and sexually harassing women at the state Capitol.
Minnesota is joining 17 other states and seven cities in suing the Trump administration for including citizenship questions on the 2020 census. [Archive]
Alex Jones is being sued (AGAIN) for claiming a random guy from Massachusetts was the Parkland shooter, identifying him as a "commie" who "supported ISIS."
A Maryland man is telling police that he only shot his pregnant girlfriend in the head because he was worried he might have buried her alive...
During a meeting with leaders from the Baltic states, Trump mocked the US press and boasted about how tough he is on Russia. This led to an awkward moment of silence with the former Soviet states that currently live in actual fear of a Russian invasion.
China announced tariffs on 106 US products, including cars, soybeans and airplanes, after the Trump administration decided to slap tariffs on a range of Chinese goods from electronics to aerospace, phones, shoes and furniture. Market analysts are predicting a full scale trade war.
The New York Times is agonizing over how to deal with the Youths who want to wake up the Old Grey Lady, and the assumption that the general public understands the difference between a reporter and an op-ed writer.
Journalists working at stations owned by Sinclair are worried that corporate is spying on them after noticing a provision in the employee handbook that reads, "To be very clear: you should not have any expectation of personal privacy in any communication using Company owned equipment."
The Pentagon will release comments and a revised "request for proposal" for its multibillion-dollar cloud computing contract that favored Amazon...until Trump opened his mouth.
As Silicon Valley finds Mark Zuckerberg more toxic and unlikeable, this morning the House Commerce panel has announced Zuckerberg will testify on April 11. 
Martin Luther King Jr was assassinated on this day in 1968. Instead of giving you a bunch of stories, here are photos of people mourning the loss of a civil rights icon, and his Letter From A Birmingham Jail.
And here's your morning Nice Time! Rescued cougar cubs!
Freedom isn't free, but Yr Wonkette is! Throw us some Ameros so things stay that way!
Dominic Gwinn
Dominic is a broke journalist in Chicago. You can find him in a dirty bar talking to weirdos, or in a gutter taking photos.