Busted Running An International Pedophile Ring? Better Call Labor Secretary Alex Acosta!
Trump
February 22, 2019 10:46 AM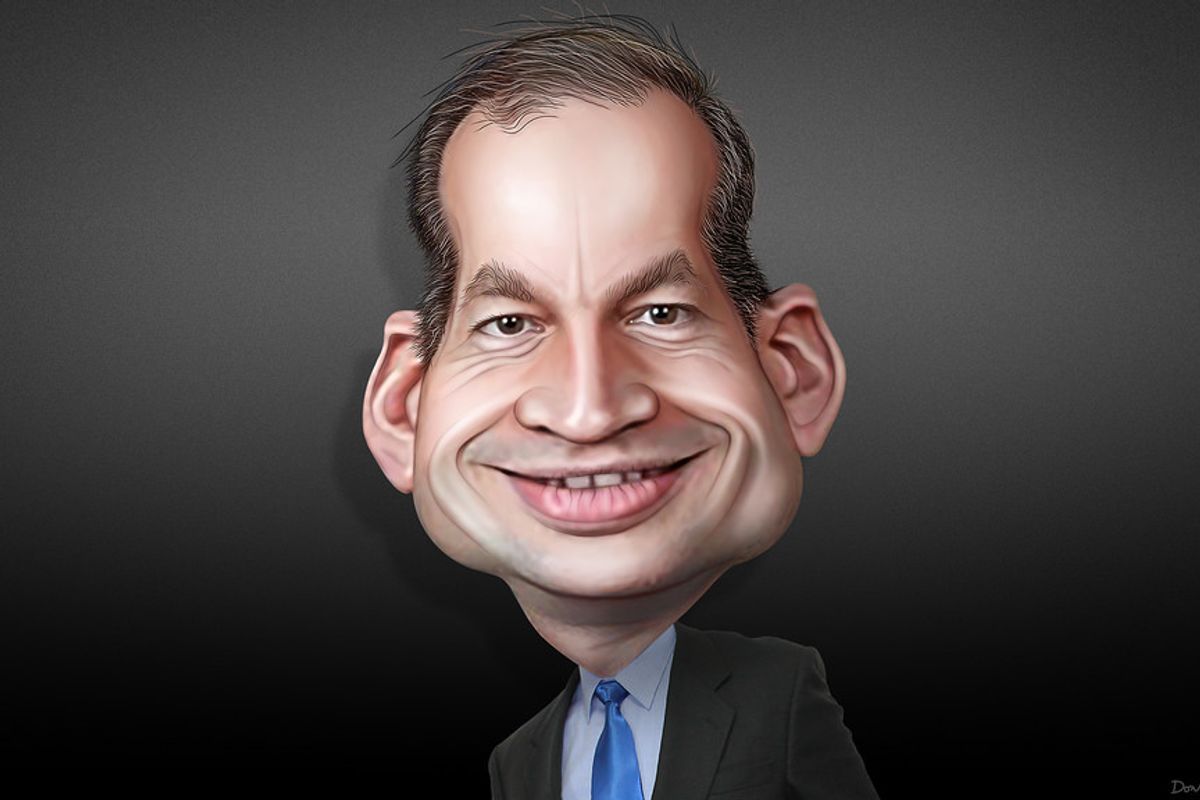 Everything is horrible all the time. The stench of corruption pervades, and the miasma rising off the Trump swamp threatens to blot out the sun daily. None of this is news, but yesterday's federal ruling implicating Labor Secretary Alexander Acosta in the coverup of serial pedophile Jeffery Epstein's crimes is a useful barometer of just how far we've fallen as a country. In any other administration, Acosta's involvement in 2008 as US Attorney for the Southern District of Florida in an active effort to bury the Epstein prosecution in state court would have kept him out of the Cabinet. As the victims' case alleging prosecutorial misconduct proceeded, a rational Justice Department would have tapped Acosta on the shoulder months ago to say, "Alex, you really gotta go." Instead, the sitting Labor Secretary was named yesterday in a federal judge's order finding that his office illegally hid details from the minor victims of a pedophile ring in violation of the Crime Victims' Rights Act. It's too glib to say that this is a bad look, but ... this is a really bad look.
---
The facts in this sad case are not in dispute. Between 1999 and 2007, billionaire Jeffery Epstein had sexual contact with over 30 minor girls at his home in Florida and supplied these girls to his guests for sexual contact. He brought girls in from other states, and took girls across state lines for sex, which makes his conduct both a federal and a state crime. In 2005, local police in Palm Beach received a report from parents of a 14-year-old victim, who led them to 20 other girls who had been victimized by Epstein. The Palm Beach police referred the case to federal authorities in 2006, and in 2007 Acosta's office entered into plea negotiations with Epstein and began to send letters to the known victims as required by the Crime Victims' Rights Act. Epstein's attorneys, including that Ken Starr, objected to the girls being told about the plea negotiations, and federal prosecutors eventually agreed to participate in a scheme to hide the federal Non-Prosecution Agreement from the victims.
After some extremely dubious negotiations involving emails sent to personal accounts and "off campus" meetings, Acosta's office entered into a Non-Prosecution Agreement with the predatory billionaire on September 24, 2007, allowing him to avoid federal prosecution by pleading guilty in state court to solicitation of prostitution and setting up a compensation fund for his victims. In violation of the CVRA, prosecutors didn't tell the girls about Epstein's sentencing date, which would have allowed them to appear in court to contest the deal, and they actively pretended to be continuing their investigation.
On January 10, 2008, Jane Doe 1 and Jane Doe 2 were sent victim notification letters from the FBI advising them that "[t]his case is currently under investigation. This can be a lengthy process and we request your continued patience while we conduct a thorough investigation." The January 10, 2008 notification letters did not disclose that the Jane Doe 1 and Jane Doe 2 case in the Southern District of Florida was the subject of the NPA entered into by Epstein and the Office, or that there had been any potentially binding resolution. Other victims received the same letters as sent to Jane Doe 1 and Jane Doe 2. [Citations omitted.]
Acosta's office agreed that there would be only two copies of the NPA -- "The other will be placed in the case file, which will be kept confidential since it also contains identifying information about the girls" -- and they would only divulge it if forced to in a FOIA suit. In fact, Acosta himself met with Epstein's attorney Jay Lefkowitz in October of 2007 to reassure him that his client's legal troubles were coming to an end.
U.S. Attorney Acosta then met with Lefkowitz for breakfast and Lefkowitz followed up with a letter stating, "I also want to thank you for the commitment you made to me during our October 12 meeting in which you . . . assured me that your Office would not . . . contact any of the identified individuals, potential witnesses, or potential civil claimants and their respective counsel in this matter."
So, yeah, safe to say he was in the loop.
Yesterday, Judge Kenneth Marra of the Southern District of Florida ruled that the US Attorney's Office violated the then-minor victims' rights under the Crime Victims Rights Act in 2007 and 2008. They have been suing to get access to this Non-Prosecution Agreement this entire time. Which is ELEVEN FUCKING YEARS, according to our watch. And if you're thinking, "Wow, that shit sounds wildly unethical and illegal!" you would be correct. These girls had a right to be informed of the plea and sentencing negotiations, and Acosta's prosecutors bent over backwards for a wealthy, politically connected mega-donor to make his legal problems go away quietly. Mister Secretary needs to call his lawyer. And also ...
Alex Acosta needs to GET THE FUCK OUT, YESTERDAY.
[Doe 1 and Doe 2 v. US / Miami Herald]
Follow your FDF on Twitter!

Everything is awful all the time. Please help your Wonkette make things a little less horrible!
Liz Dye
Liz Dye lives in Baltimore with her wonderful husband and a houseful of teenagers. When she isn't being mad about a thing on the internet, she's hiding in plain sight in the carpool line. She's the one wearing yoga pants glaring at her phone.