Buy Almost Nothing Today Except For Our Family-Owned Small-Business Jazzy Funtimes Politicks Stuff!
Elections
November 25, 2016 10:28 AM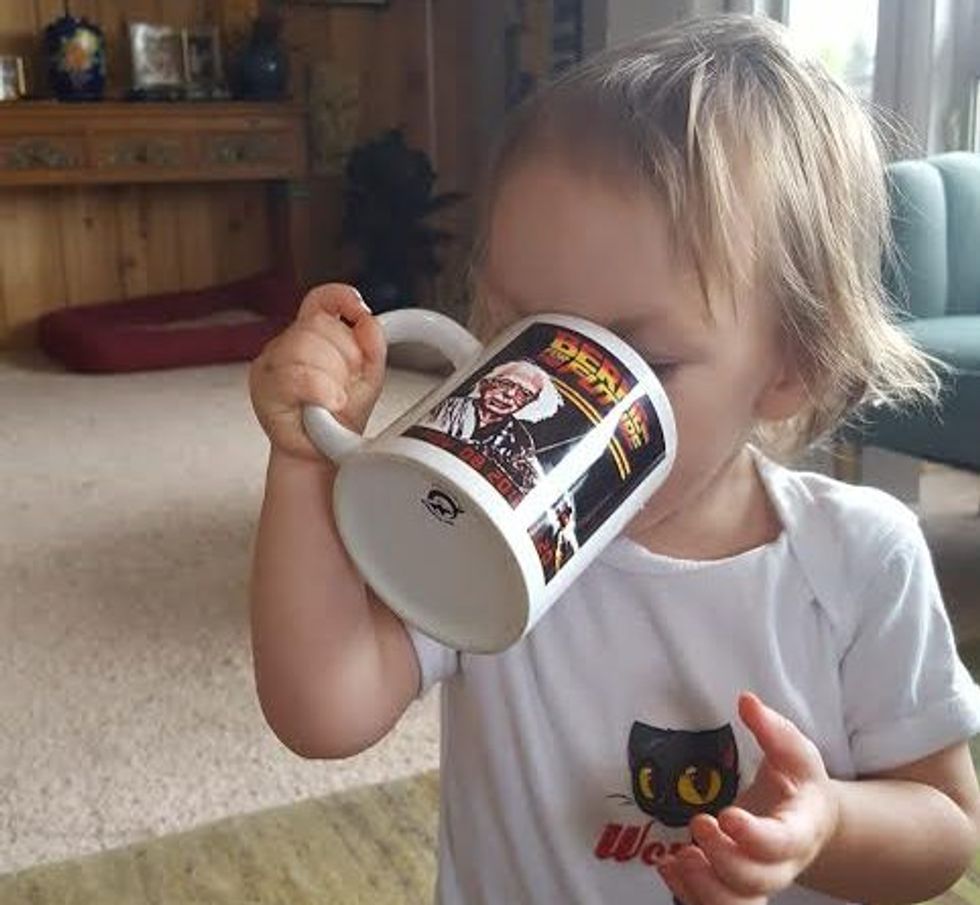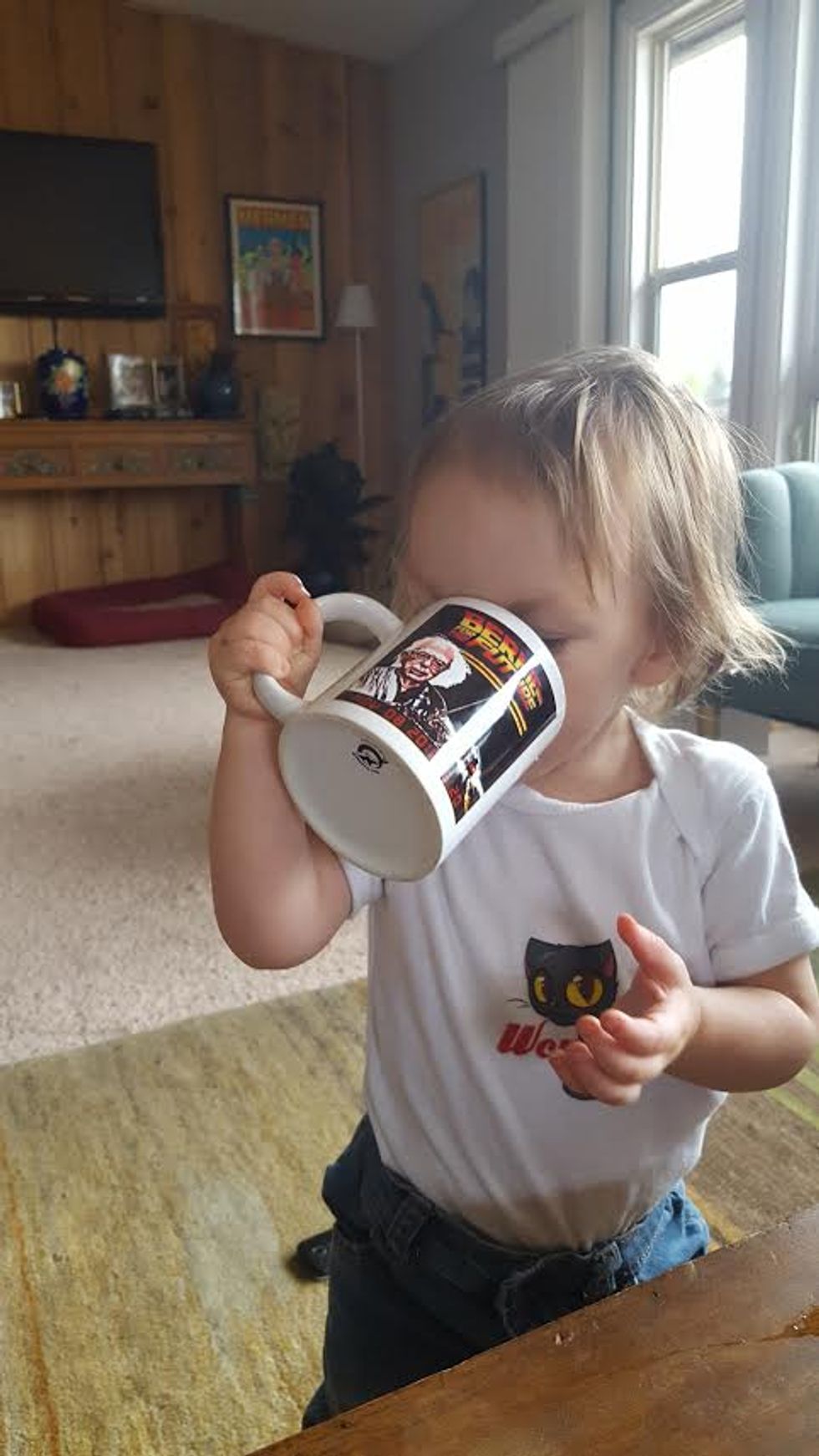 OH NO WONKETTE BABY HAS BEEN DRIVEN TO DRINK. Water probably, or juice.
---
Good morning! Have you hidden your wallet from yourself (it's in the freezer) so you will remember to Buy Nothing Today? That's cool, you can buy our shit tomorrow! (If we are pointing you to items in our Redbubble store, you can scroll down on that particular page and click "available products" to see if that item is on a cup or tote bag or whatnot. Click! Click away!)
We were going to make a whole bunch of new merches at ya in time for Christmas, but then Donald Trump won the election, and our brains broke, and no new merches came out of them. So let's buy all our OLD items instead!
Here are some!
First, buy our Wonkette Game of US America Elections: The Game. You can even buy this for a Trumper! It is a fun, collectible 2016 election card game, and if it's too confusing, you can just use it as a deck of regular cards! (That part was my idea, because #ideaschief.)
Buy it here, we have so many hundreds left, and it will be delivered USPS Priority! Is that not swell? It is.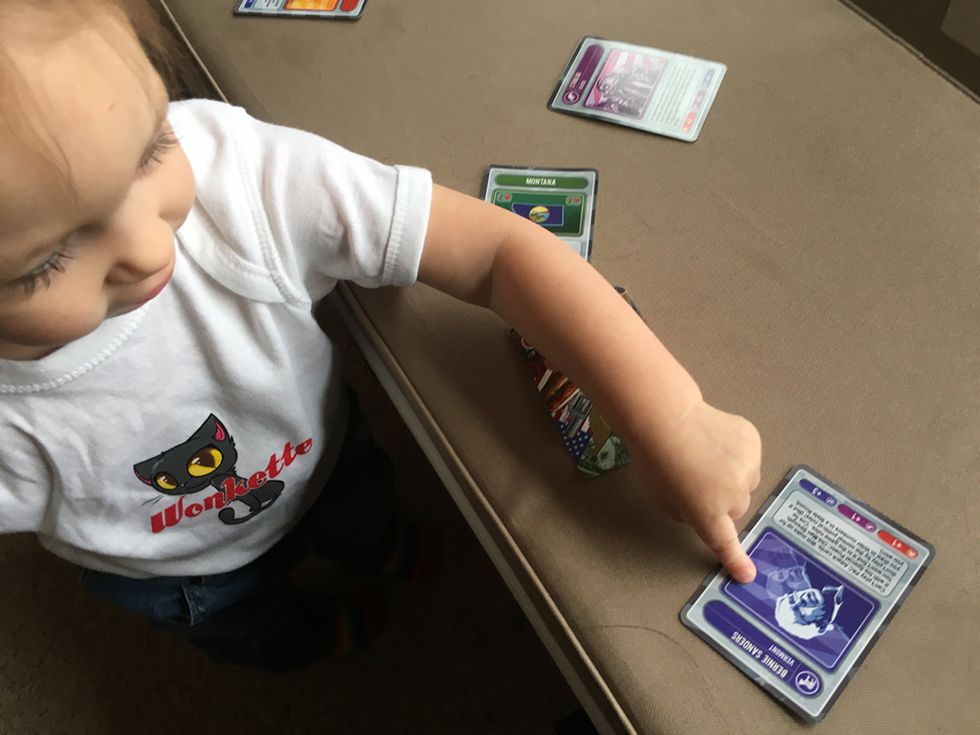 Good Babby, choose Bernie
Next, buy some Wonkette onesies for all the babies in your life. (Does not come in adult sizes, you are very sad, unless Shy puts that on Redbubble in the next 20 minutes or so, IT COULD HAPPEN. OH WAIT IT DID!)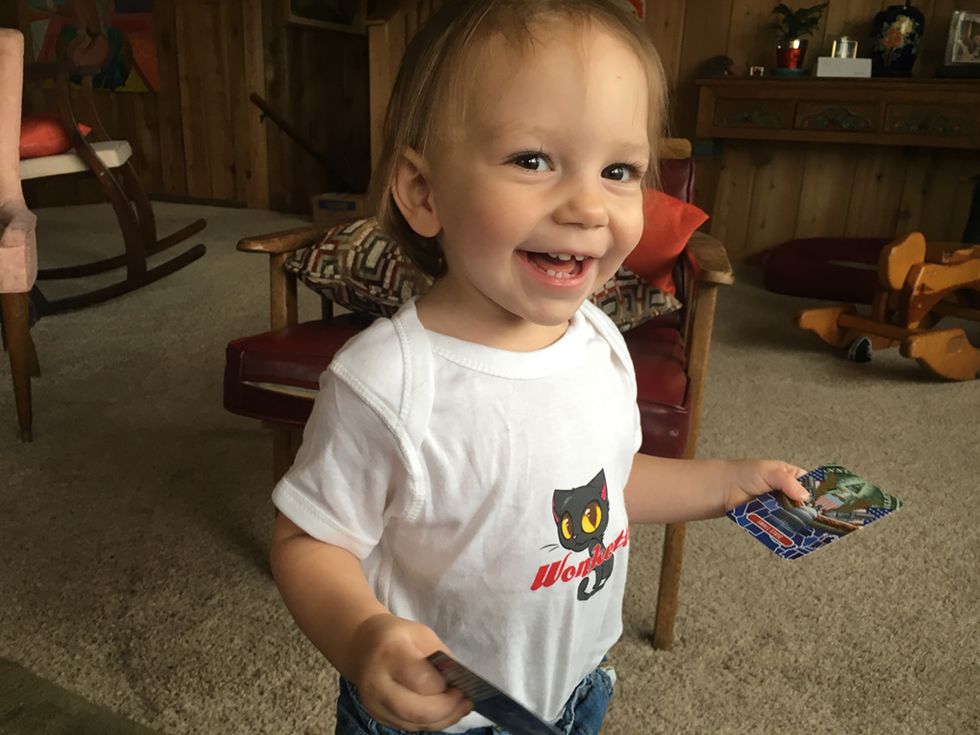 Babby not included.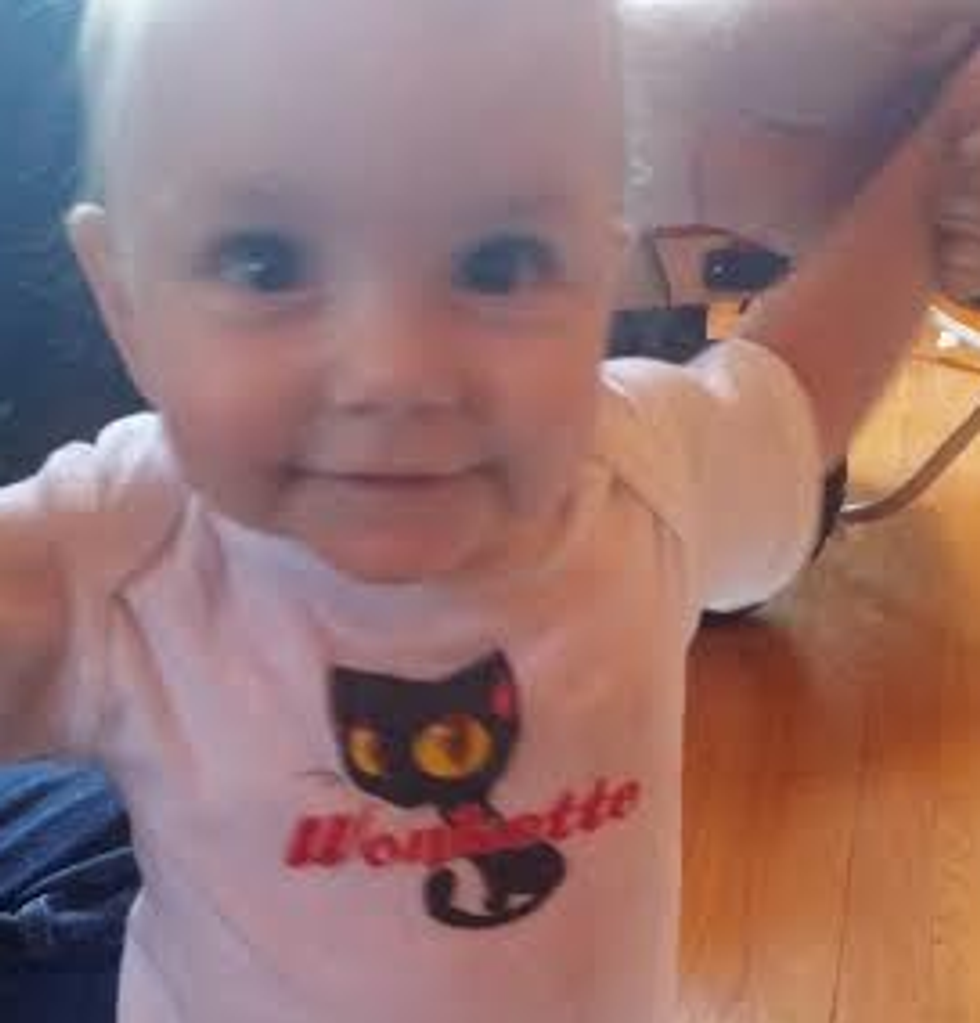 OOOOH LOOK AT THAT PUNIM.
Free shipping? FREE SHIPPING!!!
Now! Buy some women's Warren for Progress T-shirts or men's Warren for Progress T-shirts from the Wonkette Bazaar! If you have checked there, and we are out of your size, buy it from Redbubble instead! (We get a slightly smaller cut from our Redbubble store; at the same time, we will not fuck up your order, which happens more frequently than I'd like to admit! Lose-win!)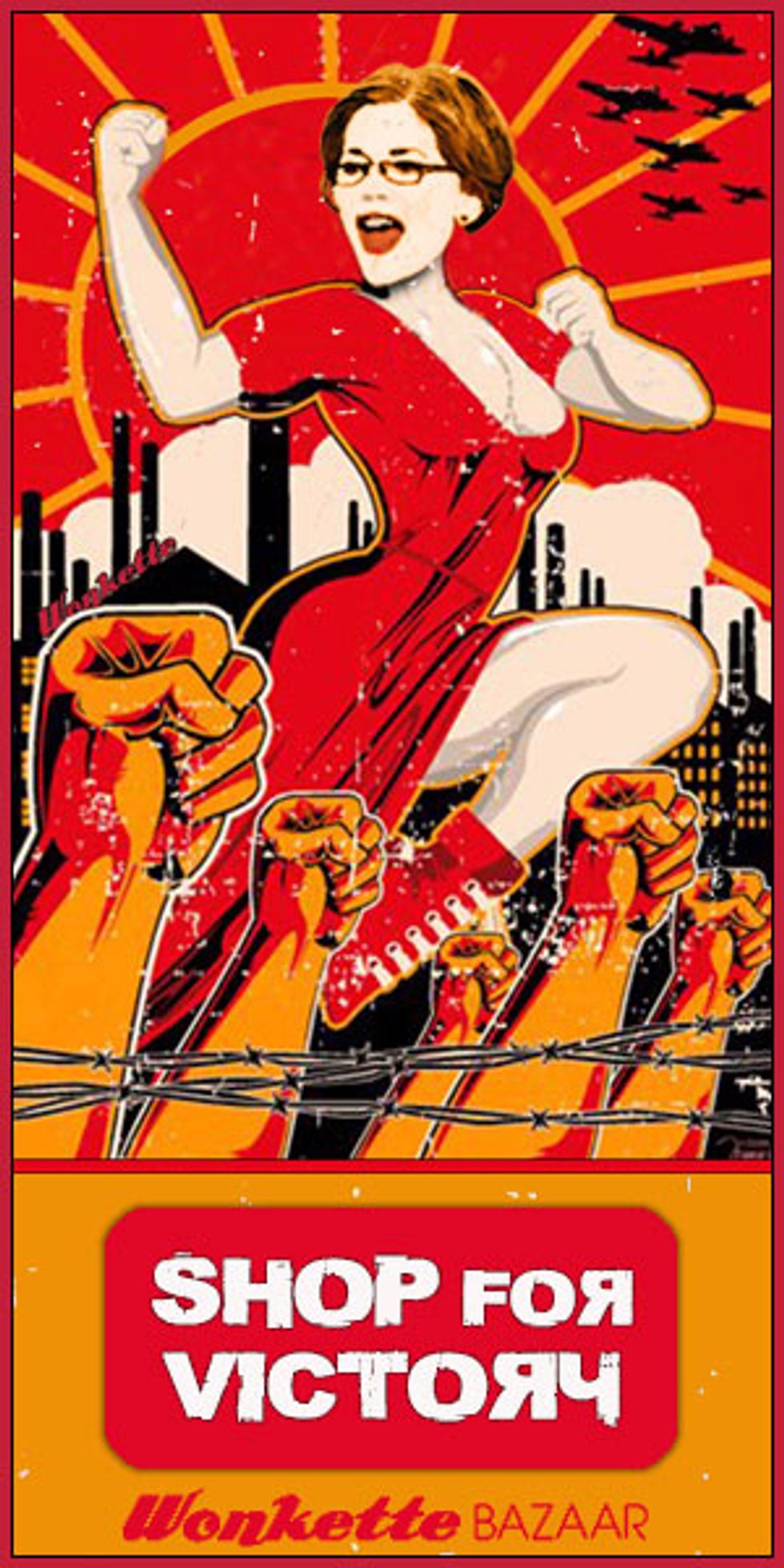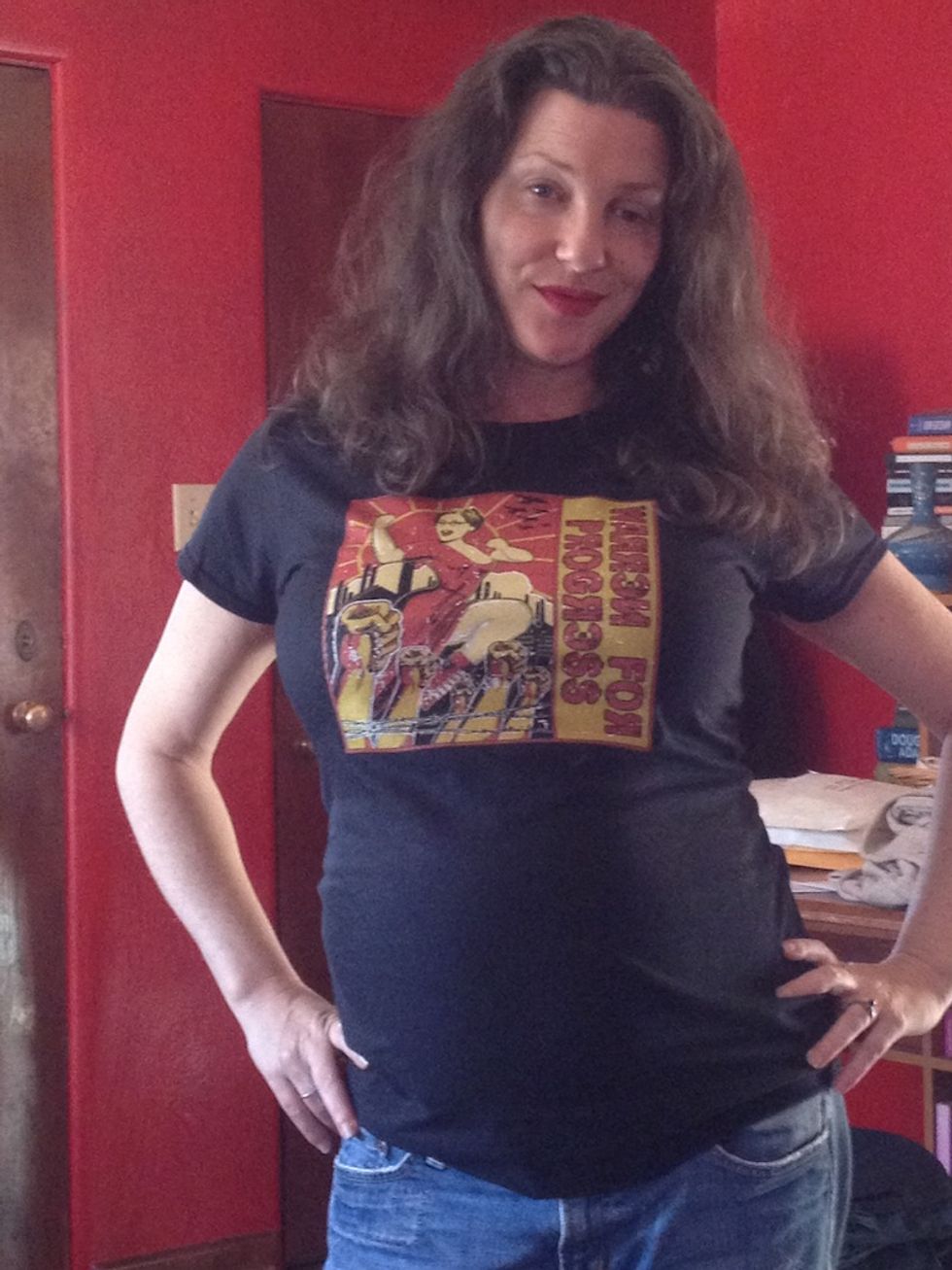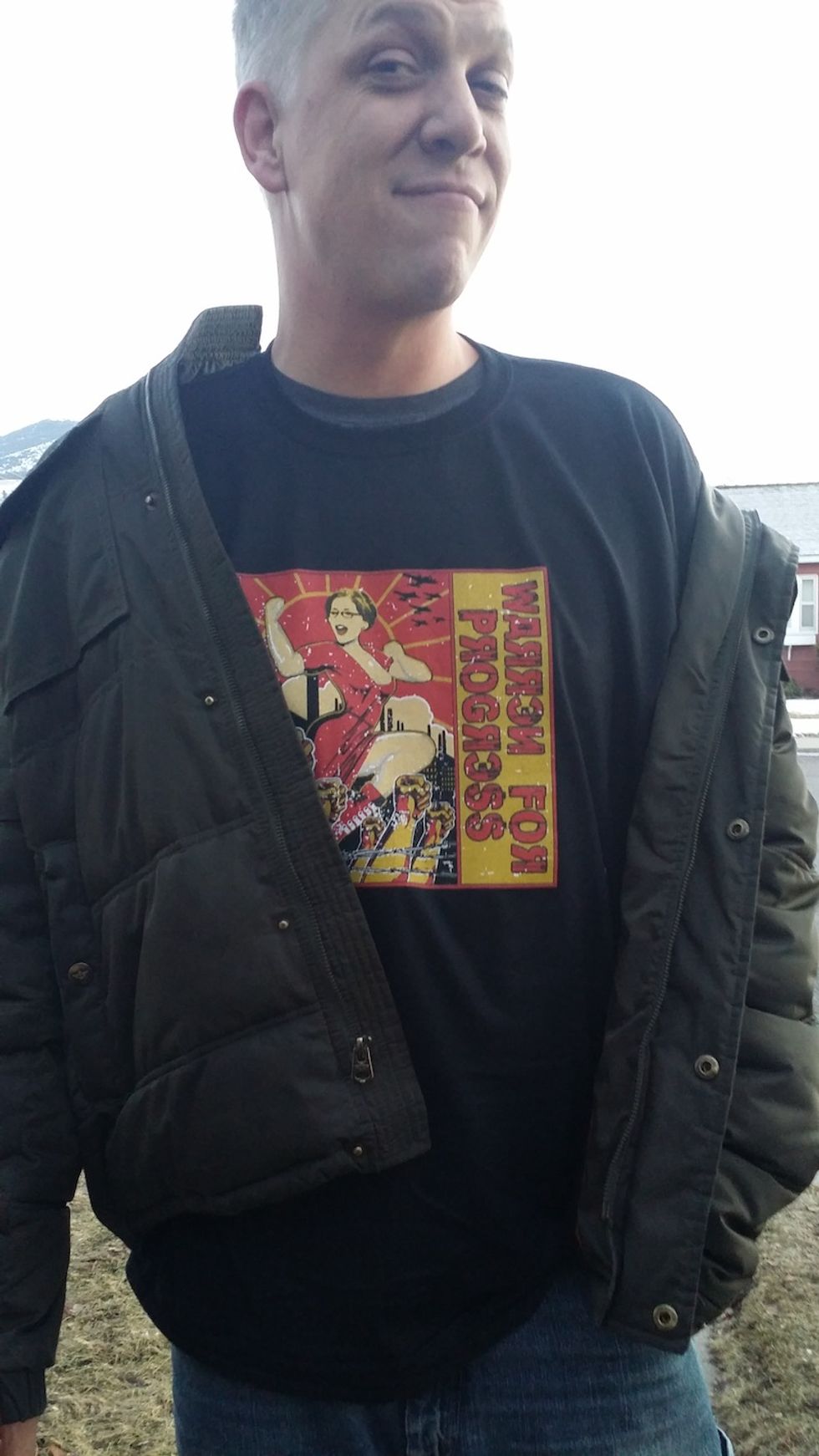 We are all very sad about Hillary Clinton. Maybe your mom needs a bittersweet cry-Tee! (Once again, check sizes at the Bazaar, and if we're out of yours or you neeeed a women's tee instead of a big ol' unisex one because you are FUSSY, go to our Redbubble here! (At Redbubble, you can also choose mugs and shit. Not shit. You know what I mean.)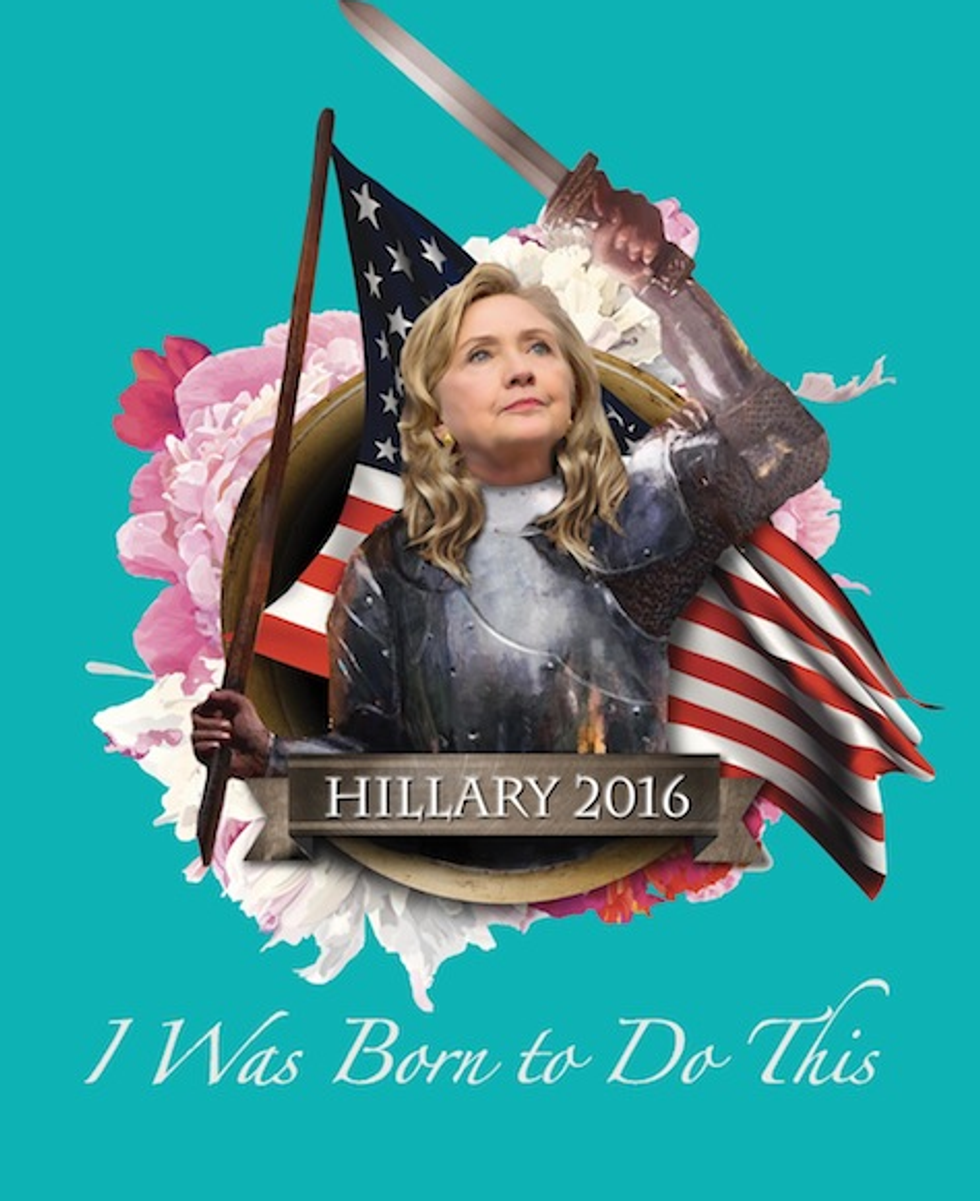 How about a Nasty Woman mug, tee or tote bag? Those were fun!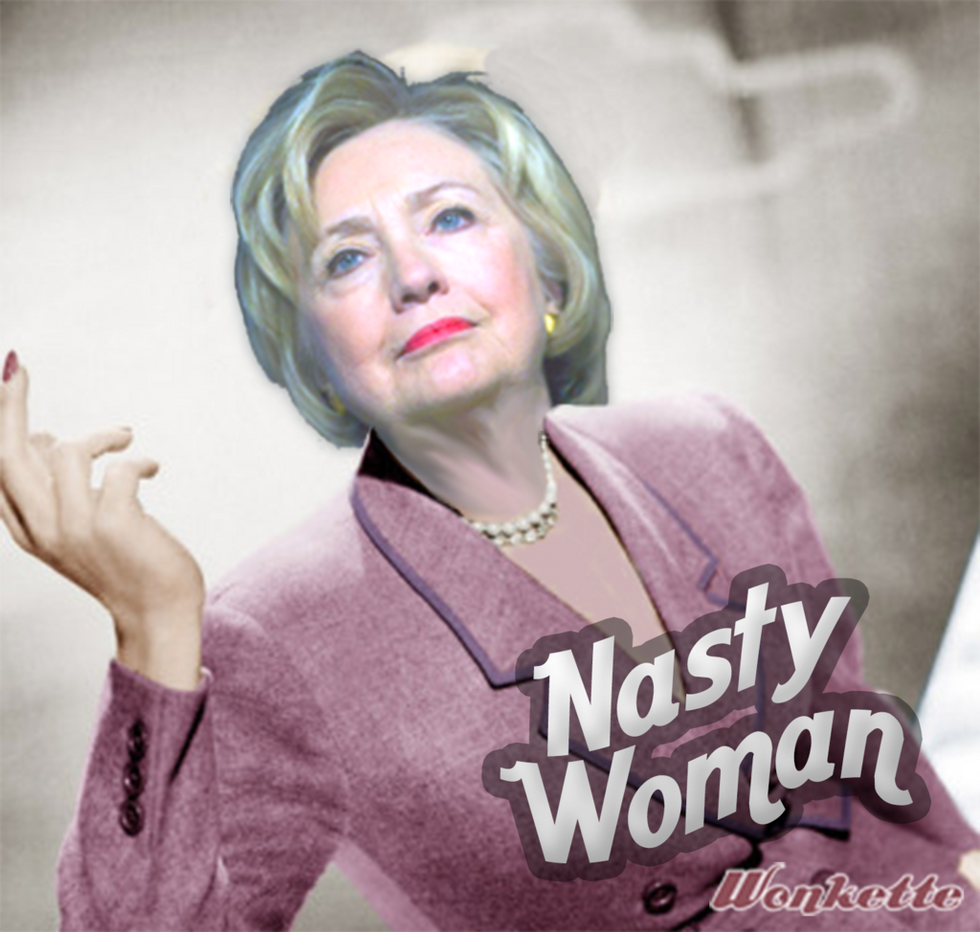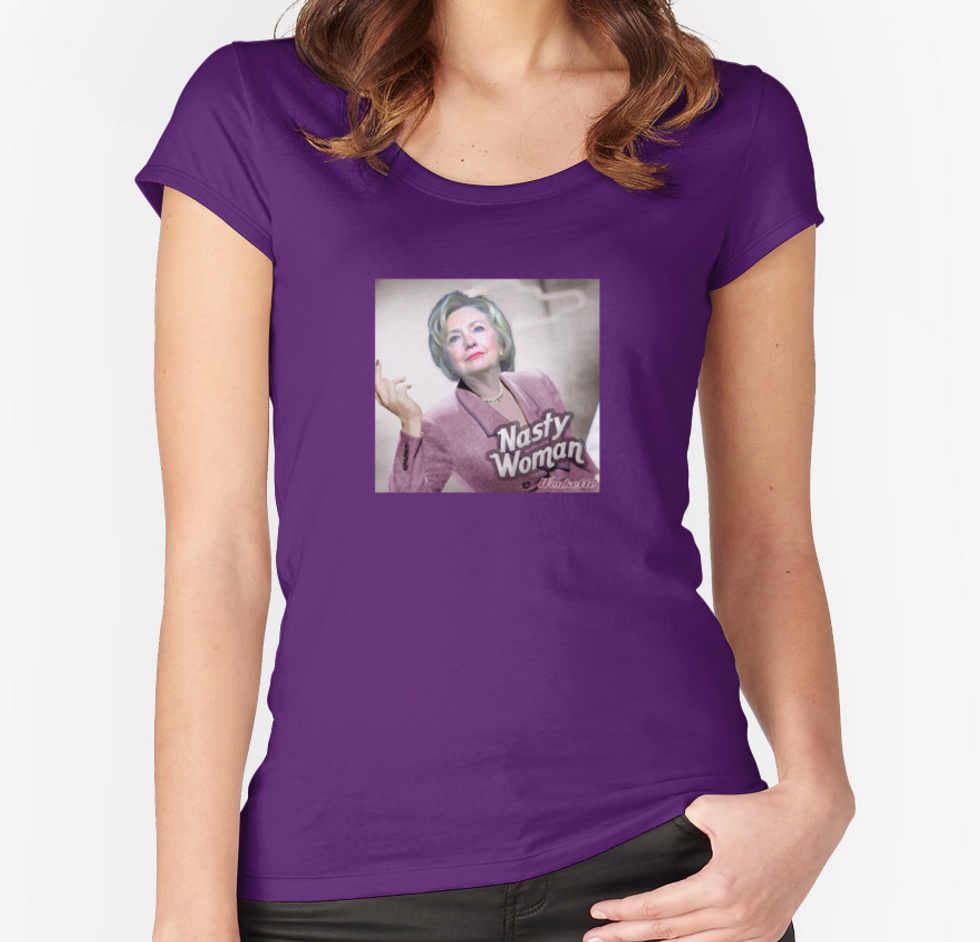 Truck Fump? Oh hahahahaha, we thought these would be irrelevant by now, and BOY were we WRONG!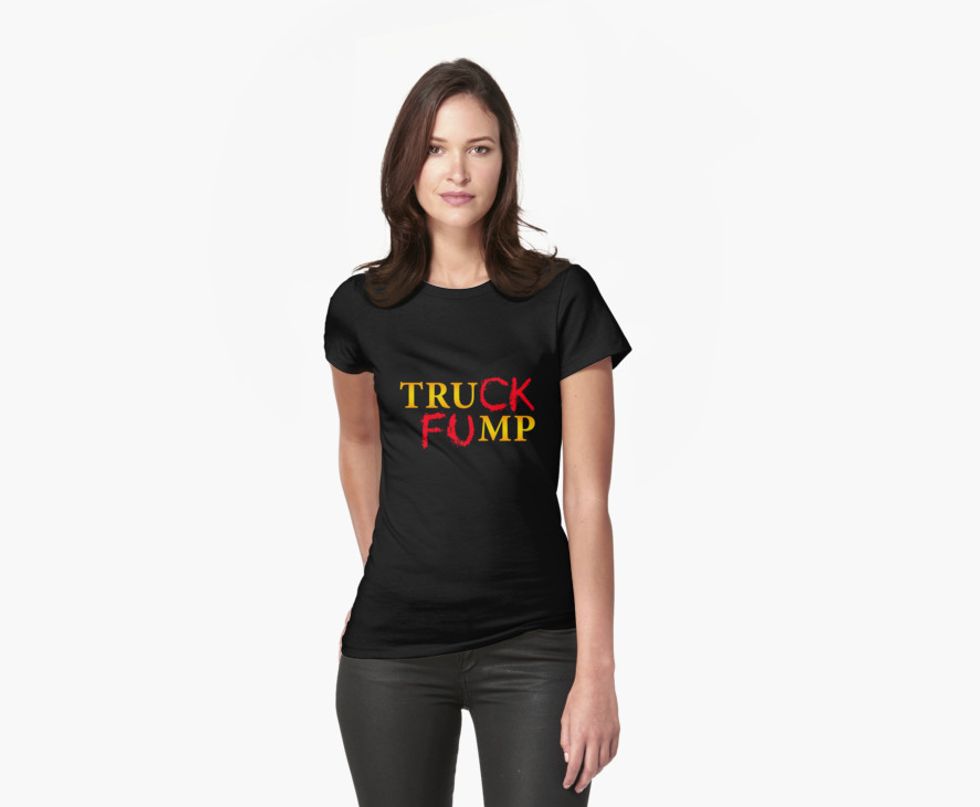 Truck Fump never looked so good
We aren't allowed to advertise our Bernie For the Future mugs online, so we're not putting a picture of it here. You'll have to email rebecca at wonkette dot com with the secret code words, "hey can I buy an Ill-Eagle Bernie mug?" and then send money on the paypal.
We have hardly any coffee mugs left (except at Redbubble for some of them), but we have a few Smokin' Joes and a fuckload of Shut the Fuck Up Luke Russerts. You could buy those!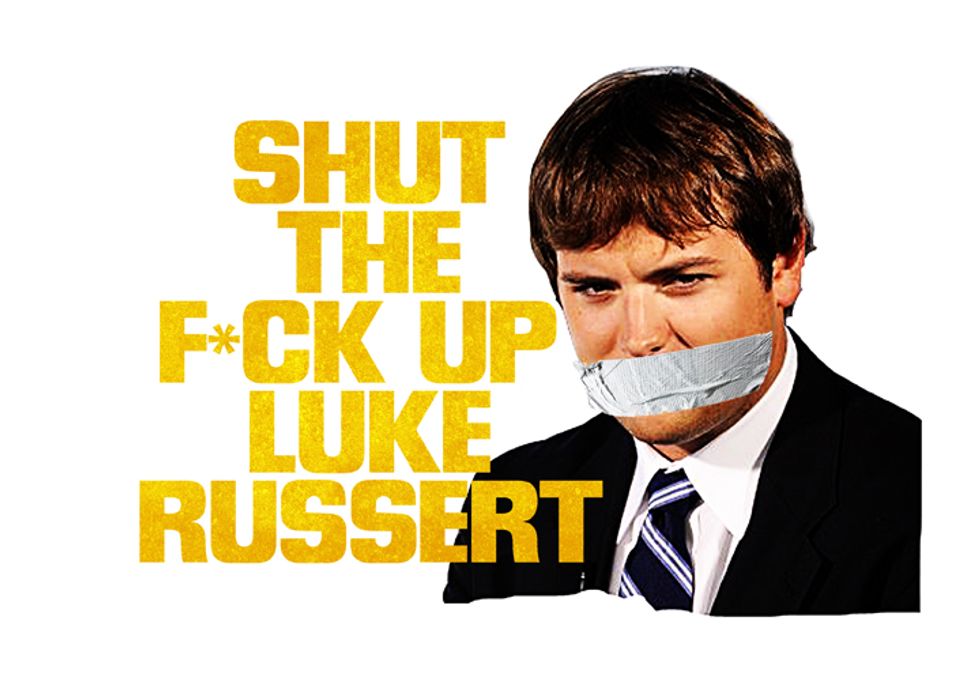 Here is a funny shirt! It says "Don't blame me, I voted for Jill Stein." But it is funny because it has an ASTERISK that says "Blame me. It's my fault." Nobody is buying those, I think because they can't see the asterisk part in the picture. BUT IT IS THERE!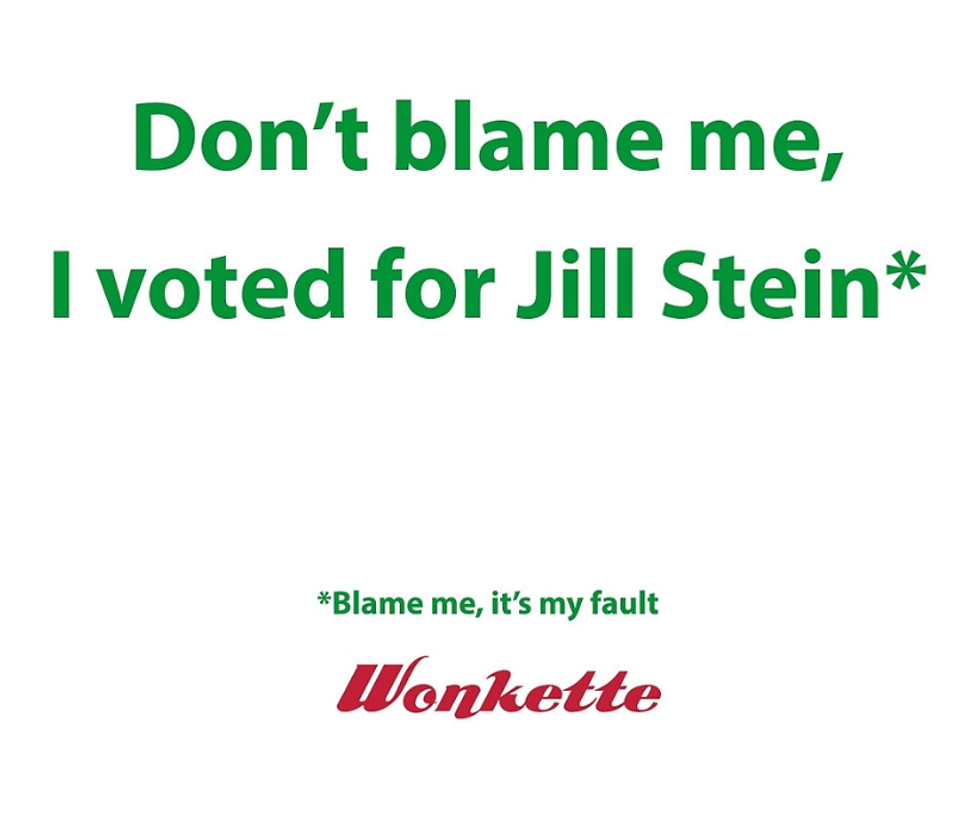 Also there is this Wonkette kitten with a whip tee, modeled here by "a lady."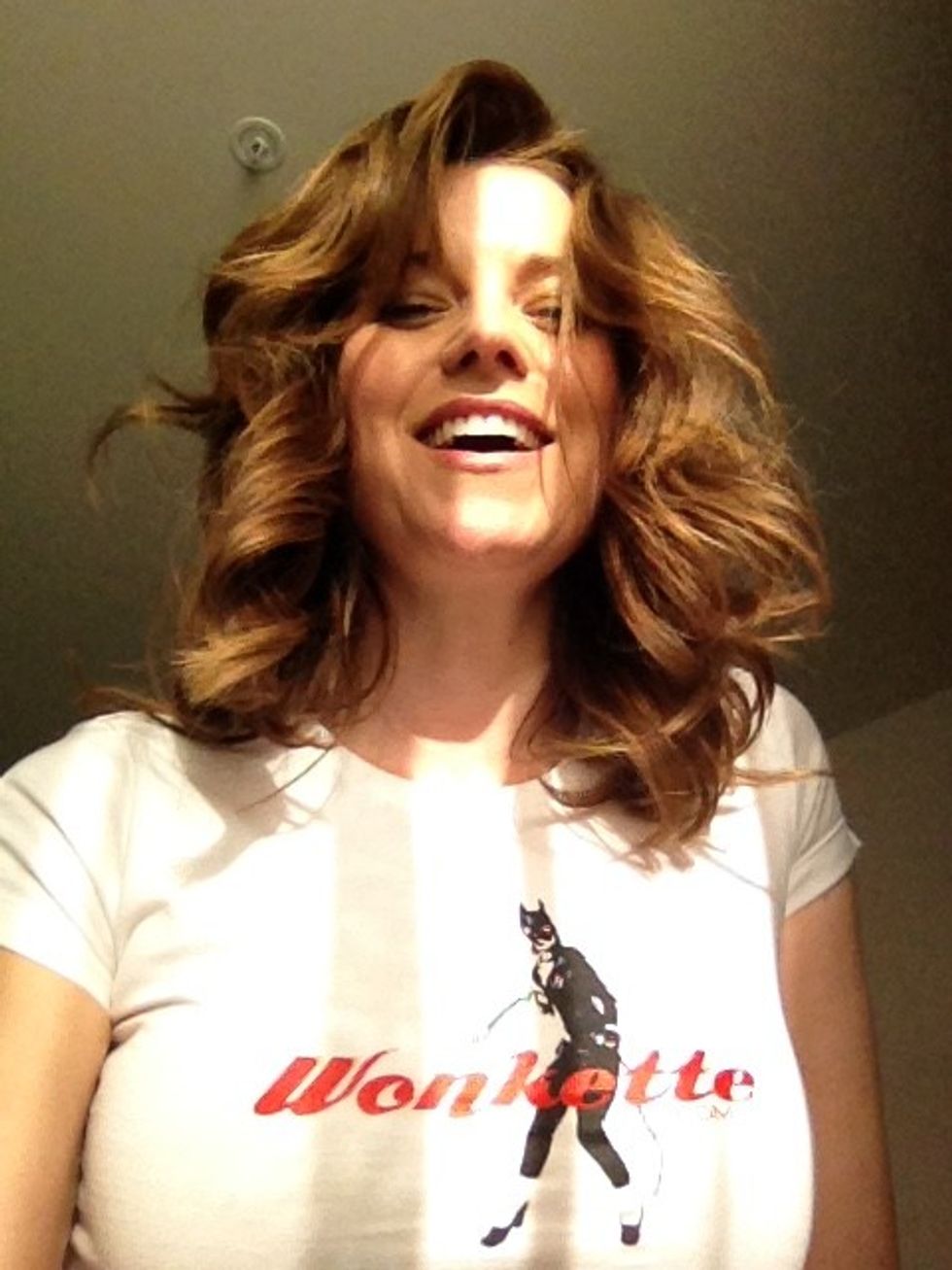 Kitten vs. Evil Dead
Lastly, and this is not very Jesusy but you love it anyway, there is this Fuck You America tee or sofa pillow or mug or wall art probably.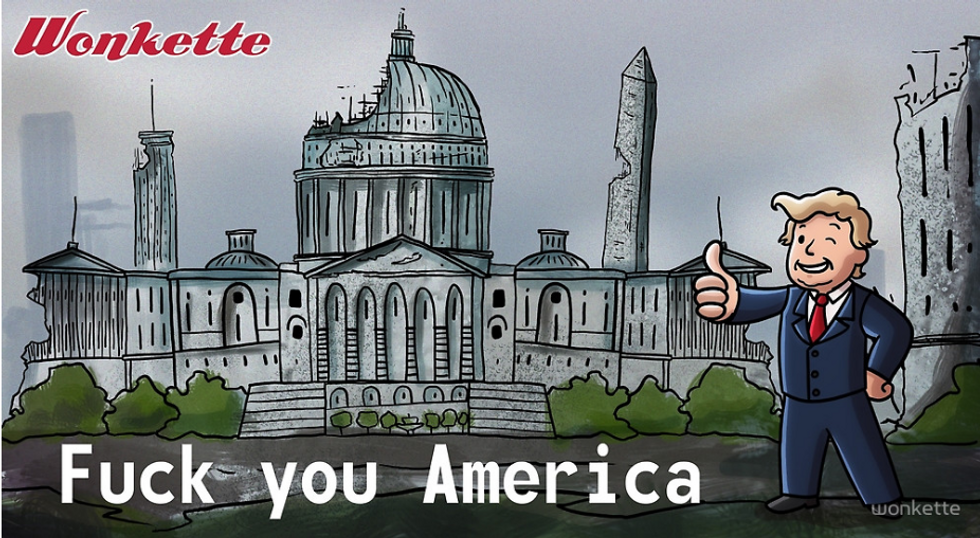 No, the wallet's in the freezer, remember?
Rebecca Schoenkopf
Rebecca Schoenkopf is the owner, publisher, and editrix of Wonkette. She is a nice lady, SHUT UP YUH HUH. She is very tired with this fucking nonsense all of the time, and it would be terrific if you sent money to keep this bitch afloat. She is on maternity leave until 2033.