Camille Paglia Has Had It UP TO HERE With Hillary's Gross Wormwood Tits
News
May 06, 2016 03:25 PM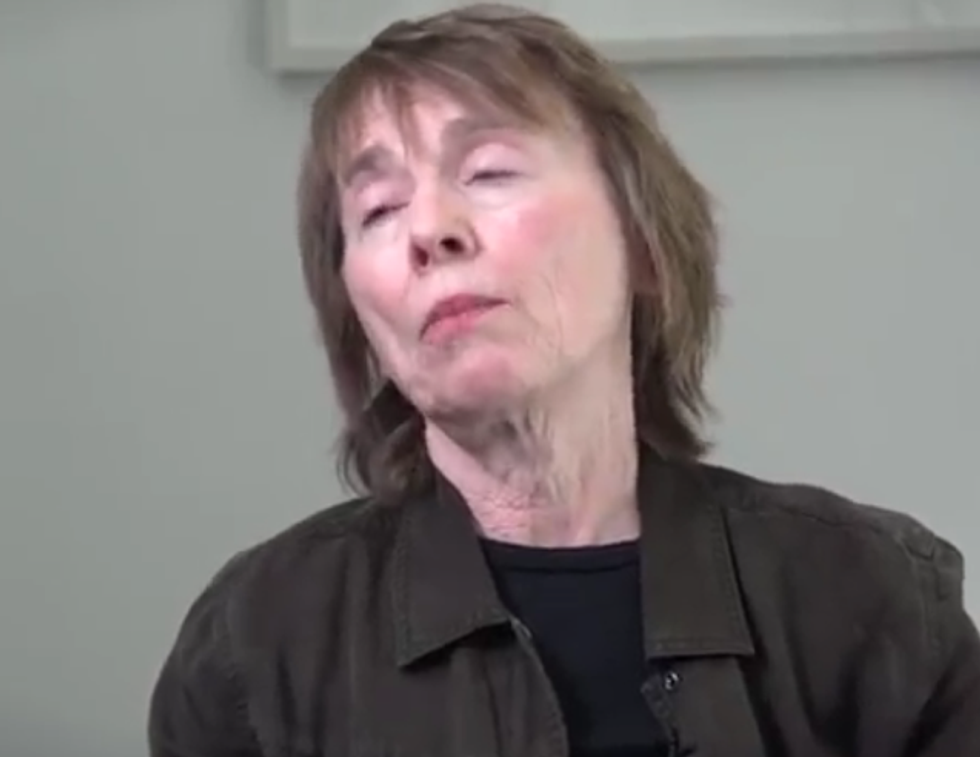 what a genius
---
Boy howdy, it is Friday afternoon, so let's immerse ourselves in the flowery, lady-hating, contrarian bullshit of Camille Paglia. Forsooth, she hath Important Thoughts on Hillary Clinton, Donald Trump, and how they do the things they do because of their mommies.
Let's talk about Hillary first:
[I]s there anything creepier than that current Hillary meme, the campaign slogan "I'm with her"? The blurred borderlines of those pronouns ("I" numbly dissolving into "her") and that ambiguous preposition ("with" her like a child, a lover, or a nurse's aide with a geriatric patient?) are close to pathological. The Hillary acolytes are joined at the hip to "her", the Great Leader Who Needs No Name, the Maternal Tit daubed in wormwood, the bitter toxin left by men–those spoilers of the universe ...
Yeah, that fucking hashtag is the key to everything, Camille. It has a very different sexual persona from the hashtag #FeelTheBern, BUT WAIT DOES IT? Because if "with" is all ambiguous and could be referring to your mommy, your fuck-pal, or your hospice nurse, could not "feel" be just as ambiguous? Do they mean "feel" like you feel a penis, or like you feel sad or happy, OMG WHAT ARE THEY FEELING?
But yes, about the Wormwood Tits. Dear Hillary supporters, Camille is going to need you to change your hashtag to #I'mWithHerMaternalWormwoodTits.
Carry on, crazy-ass, about how good Hillary is at "sex war":
Hillary's anti-male subtext, to which so many women voters are plainly drawn, flared into view last week when she crowed to CNN's Jake Tapper about her proven skills in sex war: "I have a lot of experience dealing with men who sometimes get off the reservation in the way they behave and how they speak….I'm not going to deal with their temper tantrums or their bullying or their efforts to try to provoke me."
Did Hillary say "temper tantrums" because it is a common expression for people who are poop-crying because they haven't gotten their way, or is it because Hillary's daddy was bad and her mommy was good, for teaching her how to hate men? You know the answer:
I assumed from the start that "temper tantrums" (a term applied to small children) was another of Hillary's odd childhood flashbacks and that it described her ranting father's abusive behavior toward his wife and family. ... It was her stoical mother who trained Hillary in the art of contemptuous endurance of men's squalling infantilism. Women are noble, superior creatures; men are yapping dogs.
For Christ's sake, Camille, smoke a joint and chill the fuck out.
Speaking of mommies, did you know that Donald Trump's hair is an orange bird's nest of awfulness because of HIS mommy? It's true, sayeth Camille:
His odd, brassy blonde hairdo, which I normally think of as a retro Bobby Rydell quiff, looked from behind like a smoothly backcombed 1960's era woman's bouffant. Shelley Winters flashed into my mind, and then it hit me: "It's all about his mother!" I had never seen photos of Mary MacLeod Trump (who died at 88 in 2000) and immediately looked for them. Of course, there it was—the puffy blonde bouffant to which Trump pays daily homage in his impudent straw thatch.
Once a month, Donald Trump goes to his personal barber in Trump Tower and says, "Give me the Mom Cut again, it's tremendous, so elegant, just like Donald Trump's mom!"
We ... think he just has fucked up hair?
There is so much more in this Camille column, far too much to spend our Friday afternoon dissecting, so we will summarize it for you. This is how a Camille Paglia column ought to read:
Trump became the nominee because stupid libtards tried to make him look all fascist (GREAT JOB, DEMS), random references to the mafia, Roman Emperors and the Praetorian Guard (to make Camille look smart), Donald Trump is not a Scottish Highlander, he is a Viking and here's why, Hillary is a fucking woman and Camille Paglia hates women, vagina, vagina, vagina, Princess Vags-A-Lot, what a bitch Hillary is, men are big and strong and better than women, have you seen this Western movie-film from 1948 about Indians, oh and for the second time in a few weeks, Hillary Clinton has goiter, because Dr. Camille Paglia thinks she saw a bump on Hillary's neck on TV.
[wonkbar]<a href="http://wonkette.com/600938/can-you-hack-up-words-as-stupid-as-camille-paglia-a-contest"></a>[/wonkbar]Oh, and in the Q & A section at the end, she says she "would certainly classify Prince as a major artist of the late twentieth century, but ..." BUT WHAT? Fuck Camille Paglia, that is what.
[Salon]
Evan Hurst
Evan Hurst is the managing editor of Wonkette, which means he is the boss of you, unless you are Rebecca, who is boss of him. His dog Lula is judging you right now.
Follow him on Twitter RIGHT HERE.