CAN SOMEBODY PLEASE TELL BEN SHAPIRO ALL ABOUT BRETT KAVANAUGH'S COCK?
News
September 16, 2019 04:20 PM
We have found the winner of the unofficial right-wing contest for who can come up with the stupidest reason to say this week's New York Times piece on Brett Kavanaugh, which revealed another sexual assault accusation against the man whose name is pretty much synonymous with "rape van" in our minds, was fake news.
Surprise, it's Ben Shapiro! He is just disappointed that nobody has given a full accounting of what Brett Kavanaugh's penis looks like, whether there's anything fun or exciting about it, has it ever heard the wolf cry to the new corn moon, does it paint with all the colors of the wind, is it purple like an eggplant, does it appear as a lighthouse against the horizon after the thrashing of a storm at sea?
CAN SOMEBODY PLEASE TELL BEN SHAPIRO ABOUT THE SHAPE OF BRETT KAVANAUGH'S COCK? OR MAYBE DRAW HIM A DOODLE OF BART O'KAVANAUGH'S DINGLE? AND IF YOU MAKE IT SCRATCH-N-SNIFF, BEN SHAPIRO THANKS YOU IN ADVANCE, ALLEGEDLY! ANYBODY GOT A 3-D PRINTER AROUND HERE?
---
OMFG Ben Shapiro are you okay? 🤣🤣🤣 Unless Mr. Boofing has an incredibly noteworthy penis, I'm not sure anyone woul… https://t.co/WIs8MycH0w

— Holly Figueroa O'Reilly (@Holly Figueroa O'Reilly)1568657479.0
SHAPIRO: We have had a bevy of public figures in recent years who have had their genitalia described on national television by people who alleged sexual assault. Like Stormy Daniels famously described President Trump's genitalia ...
Imagine you are frolicking through the woods and encounter a patch of mushrooms that look like they are from a Nintendo game for children. Oh no! Are they poisonous? DON'T EAT IT. Imagine you see one mushroom that's different from the rest. Oh it's not that it's "freakishly small," it's just "smaller than average." But it has a weird kind of disproportionate toadstool head, which sets it apart from the other mushrooms!
Oh yeah also it is literally covered by a kudzu-like thicket of Yeti Pubes, which is weird, because why is this weird little mushroom covered by Yeti Pubes? What is this, the ADDAMS FAMILY'S MUSHROOM PATCH?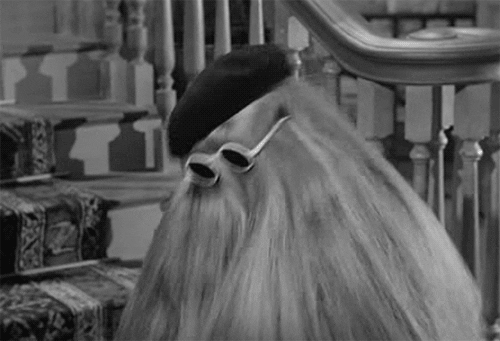 Donald Trump's pubic hair, we think Giphy
Anyway. Ben Shapiro, talkin' dicks:
Bill Clinton's genitalia, details of which were talked about!
"There are no blemishes, there are no moles, there are no growths."
Nobody has yet described Kavanaugh's genit- -- now, that's not dispositive. Maybe they were generic, who knows!
Maybe Brett Kavanaugh has a Hydrox-brand penis.
But the bottom line is we've had no corroborating details on any of these stories. All of them apparently happened in public places with other witnesses available, and not one witness has been there who corroborates any of these stories. It's unbelievable!
It's just unbelievable that nobody will tell Ben Shapiro about Brett Kavanaugh's penis, if everybody's seen it so much!
Also, there are corroborating witnesses, to more than one Brett Kavanaugh incident. Instead of looking up links to prove Ben Shapiro wrong, we'll just let Ben Shapiro prove Ben Shapiro wrong, when he talks about a corroborating witness like six seconds later:
... a new report from a guy who says that he was at a party, and saw a MALE grab Kavanaugh's penis, which, by the way would be sexual assault ...
Unless Brett Kavanaugh and the other dude were both in on it. Interesting how that's the part that bothers Shapiro the most, though. Brett Kavanaugh is the REAL victim, because a BOY touched his wee wee! Consensually, according to the story!
... and then thrust it into the hand of a female, who says she doesn't remember the incident? It seems like you might remember that incident. Just gonna put that out there! That if you're a female innocently sitting at a party, and suddenly some dude comes and takes someone else's junk and thrusts it into your hand, it feels like that might be memorable!
Unless she was passed out.
Allow us to, in all seriousness, explain for Ben Shapiro, whose mom probably still doesn't allow him to go to parties and who may never have been around drunk college students, how this likely went down. (Actual trigger warning for we are about to describe what probably happened here.) Brett Kavanaugh was probably wasted, but coherent, like he was a couple years earlier in high school when he allegedly tried to rape Christine Blasey Ford. The victim was probably also wasted, but much less coherent, which provided the fucked up entitled drunk-ass white boy rape culture reasoning for why it was OK for Kavanaugh to do what he was about to do. Kavanaugh probably pulled his pants down, and he was probably shoving his junk in the victim's face, or pretending he was teabagging her, and one of his buddies likely grabbed his junk and put it in her hand.
Here's how the Times put it:
A classmate, Max Stier, saw Mr. Kavanaugh with his pants down at a different drunken dorm party, where friends pushed his penis into the hand of a female student.
Got it? The New York Times sort of didn't elaborate, but it is screamingly obvious to us that it probably went down largely like we just described. In fact, that's really the only way this story really makes sense, and it follows that the victim wouldn't remember it. Honest to God, we don't care what fucking political party you belong to, you know we're not bullshitting right now. Every man reading this is aware of the phenomenon of drunk dipshit guys drawing dicks on each other's faces when they're passed out. Now add a woman and some sexual assault to the equation. Ta-da!
Trigger warning over.
Nobody has come forward to testify as to the elegance, or even existence, of Brett Kavanaugh's penis, which means one thing, to Ben Shapiro, and it is that BITCHES BE LYIN'. (And hey, maybe a bunch of folks did see it and the Washington DC police are working on composite sketches right how like "HAVE YOU SEEN THIS D-I-K?" It's also possible that Brett Kavanaugh's penis is just that unremarkable. We bet if it looked like his stupid face and if it had the same hairstyle as his stupid head, somebody woulda said so.)
Ben Shapiro is full of shit, and maybe he knows it and maybe he doesn't, but this just shows how certain kinds of men will do literally anything to throw a cloud over any accuser who threatens to out one of their compatriots as a serial sexual assaulter. We doubt there is really any person alive who thinks that most rapes and sexual assaults begin with a magnifying glass examination of the perp's penis, and again, in Kavanaugh's case, even if all these people saw it -- and it sounds like they did! -- the shape, circumference and general zest for life of Bart's whiskey dick just really didn't sear itself into their memories.
All of that being said, we bet Brett Kavanaugh has a really dumb dick.
And on that note, OPEN THREAD!
Follow Evan Hurst on Twitter RIGHT HERE, DO IT RIGHT HERE!
Wonkette is ad-free and funded ONLY by YOU, our dear readers. If you love Wonkette, SUPPORT WONKETTE.

Evan Hurst
Evan Hurst is the managing editor of Wonkette, which means he is the boss of you, unless you are Rebecca, who is boss of him. His dog Lula is judging you right now.
Follow him on Twitter RIGHT HERE.