Can Someone Please Call Ann Coulter On The Telephone?
News
December 15, 2017 02:05 PM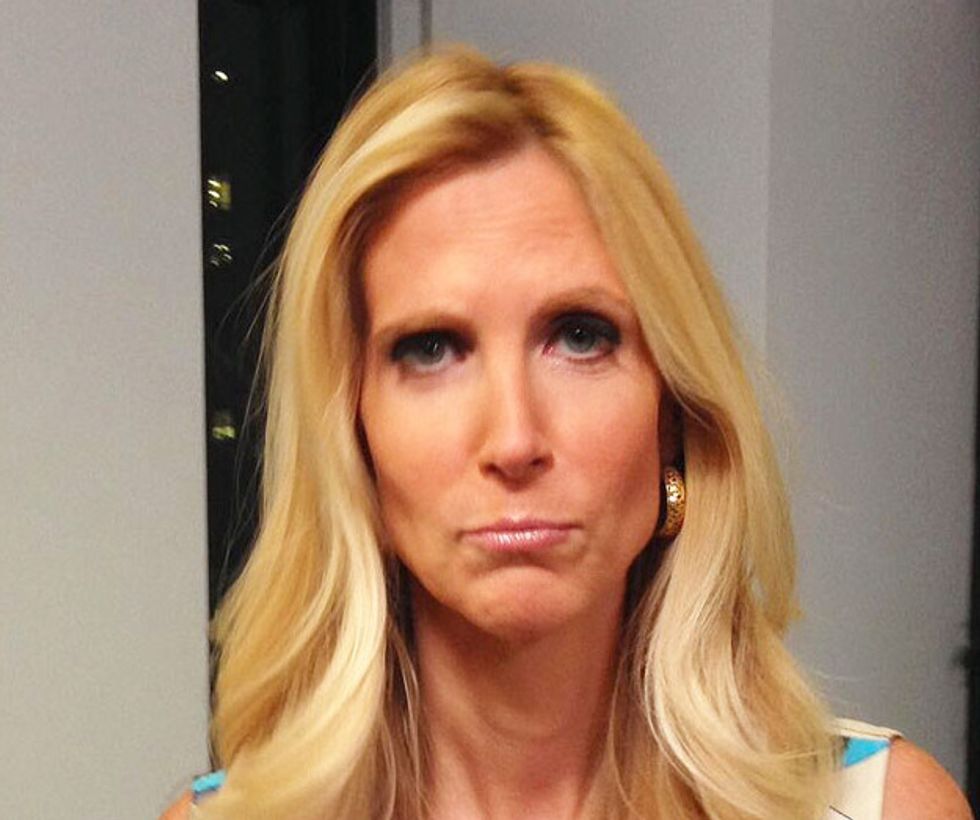 SAD GIRL
---
Ann? Hi, it's your friendly neighborhood Wonkette. We HATE your racist, homophobic, xenophobic, lying ass. You are one of the literal worst people in all of America.
But you know how we bleeding heart liberals are. We like to exact revenge on our right-wing asshole countrymen by voting the people they like out of office and replacing them with people WE like, so we can stick it to the wingnuts by ... MAKING SURE THEY HAVE HEALTHCARE! And making education accessible for everybody! You know, shitty things like that.
Point is, we are all human beings and we love human beings, even when they are garbage human beings, and this is worrisome: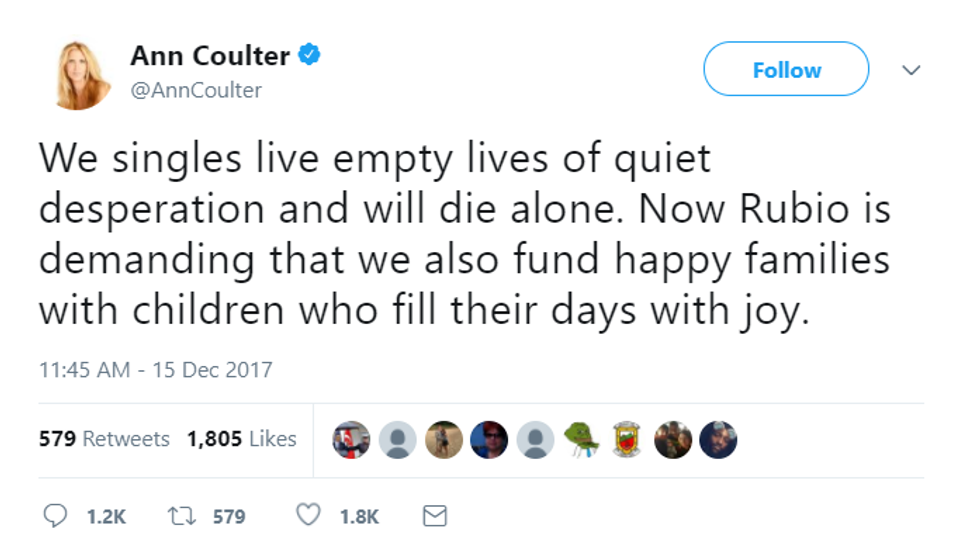 Ann! Are you OK? Like, we know your heart is not OK and your soul is not OK and your brain is not OK but Ann, are you OK?
Is anyone out there a "friend" or "acquaintance" or "telemarketer who has Ann Coulter on their list" who can check and make sure she's OK today?
Hopefully (HOPEFULLY) everything is fine, because 20 minutes later, Coulter tweeted this:
Piano playing beagle! https://t.co/CkgNYySW20

— Ann Coulter (@AnnCoulter) December 15, 2017
OK, that is adorable, Ann Coulter. That is why you tweeted Piano Playing Beagle, correct? You've turned your frown upside down, remembered you are an awful human being, but that you are a RICH awful human being who has a lot to be grateful for, as you enjoy the fruits of your decades of "labor" (which has consisted of actively lying to the world's stupidest racists AKA the stinkiest part of the GOP base), and you are feeling a heck of a lot more "The sun'll come out tomorrow, bet your bottom dollar that tomorroooooooooooooow, there'll be sun!" than you were 20 minutes before. Yes? That is why you have tweeted Piano Playing Beagle?
Or is Piano Playing Beagle another cry for help? Is Piano Playing Beagle singing the lamentations you feel in your heart? ANN COULTER, IT GETS BETTER!
We repeat, is there a "friend" who could go talk to Ann Coulter until she isn't so down in the dumps about her sad life and somehow also Marco Rubio's child tax credits? Barring a "friend," surely there is a "mail lady" who brings Ann Coulter mail? What about a policeman or, hell, one of those automated scam phone calls that says you have won a vacation to Tahiti if only you say your bank account number really slowly? Could one of those call her? Hey, a human voice is a human voice.
Ann Coulter, this too shall pass. Really. Looking forward to you being your regular old asshole self VERY VERY SOON.
Follow Evan Hurst on Twitter RIGHT HERE.
Are you a good Wonker who sends us money by Amazon? Well not anymore you're not, because Amazon done fucked our payment system. Would you be so great as to re-sign with Paypal or Stripe? K we love you bye. (All you others can too.)
Evan Hurst
Evan Hurst is the managing editor of Wonkette, which means he is the boss of you, unless you are Rebecca, who is boss of him. His dog Lula is judging you right now.
Follow him on Twitter RIGHT HERE.