CAVE, LOSER, CAVE! A Liveblog Of That Loser Caving
News
January 25, 2019 02:04 PM
CAN IT POSSIBLY BE? Donald Trump is speaking about the shutdown at about a half an hour ago, according to the official schedule, but he ain't out there in the Rose Garden yet, because maybe he is pinching a loaf.
The Washington Post reports that congressional leaders and President Cave Loser have agreed on a "tentative" plan for that loser to cave a lot and reopen the government FINALLYFUCKINGFINALLY.
For, you know, three weeks.
Guess it took all those Republicans cracking and Mitch McConnell getting very Sad Turtle and airplanes literally threatening to crash into each other in the sky and the entire IRS calling in dead for Trump to realize that MAYBE it's more important for people to be able to eat food and not die than for him to get WALL right now. (But, you know, he could always declare NATIONAL EMERGY!)
Or maybe it was furloughed government employee Faye Smith on "The Last Word with Lawrence O'Donnell" last night looking straight at the camera and telling Trump that "MISS NANCY IS NOT GOING TO GIVE YOU THAT WALL" and then noting that Trump sure shows a lot of love to Vladimir Putin, and it sure would be nice if he'd show some love to America for once.
Faye Smith has a message for you @realDonaldTrump. https://t.co/PeWmc9NgiX

— Amanda Guinzburg (@Amanda Guinzburg) 1548390373.0
If this goes through, the deal will last until February 15, which means everybody gets to keep fighting, thank God. But we're hopeful, because this government shutdown is not like other shutdowns, and the wounds from this one will be FRESH, which will make it a hell of a lot harder for Congress to shut the government right back down for Valumptimes Day.
We put nothing past Republicans, though.
Anyway, let's liveblog this fucker!
---
Live soon: President Trump makes remarks on government shutdown www.youtube.com
2:08: OH MY GOD, LOSER, GET THE FUCK OUT HERE.

2:11: OK! They said "the program" will begin in two minutes. "The program"? Is Mick Mulvaney going to bellydance? The fuck?

2:13: Nancy Pelosi got this shade to throw.
Pelosi, asked how Trump will handle backdown on reopening government without wall money, gestures toward her office… https://t.co/a0znncFM37

— John Harwood (@John Harwood) 1548442362.0
"We're gonna have the most beautiful flowers. And Ivanka stole the seeds from Mexico, so technically Mexico paid for it."
2:16: You guys, we think he's scared to come out.

2:17: Oh he is here.

"My fellow Americans, I am very proud to announce my latest failure."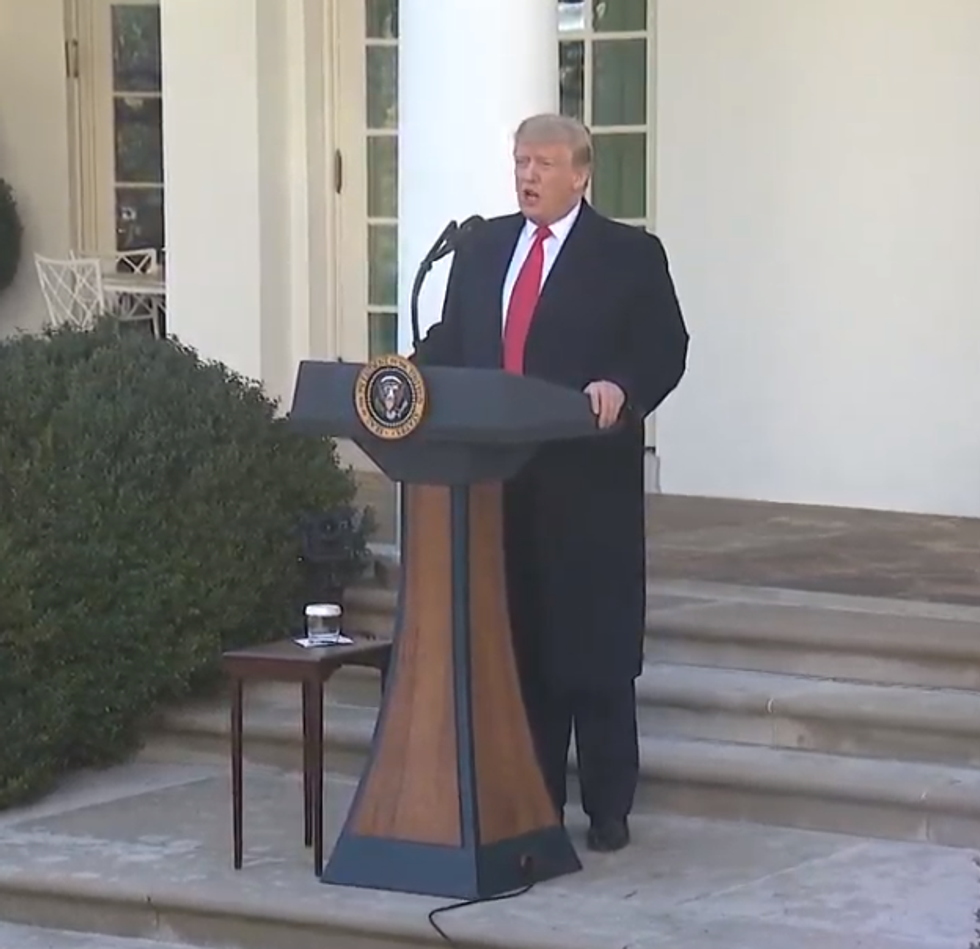 Anyway, he says they have an agreement, and that he's not going to do NATIONAL EMERGY. They have "reached a deal," by which he means Nancy Pelosi owned his dumb ass, just like the American people wanted.
2:19: Trump says he will sign the bill in a little while, to reopen for three whole fuckin' weeks, after Congress votes on it. He assures government workers that they will get their back pay either "as soon as possible" or "very quickly," whichever comes second, we guess.

Then he pronounced "lawmakers" like "LORMOYCKERS."
2:20: Hey you guys we found a picture of Donald Trump: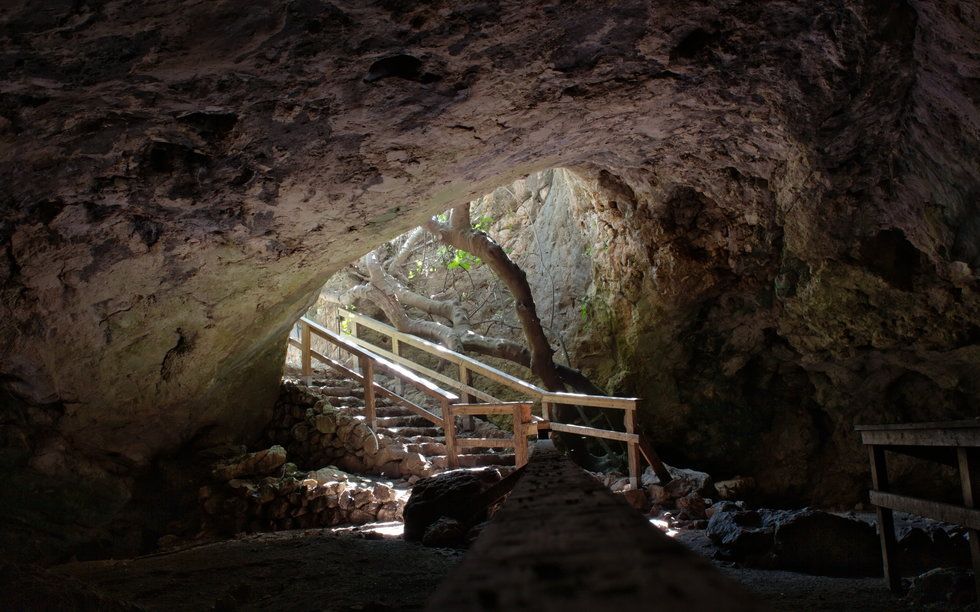 upload.wikimedia.org
Hey you guys we found a picture of Donald Trump.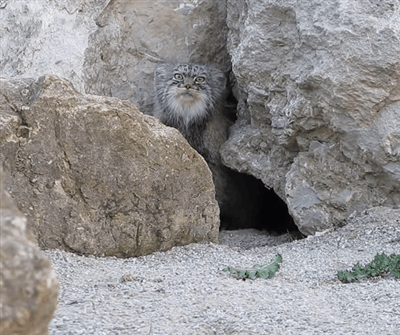 media0.giphy.com
Now he is just saying WALL a lot. "Walls shouldn't be controversial," Israel make wall, wall very old like wheel, car still have wheel, wheelbarrow have wheel, wheelbarrow can help make wall.
IT'S JUST COMMON SENSE.
2:23: NO MEDIEVAL WALL, NO MEDIEVAL WALL, YOU ARE MEDIEVAL WALL.

Trump says he wants "smart wall."
He never wanted WALL from "sea to shiny sea."
(Honest. He said that.)
He just wants bigly WALL, where we need WALL.
This is all very interesting, hey you guys we found a picture of Donald Trump.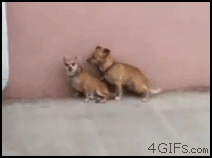 media2.giphy.com
2:26: Mexicans are scary, MS-13 is scary, Trump want big robot wall that goes PEW PEW and gets the coyotes, coyotes have fur, coyotes take a right turn, sometimes coyotes turn left, but if Trump gets robot wall that goes PEW PEW the coyotes will not be able to get in, hey you guys we found a picture of what happens when Trump gets big robot wall.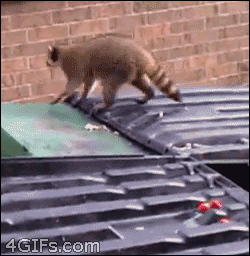 media1.giphy.com
2:30: WALL WALL WALL WALL WALL WALL WALL WALL WALL WALL WALL WALL.

Who does he think he's convincing, by saying the same eight words he's been saying about WALL since the first time he ever mentioned WALL?
DUDE, YOU ARE NOT GETTING THE FUCKING WALL.
And you know why? Hey look, we found a picture of why Trump is not getting WALL.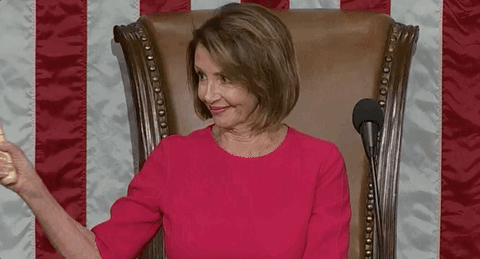 media0.giphy.com
2:34 PM, December 26, 2085: Hi, everyone, it is 66 years in the future, and Donald Trump is still having a press conference about WALL even though he died in prison of natural causes many years ago and there is no WALL. America is thriving and prosperous, the president of the United States is Malia Obama, and it's quite nice outside, thank you, because all those years ago Alexandria Ocasio-Cortez and her pals made a Green New Deal happen.
Look at him go: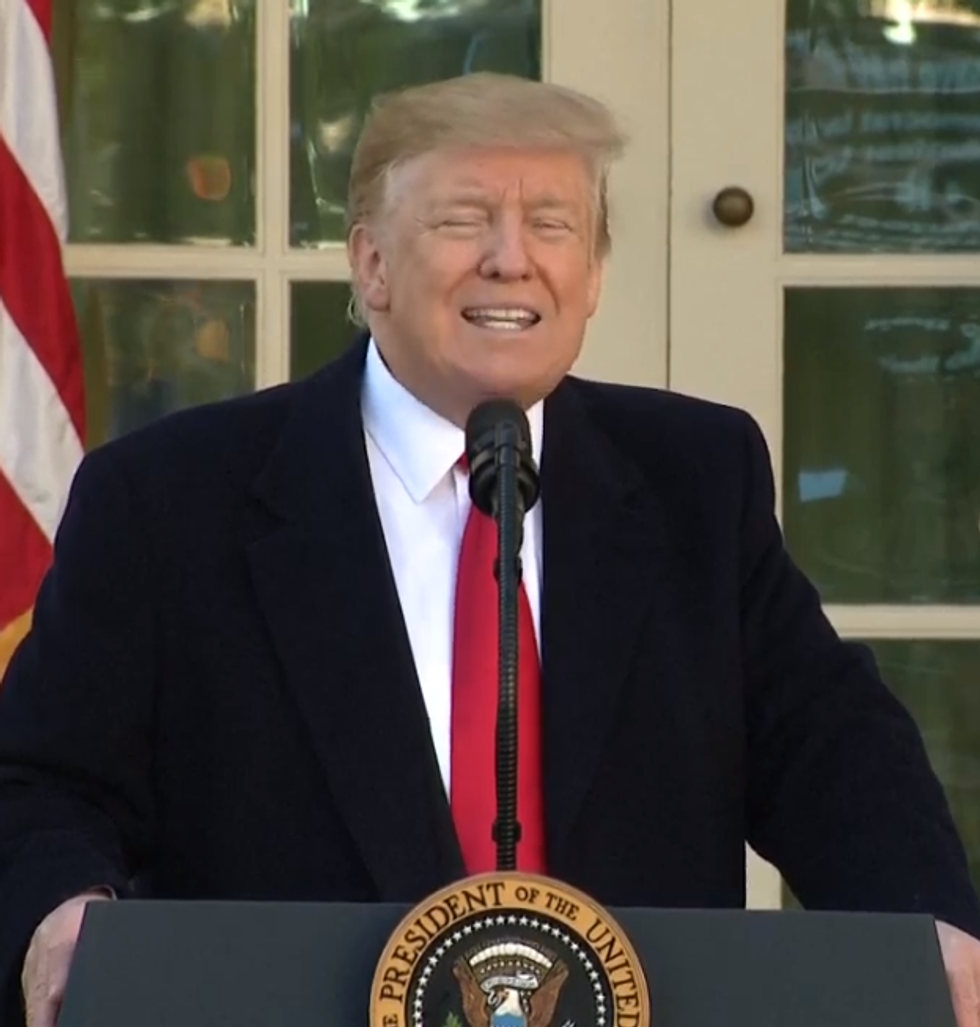 Trump says on February 15, he will either get WALL, or he will shut down the government AGAIN -- LOL, this time Nancy Pelosi didn't even have to goad him into taking the blame -- or he will do NATIONAL EMERGY.
OK anyway it is over now, goodbye President Loserfucker McSad!
Follow Evan Hurst on Twitter RIGHT HERE, DO IT RIGHT HERE!
Wonkette is ad-free and funded ONLY by YOU, our dear readers. Click below to give us ALL YOUR MONEY, or at least what you can afford!
Evan Hurst
Evan Hurst is the managing editor of Wonkette, which means he is the boss of you, unless you are Rebecca, who is boss of him. His dog Lula is judging you right now.
Follow him on Twitter RIGHT HERE.