Celebs Who Aren't Famous Anymore And Everybody Knows It But Them! Tabs, Wed., April 15, 2020
News
April 15, 2020 08:00 AM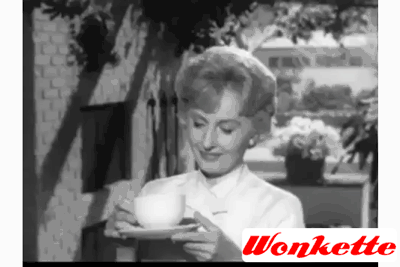 Tabs gifs are all by your friend Martini Ambassador, I forgot to say this morning!
People are starting to get their stimulus deposits from the IRS. I guess there's some places you can live a while on $1200. I don't know where that might be unless you are "my dad" and it is "my basement." Instructions included on how to check your check's status. — Washington Post
Oh, what's this? Trump's not authorized to sign checks from the Treasury, so they're putting his name on the memo line, which will delay them by several days. Fucking pathetic. (WaPo)
Paycheck Protection Program loans that turn into grants won't be taxable ... by the feds. Your state may be a different story. (And you may still need to be paying your state payroll taxes, small businesspeople, even if I recently told you payroll taxes are suspended through the end of the year. You should check! (Tax Foundation)
New York is finally counting all its "assumed" coronavirus deaths, because there are not enough tests to confirm the disease. According to Brit Hume, this is some kind of scandal. No, he doesn't mean the scandal is that there aren't enough tests. (Also this story isn't about him, I am just mentioning.) (New York Times)
Let's all fall in love with this wonderful mortician, Caitlin Doughty, explaining what is up with all the bodies.
[youtube https://www.youtube.com/watch?v=zLl5yikUKfk&feature=youtu.be expand=1] Handling the Coronavirus Dead in New Yorkwww.youtube.com
---
The rich are fleeing the city. A small rumination that mentions Hegel and also San Juan Island's Friday Harbor. — Charles Mudede in The Stranger
On Kaitlan Collins and Paula Reid puncturing Trump's bubble. — Dan Froomkin, PressWatchers
This guy at DailyKos splains you corona growth charts and what they mean.
"Our Uniquely American Virus," about the neoliberal pandemic preparation and response, is about the actual, real definition of neoliberal, so if you have an aneurysm while you read it, it won't be from that. (The American Prospect)
San Diego police have seized guns from more than 50 people, since the crisis began, whom they deemed to be a danger to themselves or others. Domestic violence is increasing too.
Sen. Richard Burr must feel so poor all the time. That must be why he's got another ethical whoopsie, this time offloading his house to a lobbyist at a "rich price," like a common Donald Trump selling a mansion to Dmitry Rybolovlev. (ProPublica)
Everybody hates Susan Collins, my, isn't that sad. (DailyKos)
LOL Scott Walker, and the millions of people at the Obama rally were there to see the Decemberists, cry laugh emoticon! (NYT)
Former Gov. Scott Walker of Wisconsin, a Republican who signed into law the voting restrictions that chafed Democrats, said he was unconcerned about the result, saying that Democrats had been drawn to the polls by their party's presidential primary between former Vice President Joseph R. Biden Jr. and Senator Bernie Sanders of Vermont. Mr. Sanders ended his presidential campaign the morning after the Wisconsin vote.
Speaking of which! Mother Jones: Republicans are trying to kick thousands of voters off the rolls during a pandemic.
Steve Phillips: No question, Joe Biden needs to pick Stacey Abrams. (NYT)
Mark Green: No question, Joe Biden needs to pick Elizabeth Warren. (The Nation)
A class action suit against Jerry Falwell Jr.'s Liberty University, oh, no, stop, don't. (ReligionNews)
Should we start using bidets? Vox investigates its own asshole.
"This study on flower resilience is the most beautiful thing I've read during the pandemic." — Vox
This does indeed look like a good way to make a cheeseburger. Shyyyyyy. (Slate)
Why yes, I will look at what's in Ina Garten's pantry.
And gecko art museum? Hell yeah.
fuck it gecko art museum https://t.co/AFkwVb1Q6y

— AJP (@AJP) 1586787827.0
Lastly: You, this, read, now. The Fabulous Forgotten Life of Vita Sackville-West, in the Paris Review.
Do your Amazon shopping through this link, because reasons.
Wonkette is ad-free and supported ENTIRELY by YOU. We love you!
Rebecca Schoenkopf
Rebecca Schoenkopf is the owner, publisher, and editrix of Wonkette. She is a nice lady, SHUT UP YUH HUH. She is very tired with this fucking nonsense all of the time, and it would be terrific if you sent money to keep this bitch afloat. She is on maternity leave until 2033.