Censorship Is 'Vulgar.' Queer-Themed Plays In High Schools Are Not.
Culture
February 08, 2023 02:30 PM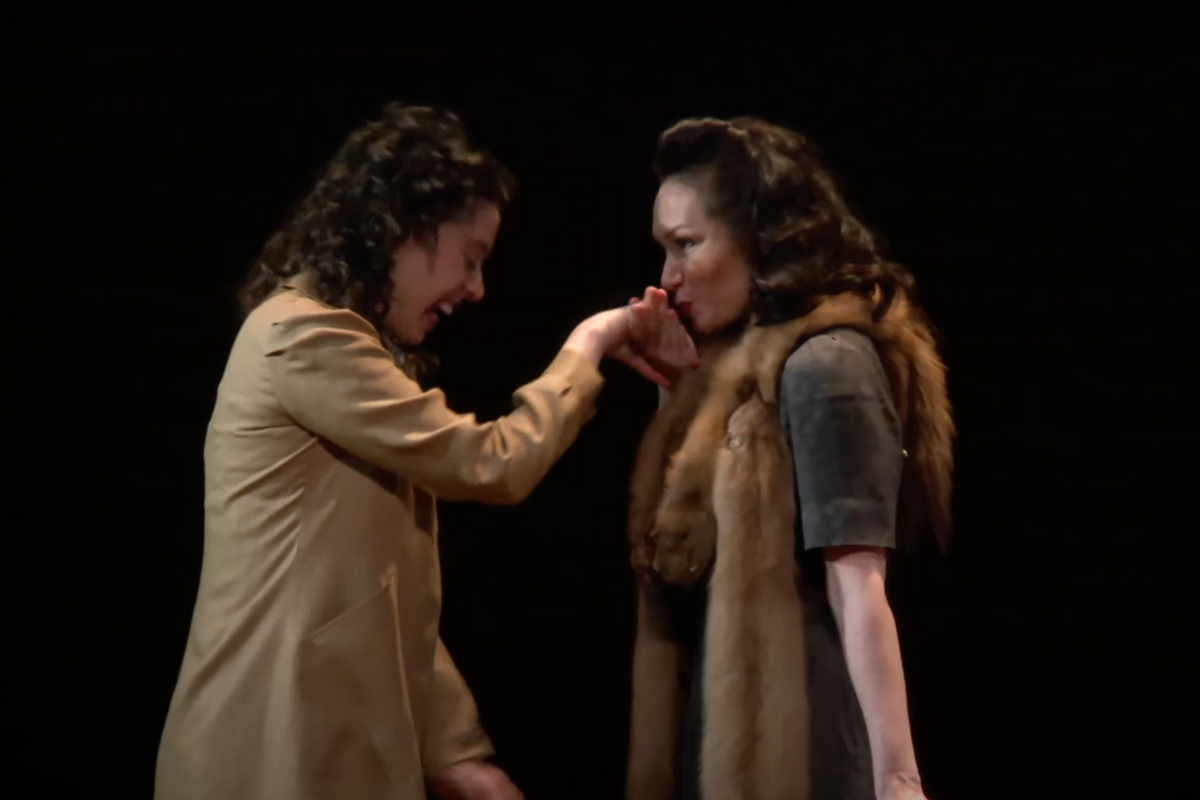 Students at Douglas Anderson School of the Arts in Jacksonville, Florida, had planned to perform Paula Vogel's play Indecent this spring, but on the first day of rehearsals last month, school officials informed them the production was cancelled, citing the "adult sexual language." Vogel's 2015 play is about the 1923 Broadway debut of God of Vengeance, a Yiddish play by Sholem Asch that presents the first romantic kiss between two women on a US stage. In Indecent, the actors who play the lesbian characters in God of Vengeance are also an off-stage couple. Duval County Public Schools considered this subject matter literally indecent.
In a moving Instagram video, Madeline Scotti, a senior at Douglas Anderson who would've starred in the shuttered play, said, "The 100-year anniversary of Sholem Asch's God of Vengeance being shut down on Broadway is the same week that our production of Indecent would have opened. One hundred years — 100 years — and we are still fighting the same injustices that Sholem Asch and his company did. Indecent is about the purity of love, the strength within a community, and the shallowness of those who try to silence identity. Indecent is also a queer Jewish love story put on by a company composed by Jewish people, of queer people, of activists and the descendants of Sholem Asch. They are trying to tell us the play is dirty, immoral, obscene, and, of course, indecent. And by that nature, they are trying to tell me that I myself and my community [are] dirty, immoral, obscene and indecent."
---
Pulitzer Prize winner Paula Vogel wept when she watched Scotti's video. In an interview with journalist Lisa Tolin, Vogel said, "I'm not in the business of politics, but whatever that board says in terms of statements that they've released about why they're doing this, they're putting sheep's clothing over a wolf. And the wolf is Governor [Ron] DeSantis. So the school board is saying, oh, this has nothing to do with the Don't Say Gay bill. Right. Can I sell you a bridge?"
Duval County Public Schools spokesperson Tracy Pierce assumes people are just that gullible. She told Teen Vogue in January that "Indecent contains adult sexual dialogue that is inappropriate for student cast members and student audiences. It's that simple. The decision has no relevance to any legislation but is rather a function of our responsibilities to ensure students engage in educational activities appropriate for their age."
Students at Douglas Anderson have performed Chicago last year and Rent in 2021. Neither play is Grease, a popular high school mainstay that come to think of it has an awful lot of adult sexual dialogue.
Vogel also told the Jewish Telegraphic Agency, "Parents who live in the community have written to me and said, 'There is rising antisemitism in our community ... I very much think that what the school board may not be able to express is their concern about presenting a play that shows how censorship is the first step to the Holocaust."
This post-DeSantis wave of censorship isn't localized to Florida. Students at Ohio's Cardinal High School were also in the middle of rehearsal when they were told their production of The 25th Annual Putnam County Spelling Beewas cancelled on account of gay.
Cardinal Local Schools Superintendent Jack Cunningham claimed the show's "dialogue and song lyrics contain vulgarity and are therefore not suitable for our preteen and teenage students in an educational setting."
Cunningham, like Tracy Pierce, is also trying to sell us a bridge. The 25th Annual Putnam County Spelling Bee has long been considered suitable for general audiences and teenaged children and hardly a controversial choice for a high school production. The fact that one character's parents are gay was previously not a deal breaker.
The 2005 Broadway production starred Jesse Tyler Ferguson ("Modern Family"), who responded to the Cardinal High production's cancellation on Instagram: "I guarantee there's someone at this school who's maybe being raised by gay parents, but definitely more than one person at this school is gay or lesbian or bisexual. The message that this sends to them, that that is not 'family appropriate' or 'family friendly,' rather, is toxic and harmful and kind of abusive."
He's right. It's not as if the censors are recoiling over Basic Instinct-style sexuality in a high school production. They object to queer people's mere existence on stage.
This week, the Dramatist's Guild called out both recent cancellations and said the schools had "shirked their responsibility to educate and foster the free exchange of ideas." The Guild encouraged people to attend the Cardinal Schools School Board meeting Wednesday and (politely) voice their concerns.
DeSantis's anti-queer crusade hasn't simply had a chilling effect on perhaps rightly frightened educators. It seems to have emboldened prudish censors across the nation. That is troubling, but we'll keep pushing back.
[JTA / PEN America / Playbill]

Follow Stephen Robinson on Twitter if it still exists.
Did you know SER has his own YouTube Channel? Well, now you do, so go subscribe right now!
Subscribe to the Wonkette YouTube Channel for nifty video content!
Click the widget to keep your Wonkette ad-free and feisty.
Stephen Robinson
Stephen Robinson is a writer and social kibbitzer based in Portland, Oregon. He writes make believe for Cafe Nordo, an immersive theatre space in Seattle. Once, he wrote a novel called "Mahogany Slade," which you should read or at least buy. He's also on the board of the Portland Playhouse theatre. His son describes him as a "play typer guy."