Cindy McCain Fondly Recalls Her Baby-Poaching Days On 'Good Morning America'
June 19, 2008 12:33 PM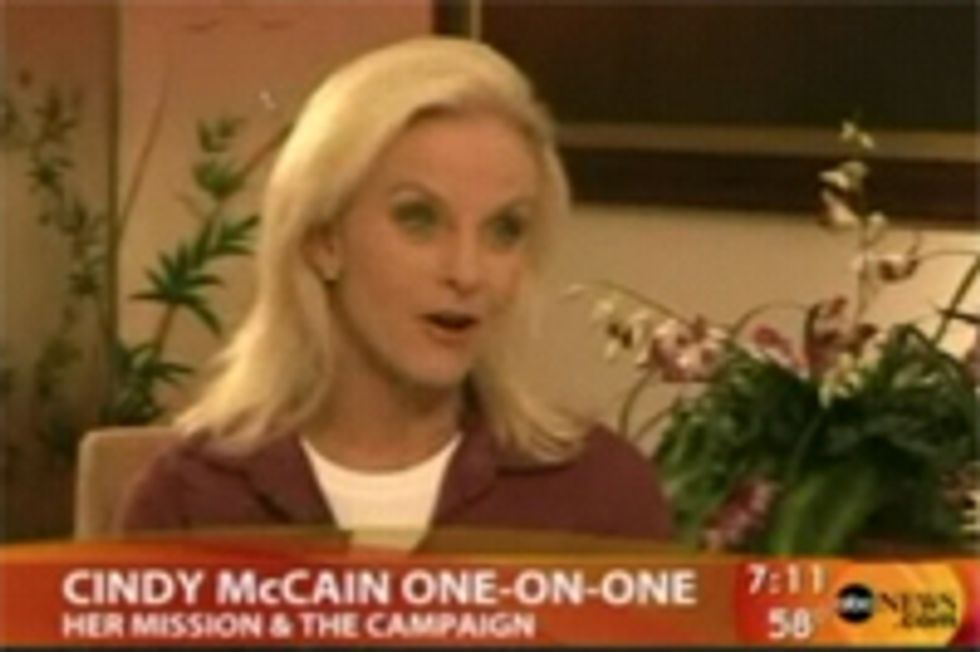 Michelle Obama didThe View yesterday, so today sasspants Cindy McCain visited Good Morning America. We were too busy sleeping or something to actually watch this wee interview, but here is a recording of it! After the jump, an exclusive Wonkette Record-O-Blog, which is like a liveblog, except recorded.
---
7:12 AM -- In some countries, they keep children in closets! Also, one third of the country has no idea who Cindy McCain is.
7:12 AM -- "I don't think I'm very mysterious." The interviewer asks, "But what of the people who think you're a terrible elitist because you're a gazillionaire beer heiress?" Cindy, seductively: "Come and get to know me." We're blushing.
7:13 AM -- Why should a woman support John McCain when he's pro-life? Because he loves the war, which is the most pro-woman thing of all. "I think Michelle Obama is a fine woman." Finally, everyone in America can agree on something.
7:14 AM -- Get up off the couch and volunteer! Cindy casts her mind back to the time she came home with a new baby and John was like, "You know what goes good with that? Lemon pepper."
Cindy McCain GMA Interview [RedLasso]