Click Here If You Hate Lindsey Graham's Guts!
News
September 24, 2020 04:30 PM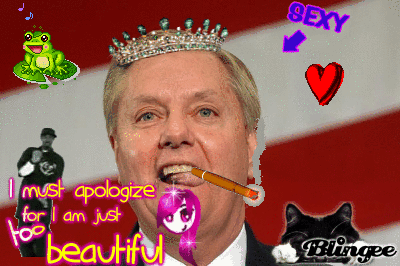 Lindsey Graham is upset, y'all.

No, not the kind of upset where his face gets all red and his eyes bug out and he expresses his anal glands and starts sweat-screaming on the Senate floor about how everybody is ruining Brett Kavanaugh's life. That's pretty funny, but Lindsey is a different kind of upset.
He's BROKE upset, because he ain't go no money! And he's SAD upset, because everybody HATE HIS GUTS.
All of this brings us joy.
Graham went on "Fox & Friends" today, for bellyaching purposes. You will want to watch this video in a chair where you have freedom of movement to slap your knees and giggle a lot about Lindsey's pain.
---
"I'm being killed financially. This money is because they hate my guts," Sen. Lindsey Graham who's neck and neck wi… https://t.co/bIz2K06fN7

— Shannon Watts (@Shannon Watts) 1600965856.0
In that clip, Lindsey whines that his opponent Jaime Harrison (DONATE HIM) is going to raise $100 million dollars. He whines that Harrison (PUT MONEY IN HIS BRASSIERE!) raised $6 million in the hours after Ruth Bader Ginsburg's death.
GRAHAM: I AM BEING KILLED FINANCIALLY. THIS MONEY IS BECAUSE THEY HATE MY GUTS.
That is true, Lindsey Graham, everybody is giving dollars to Jaime Harrison (PUT A HUNDY IN JAIME HARRISON'S FACE!) because they hate Lindsey Graham right in his guts.
If Lindsey Graham experiencing what it is like to have somebody hate his guts to his face brings you unfettered joy, and if you really like the idea of Graham's career being one of the casualties of the 2020 election, go contribute to Lindsey Graham's sadness and 2021 unemployment!
According to recent polls — good polls — Harrison and Graham are neck and neck.
And while you're at it, spread some love around.
Just today, good polls have Theresa Greenfield up a point or three over Joni Ernst, Barbara Bollier is even with gross GOP fucker Roger Marshall in Kansas, and adorable doll-faced Jon Ossoff is either tied or just a couple points down against gross GOP fucker David Perdue in Georgia. (If any race needs more love right now, it is OSSOFF. We can win that one.)
Those links? They are for HURL MONEY AT THESE PEOPLE SO HARD THEY ARE LIKE OW OW OW OW, STOP! WHAT ARE THOSE, ROLLS OF QUARTERS?
Do not throw rolls of quarters at them! It is considered highly impolite. Use your credit or debit card, like a civilized person.
In summary and in conclusion, Lindsey Graham is upset and that just makes you more motivated.
OPEN THREAD.
Follow Evan Hurst on Twitter RIGHT HERE, DO IT RIGHT HERE!
Did you forget to money somebody? Was it us? Let us help you with that.
Evan Hurst
Evan Hurst is the managing editor of Wonkette, which means he is the boss of you, unless you are Rebecca, who is boss of him. His dog Lula is judging you right now.
Follow him on Twitter RIGHT HERE.