CNN Finally Dumps Rick 'Frothy Mixture' Santorum From Their Roster
Media/Entertainment
May 22, 2021 04:05 PM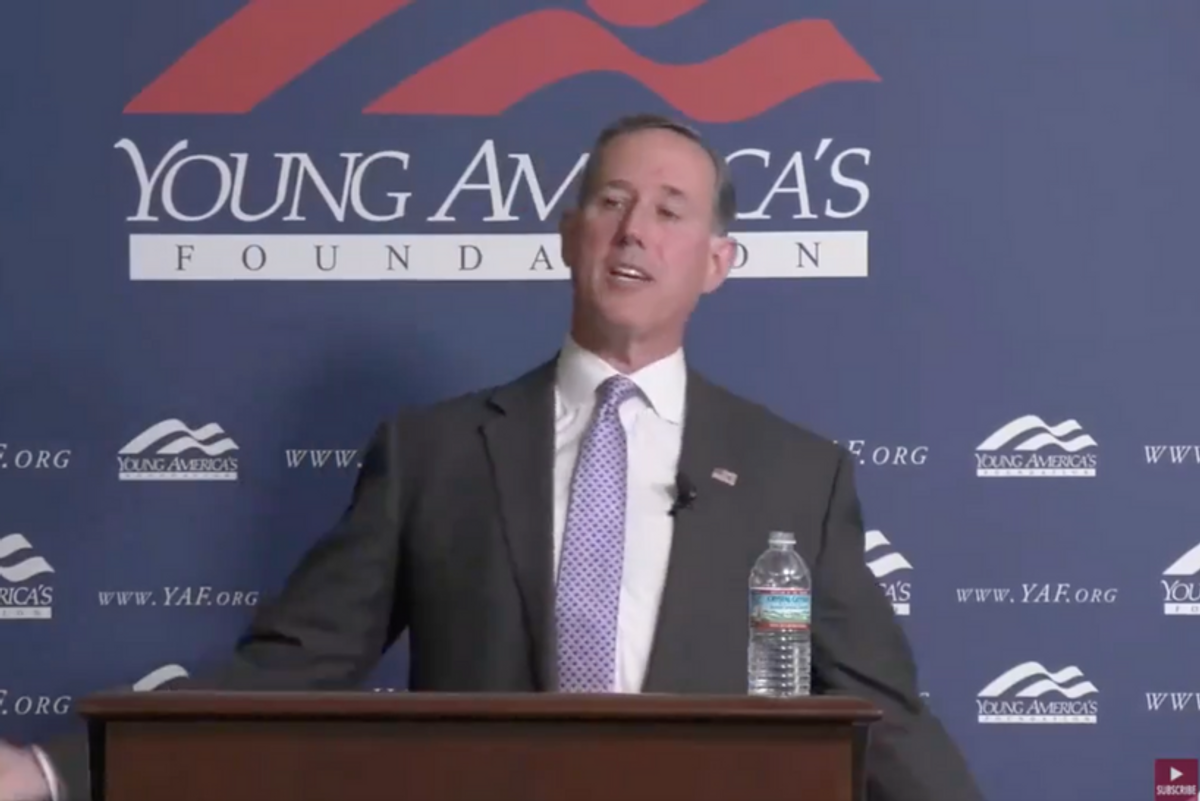 Rick Santorum has been famous for saying terrible things for, well, as long as he's been famous. He was so very famous for hating gay people that Dan Savage turned his last name into a neologism meaning "the frothy mixture of lube and fecal matter that is sometimes the byproduct of anal sex." And yet, somehow, he secured a running gig providing commentary on CNN and held it for the last several years. Like he was some kind of normal person rather than a firmly established hatemonger.
However, it seems that his recent comments on Native Americans were a bridge too far even for CNN, and Santorum has officially been kicked off of their contributors roster.
---
We came here and created a blank slate. We birthed a nation from nothing. I mean, there was nothing here. I mean, yes we have Native Americans but candidly there isn't much Native American culture in American culture.

It seems like maybe conservatives might be very bad at history?
The network had given Santorum an opportunity to save face and retract his sentiments on "Cuomo Primetime," but he did such a terrible job there that no one has wanted to book him since.
Via Huffington Post:
But on Saturday, a CNN senior executive told HuffPost that the network quietly ended its contract with Santorum this week. This executive, who requested anonymity to speak openly, said the decision to cut ties with Santorum came after he went on one of the network's shows, "Cuomo Prime Time," to explain himself shortly after he made his racist comments. He blew it, said this executive, and after that, nobody at the network wanted to keep him around.

"Leadership wasn't particularly satisfied with that appearance. None of the anchors wanted to book him," said the executive. "So he was essentially benched anyway."

During his appearance on Chris Cuomo's show, Santorum said he "misspoke" and that his comments were "out of context." But the context of his remarks was simply that he said them, and he did not apologize during the segment.

"I think after that appearance, it was pretty clear we couldn't use him again," said the executive.
While it would be lovely if CNN had come to this conclusion entirely on their own (a month after he actually made the comments), Santorum's firing comes after several Indigenous-led groups circulated an open letter and pushed the #RemoveRick hashtag campaign on Thursday.
What is still unclear is why anyone thought it was a good idea to use him in the first place. He's an actual extremist on social issues, not one of the "just really loves war and hates poor people" Republicans that "Reasonable Democrats" consider "Good Republicans." Even the "Well you gotta give it to Paul Ryan, he's a hell of a numbers guy"-types think Santorum is horrifying.
As much as we'd love to believe this is the last we'll see of that frothy mixture, the "Oh my god Rick Santorum has been cancel cultured!" cries from the Right will likely lead to him hosting his own "How White People Did All Of History All By Themselves" series on Fox.
OPEN THREAD!
Do your Amazon shopping through this link, because reasons.
Wonkette is independent and fully funded by readers like you. Click below to tip us!
Robyn Pennacchia
Robyn Pennacchia is a brilliant, fabulously talented and visually stunning angel of a human being, who shrugged off what she is pretty sure would have been a Tony Award-winning career in musical theater in order to write about stuff on the internet. Follow her on Twitter at @RobynElyse