College Board MAYBE Suggesting Ron DeSantis Lyin' POS Who Hates Education, Black History
Education
February 13, 2023 08:55 AM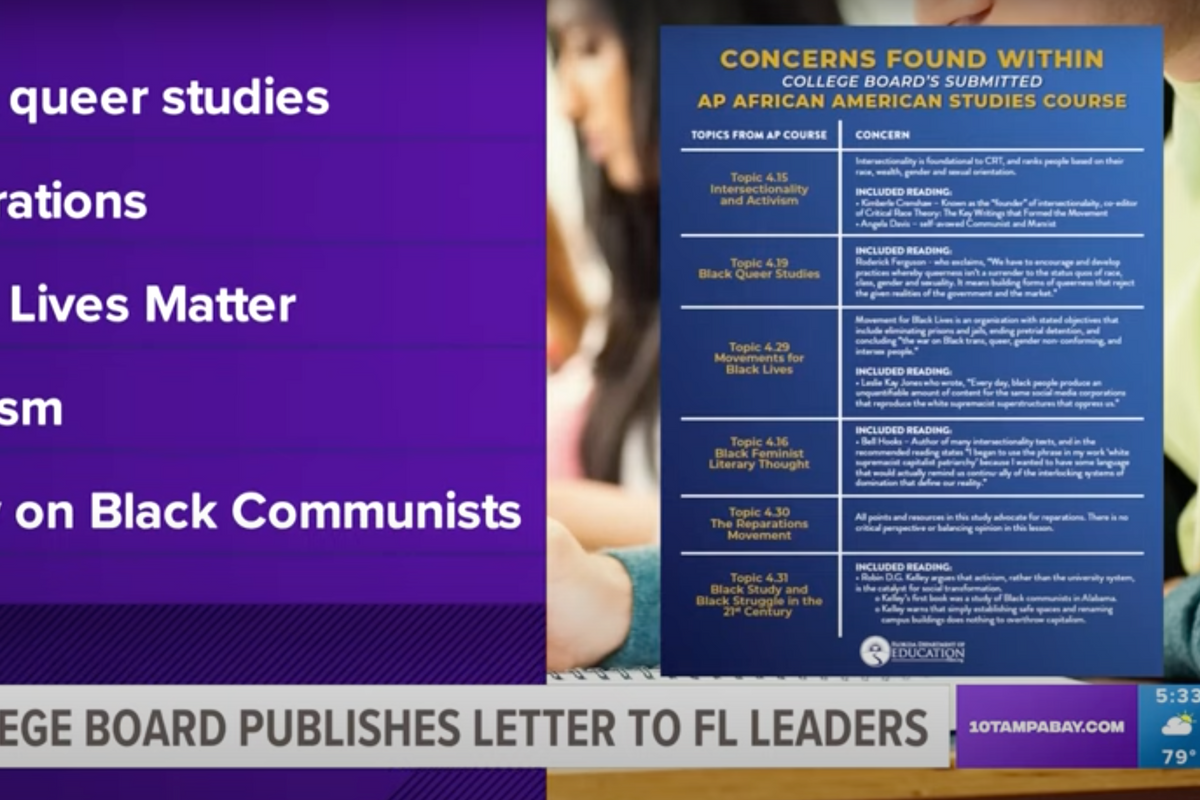 For a while there, it looked like the College Board had folded to Florida Gov. Ron DeSantis and released a new official curriculum for its Advanced Placement course in African American Studies — free of all that inconvenient history and Black intellectual thought that so triggers conservatives.
That was certainly how the New York Times and some other media outlets framed the situation, but the College Board claimed the revision process "was completed in December 2022." Regardless, the news wasn't the best way to kick off Black History Month.
PREVIOUSLY:
Happy Black History Month From The College Board!

Ron DeSantis's Drunk Black History

However, the College Board has seemingly located its spine and clapped back at DeSantis and his book burners. Late Saturday, the College Board released a scathing letter denouncing the Florida Department of Education, which the Board accuses of using the AP course to advance a politically motivated agenda.
---
Declaring that its "commitment to AP African American Studies is unwavering," the College Board promised "[this] will be the most rigorous, cohesive immersion that high school students have ever had in this discipline. Many more students than ever before will go on to deepen their knowledge in African American Studies programs in college."
Then the College Board served notice:
We deeply regret not immediately denouncing the Florida Department of Education's slander, magnified by the DeSantis administration's subsequent comments, that African American Studies "lacks educational value." Our failure to raise our voice betrayed Black scholars everywhere and those who have long toiled to build this remarkable field.

We should have made clear that the framework is only the outline of the course, still to be populated by the scholarly articles, video lectures, and practice questions that we assemble and make available to all AP teachers in the summer for free and easy assignment to their students. This error triggered a conversation about erasing or eliminating Black thinkers. The vitriol aimed at these scholars is repulsive and must stop.
The College Board clarified that "contemporary events like the Black Lives Matter movement, reparations, and mass incarceration were optional topics in the pilot course" and admitted that its original "lack of clarity allowed the narrative to arise that political forces had 'downgraded' the role of these contemporary movements and debates in the AP class."
The Board further explained that it "had no negotiations about the content of this course with Florida or any other state, nor did we receive any requests, suggestions or feedback." The Board exchanges with the Florida Department of Education were "actually transactional emails about the filing of paperwork to request a pilot course code and our response to their request that the College Board explain why we believe the course is not in violation of Florida laws."
We were naive not to announce Florida's rejection of the course when FDOE first notified us on September 23, 2022, in a letter entitled "CB Letter AP Africain [sic] Studies."
Yes, the fools misspelled "African."
The College Board admits it was a mistake to treat the Florida Department of Education with the basic courtesy it extends to organizations that actually care about education. Florida instead "exploited this courtesy for their political agenda."
Florida even falsely took credit for changes to the course framework that they never formally requested the College Board to remove and most of which still remain.
They also claimed that we removed terms like "systemic marginalization" and "intersectionality" at their behest. This is not true. The notion that we needed Florida to enlighten us that these terms are politicized in several states is ridiculous. We took a hard look at these terms because they often are misunderstood, misrepresented, and co-opted as political weapons. Instead we focused throughout the framework on providing concrete examples of these important concepts. Florida is attempting to claim a political victory by taking credit retroactively for changes we ourselves made but that they never suggested to us.
You can feel the College Board's contempt when it calls out the Florida Department of Education's most recent letter that "continues to deride the field of African American Studies by describing key topics as 'historically fictional.' We have asked them what they meant by that accusation, and they have failed to answer."
That's because these self-proclaimed experts in "Africain [sic] Studies" are the ones falsifying history (and the present). It's good to see the College Board fighting back.
Follow Stephen Robinson on Twitter if it still exists.
Did you know SER has his own YouTube Channel? Well, now you do, so go subscribe right now!
Subscribe to the Wonkette YouTube Channel for nifty video content!
Click the widget to keep your Wonkette ad-free and feisty.
Stephen Robinson
Stephen Robinson is a writer and social kibbitzer based in Portland, Oregon. He writes make believe for Cafe Nordo, an immersive theatre space in Seattle. Once, he wrote a novel called "Mahogany Slade," which you should read or at least buy. He's also on the board of the Portland Playhouse theatre. His son describes him as a "play typer guy."