Comey To Talk His 'Thing' With Trump. Wonkagenda For Thurs., June 8, 2017
Elections
June 08, 2017 09:23 AM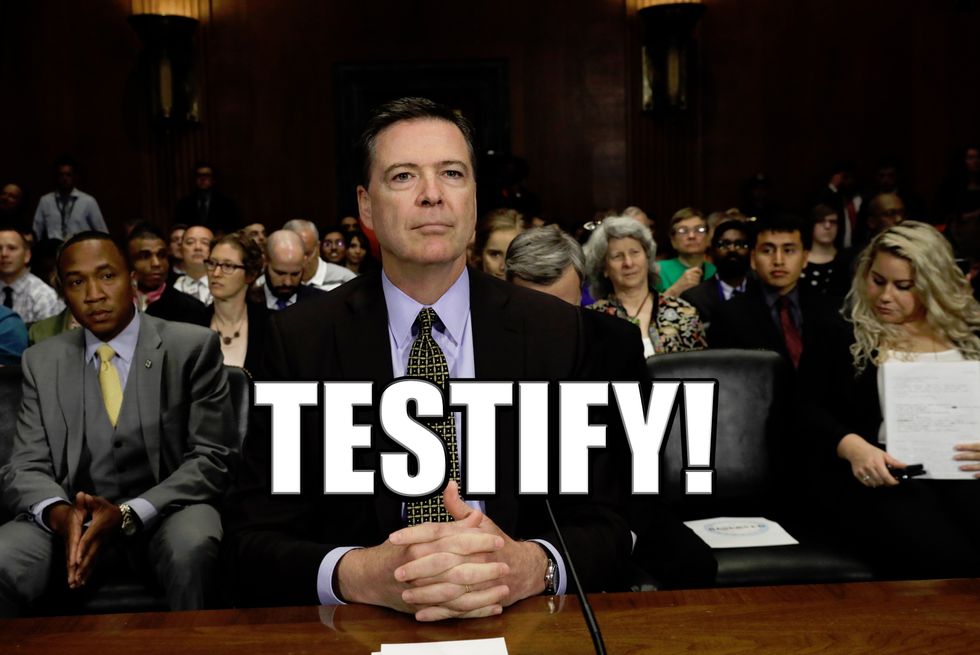 Morning Wonketariat! Today is All Comey All Day at the Ol' Wonkit. Evan will be liveblogging at ya, and THAT will be IT. So if you are in need of other things to read, here's some outside links. Wonkette: Not afraid to be servicey!
---
James Comey is set to testify this morning and as everyone tunes in to watch him finger Trump for potential obstruction of justice, my personal Comey bingo card has "hookers" in the free space.
Here are the RNC talking points as James Comey tells us all about how Trump tried to corner him in a room alone at night after dinner.
The blood sucking leeches and vultures are beginning to swarm Capital Hill as damage control PR specialists and white-collar defense attorneys begin to attach themselves to Trump associates. So much for draining the swamp!
Chris Christie thinks Trump's bullying and loyalty demands are just normal New York City talk, which is a lot like locker room talk, but with more bad words and middle fingers. [Video]
The House Intelligence Committee's top Democrat, Adam Schiff, thinks Comey's written testimony certainly seems like evidence of obstruction of justice, but we'd still need that pee hooker tape, just to be sure.
Trump is forcing insurance companies to bail out of Obamacare markets throughout the country, and congressional Republicans are ensuring millions of Americans lose their insurance by the end of June so they can FINALLY move on to tax cuts for the wealthy.
Poor Paul Ryan might have to break the GOP's sacred Hastert rule in order to fund the government, and you better believe the House Freedom Caucus will rake him over some clean coal in the process.
On Tuesday, Michelle Lee suddenly resigned as the head of the U.S. Patent Office, primarily over a Trump administration policy that will let the Commerce Department control patent fees, but Commerce Secretary Wilbur Ross says it's not true, and why would a corporate raider lie?
Rep. Greg Gianforte put some infinitesimal percentage of his money where his fists where to apologize for assaulting Guardian reporter Ben Jacobs, sending a wad of cash to the Committee to Protect Journalists. At least it wasn't a brick. [Letter]
A jury has awarded $6.7 million to a woman who says she was repeatedly raped in Milwaukee County Jail, and for good measure was shackled while giving birth, and for once Sheriff David Clarke doesn't have a rude and degrading comment.
Some cops in New Jersey were caught on video beating a man on fire after he crashed his car, but it's cool because they thought he was someone else.
A number of senators are signaling their disapproval of Trump's big Saudi arms deal because they're not exactly sure why the Saudis need precision guided missiles to kill civilians in Yemen.
The U.K. is voting today and Theresa May and the conservatives may increase their majority in Parliament, but their polls are notoriously weird.
Iran's Foreign Minister thinks Trump's condolences are "repugnant," but in all fairness neither has much room to criticize one another.
ICYMI: Venezuela's going through some bad times as thousands continue to protest in the streets. No Bueno!
Reality Winner will plead "Not Guilty" for leaking information about Russian cyber attacks and potential tampering in the 2016 election, BUT AT LEAST THEY GOT THEIR LEAKER, and that's all that matters, right?
Why is US Weekly giving Princess Ivanka editorial blow jobs? Could it be because their celebrity-obsessed publisher is a not-so-secret Trumpkin? ALSO INSIDE: How Prince Jared and President Bannon squashed their beef in a truck stop bathroom!Alex Jones is MAD Megyn Kelly will make him look like A Idiot so he started calling her all sorts of names. That'll show her!
Melon Trump will leave her glass tower and rumored New York side-peen behind soon and take up residence in D.C. where she'll continue to bum everyone out with more depressing soulless and dead-eyed InstaTweetFace selfies.
Jesse Ventura says he's "working for the enemy of mainstream media now" on his new RT reality show because he'll get to cover "the feeling of freedom." No, that's not selectively edited.
GOOD NEWS EVERYONE! Even though Trump bailed on the Paris accord, U.S. states are passing laws and cities are setting their own climate standards, and Not America is trying to help!
Here's a bunch of photos of B. Barry Bamz and the fam doing stuff, like hanging out with Justin Trudeau and Angelea Merkel. You're Welcome!
And here's your late night wrap-up! Samantha Bee thinks Trump needs to delete his account; Seth Meyers took A Closer Look at REXXON overseas and Comey's Testimony; Colberthad to do two monologues on Comey-Eve; Conan O'Brien wants you to head down for a beer and some wings for Comey; The Daily Show wondered wtf is wrong with Eric Trump; and Jimmy Kimmel thinks Bill Clinton must be laughing his ass off
And here's your morning Nice Time! BABY GOATS!
Wonkette: It's what's for breakfast, lunch, teatime, dinner, a nice snack, and a midnight masturbating sesh. Won't you help us help you help us? (We mean money.)
Dominic Gwinn
Dominic is a broke journalist in Chicago. You can find him in a dirty bar talking to weirdos, or in a gutter taking photos.