Condi Rice's Big Adventure At The Masters Tournament
News
April 14, 2009 10:11 AM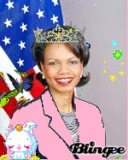 Condi Rice wrote an article forTina Brown's Internet Welfare Program For Lonely Republican Spinsters, and it is all about her new favorite game, golf. Somebody who knows something about golf might be able to "analyze" this article but we are not Deadspin over here so let's just pick out some funny quotes.
---
There is something weirdly Noonan-esque about the informal stylings of Condi Rice: a knowingness combined with complete bafflement with the modern world; decorum mixed with the occasional nugget of blunt old person-y wisdom.
"Borrowing language from Anne's generation, I said, 'Duh?'"
"The people are very kind. Clearly, the faces at Augusta are changing as America is changing. But there is a timelessness to it that is very nice. Everything runs on time at Augusta but nothing is hurried."
"My foot was there and I happily stood on the rope."
"We returned to Atlanta where I played myself (very well, actually) and followed the Masters from afar."
"It was also a great moment for Argentina—a country with terrible politics and wonderful people."
Sure, Condi uses three words where Peggy would use thirteen, but besides that they are basically soul twins. The point of the article is this: Condoleezza Rice saw some golf at a pretty golf course, and then some guy she didn't care about won. Also she knows Tiger Woods.
My Weekend on Tiger's Trail [The Daily Beast]