Congress To Hold Hearings On How Gross Trump's Yeti Pubes Really Are
News
September 04, 2019 10:42 AM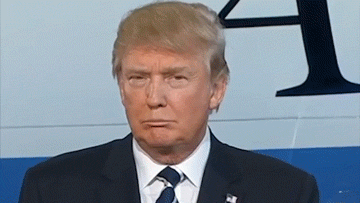 Were you one of those people who was like "GAAAAAH ROBERT MUELLER IS SOOOOO BOOOOORING, WHY DOESN'T HE DANCE MORE?" during the Mueller testimony? If so, first of all, Maggie Haberman, thanks for reading Wonkette, the donate button is below. Secondly, the Washington Postreports that the House Judiciary Committee's fall season of "To Impeach Or Not To Impeach" will feature more musical numbers and a little bit more PIZZAZZ-A-MATAZZ, because on top of everything else they're doing to get the grand jury information from the Mueller Report and get the courts to order former White House counsel Don McGahn (and by extension everybody else who ever worked in the White House) to comply with subpoenas, they're going to start shining a light on the campaign finance crimes committed by Donald Trump in paying off women he had affairs with, in order to help his own election.
That means Stormy Daniels. And Karen McDougal.
---
And also some other folks, like David Pecker, the CEO of American Media Inc. (AMI), and the National Enquirer publisher who cahootsed with Trump and company to keep Trump's affair with McDougal under wraps, by catching and killing her story and offering her work to buy her silence. And hardly any of them will be able to even temporarily claim any kind of bullshit executive privilege that a judge will later have to throw out the window.
The House Judiciary Committee is preparing to hold hearings and call witnesses involved in hush-money payments to ex-Playboy model Karen McDougal and adult-film star Stormy Daniels as soon as October, according to people familiar with the plans who spoke on the condition of anonymity to describe internal discussions.

Democrats say they believe there is already enough evidence to name Trump as a co-conspirator in the episode that resulted in his former attorney, Michael Cohen, pleading guilty to two campaign finance charges.
The committee hasn't released an official witness list, but going off of committee chair Jerry Nadler's list of subpoena targets from earlier this summer, we'd guess it would also include AMI executive Dylan Howard and Keith Davidson, the lawyer who previously repped Daniels and McDougal.
Though Trump repeatedly lied about having knowledge of the payments, Michael Cohen testified at his sentencing that Trump ordered him to commit those crimes and knew about the payments, and then Cohen told Congress the same information. And he brought receipts, as you will remember. (Oh yeah, also too, remember that tape of Michael Cohen and Trump discussing the payoff scheme to McDougal? He knew every damn bit of what was going on.) As the Washington Post notes, federal prosecutors from SDNY also wrote in their filings before Cohen's sentencing that Cohen "admitted, with respect to both payments, he acted in coordination with and at the direction of Individual-1."
And we really do need to find out more about why the Southern District of New York ended the investigation into the hush money scheme this summer, without any further charges, because what we've been suspectin' is that they were constrained by the dumb Department of Justice memo that says you can't indict a sitting president. We also need to know if Attorney General Bill Barr rubbed his meat paws all over SDNY and pressured the office not to charge people like Donald Trump Jr., who signed some of the reimbursement checks to Michael Cohen for his payoff of Stormy Daniels.
"The fingerprints are all over this one — it's not like a big mystery," said Rep. Jamie B. Raskin (D-Md.), a member of the Judiciary panel. "As with the evidence of presidential obstruction of justice, the conclusion seems inescapable: that [Trump] would have been tried had he been anybody else. And now it's left to Congress again to figure out what to do with the lawbreaking and apparent impunity of the president."
Impeach!
We have heard some of the usual suspects on the TV the past 24 hours (Brian Williams, for instance) saying that this just seems like the Democrats are "unfocused" and have lost their momentum, and other things fucking moron Beltway types say when they feel the need to fill a 24-hour news day with their opinions. Those people are not grasping that the corruption and criminality of the Trump administration is not confined to one area, but rather is vast, and that any House impeachment inquiry was always going to have many investigative wangs to it. The Mueller Report stuff is extremely important, as Mueller found 1) a presidential campaign that was overjoyed Russia was giving it a reacharound, and did everything it could to help that process along whenever it could, and 2) a president who repeatedly committed criminal obstruction of justice to try to control or stop Mueller's investigation. He may not have been able to indict the president either, but he sure laid it out and tied it up with a bow for Congress.
Unfortunately, the level of current obstruction of justice from the Trump White House is so egregious that it's going to take a team of judges to get Congress what it needs in that investigation, and it's taking a while.
In the meantime, let's have a show! Let's put it on the TV! It is about the president literally ordering his subordinate Michael Cohen, who is currently in prison, to work with his business pals to commit crimes, in order to help him get elected!
Stormy Daniels is ready:
I have no fear of being under oath because I have have been and will be honest. Bring it! https://t.co/69EJyd9PUh

— Stormy Daniels (@Stormy Daniels) 1567516871.0
Wonkette is also ready.
We just hope nobody brings visual aids, because though we absolutely believe Stormy Daniels when she says Donald Trump has a weird little mushroom sprout Mario Kart penis that prairie dogs out of the soil of a vast savanna of Yeti pubes, we don't want to see it, because we are planning to eat food that day.
The end.
Follow Evan Hurst on Twitter RIGHT HERE, DO IT RIGHT HERE!
Wonkette is ad-free and funded ONLY by YOU, our dear readers. If you love Wonkette, SUPPORT WONKETTE.

Evan Hurst
Evan Hurst is the managing editor of Wonkette, which means he is the boss of you, unless you are Rebecca, who is boss of him. His dog Lula is judging you right now.
Follow him on Twitter RIGHT HERE.