Congressional Hockey Bet Resolved Without Injury
News
June 11, 2010 11:10 AM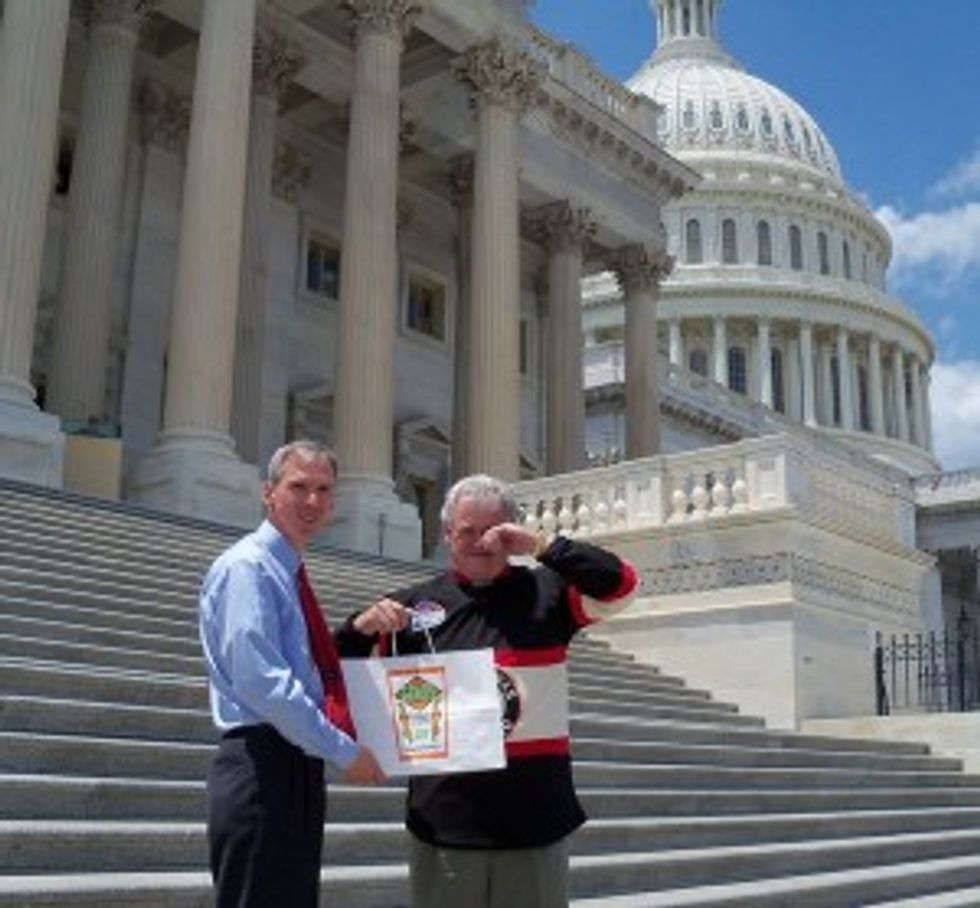 Now here's a "Twitpicture" for the history books: Congressman Dan Lipinski (D-Chicago Thugs), at left, receiving a bag of Philadelphia cheese steaks from serial sports bettor Rep. Robert Brady (D-Philly Brawlers), after the Blackhawks beat the Flyers to win the Stanley Cup the other night. The sandwiches were part of a bet that--because his team lost, per usual--also required Brady to wear a Blackhawks jersey, for cruelty and humiliation purposes. What is Brady doing with his nose?
---
Maybe he is flashing some sort of secret gang symbol? Or perhaps he's about to pinch his nose shut? Those sandwiches (if there are indeed sandwiches in that bag--maybe there's just a gift certificate in there?) must have been a bit worse for wear by the time this photo was taken, unless Brady had them imported to Washington via some fancy special way. He did have to hunt down a Blackhawks jersey--which he tweeted all about because Steny Hoyer probably forced him to, for the Democrats' sad new-media Olympics.
Lipinski doesn't have a Facebook or Twitter yet, because he's a weird DINO and loner. But if the Flyers had won, he would've had to wear their jersey and give Brady two Chicago-style pizzas plus a Blagojevich-approved "football" hairbrush.
Fun fact: Your writer lives in Blackhawks City but remains loyal to the Pittsburgh Penguins and therefore did not give a fuck about who won this year's sticky-pucky battle show. [TheHill.com]