Former Congressman From 'Hee Haw' Not Comin' Back, Not That You Were Asking
State/Local Politics
April 26, 2021 04:09 PM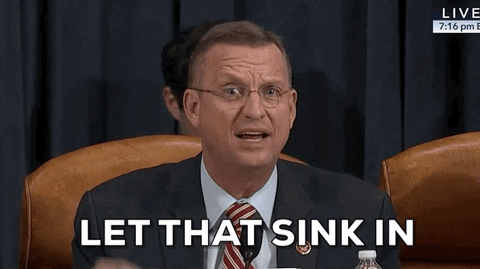 Giphy
Former Georgia congressman Doug Collins just noped out of a 2022 run for office.
"I am announcing today that I will not be a candidate for any office in the next election cycle," he tweeted, adding that he does plan to stay involved in "shaping our conservative message to win back the House and the Senate and help more conservative candidates get elected here in Georgia."
After getting passed over to fill out retired GOP Senator Johnny Isakson's term, Collins gave up his House seat to run against GOP Senator Kelly Loeffler in the special election last November. Collins came in third, after which Loeffler went on to lose to Raphael Warnock in the January runoff. Photo finish!
---
As the Atlanta Journal-Constitution notes, Donald Trump effectively froze the field for the rematch to unseat Senator Warnock in 2022 when he endorsed retired football player Herschel Walker. Walker hasn't even committed to run, but no one else is going to challenge him while he's got the Dear Leader's endorsement. And all the while, Warnock is building his war chest.
Walker is open about the fact that he's struggled with mental illness, and that he's had a complicated personal life. Also he hasn't actually lived in Georgia for decades. This isn't like Marjorie Taylor Greene hopping one congressional district over so she could take her shot at a safe red seat; Walker is a Texas resident and would have to relocate to Georgia before announcing a run.
(LOL, remember when the GOP was ready to throw down about Florida and South Carolina residents supposedly relocating to Georgia to vote in the Senate runoff?)
Trump was reportedly pissed at Georgia GOP Governor Brian Kemp for picking Loeffler over Doug Collins back in 2019, and it's not clear why the former president turned his back on Collins, a staunch supporter who spent decades in Georgia politics, in favor of Walker. Perhaps it has something to do with his good buddy Sean Hannity, who seems to thing the only cure for a Black Democrat is a Black Republican.
"I'm kind of hoping you might consider running for high office in Georgia," Hannity said to Walker during a February 10 interview reported by Media Matters. "Would you consider that?"
"I have thought about it," Walker answered. "And I thought about it because, you know, with all of these people talking about impeachment and first that -- all of them should be impeached first of all, because the oath that you take to go to office is to protect the Constitution of the United States, foreign and domestic. And it doesn't seem that they are protecting it. So, we got to [get] people in office that's going to protect that."
Compelling stuff!
"Well, I've met him," Mitch McConnell told CNN when asked about Walker's possible candidacy — hardly a ringing endorsement.
We're just a year out from what is going to be an absolutely insane battle for the Georgia governor's mansion and control of the Senate, and the GOP is waiting to see if Trump foists a neophyte carpetbagger with a whole lot of baggage on them. And this after his howling about a rigged election probably at least helped cost them control of the Senate.
Meanwhile, the GOP is still fighting about the last election, with Rep. Jody Hice giving up his House seat to take a swing at Secretary of State Brad Raffensperger, despite the fact that the Georgia legislature just took away most of his powers. Why Hice didn't challenge Trump's mortal enemy, Governor Brian Kemp, isn't clear. But the whole thing is a hot mess, with Republicans kicking the crap out of each other while Dems coalesce behind Warnock and prepare for an all-but-declared gubernatorial run by Stacey Abrams.
Even out of office, Donald Trump is still breaking the GOP. You love to see it.
OPEN THREAD!
[AJC / AJC / Media Matters]

Follow Liz Dye on Twitter!

Click the widget to keep your Wonkette ad-free and feisty. And if you're ordering from Amazon, use this link, because reasons.
Liz Dye
Liz Dye lives in Baltimore with her wonderful husband and a houseful of teenagers. When she isn't being mad about a thing on the internet, she's hiding in plain sight in the carpool line. She's the one wearing yoga pants glaring at her phone.