Counterpoint: Maybe Chuck Schumer ISN'T A Fucking Asshole Weakling That We Hate?
Post-Racial America
January 23, 2018 09:26 AM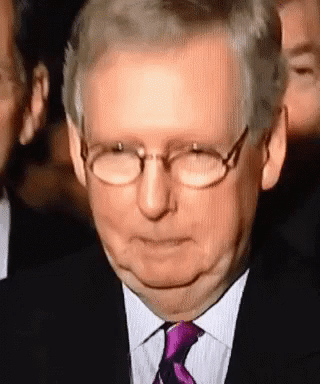 Yes, we know Mitch McConnell is a lowdown scheming varmint. Yr Wonkette doesn't trust that sumbitch further than we can throw him. But that DOES NOT mean Schumer and the Senate Democrats got rolled yesterday when they traded a six-year reauthorization of CHIP in exchange for a promise by Mitch McConnell to bring DACA to the floor by February 8.
---
QUIT LOOKING AT US LIKE THAT! We didn't say we believe that old fart. We just said we thought it wasn't a terrible deal. Let's Yertlesplore!
First, Rewind The Tape
Twenty-four hours ago, the GOP was holding two hostages: DACA and CHIP. Mitch McConnell needed to fund the government, but he couldn't even whip his own caucus to agree to shoot the hostages vote for a plan that kicked the can down the road again on both health insurance for poor kids and legalization for young people brought to the country as children. Last week, a bipartisan group presented the White House with a plan to fix DACA, but then the nativist goon squad shouted MEXICAN RAPIST TACO TRUCKS, and the stable genius killed the "shithole" deal.
So Mitch was in a pickle. Even with a couple swing state Dems voting for a continuing resolution (CR) to fund the government, he couldn't get to 50 votes. Polls showed that the majority of Americans blamed the GOP, but Republicans were revving up the Russian megaphone to accuse Democrats of filibustering to cause a shutdown. Democrats ran the very real risk of being held responsible once federal workers started getting furloughed.
So, What Did We Get?
Well, for one thing, we got CHIP funded for six years! Nine million kids and their families are NOT getting kicked off health insurance next month. And that's not nothing!
For another, nobody had to eat a shit sandwich by voting for something that pissed off their constituents. In the Senate, 18 Democrats and 2 Republicans voted "No" on the CR, including Harris, Feinstein, Gillibrand, Warren, Booker, Mike Lee, and Rand Paul. Nancy Pelosi and Democratic whip Steny Hoyer oppose it and won't have to whip their members to take an unpopular vote. But red state Dems who are up in November -- Manchin, Heitkamp, Donnelly and McCaskill -- got political cover to vote to reopen the government.
In exchange, we got McConnell's very public promise to bring a vote on DACA to the floor of the Senate. Which means that he's definitely going to allow a vote on DACA ... unless he isn't.
Say That McConnell DOESN'T Allow A DACA Vote
Well, then we're back to where we were yesterday, facing another shut down. Except the GOP only has ONE hostage, McConnell looks like a liar, and it's a lot harder for them to blame the mean Democrats. Also, too, nine million kids have health insurance!
Say That McConnell DOES Allow A Vote
Brass tacks, no plan that makes it out of the Senate will pass the House. Under the Pedophile Wresting Coach (Hastert) Rule, no bill gets a vote unless it's supported by a majority of the Republican majority. A DACA fix would pass easily with votes from Democrats and GOP moderates, but Paul Ryan will never let that happen. Moreover, Trump is providing cover for the wingnuts in The House Freedom Caucus who want to cut legal immigration to the bone in exchange for generously allowing the Dreamers to remain here as indentured servants while their parents get deported.
And no plan that could pass the House would get 50 votes in the Senate, much less the 60 needed to overcome a Democratic filibuster. Which means, we'll be back here again in 17 days. EXCEPT Republicans won't be able to use CHIP as leverage next time. And a bipartisan DACA vote in the Senate would make it really clear that the nutbag House Republicans are the problem here. In an election year. Do you think Ironstache is already cutting those ads blaming Paul Ryan for shutting down the government? WE DO.
Well, Shit! How Does This End?
Do we look like Magic 8 Ball? Okay, best guess: The Republicans are playing for time in hopes that they can sit on That Idiot in the White House and stop him from tanking whatever deal they come up with on DACA. They're hoping that Vanky will stick a (metaphorical) shiv in John Kelly and Stephen Miller, and they can shove a cheeseburger in Trump's face, a pen in his hand, and let him have one of those stupid signing ceremonies that he likes so much. It could happen! Or the whole thing could blow up in their faces. Which is the cost of electing an unstable lunatic as your party's leader.
SAD.
Please give us money for salaries, servers, and Magic 8 Balls!
Liz Dye
Liz Dye lives in Baltimore with her wonderful husband and a houseful of teenagers. When she isn't being mad about a thing on the internet, she's hiding in plain sight in the carpool line. She's the one wearing yoga pants glaring at her phone.