CPAC Cancel Cultures Anti-Semitic Dipsh*t From CPAC Cancel Culture Conference
Featured
February 24, 2021 10:21 AM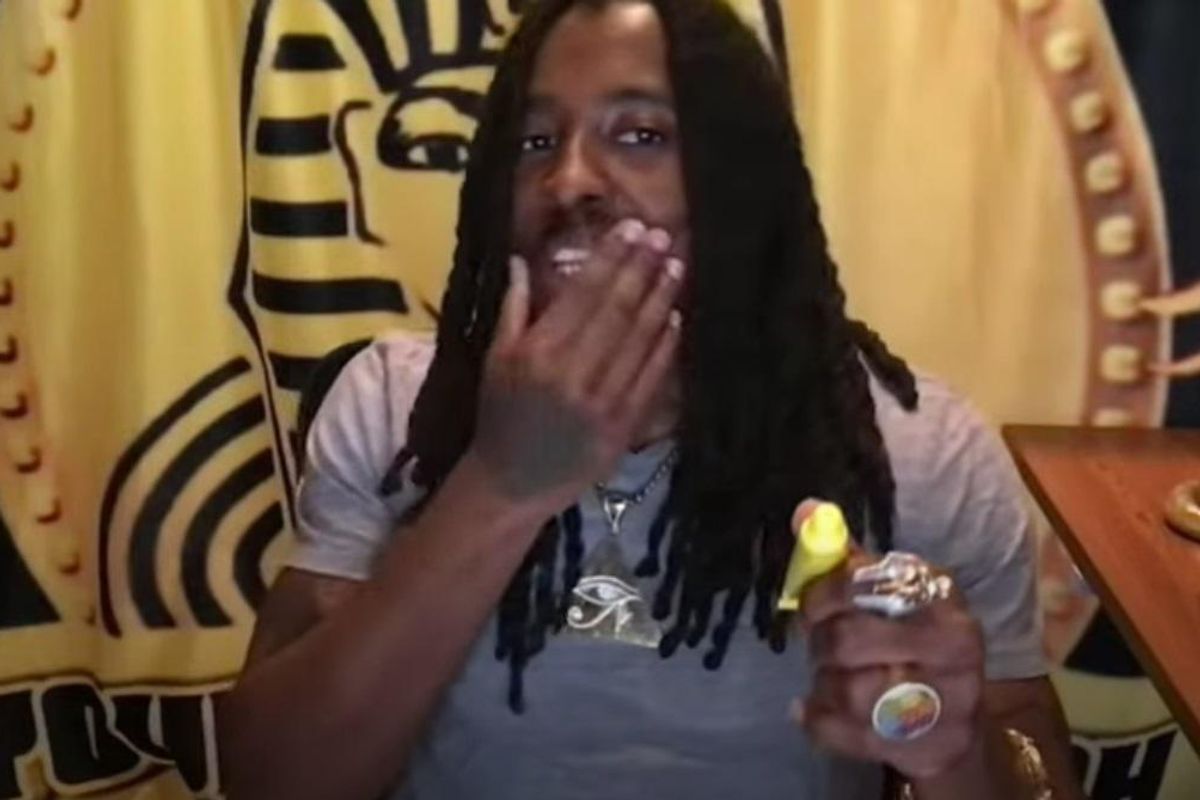 Rapper, YouTube person, and Carmex enthusiast Young Pharaoh
The Conservative Political Action Conference (CPAC) is set to get screaming this weekend, with the engaging theme "America Uncanceled." Meeting in Florida instead of the usual DC site, the conference agenda features all sorts of fun sessions, like "Tolerance Reimagined: The Angry Mob and Violence in our Streets," "California Socialism: Promising Heaven, Delivering Hell" (featuring Rep. Devin Nunes!), and "So You've Been De-Platformed -- What Now?" Plus lots and lots of arglebargle about how Donald Trump, Friday's headliner, actually won the election, of course.
But one invited guest, a rapper and social media person who calls himself "Young Pharaoh," won't be there, the poor guy. As seems karmically mandated when you devote your conference to decrying "cancel culture," it turns out the guy had a history of posting anti-Semitic rants on Twitter and in his YouTube videos.
Don't worry if you'd never heard of the guy, who was originally listed in the CPAC program as a "Philosopher, Scholar, Musician" -- until this week, neither had Google, it seems! But as Media Matters demonstrated, Young Pharaoh's Twitter account (now suspended) offered a potpourri of anti-Semitism and conspiracy theories, mixed with New Age woo and lifestyle advice. Once that came to light, the brave free speech advocates at Matt Schlapp's American Conservative Union, which sponsors CPAC, announced that Young Pharaoh had been canceled.
At least the tweet announcing the cancellation was good for some laughs, because doesn't this describe a lot of CPAC's normal content?
We have just learned that someone we invited to CPAC has expressed reprehensible views that have no home with our c… https://t.co/qosIPlusF7

— CPAC 2021 (@CPAC 2021) 1614028685.0
We're looking forward to finding out how Young Pharaoh got invited to the conference in the first place. Maybe it was his YouTube video about "SATANIC & PEDOPHILE MESSAGES IN CHILDRENS CARTOONS."
---
So let's take a quick look at some of the anti-Semitic stuff Young Pharaoh posted. Media Matters didn't have to dredge back very far in his social media history to find it; the tweets it reproduces are all from within the past year. He had some odd ALL CAPS ideas about Jews, and how they don't actually exist. A few samples, with transcriptions.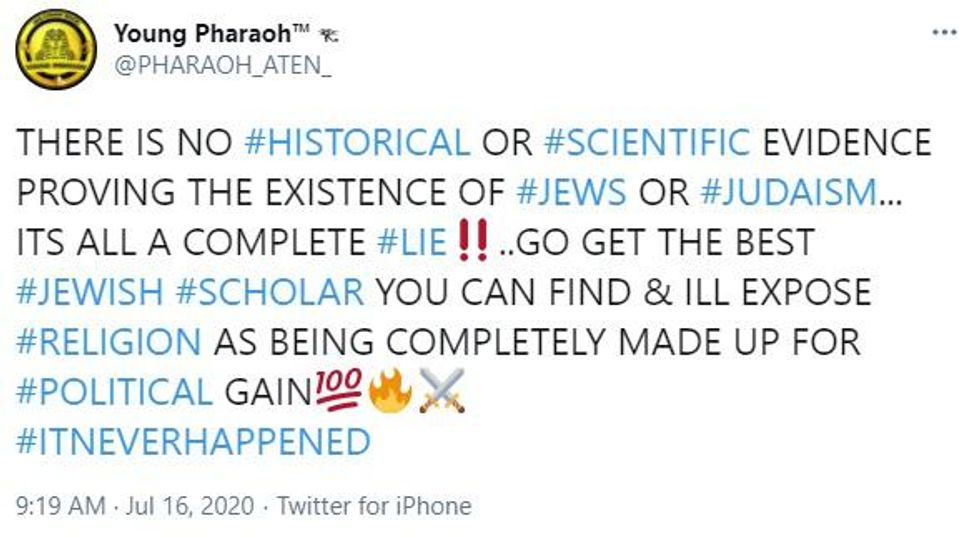 "THERE IS NO #HISTORICAL OR #SCIENTIFIC EVIDENCE PROVING THE EXISTENCE OF #JEWS OR #JUDAISM... ITS ALL A COMPLETE #LIE!! GO GET THE BEST #JEWISH #SCHOLAR YOU CAN FIND & ILL EXPOSE #RELIGION AS COMPLETELY MADE UP FOR #POLITICAL GAIN."
Obviously all his tweets require a [sic] throughout. Also, he's big on hashtags!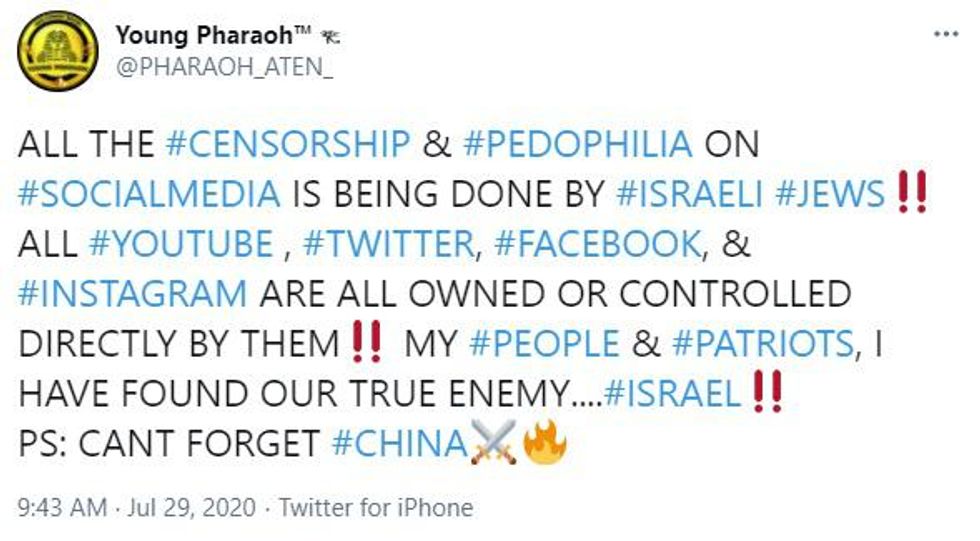 "ALL THE #CENSORSHIP & #PEDOPHILIA ON #SOCIALMEDIA IS BEING DONE BY #ISRAELI #JEWS!! ALL #YOUTUBE, #TWITTER, FACEBOOK, & INSTAGRAM ARE ALL OWNED OR CONTROLLED DIRECTLY BY THEM!! MY #PEOPLE & PATRIOTS, I HAVE FOUND OUR TRUE ENEMY .... #ISRAEL!! PS: CAN'T FORGET #CHINA"
Looks like he forgot Poland, though.
Mr. Pharaoh, always looking for a chance to get more attention, seems to have tried to start a feud with Ben Shapiro, but as far as we can tell, it was an unrequited feud. Like any good loon with an axe to grind, he rolled out the "debate me, coward!" strategy -- which is kind of Shapiro's thing! -- offering $50,000 to "anyone in the Jewish community who can beat me in a debate proving Judaism is authentic & they are in fact are Hebrew." Oddly, nobody seemed to be jumping at the chance, so why not try to push back against someone that people (at least the Extremely Online sort) had heard of?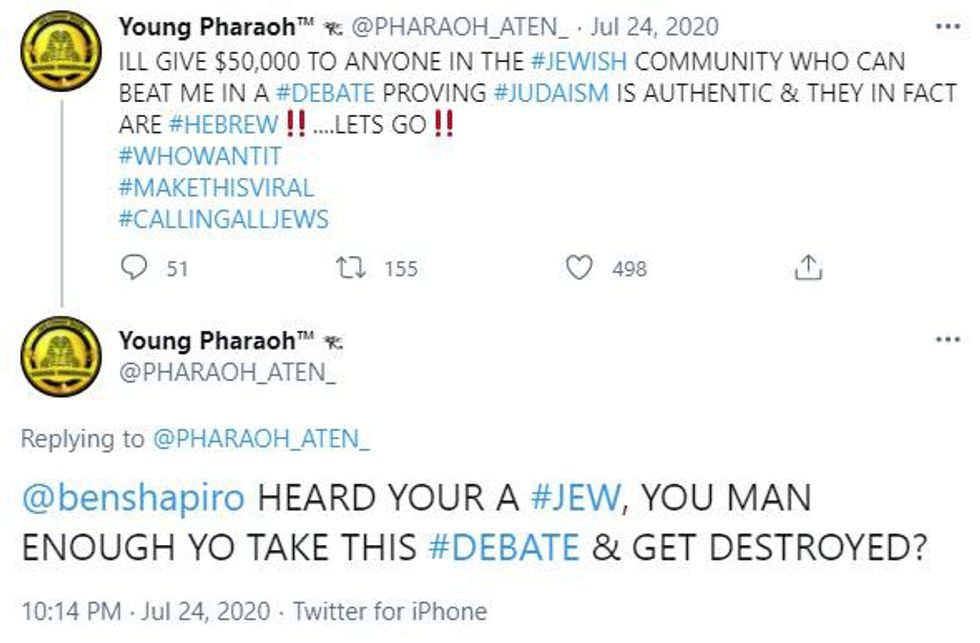 "@benshapiro HEARD YOUR A #JEW, YOU MAN ENOUGH YO TAKE THIS #DEBATE & GET DESTROYED?"
After a Shapiro fan retweeted the challenge and added that they thought Shapiro would "annaliate you in a debate," Young Pharaoh replied, "YOU SOUND STUPID, THERE ISNT A #JEW ON THIS PLANET I WOULDBT DESTROY IN A #DEBATE." (All typos, again, his.) Sadly, it appears the debate never took place. Maybe they couldn't agree on a venue.
In addition to the weird "Jews aren't really Jews but they're a huge threat" anti-Semitism, Young Pharaoh also posted all sorts of fun conspiracy theory stuff about QAnon; claims that the coronavirus pandemic is a hoax; and that an eventual coronavirus vaccine, and even tests for the virus, would "alter your DNA." That's a bit of bullshit that's not unique to him, but he at least managed to combine it with his own odd ideas. You see, the real scandal is that the vaccine would interfere with Black people's special extraterrestrial DNA, and thence their "true power."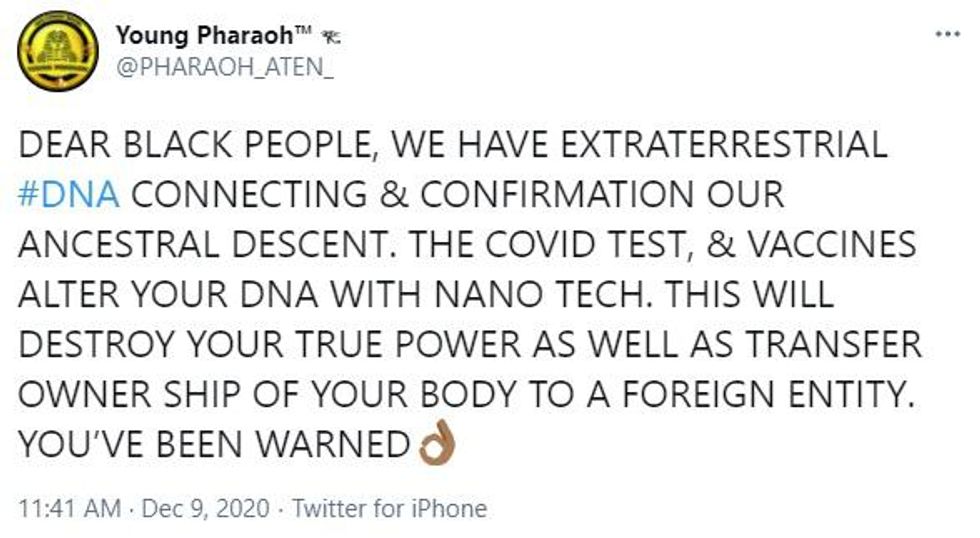 "DEAR BLACK PEOPLE, WE HAVE EXTRATERRESTRIAL #DNA CONNECTING & CONFIRMATION OUR ANCESTRAL DESCENT. THE COVID TEST, & VACCINES ALTER YOUR DNA WITH NANO TECH. THIS WILL DESTROY YOUR POWER AS WELL AS TRANSFER OWNER SHIP OF YOUR BODY TO A FOREIGN ENTITY. YOU'VE BEEN WARNED."
What's kind of sad here is the perverse combination of Black pride rhetoric with bargain-basement New Age nonsense, plus a soupçon of sovereign citizen stuff about transferring "ownership of your body to a foreign entity" — an especially grotesque fear tactic when applied to an African-American audience. Gross, and exploitative.
And just for good measure, Young Pharaoh retweeted a meme promoting the bizarre "frazzledrip" conspiracy theory, a QAnon belief that Hillary Clinton personally helped murder a little girl and then cut off the girl's face and wore it like a mask, as one does. But honestly, we can't see anyone getting kicked off a CPAC panel just for that.
Once he was cancelled from the conference, Young Pharaoh responded about as well as you'd expect, with a 90-minute YouTube rant, and another anti-Semitic tweet, complete with a challenge to debate a "top rabbi" about the legitimacy of Judaism.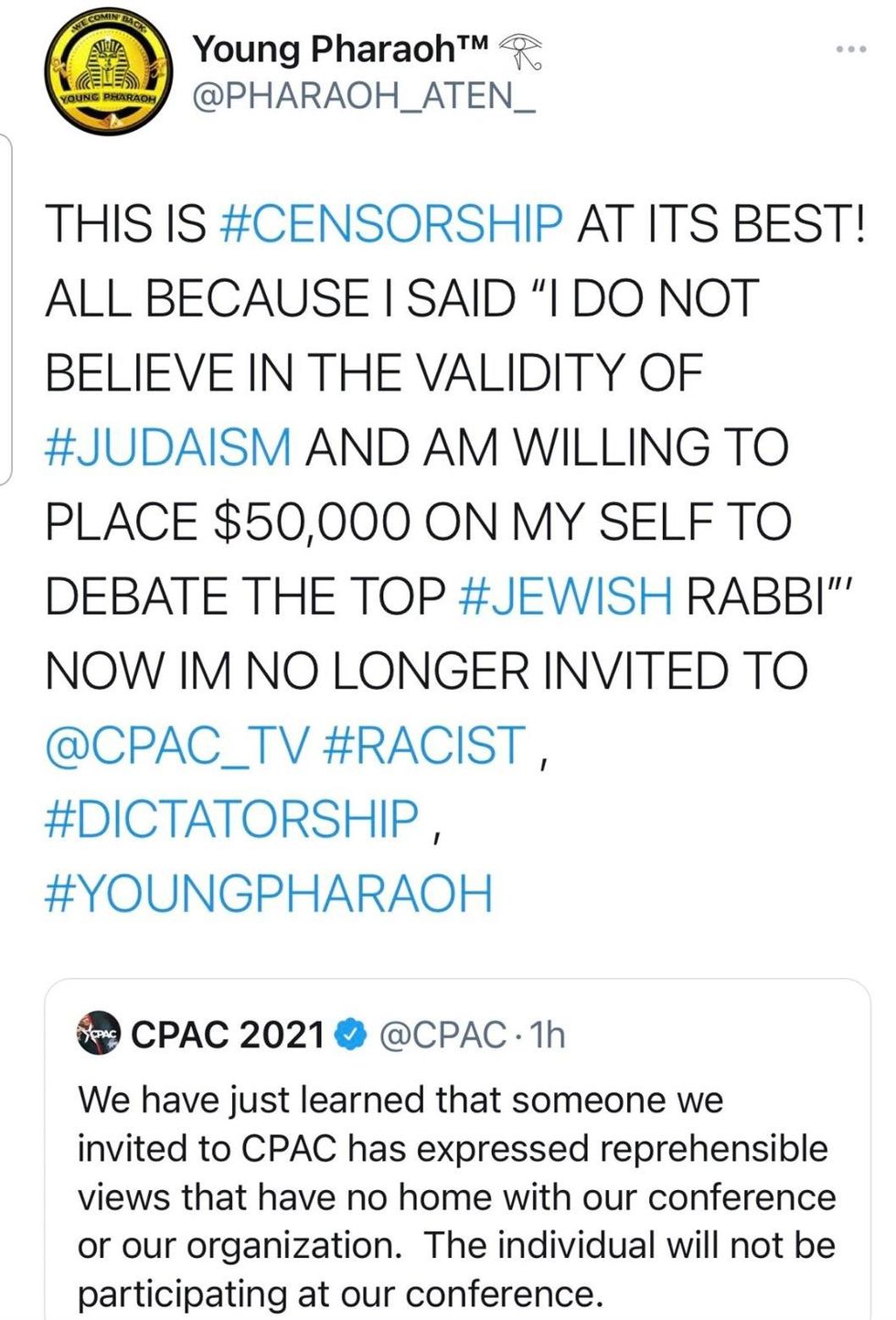 "THIS IS #CENSORSHIP AT ITS BEST! ALL BECAUSE I SAID "I DO NOT BELIEVE IN THE VALIDITY OF #JUDAISM AND AM WILLING TO PLACE $50,000 ON MY SELF TO DEBATE THE TOP #JEWISH RABBI"' NOW IM NO LONGER INVITED TO @CPAC_TV #RACIST, #DICTATORSHIP, #YOUNGPHARAOH"
Poor guy.
Now, because Yr Wonkette thinks it's important to do additional research, especially if it helps put off actual writing, we also watched entire minutes of Young Pharaoh's videos, to make fun of. For instance, we made it almost four minutes into his November 2020 video titled "THE SCIENCE OF HEAVEN & HELL," in which he explained that the two supposed afterlives are actually "frequencies that you tap into through your mind and through your vessel, your body." He added that he will soon be writing a book on psychology, as soon as he gets some other stuff out of the way. Also chakra systems. So we can see why he'd be a big hit with the Christian nationalists at CPAC.
The Philosopher, Scholar, and Musician also did two hours and 15 minutes of ranting a couple days after the election, explaining that Democrats did treason against Trump and stole the election, and for all we know that's what impressed someone at CPAC. In that one, he didn't even make it two full minutes before he insisted that the Chinese Communist Party and the Jews run the music industry.
Which is to say, I apparently sampled more of Mr. Pharaoh's work than anyone at CPAC did. The end!
[MediaMatters / CNN]
Yr Wonkette is funded entirely by reader donations. If you can, please donate $5 to $10 a month so we can keep you up to date on all the news that isn't.