CPAC Sights To See: Angry Anger People Destroying Nancy Pelosi Donkey
News
February 17, 2010 05:53 PM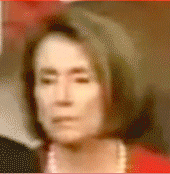 CPAC startstomorrow! Get your blazer and khakis ready, because Mittens will have a checklist and an unlimited number of demerits to issue. And if you get CPAC Detention, you won't be able to beat the shit out of Nancy Pelosi and eat/play with her innards!
---
Attendees at a conservative conference in town this week will have the opportunity to whack a pinata of Speaker Nancy Pelosi (D-Calif.)...

...Three famous D.C. residents will be taking a turn as guest "whackers" at the pinata during the annual Conservative Political Action Conference, which starts on Thursday. The guest "whackers" will be at the party, to be held at George in Georgetown.

Mary Christopher, outreach coordinator for CivicForumPAC, said the Pelosi piñata will be filled with favorite Pelosi sayings, bills and candy. The party hopes to invite the well-known D.C. residents to smash the piñata first, before others in attendance will be invited to try to take the Speaker down.
Why are three fat-cats granted special permission to kill the Speaker of the House and take her candy first, before the masses of mouth-breathers will be left to dig through remaining pieces of paper, with words they are unable to read?
Because it's CPAC, duh. What good's an ideology if you don't stick to it!
Well, that's progress, I guess [Michael Tomasky]