Creamy Chicken Soup, Alvinball Style
Mommyblogging
November 05, 2016 03:00 PM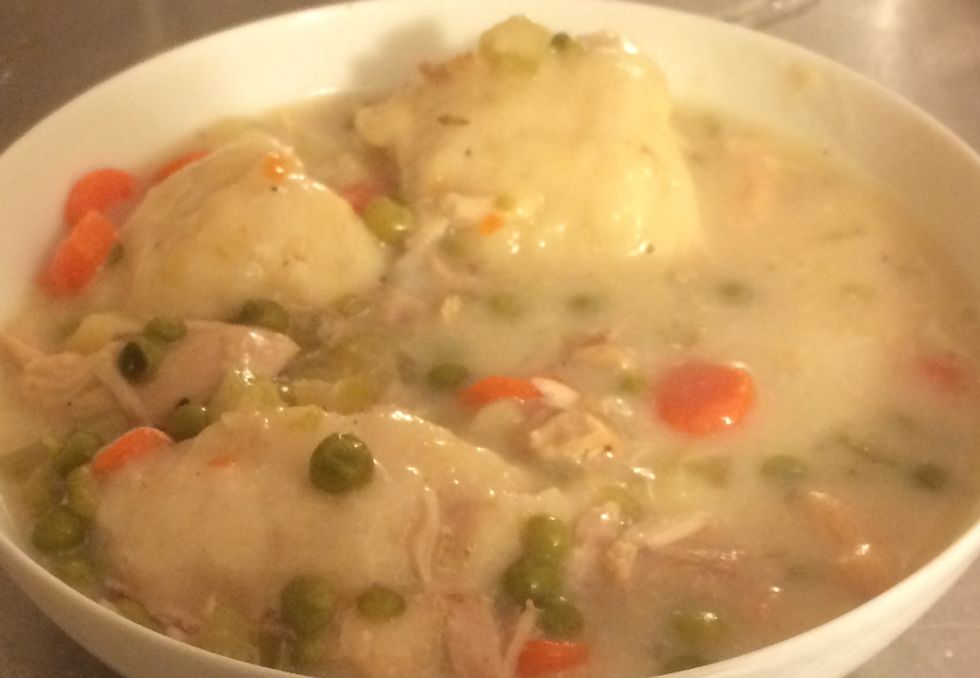 Today, we're going to do something different. Usually, I start with ingredients, then tell you what to do with them.
---
Not today. Today, we're making ALVINBALL* CREAMY CHICKEN SOUP!
That's right: the rules are made up on the spot, and it's never the same twice! We're just gonna go with the flow, and make a smooth, creamy, savory chicken soup, and the leftovers are gonna be awesome as filling for Pot Pies.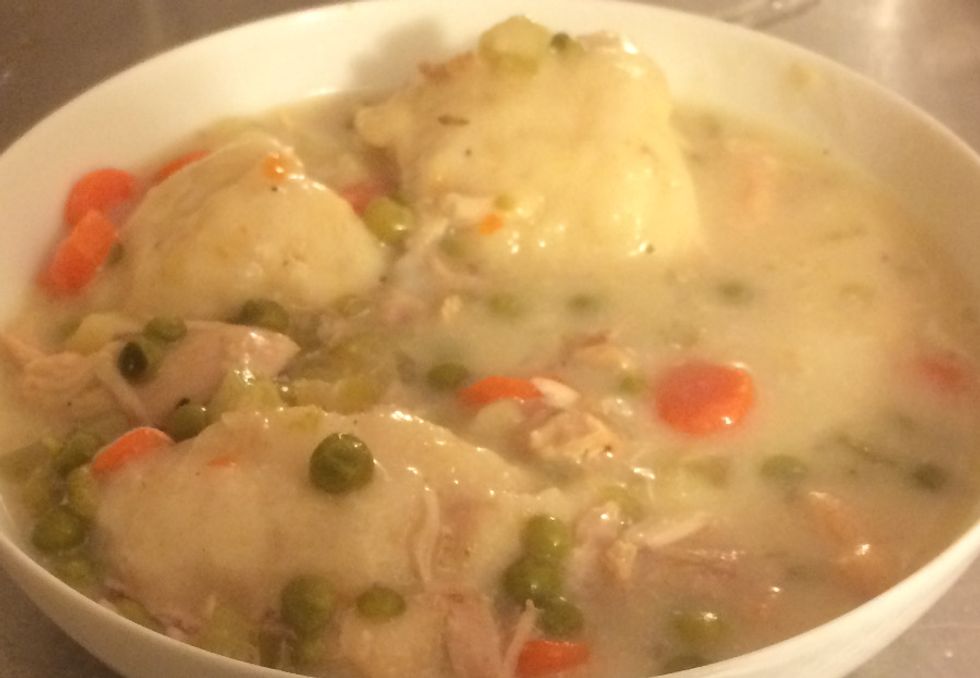 That's our goal. Dumplings optional.
DRINKAGE LEVEL: Pitchers of Pan-Galactic Gargle Blasters. We ain't going halfway here. Tokers? At least an eighth. (You may want to play this game on Tuesday, November 8. Or Monday the 28th, if you like Hillary's opponent.)
APPROPRIATE MUSIC? Yakkety Sax. No question. No substitutions.
All right, let's start by putting on a blindfold, then sweating some onion and browning our chicken. Half a Red onion, diced and in the pot - now to cube some chic . .. hmmmmm.
Alright, I know I had some chicken in here, dammit.
Eh. Ham's close enough, right? *shrug* Chop it up and throw it in! Let it cook for a few minutes so the onions get soft and translucent.
OK, gonna need some spices. *rummage blindly through spice rack*
Hmmm . . . better stir the onions and chi, errrr, ham. Hey, that looks like its getting ready to burn. Open a couple cans of veggies for me and dump them in, would you?
Thanks. What'd you put in?
Two cans of whole tomatoes. Uh. Thanks? I guess? Out of my kitchen NOW!
*shrug* Alvinball soup, right? Let's roll with it!
*vigorously applies potato masher*
OK, lets add some MORE CONVENTIONAL veggies.
*Opens cans of White and Yellow corn, Carrots and Green Beans* *adds to soup*
Hmmmmm. What else we got? OH hai! How about a nice, meaty hambone? Let's pitch that in there, also too. AND, why not hack up a couple of red potatoes and put them in while we're at it?
Now, some spices. Some bay Leaves, some salt, some Italian seasoning - let's call it half a teaspoon each, and just a bit of Chipotle Chili Pepper: 1/8 teaspoon. How about some rosemary, also too? Hey! HEY! CAREFUL WITH THAT AXE, EUGENE! We're talking the spice, not your annoying neighbor! 1/2 teaspoon should work.
ALL RIGHT! We're good, for now.
Let's let that simmer for a half hour or so.
*goes to look at Pr0n**
WOW! Well, would you look at that. It's been over an hour and a half. Time does fly, doesn't it? Lets see what we need to do next.
That's kinda . . . lets call it, dense. Time for more liquid. Let's see . . . what do we have? 2 cups of Chicken Broth. That works!
And . . . time to taste test!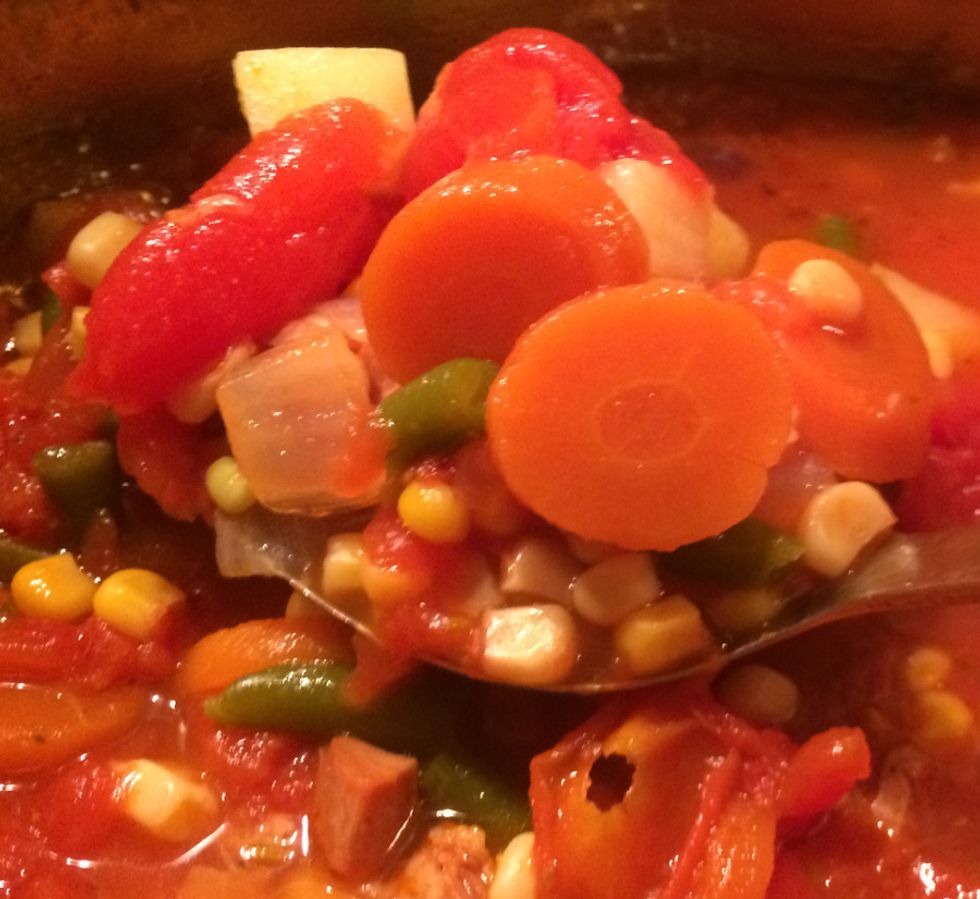 That's a pretty big "taste," don't you think?
Hmmm.
Hey . . . that's . . . not half bad. Needs a bit more something, though.
4 cloves garlic - finely diced. 1/2 teaspoon each, Italian Seasoning and Salt, plus 1/4 teaspoon Rosemary.
Let that cook for a bit, maybe 30 minutes.
Serve with a nice, crusty bread Maybe a salad beforehand.
There you go. It contains neither chicken nor cream, but we have successfully made ALVINBALL* CREAMY CHICKEN SOUP! With a rather tomatoey, not at all creamy, vaguely Italian result. Enjoy!
Serve in a bowl with crusty bread. Or on a plate, over a bed of Cheetos. Who knows?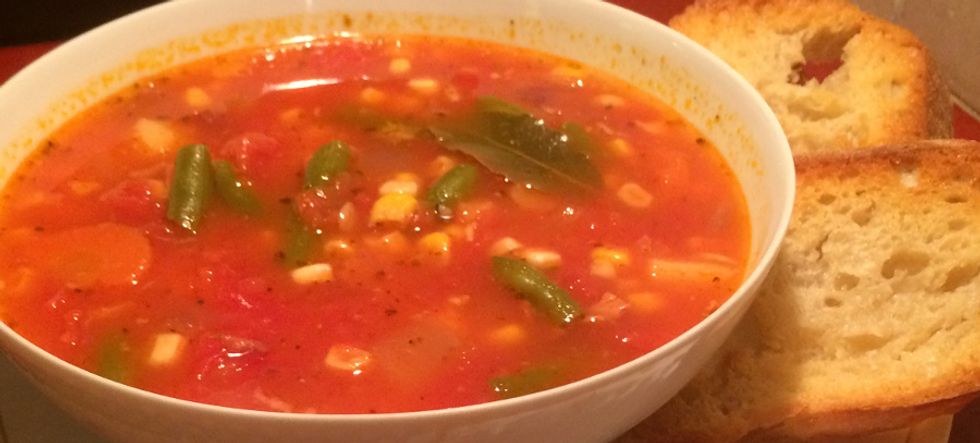 SHUT UP IT IS SO CREAMY CHICKEN SOUP!
So, what did we end up putting in it?
1/2 Red onion, diced
1 1/2 cups diced ham
1 Ham bone
2 each, 28 oz cans of whole tomatoes, with juice
1 each, 14.5 oz can: yellow corn, white corn, sliced carrots, sliced green beans, with juice
2 diced potatoes (turnips would make a really good sub, here)
3 Bay leaves
4 cloves Garlic
1 tsp each, salt, Italian Seasoning
3/4 teaspoon Rosemary
1/8 tspn Chipotle Chile Pepper
2 cups Chicken Stock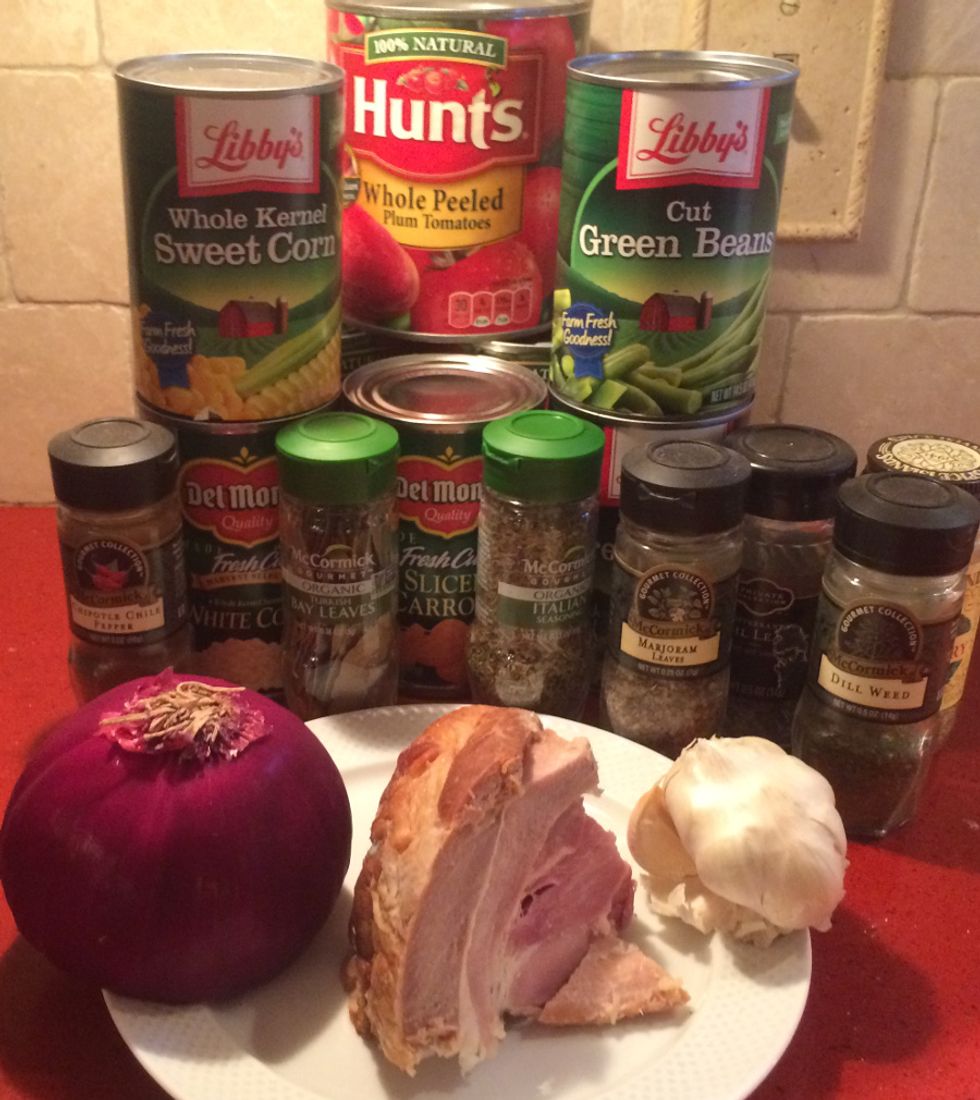 Ingredientses. MAYBE!
*Why Alvinball, instead of what we all know you think I should be calling it? Well, it's pretty simple, honestly. If I call it that, a certain well-known cartoonist will have Editrix Rebecca thrown in Copyright Infringers Prison forever and take Wonkette away from her and Shy won't have any monees to support Donna Rose and they'll have to live on the street and wonderful, adorable Donna Rose will never see her mommy again and why would you wish that on Trix, Shy and Donna Rose? WHY DO YOU HATE WONKETTE AND DONNA ROSE YOU MONSTER!!? Might as well eat canned clams.
** or to browse Wonkette, for the shy folks who need a euphemism.