Crepes & Croissants At L'Enfant Cafe-Bar
News
May 22, 2009 01:13 PM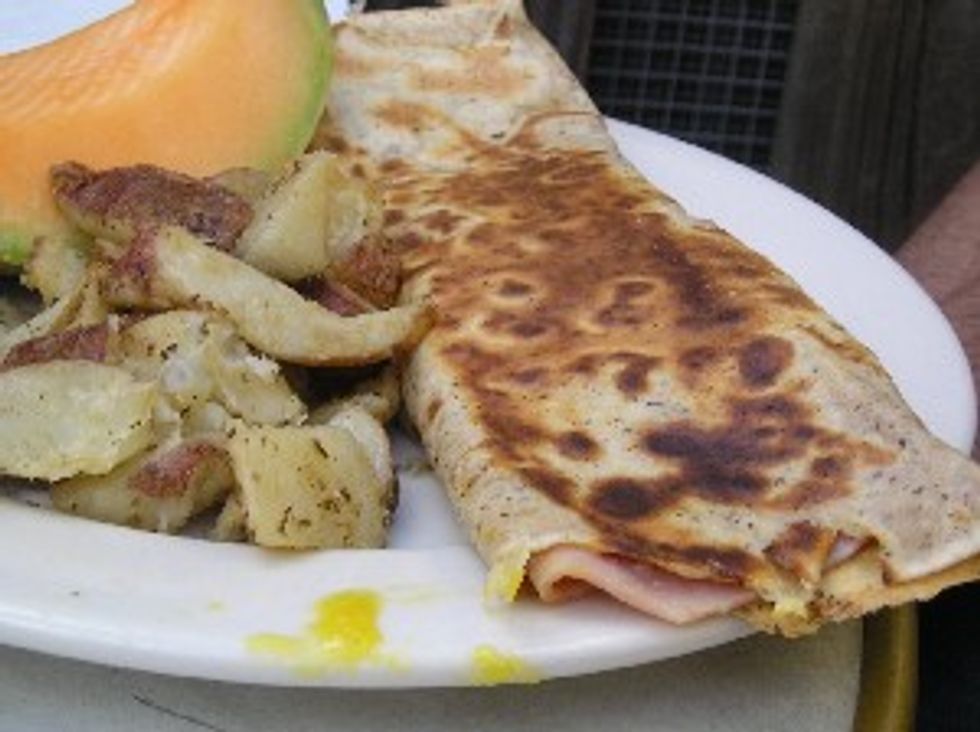 L'Enfant Cafe-Bar, situated in the nexus between Adams Morgan, Dupont and the U Street corridor, is a Parisian-style cafe that also boasts a solid selection of Belgian beers. Their brunch menu consists mostly of what you'd find at a casual French cafe on the left bank.
---
L'Enfant offers a wide selection of crepes -- both savory and sweet -- croissant sandwiches, tartines (open-faced sandwiches), and egg-based dishes. A lot of dishes include Gruyere and French ham. There are also have exceptional Bloody Marys. While I have lamented DC's thin Bloody Marys, those served at L'Enfant are nice and thick, and the serves rightly take pride in this brunch libation.

As for the food, the crepes are the highlights, especially the roasted red pepper with goat cheese, and the mushrooms with gruyere and Bechamel sauce variaties. The ham and Gruyere crepe is also a good combination. They are served with potatoes dusted with rosemary and your choice of fruit. The potatoes, unfortunately, required a substantial amount of good Dijon mustard to combat their dryness. For those who don't like crepes, the croissant sandwiches are a trusty option.
L'Enfant is a particularly good place now that the weather is nice. There's a large outdoor area right on 18th and U which is always good for people watching. I like the concept and the cuisine that L'Enfant offers. It is recommended.
L'Enfant Cafe-Bar, 2000 18th St NW, Washington DC 20009, (202) 319-1800.