Crossing the Potomac Into the New Promised Land
September 23, 2010 03:44 PM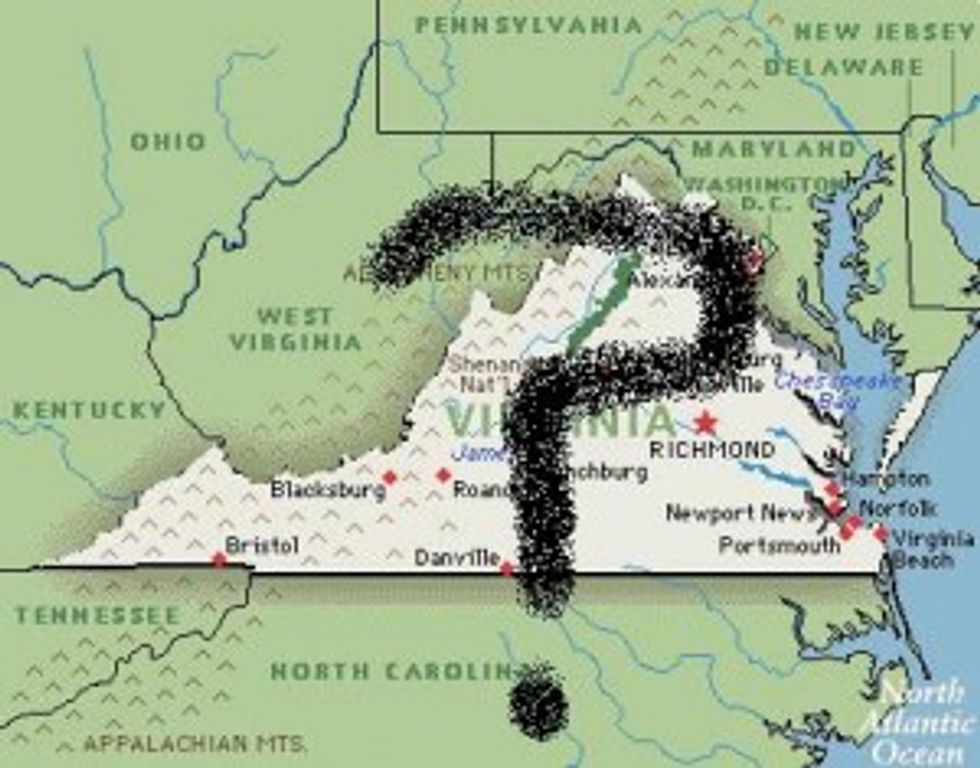 Let's just say that everything works out in the New Fenty-less DC. Maybe the citywill become One! Hooray! BUT what if waiting in line for lobster rolls suddenly becomes outlawed? What if new wine bars and hamburger restaurants no longer open at a weekly rate, and 14th Street doesn't get its 36th modern furniture store? WHAT WILL PEOPLE  DO THEN? If everyone does end up running away to Northern Virginia, what is there for them to do in this fabled land of lower taxes, car ownership, container stores and fancy new (empty) condos created by our friend the Housing Bubble?
---
Virginia! It's quite the place! Everything is so just so convenient! There are book stores, clothing stores, smoothie shops, a sad, depressing mall where you can bar hop and chain restaurants! And, even though the area was sanctified by the teabaggers for the color of its inhabitants, Northern Virginia happens to have great ethnic food restaurants.
Where to eat in Virginia:
3 Bar and Grill: It's a fine neighborhood eatery that has an impressive beer selection. MORE IMPORTANTLY, their 2nd Annual Week of Bacon, that features HOUSE-CURED bacon, which is the best bacon of all, is October 14-21. During this week there will be a bacon curing class, a bacon tasting dinner, a bacon brunch and a bacon-themed happy hour.
Pho 57: Cheap, excellent, incredibly delicious Pho that will be ideal for when/if fall ever actually begins.
Boccato Gelato and the Dairy Godmother: For your dessert needs, Boccato has some of the best gelato in the area, and of course it's made from local grown fruit and whatnot. The Dairy Godmother is a great place for frozen custard and nostalgic treats including rich, decadent brownies.
Rustico: Northern Virginia's very own beer palace, Rustico, has over 300 beers and cask conditioned ales. Their annual OktoBEERfest is coming up on October 9.
The Italian Store: DC has Taylor Gourmet and Vace, and Virginia has The Italian Store. Located in a good-old-fashioned strip mall, the store sells phenomenal subs and New York style pizza.
Screwtop Wine Bar:This fancy wine bar has a great collection of wine, sells cheese and PORK, and offers FREE parking in their garage.
Present Restaurant: This strangely upscale Vietnamese restaurant has nearly a billion menu items and each one has a crazy random name that has nothing to do with the dish. We recommend the Green Dragon in the Forest.