Cuddle Up Under A Blanket Of Scalloped Potatoes And Ham!
Mommyblogging
October 22, 2016 01:09 PM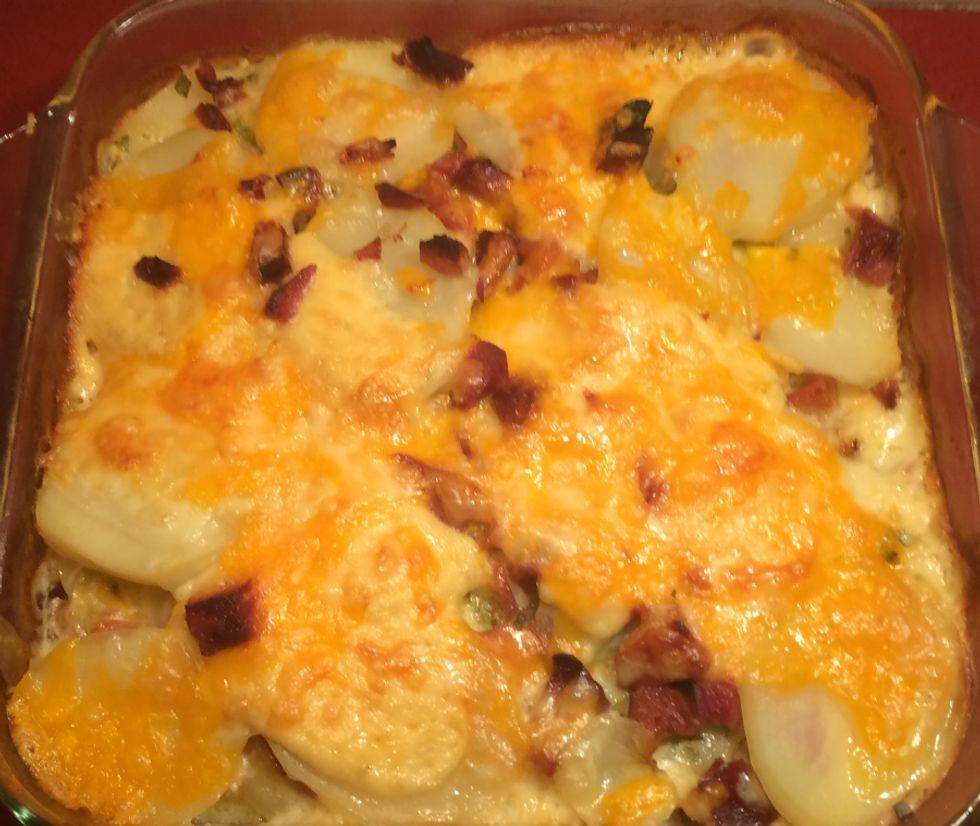 Creamy, Cheesy, O.M.G. I want it now!
---
Comfort.
In a world full of anti-vaxxers, cops shooting unarmed blahs, and Hillary's opponent threatening to take the country back to the rosy days of Herbert Hoover, Dog knows we all need a bit of comforting. We want something that makes us feel like we're 9 again, wrapped up in a fuzzy blankie while a litter of puppehs gives us kisses. Warm & safe.
You're going to have to get your own blanket, and I'm fresh out of puppehs, but I can give you something almost as nice: some good old fashioned Comfort Food to wrap yourself around. And I'm not even going to yell at you today! Take your cholesterol meds first, then head to the kitchen.
Today, we make SCALLOPED POTATOES WITH HAM!
Intoxication level: mellow. Have a friend over to help. Maybe a nice bottle of Chardonnay, or a few beers? If you're feeling particularly wry, you could channel your inner Janis. Sip, not chug, ok? Or, for those who indulge that way, a bowl or two of nice bud would be highly appropriate.
Degree of difficulty: 2/10.
Serves 4
WHAT YOU NEED!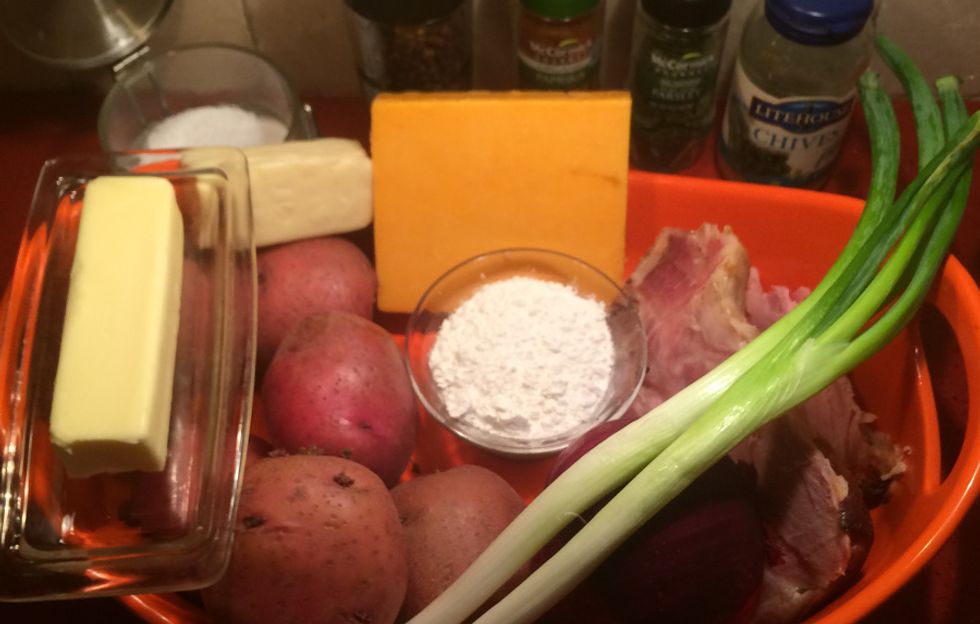 Not pictured: 2 cups half n half
3 Tbsp butter
3 tablespoons flour
4 cups red potatoes: peeled, sliced 1/8-inch thick
1 1/2 cups diced ham
1/2 cup Red onion, finely diced
2 Tbsp chopped fresh parsley
1 Tbsp chopped fresh chives (optional)
1 dash cayenne pepper
1 cup grated sharp cheddar cheese (4 ounces)
1/2 cup grated Gruyere cheese (about 2 ounces)
2 cups of half-and-half (can substitute whipping cream)
Salt and pepper
As to the hardware: the usual suspects. 8X8 pyrex baking dish, knives, cutting board, a wire whisk, a big pot, a big strainer, a smaller pot.
WHAT TO DO WITH WHAT YOU NEED!
Peel and slice the potatoes, then put them in the big pot, cover with water, salt heavily, put it on the stove and turn heat to high.
Do the rest of your dicing, grating, etc. The potatoes should just about reach a boil when you finish your chopping. Turn them off, drain thoroughly.
In a small sauce pan, melt butter and blend in flour.
While whisking, add the half and half. Season with salt and cayenne.
Cook sauce on low until smooth and boiling, whisking often.
Reduce heat and stir in 1 cup of the mixed cheese. Continue stirring until cheese is fully melted and mixed in.
Lightly grease the baking dish.
Cover the bottom of the baking dish with 2 layers of potatoes. Sprinkle with approximately 1/4 each of the Ham, Onions, Parsley & Chives.
Add another layer of potatoes, then pour in about 1/4 of the cheese sauce, followed by another round of the other ingredients.
Continue layering until the dish is full, ending with a layer of potatoes, followed by the last of the cheese sauce.
Top with the 1/2 cup of cheese remaining.
Bake at 350, covered, approx 45 minutes, then another 15 uncovered.
If needed, set oven to broil for a few minutes to lightly brown the top of the casserole.
Let stand 10 minutes before serving.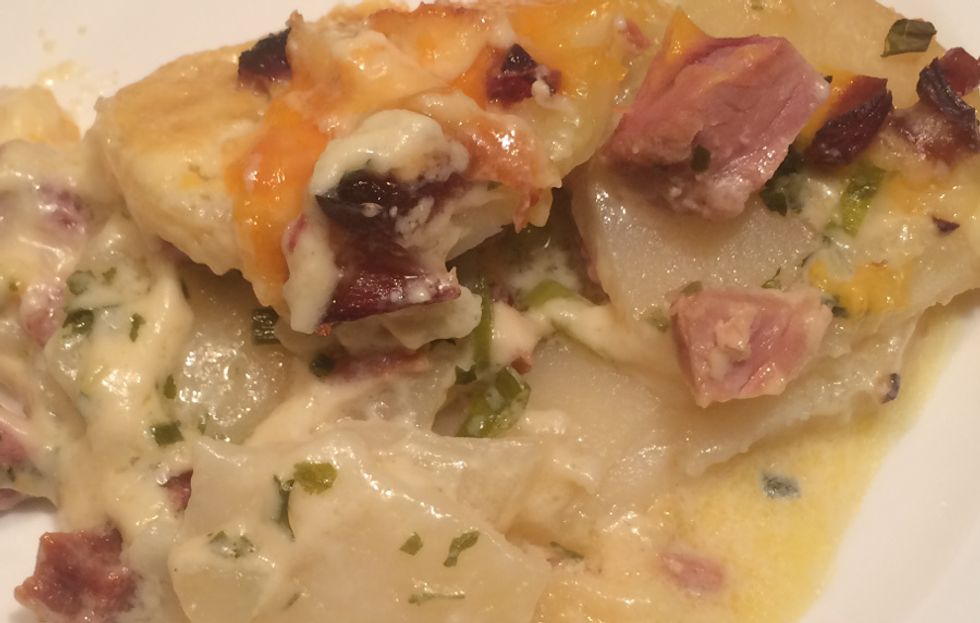 Plateful of cholesterol. Tasty!
Wrap up in your blankie, and let this cuddle with your tummy. Layer after layer of smooth, creamy potatoes; that warm, gooey, cheesey sauce; the hint of onion; the chunks of ham in every bite. It's not a litter of puppehs, but it ain't half bad.