Dean Heller Goes Dumpster Fire Diving
Elections
August 06, 2017 04:30 PM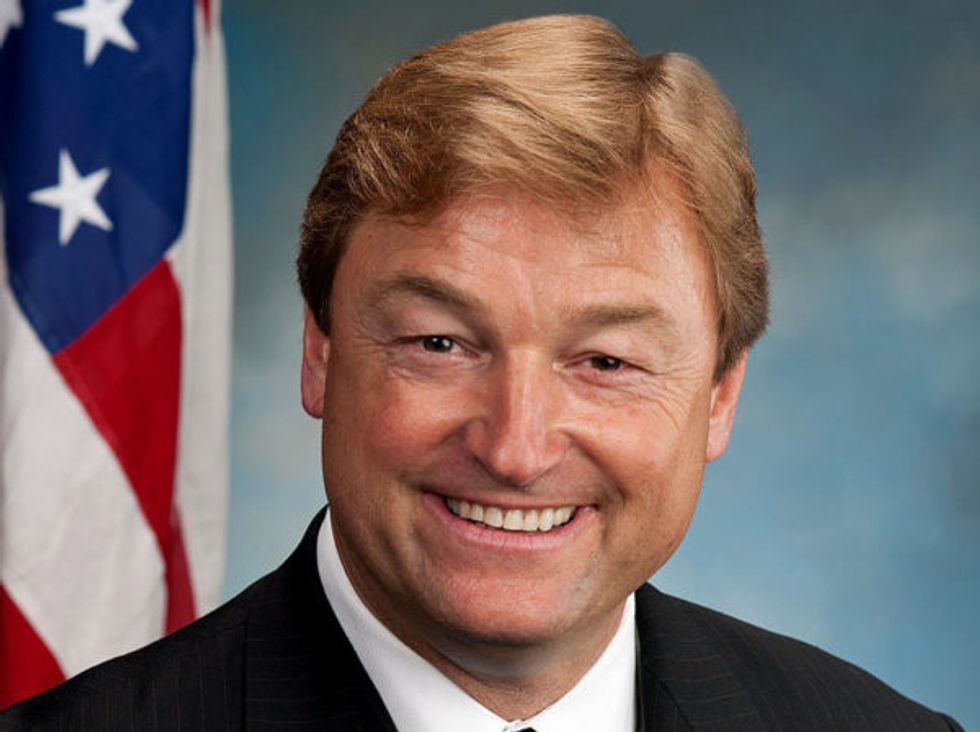 Wonkers, can we talk about Dean Heller for a minute? Does this guy look like July's Top Performer at a Cadillac dealership, or what? You know he always gets 'em to go for the undercoating!
---
But we're not really here to talk about Heller's weird orange hair. Because this week the Nevada Republican -- who is actually a Senator(!!) -- got his 30 pieces of silver from Mitch McConnell as payback for the July 28 vote to kill Obamacare. The Senate Leadership Committee made a million dollar pledge to Heller's 2018 reelection campaign, including a promise to help him fend off a potential primary challenger from the right. And all Heller had to do to earn his treat from Uncle Mitch was make himself uniformly loathed by all his constituents. Who's a good doggie???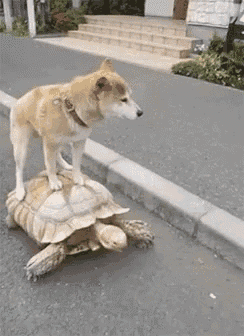 We watched Nevada's aging Ken Doll fumble his way through last the last two months' healthcare fuckery debacle, and all we can say is ... HENNNNGH???? Faced with two bad choices, Heller consistently opted for BOTH. In June, he was rated the most vulnerable Republican senator up in 2018 and polled at 35% among his own constituents. Now he's down at 22%. Well played, Dean!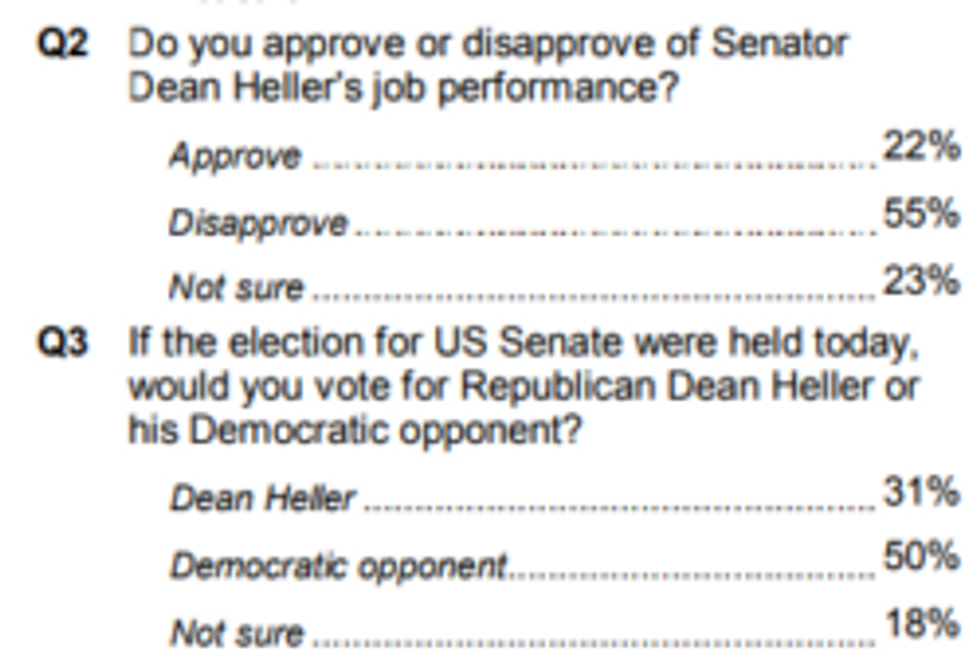 Public Policy Polling
Lots of Republican senators from swing-y states voted in favor of every horrible version of the Republican healthcare bill. Pat Toomey from Pennsylvania, Cory Gardner from Colorado, and Jeff Flake from Arizona - these guys are always down to screw their constituents. Democrats may hate them, but they retain strong support from their Republican base. Only Dean Heller was too stupid to step out of the line of fire. He insisted on taking both sides of every issue, and so managed to royally piss off Democrats and Republicans.
As HuffPo reports, Nevada Dems see their chance to pick off a vulnerable Republican. And die-hard conservatives think Heller's a squishy RINO.
"People are real unhappy with Dean Heller," Las Vegas conservative talk show host Kevin Wall told NBC Las Vegas on Tuesday. "I think people are tired of politicians like this who are all over the map. They want people to have basic, solid, core beliefs."

Chuck Muth, a conservative activist in Nevada and former executive director of the state GOP, said he thought that Heller had "completely botched it."

"I think the damage has been done," Muth said in an interview with Politico.
On June 27, Heller was one of five Senators who announced their intention to vote against a Motion to Proceed on McConnell's BCRA which would have gutted Medicaid and increase the number of people uninsured by 22 million.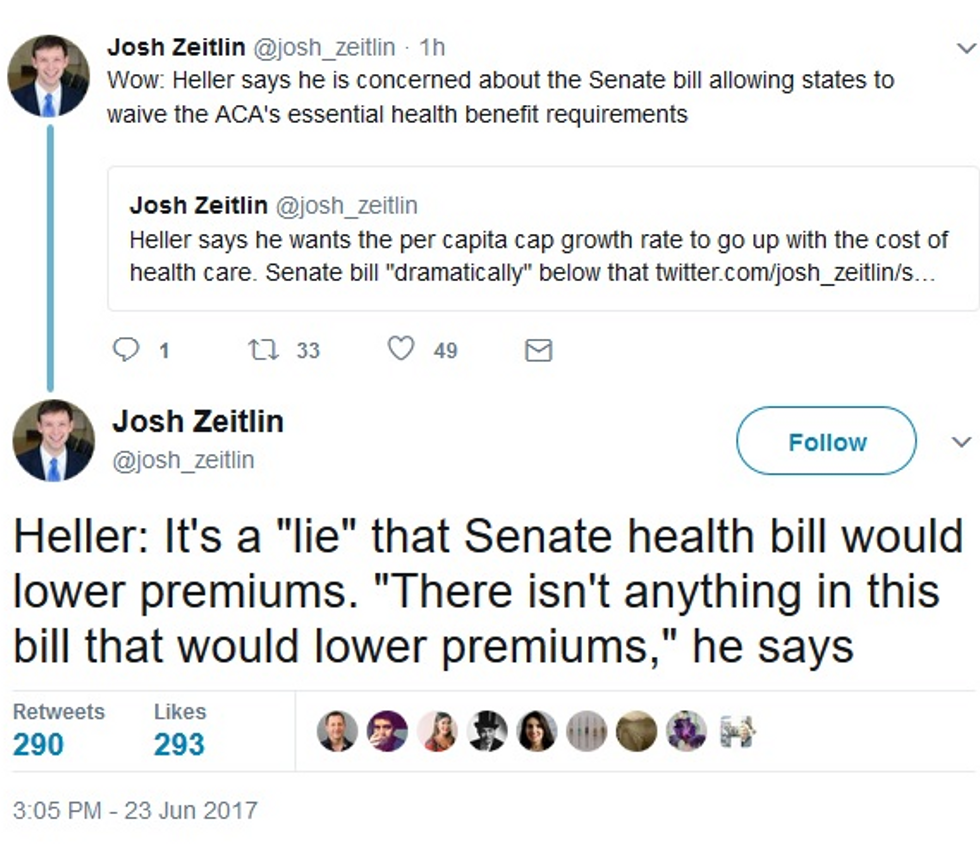 He told a tele-town hall that he'd go with the advice of Nevada's Republican governor Brian Sandoval.
"It's going to be very difficult to get me to a yes," Heller said, according to Nevada Independent editor Jon Ralston, who listened in on the call. Heller said it would take "an offer we can't refuse, me and the governor."
Donald Trump's Howler Monkey PAC released ads attacking him and threatened to back a primary challenger until Mitch McConnell told Trump to knock that shit off. But the Republican knives were already out. Trump even humiliated Heller at a White House lunch, predicting Heller would vote for the bill eventually because,
He wants to remain a senator, doesn't he?
The Apprentice: White House Edition.
Of course, Trump turned out to be right. Heller hemmed and hawwed.
Heller, who in a press conference had come out against the original Senate bill, announced his decision in a statement but did not guarantee a "yes" vote on the final bill.

"If the final product isn't improved for the state of Nevada, then I will not vote for it," Heller said. "If it is improved, I will support it."
But then he broke with Sandoval and voted for the Motion to Proceed on that piece of shit. Just like Mitch McConnell always knew he would.
On July 27, the night of the Skinny Bill vote, so called "moderates" were still clinging to the fig leaf that they were just voting to get to reconciliation with the House. Sure the bill was a piece of crap that would cause 16 million to lose coverage. But it wasn't the FINAL bill or anything.
EXCEPT...it was. John McCain, may he live to be 120, killed the bill with Lisa Murkowski, Susan Collins and every single Democratic Senator. Mitch McConnell made poor Dean go on record in favor of this stinking turd. And now Congresswoman Jacky Rosen, Heller's only declared Democratic candidate, is running ads like this.
.@DeanHeller's pledge to protect your health care was a lie. If you agree Nevada deserves better, join our campaign: https://t.co/rSW3fIhScjpic.twitter.com/q2EkzRVrBi

— Jacky Rosen (@RosenforNevada) August 2, 2017
So, that went well! A+ politicking there, Dean! Now, lest we get too excited, Heller is about $3 million ahead of Rosen in fundraising. And Rosen may face a tough primary battle with fellow Democratic Congresswoman Dina Titus.
But Heller just can't help himself! The man is STILL out there talking up horrible bills that would decimate healthcare. He's currently cooking up a scheme with Senators Lindsey Graham and Bill Cassidy to make drastic cuts to healthcare funding, but make it up to the states by disbursing federal funding as a largely unrestricted block grants. This bill is TERRIBLE. You want us to call it Graham-Cassidy-Heller? Sure thing, buddy!
So why is Dean Heller so hot to attach himself to yet another garbage fire? Is he trying to unite the Blue Team and the Red Team in an orgy of Purple Rage?
Yeah, we can't figure it out either! Like we said, HENNNNGH????
[Slate / HuffPo / Nevada Independent / Public Policy Polling]
Hey, weekend Wonkers! Aren't you glad we got rid of those gross ads? Please click here to fund us!
Liz Dye
Liz Dye lives in Baltimore with her wonderful husband and a houseful of teenagers. When she isn't being mad about a thing on the internet, she's hiding in plain sight in the carpool line. She's the one wearing yoga pants glaring at her phone.