DEAR FOX NEWS VIEWERS: DO NOT INJECT YOURSELF WITH BLEACH OR TRY TO SWALLOW A TANNING BED
Trump
April 24, 2020 09:03 AM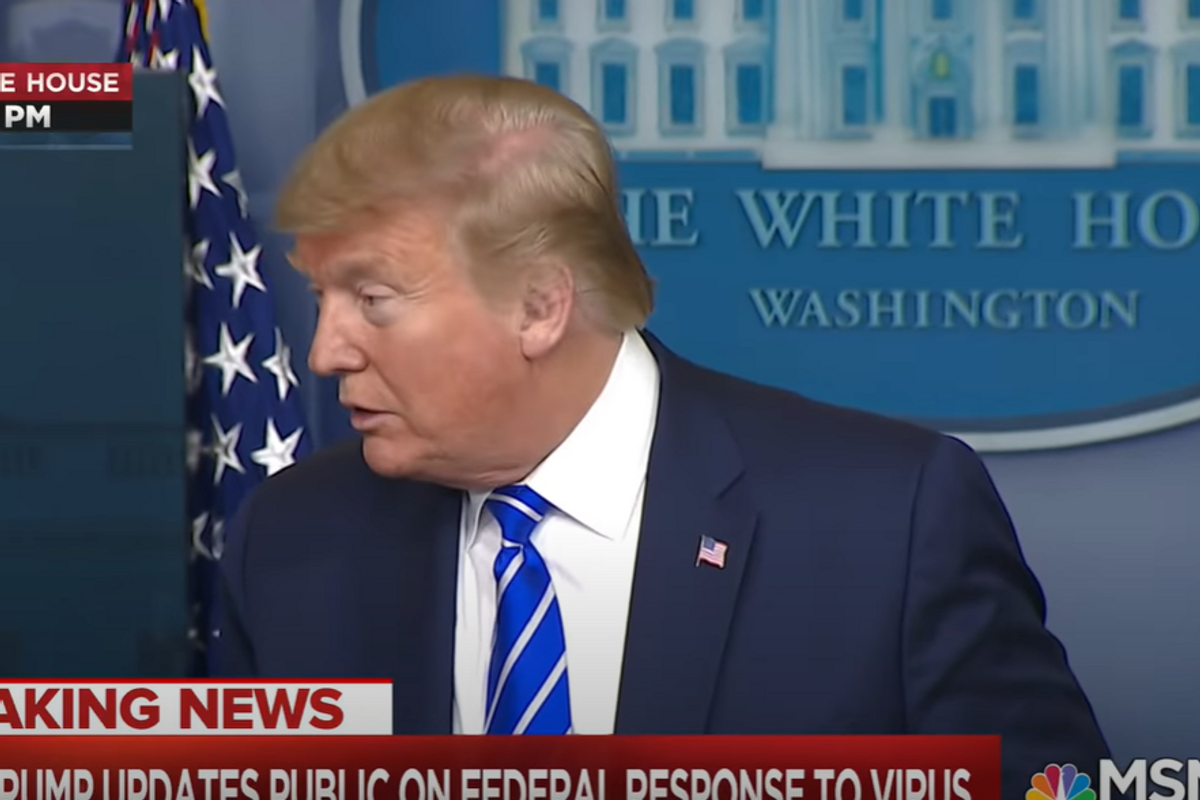 We fucking said it. Laura Ingraham might have still been fucking that hydroxychloroquine chicken the other night (maybe the chicken looked like Dinesh D'Souza) but otherwise Fox News and Trump are kinda having to drop that, since it turns out that, at least for coronavirus patients, hydroxychloroquine is BAD VERY FUCKING BAD.
But we fucking said it yesterday morning, that by evening there'd be a new snake oil cure, and boy oh boy, was there ever!
Donald Trump made what he probably thought were some helpful suggestions during his coronavirus press briefing yesterday, oh my God they are not helpful, oh god, please do not listen to him. Trump's idea, we are not kidding, was to maybe inject people's bodies with bleach or "disinfectant," or maybe just shoot a bunch of UV rays inside the body, in order to kill the virus.
Yes, really, the president of the United States said that.
---
Trump Suggests Injecting Disinfectant Into The Body To Treat Coronavirus | MSNBCwww.youtube.com
TRUMP: So, supposedly when we hit the body with a tremendous, whether it's ultraviolet or just very powerful light, and I think you said that hasn't been checked, but you're going to test it. And then I said supposing you brought the light inside the body, which you can do either through the skin or in some other way. And I think you said you're going to test that too. Sounds interesting, right? And then I see the disinfectant, where it knocks it out in one minute. And is there a way we can do something like that by injection inside or almost a cleaning because you see it gets in the lungs and it does a tremendous number on the lungs, so it'd be interesting to check that so that you're going to have to use medical doctors with, but it sounds interesting to me. So, we'll see, but the whole concept of the light, the way it kills it in one minute. That's pretty powerful.
Wow, Mister president-type person, that is pretty powerful and also tremendous. All you have to do is find a way to Windex down a tanning bed while you are shoving it down somebody's throat, and you can kill coronavirus right then and there! Just gotta make sure those chemicals make it all the way into the lungs, right, Trump?
OK Fox News viewers, you are going to quit reading very soon because 1) short attention span SQUIRREL! and 2) Wonkette is mean and going to make jokes about how you smell like shame and regret and dumbness, we are the worst, so if you take nothing else from this blog post:
DO NOT INJECT YOURSELF WITH BLEACH OR WINDEX OR TRY TO SWALLOW A TANNING BED.
NO.
NO, DAMMIT, NO.
AND STOP TOUCHING THE FUCKING STOVE.
WE LOVE YOU. WE DON'T NECESSARILY LIKE YOU, BUT WE LOVE YOU.
IT'S FOR YOUR OWN GOOD.
To be completely fair to the president, you should know that just before this, a guy named Bill Bryan from Homeland Security was doing a science fair book report on how long coronavirus lives in the air in saliva droplets and on surfaces, and he talked about "testing disinfectants" and "isopropyl alcohol" and "solar light," all within the context of actual science studies. (Of course even Bill Bryan is #NotAScientist, but then again, who that's left in the Trump administration is?) It was Donald Trump who is so mindfuckingly stupid that he thought Mr. Bryan was talking about medical science experiments on human bodies, as opposed to testing cleaning solutions, and started getting excited talking about doing "almost a cleaning" of the lungs with household disinfectants.
This is a better view of Trump's atrophied brain ramblings. It is the view where you watch Dr. Deborah Birx's face while Trump is talking about injecting bleach into people, and you get to watch her soul die in real time:
Here is Dr. Birx's reaction when President Trump asks his science advisor to study using UV light on the human body… https://t.co/hUJaLAW7Pk

— Daniel Lewis (@Daniel Lewis) 1587688509.0
And of course, here is Fake News CNN coming in right after Trump's presser like a total buzzkill saying DO NOT INJECT YOURSELF WITH FORMULA 409 OR LIQUID PLUMR OR TRY TO EAT A TANNING BED.
You know, because they had to say that, for the sake of responsible journalism.
CNN spelling out Donald Trump's suggestions for tackling coronavirus and then making it clear that under no circums… https://t.co/8AJdVqzOFh

— Sachin Nakrani (@Sachin Nakrani) 1587683184.0
And finally, for the sake of irresponsible journalism, here is the part of this post you have all been waiting for, just in case you were wondering if the New York Times would figure out a way to #BothSides this. They sure enough did!

OH REALLY, NEW YORK TIMES? ACCORDING TO "SOME EXPERTS" THAT WAS DANGEROUS? AND WHICH EXPERTS DID WE TALK TO WHO WERE LIKE "SURE THAT'S FINE"? ARE THOSE "SOME EXPERTS" ALSO QUOTED IN THE ARTICLE? AND DID YOU BREAK A BONE BENDING YOURSELF BACKWARD FOR THE SAKE OF "FAIRNESS"?
FUCK.
[transcript viaRev]
Follow Evan Hurst on Twitter RIGHT HERE, DO IT RIGHT HERE!
Wonkette is fully funded by readers like YOU. If you love Wonkette, SUPPORT WONKETTE FINANCIALLY.

Evan Hurst
Evan Hurst is the managing editor of Wonkette, which means he is the boss of you, unless you are Rebecca, who is boss of him. His dog Lula is judging you right now.
Follow him on Twitter RIGHT HERE.