Dear James Comey: A Nice Thing To Do Today Would Be To Go Fuck Yourself
Elections
November 09, 2016 04:22 PM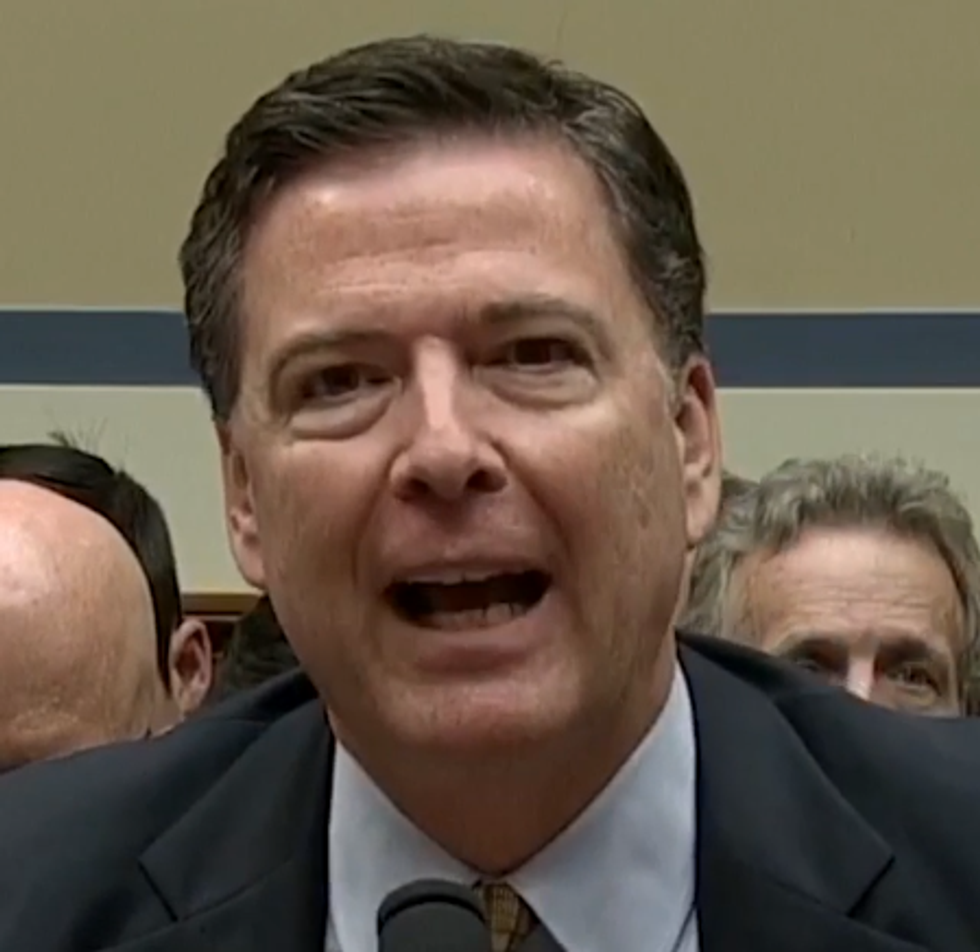 Still A Idiot.
---
Many stories are being written today about all the different people to blame for the elevation of Fuzzy Orange Hitler to the presidency! We yelled at pig turd racist Trump-supporting fucks! We yelled at the media for enabling them! Now we would like to say one million cuss words about James Comey, the FBI director whose incompetence, and maybe also his actual support for Donald Trump (he had a Trump sign in his yard in Connecticut for god's sake!), may very well have contributed to our coming international nightmare.
Let's do this like we're doing a responsive reading (a "litany") at church! Have you done those? For example, a Christ-loving pastor might say, "As Christ Jesus has shared his peace with each of us, let us now share that peace with each other. Peace be with you." And then the congregation would respond, "AND PEACE BE WITH YOU." It's so easy!
This will be just like that, except instead of peace and blessings, you will get to yell FUCK YOU ALL CAPS stuff at James Comey. It will be cathartic! Ready?
WONKETTE: Because James Comey thought it would be a good idea this summer to step way the fuck out of his lane and editorialize for one million minutes about what a bad and careless email lady Hillary Clinton is, before finally sharing his FBI's recommendation that Hillary not be prosecuted, a conversation this lookin' ass motherfucker shoulda been having with his boss Loretta You're Goddamned Right Lynch ...

CONGREGATION OF WONKERS: FUCK HIM RIGHT IN THE EAR.

W: Because James Comey, eleven days before the election, found out that ooh so 'sciting, there are some emails on Anthony Weiner's dick-pic-sharing machine that say "Hillary" on them, and instead of doing his fucking job, getting a warrant, and going through those emails real quick to see if they were actually anything before publicly opening his mouth, threw a political wrench into the presidential race and maybe violated the Hatch Act, which set off a ridiculous media firestorm that might have moved the numbers enough in the final days that chairborne racist yokels won the election ...

C: YEAH MAN, REALLY, FUCK HIM IN THE EAR AND ALSO DO THAT THING WHERE YOU GET REALLY CLOSE TO HIS FACE AND SAY, "NOT TOUCHING, CAN'T GET MAD, NOT TOUCHING, CAN'T GET MAD!"

W: Because James Comey is obviously such an incompetent fuck that he didn't have any control over the bureau his fucking president Barry Bamz Obama entrusted him with; because he allowed a rogue group of agents in New York to keep pursuing bullshit investigations into the Clintons based on a piece of trash lit called Clinton Cash, and because he didn't pound those agents into the ground headfirst when they started leaking shit in the last month of the election ...

C: GOD BLESS JESUS, JAMES COMEY, HOW GODDAMN STUPID ARE YOU? FOR REAL, DUDE, GET BENT.

W: And finally, because James Comey took his precious time sifting through those "new" Hillary emails and then whispered to America while we were eating Sunday brunch with our BFFs, TWO DAYS before the election, that oh by the way, the "new" Hillary emails were not "new," and also LOL they were a big pantload of nothin' ...

C: WELL THEN, MY GOODNESS! FUCK THAT RATCHET-ASS MOTHERFUCKER! HEY, JIM COMEY, DID IT EVEN CROSS YOUR MIND THAT MAYBE YOU WERE HURTING AMERICA, OR WAS THAT WHAT YOU WERE TRYING TO DO? REGARDLESS, YOU CAN FUCK RIGHT OFF.

W: Don't you feel better now?

C: NOT REALLY.

W: Well fuck.

C: WELL FUCK.
The end.
Evan Hurst
Evan Hurst is the managing editor of Wonkette, which means he is the boss of you, unless you are Rebecca, who is boss of him. His dog Lula is judging you right now.
Follow him on Twitter RIGHT HERE.