QAnon Lady Begs Trump To Save Her Convicted Child Molester Son
Right Wing Extremism
February 24, 2023 02:40 PM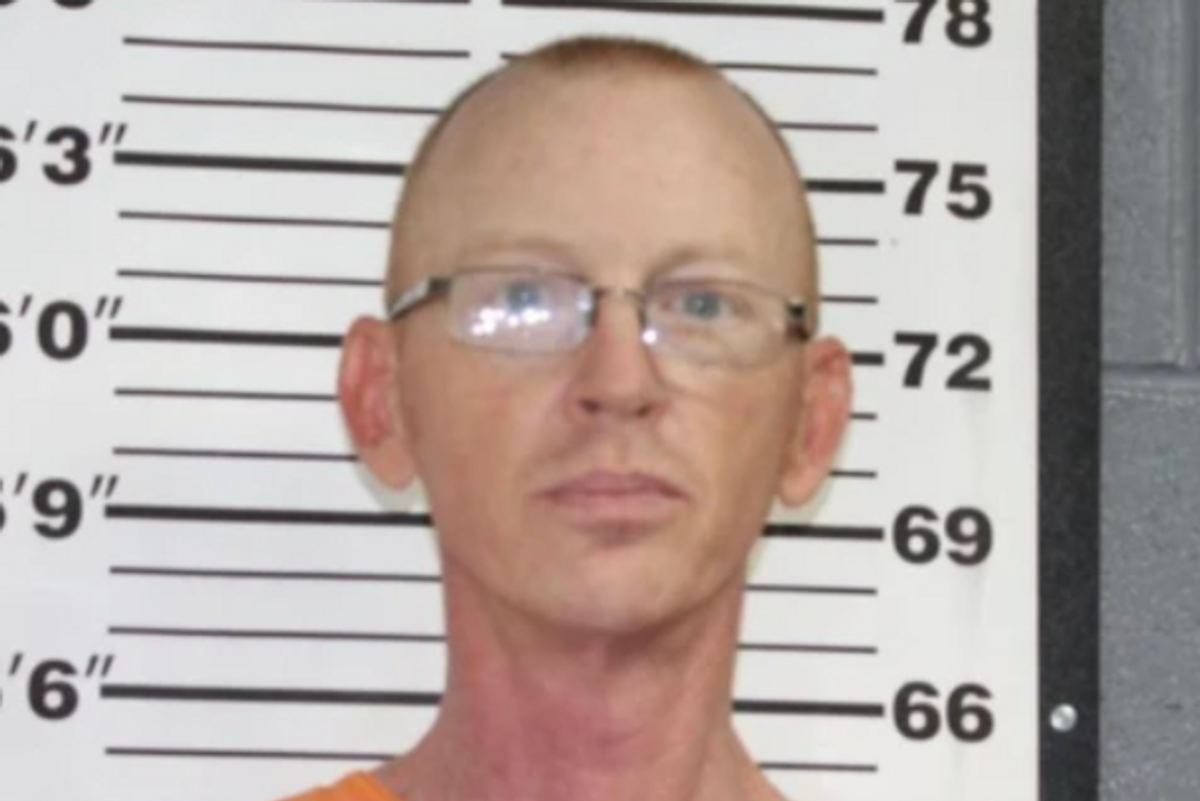 Content note: child sexual assault
One of the hallmarks — if not the most significant hallmarks — of the QAnon movement has been randomly accusing all kinds of people of being pedophiles. And not just pedophiles, mind you! Cannibalistic, Satanic pedophiles who drain children of their "adrenochrome" in order to get high. They're all in it together with the Illuminati and the Lizard People and Dead Colonel Sanders. We are talking about a group of people that has not two qualms to rub together about wrongfully accusing people of molesting children, and in fact considers itself heroic for doing so. This is despite the fact that there are literally zero complaining witnesses other than one lady who claims to have "recovered memories" of her parents brainwashing her to be Tom Hanks's sex slave.
But twist! QAnon Lady Deborah Sullivan — who calls herself The Meme Queen even though there is a much better known QAnon Lady who also calls herself The Meme Queen — has a son, Michael Aaron Wall, who was just found guilty on two counts of child sexual abuse. She claims he is innocent and is asking both Donald Trump and QAnon Guy The Praying Medic to help her get him out.
---
On Truth Social, she wrote:


Dear Mr (Real) President aka Q+,My name is Deborah Sullivan aka The Meme Queen aka DS. Iam an OG Anon and I desperately, need your help. I need youto be my BATMAN.

This spiritual battle has entrapped my son,with false accusations of Child Sexual Assault, for the past 4 1/2 years.

Last Wednesday he was convicted on two counts, with ZERO evidence. There was certainly prosecutorial misconduct involved.

Even though I've helped fight many years, to help drain the swamp, creating 4500 memes, to assist, I still believed a jury couldn't convict with zero evidence. But I didn't account for a crooked DA.

This case is in Canadian County Oklahoma.

Respectfully Sir, Q said our families would be safe. My son is not. And neither are his sons or any other innocent man or woman, for that matter.I know there's no one that understands, wrongful accusations, better than you. And you're one of the few people, on the planet that I trust.

Please have someone put eyes on this case immediately.

Please. An innocent man lost everything and now is headed to prison.

All to stop me and the TRUTH.

Deborah Sullivan
The Meme Queen
Yes, surely the deep state is conspiring to stop her from telling the truth by falsely convicting her son of child molestation. Because they are frightened of her 4,500 memes. Like this one that she posted to Telegram of Vladimir Putin holding a tiny sign that says "Save The Children," with accompanying text reading "The number of people, I TRUST these days, is a very very small one. But, if you're AGAINST the Biden Crime Family, the Cabal, Satanic Pedophiles and Child Sex Trafficking? Then, we're on the same TEAM. Remember, there are only TWO."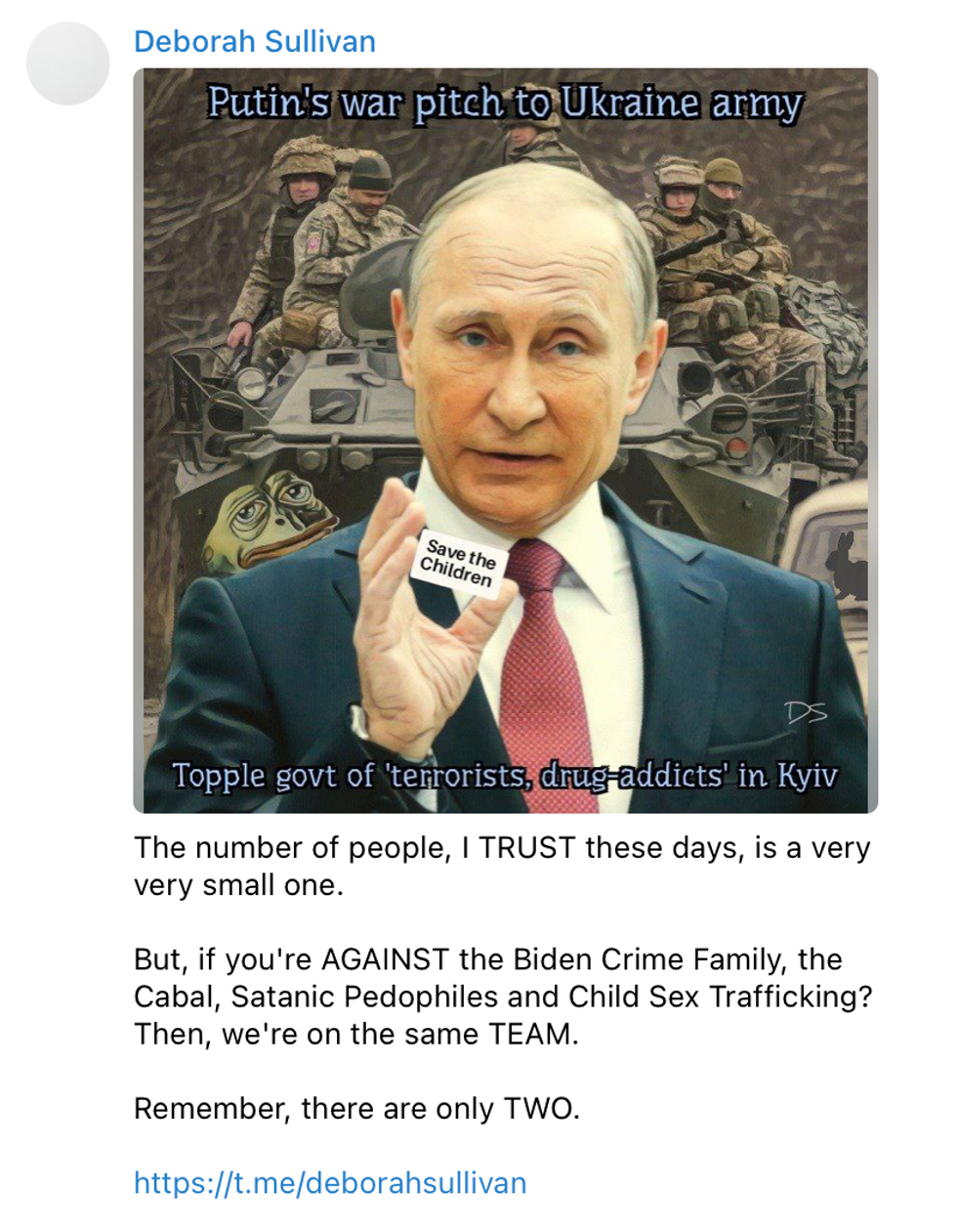 So, just to be clear, Sullivan is accusing people of some pretty serious crimes without any evidence at all other than her personal belief, and is currently mad that her son has been convicted of a serious crime that actually includes a complaining witness.

While Sullivan does not say what, exactly, her son is accused of, court documents obtained by VICE show that Wall's crime was raping his 12-year-old daughter over a period of three years.

The assaults first came to light in 2018 when Wall's then-wife walked in on her 12-year-old daughter sitting on Wall's lap with her bra undone, the court documents say.

At the time both parties claimed nothing was happening, but when Wall's now ex-wife spoke to her daughter alone the next morning, she said that Wall had touched her breasts. Wall's wife reported the incident to the police and in an interview, the 12-year-old said she had been raped by Wall and that the abuse had been happening for three years.

In a text message he sent his ex-wife after the allegations came to light, Wall wrote: "I cannot explain why we are where we are. I just know that I am deeply sorry, and I would give anything to take back and change the situation right now. This I regret more than anything I've ever done. I have lost the best thing ever happened to me. I am so sorry I hurt you guys."
There is little question that innocent people are often convicted of crimes they did not commit and that prosecutorial misconduct is far more widespread than people realize. This is just one reason why someone might not want to vote for lunatics who want to go around executing people all the time, the way Deborah Sullivan has voted. Or even why people who are not terrible don't go around baselessly accusing people of child molestation without any proof or even any child victims.
That being said, people rarely apologize for rapes they did not commit.
The thing is, these people imagine they and Donald Trump are heroically fighting some all-powerful Satanic child-molesting cabal, when the truth is that actual sexual assault, child sexual abuse and even child trafficking are so much more banal than that. Those who commit these crimes are far more likely to be friends, family members, pastors and priests than some mysterious "elites." They're not doing occult rituals in capes or getting high off of anyone's bodily fluids, they're not telegraphing this love of child abuse by wearing red shoes or talking about pizza or doing any other kind of symbolism. And the fact is, the reality is a lot scarier. It's a lot scarier that the real abusers are some random lady's son or someone's parent or spouse or friend, that it's not something extraordinary and elaborate and far off.
Too bad they don't actually take any of this seriously enough to understand that.
Do your Amazon shopping through this link, because reasons.
Wonkette is independent and fully funded by readers like you. Click below to tip us!
Robyn Pennacchia
Robyn Pennacchia is a brilliant, fabulously talented and visually stunning angel of a human being, who shrugged off what she is pretty sure would have been a Tony Award-winning career in musical theater in order to write about stuff on the internet. Follow her on Twitter at @RobynElyse