Deleted Comments: HITLERY IS GONE BITCH DING DONG THE WICKED WITCH IS DEAD!
US of America News
December 18, 2016 11:13 AM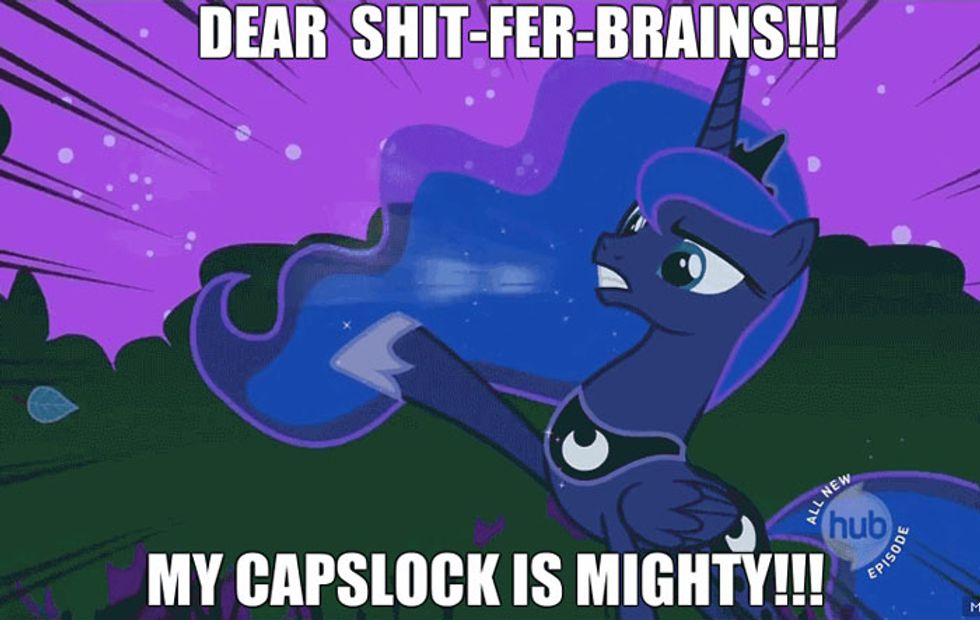 NO, I DON'T CARE THAT IT'S NOT CENTERED! (OK, I care a little)
---
This week, we are pleased to bring you some fine old-fashioned artisanal derp in the classic all-caps rant format, delivered by someone with the username "LA Woman" and posted, in classic ShitFerBrains style, on a month-old post about the election, because sometimes wingnuts apparently need some time to build up a good angry. Before reading, we recommend you turn down your eyes' volume knob, lest you be deafened. LA Woman's first comment was in response to another reader, and had an important warning for all of us:
GET OVER IT CUNT YOU LOST HITLERY IS GONE BITCH DING DONG THE WICKED WITCH IS DEAD! AH HA BITCH DON'T ACT LIKE YOU KNOW SOME SHIT FUCKING LIBERAL LYING CUNT THAT'S ALL YOU UGLY LOOKING COWS DO WHERE'S YOUR PROOF HE STIFFED PEOPLE DUMB BITCH? STOP REPEATING WHAT YOU HEAR YOU'RE JUST A PARROT!! WHAT IS YOUR EXPERIENCE WITH HIM? ... YEAH, THOUGHT SO STUPID LAZY CUNT WELFARE IS OVER SOON AND CAMPS WILL BE OPEN FOR PEOPLE LIKE YOU I CAN'T WAIT GET A JOB AND PAY YOUR WAY CAUSE YOU WON'T BE ROBBING THE SYSTEM FOR FREE MONEY WITH YOUR NO GOOD OFFSPRING ANYMORE!
We're guessing "LA Woman" knows that
every single lawsuit against Mr. Trump
for nonpayment of bills is an invention of the liberal media, who will also be sent to the camps. She did not specify whether these camps would be of the internment or extermination sort; presumably the latter, since we're guessing rounding up all the liberals and putting them in camps would be more expensive than giving them all welfare, which of course all liberals are on. Or maybe the liberals are supposed to get jobs to stay out of the camps? It would seem counterintuitive to put all the welfare dependent liberals in a camp, kill them, and then expect them to get jobs. We have a feeling that perhaps "LA Woman" hasn't really thought this whole thing through.
She wasn't finished, however -- "LA Woman" actually managed a second post shortly after, and accidentally turned off the capslock for a moment to let us know she didn't care for Robyn Pennachia's clearly deficient writing:
The bitch who wrote this has terrible fucking grammar! Go back to school cunt!!!! TRUMP ALL DAY IN THE USA YOU DEPLORABLE LAZY LIBERAL. YOU NEED TO WORK AT SOMETHING IN LIFE OR AT THE VERY LEAST NIGHT CLASSES YOU'RE A BORED NO LIFE HAVING ASS KISSER AND THE REAL RACIST AND SO ARE YOUR PARENTS YOUR MOM IS A BIG TIME BIGOT YEAH I KNOW WHO YOU REALLY ARE AND TRUTH IS YOU'RE THE RACIST!! YOUR PARENTS ARE RACIST BIGOTS TOO !! EAT A DICK THAT GOES TO ALL YOU LIBERAL BRUCE JENNER LOVING TARGET BATHROOM USING FREAKS HAVE FUN IN HELL CAUSE YOU'LL BE GOING THERE BELIEVE THAT!
We figured that following "The bitch who wrote this has terrible fucking grammar" with an all-caps screed composed of run-ons probably just might have invalidated LA Woman's credibility a tad, but to be on the safe side, we carefully re-read Robyn's post and didn't find any grammatical errors (she did start one sentence with "and," which is perfectly cromulent, but since "LA Woman" didn't provide any examples of what she thought was terrible grammar, we'll never know what set her off there). In any case, apparently we're all hell-bound for being racist Target shoppers who use the Shift key now and then, because God is far pickier about that sort of thing than we knew. In conclusion, we don't think "LA Woman" really would be Jim Morrison's type, anyway, the end.
"shemale buttslam,"
who didn't care one bit for our piece suggesting the
CEO of Exxon,
who has never held any post in government, might not be a terrific secretary of State. Not so, said "shemale buttslam," who knows a thing or two, and precious little else:
What an awesome pick. Someone who has actually accomplished something worldwide in his life. Like it or not, oil is what makes the world go round.
That's certainly an interesting observation, but if being the CEO of a company that handled an important commodity were really important to diplomacy, you'd think someone might have noticed that before now. Still, SMBS kept up the argument, weak though it was: Oil is a vital commodity, and therefore anyone opposing Tillerson's appointment (or his denial of climate science) yet who still uses petroleum products can only be a giant hypocrite. Also, something something triggered snowflakes:
Lifeblood of the worlds economy. Like it or not.
Wow good one. You know you don't go a day without using oil/natural gas in some form be it energy, refined plastic stock, transportation , etc? No accident there. I love pissing off the simple minded.

Someone is already triggered. Ever worked in life? If so have you ever worked outside of the US? The world is much different than your little safe space.
How's that transgender studies degree you got working out for ya, libtard puppet?
Sure you're "educated", lol Then you must know that you have profited off of Putin. Unless you're a pathetic loser who has never held an investment in your insignificant life. Which judging by someone that feels it's necessary to tell an anonymous internet troll who's fucking with you and triggering you nonstop that you're "educated" to justify your self worth odds are pretty high that you've never contributed to society.
Our favorite SMBS comment, after that fine stream of rightwing cliches, was this complaint about someone's reply to him:
Good job. Keep using the buzz words you've been spoon fed.
Guess he told us! And oil makes the world go 'round, so let's replace the State Department with something useful, huh? We'll be up shit creek if any international incidents not involving oil come up, but how likely is that?
Ivanka Trump moving into the White House,
which briefly mentioned Julia Ioffe's tweet joking about Donald Trump possibly having unnatural relations with Ivanka, which is apparently only a fit topic for Donald Trump to talk about. Disturbingly often. Poor "niooed22" started off with a nice absolutist judgment, then started meandering, quickly seizing on the idea that liberals are all Nazis, because, well, we just are, OK? A very small sample:
Ioffe got what she deserved by being fired and SHOULD have been fired from her new job on the spot after that vile and disgusting lie. #AcceptTheOutcome
[In reply to someone who mentioned the dubious proposition that Russia hacked the DNC, Clinton campaign, and others] Just because you SAY it's the truth, doesn't make it so, you fucking Nazi.
Your kind's behavior since you lost the election in a landslide disproves that lying sentence of yours. The Democrat party is officially the Nazi party now and America isn't with you horrible people anymore.
Too bad for you that your kind fit that criteria in EVERY SINGLE WAY. First, you Liberals assault and murder people who didn't vote for the cunt, then the OTHER cunt tries to steal the election for it and now, you're going on a racist tirade and trying to start a second Civil War, ALL of which happened in 1933 Germany. You Democrat scumbags ARE Nazis and I am accurately describing you sub-human smegma.
America has rejected you Liberal Nazis for all the garbage you've pulled after this election. Good luck EVER winning another election again because MANY people like me will NEVER cast a vote for the disgusting Democrat party again.
That you Democrats have become disgusting, despicable and hateful liars who hate democracy when you lose fair and square and that you can't take the same vile garbage your kind spews being turned around on you. And you just proved it again. #AcceptTheOutcome
[In reply to someone who cited Hillary Clinton's totally fictitious 2.8 million popular vote lead over Donald Trump] More Liberal fake news and bullshit numbers.
Fact Check sucks the dick of the Democrat party dry, just like you. Your facts are false.
You're just mad that your fake facts and fake news aren't working anymore.
You people are the dumbest I've ever met, so clearly, I'm cracking you and your kind.
You just proved that I NAILED you PERFECTLY. Need a safe space?
Say it with me, pussy; President Trump; it's happening. Need a tissue?
[In reply to someone who wrote, "Do you realize that statement doesn't make sense? Are you thirteen? or drunk?"] That just proves that I made PERFECT sense and that you're deflecting, per you following standard Liberal Nazi operating procedure.
[In reply to someone who wrote, "In case you missed it, we're really not afraid of you. Even a little bit."] Yes, you ARE afraid; you WOULDN'T be coming after me with the force you and your kind are if you didn't think I was a threat.
Eventually, we simply couldn't handle all the truth "niooed22" was hitting us with, so we banhammered him, proving that he completely destroyed liberalism forever. Then we made fun of him in this week's "Dear ShitFerBrains," which simply proves how terrified we are of him. OK, perhaps not terrified. Just depressed, perhaps, as the Shelly Long joke from the first episode of Cheers said, that people like "niooed22" are allowed to vote and drive cars.
Jerry Brown's refusal to let California be daunted
by Donald Trump's denial of science brought out the meme-maker in "Tids1960," who made some funny photo contributions for us:
He's not his father Pat... that is for damn sure
Pretty impressive, huh? Sort of an outsider artist in the Howard Finster mode, only really bad, and nothing like Howard Finster. But wait! There's more! Prepare to be devastated by this next one!
You know... I was told the Red Diaper Babies were rude and immature

Here... I have something for you

By the way... that was me... being nice ...

and telling YOU to...

shut up... sit down... and Color
Get it? He's calling us babies! Does that not make you feel less confident about your politics? Also, "Tids1960" happens to know that climate science is hooey, because just look at this elegant scientific disproof!
So what you're saying is...

you have a bunch of Space Cadets... lots of engineers

and Scientist who are just filled with "theories"

.

Let me guess... You're really "BIG" on silicone valleys

I guess you'll have plenty to say at your next Butt hurt meeting
Golly, we are so completely destroyed by that, we suppose we'll just give up on science and politics, then. We don't think anyone's ever so completely put us in our place since we were called a "dumbhead" this one time. This may sting even worse.
Finally, there was "simul8guy," who wrote "Libtard" and "RETARD" and "DemoncRATS" a whole lot, but is only making it into this week's Dear ShitFerBrains thanks to one brilliant GOTCHA aimed at one of the LIBTARD IDIOTS who made fun of him. A Wonketteer wrote, "Careful cupcake, you're dribbling down your leg. Maybe get that prostate checked," and "simul8guy" couldn't believe anyone could possibly be so incredibly stupid:
BWAHAHAHA!!!! I tell you what... Google the word "prostrate" and I'll let you come back and edit your post without calling you a fucking RETARD... Oooops!!! Too late!
Yep. Bet that Wonker was really knocked flat on the floor by looking that up, all right. Hint to "simul8guy": When Det. Andy Sipowicz on NYPD Blue kept talking about having to get his prostrate checked by a doctor, they were playing that for laughs. You know, in a sort of "BWAHAHAHA!!!" way.
Poor "simul8guy" used that one only a little less often than "Libtard." We bet he's a load of laughs to hang out with. BWAHAHAHA!!!