Deleted Comments Of The Week: Did You Know Gay Sex Isn't Even Real?
Guns
November 08, 2015 01:57 PM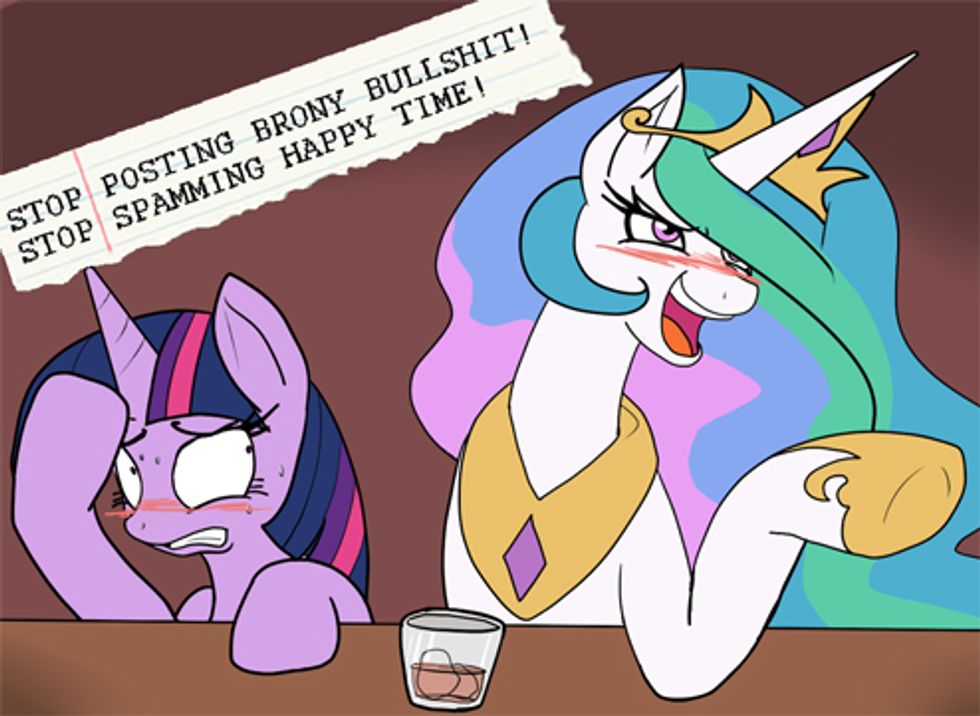 Go home, Celestia, you're drunk
---
We got us a whole bunch of freaked-out gun-humpers this week in reply to our story about Ted Cruz's sub-par gun safety, mostly saying "Har-Har, you dumb liberals don't know nothin' about guns so shut up." The really fun part? Our web analytics show that most visitors to the page scrolled through less than half of the article before jumping straight to the comments to tell us that we have never ever learned nothing about guns, which means they probably skipped the key point of the article: Even with an open, unloaded break-action shotgun, you should carry the damn thing so the barrel is pointed down at the ground. None of the comments were memorable enough to mention here, but we left almost all of them in place, so you can go enjoy them yourselves.
[contextly_sidebar id="T9Y88tA9JFVOJ4lwWNcSYBk25K0oWmj2"]Also, too, in a small departure from the norm in this column, we're going to start today by featuring a compliment, seeing as how it came from the subject of our piece, Captain Clay Higgins of Louisiana's St. Landry Parish Sheriff's Office, who didn't even mind that our headline called him "half-nutso," but we meant it in the nicest possible way. We have to tell you, Wonkers, we are a little chuffed to know that Capt. Higgins liked our little love-letter to his style of Crimebusting:
This link was forwarded to me by a fan. I very much appreciate the kind words that some have shared here. I am just a humble man, a 17 year street cop. I have been highly decorated through the years, and although I'm an 11 year SWAT operator, my foundational mission is to encourage compassionate police service and strict observation of constitutional rights.

I do my best with these Crime Stoppers priductions. [sic] I am not an actor, and I use no scripted lines. I speak from my heart.

Yes Ma'am, these productions are successful. Our CS is #1 in the world, running a 70-80% solve rate and viewed more than markets like Atlanta, Dallas, and NYC. Further, so far this year, 13 men and one woman gave turned themselves in within hours or days of the CS airing featuring their crime. 14 children of God, all facing felony charges, all presented themselves peacefully to authorities.

We shall stay the course.

Captain Clay Higgins
And yes, he's the real deal; same username as he has on Facebook, and through our magic Comment Moderator Powers, we confirmed that the IP address for the email is indeed Lafayette, Louisiana. Captain Higgins, we're a fan.
[contextly_sidebar id="m6oCgArYBKRstX5KuMrTtW7JFVrTuhPH"]The same can't be said of one "Vincent Beamin," who had several objections to our piece on the mayor of Houston, who would very much like the city to restore its LGBT nondiscrimination law, thank you. Vincent had quite a few thoughts on the ordinance, and on the question of whether homosexxicans are even really homosexxicans:
Homos are fake, they are know for the way they have sex, YET only one real sex organ is being used during "gay" sex so it's really masturbation. Besides no human has ever been created from the "gay" sexual interface..... so the God you don't believe in is still blocking them from sex. They forgot that God is the one who made humans not Obama.
You got that, gay folks? You aren't even really having sex, so THERE! Which sort of makes us wonder why there are so many folks who want to outlaw gay sex, but nobody ever expected consistent logic from the deleted commenter community. "Vincent Beamin" had a number of other "thoughts," too!
If you're mad cuz you can't go in womens restrooms then we don't want you in Houston. Our kids shouldn't have to appear on milk cartons because your degenerate lifestyle.
Gay people want extra Rights. The already have Rights , but they want extra Rights because they want to participate in masturbatative activities. Why can't football lovers have extra rights, gunowners ? Why can't dog lovers have their dogs in everyplace they go? The Gay movement is a movement of con-artists.
Do what you want in your own privacy, but don't push your perverted lifestyle on the rest of us. It's a violation of our Civil Liberties when governments force such lifestyles on the citizens.
We were especially taken by Vincent's broad view of the grand sweep of American History, in which there have only been two small mistakes:
America was wrong in their treatment of women and black people back in the day. Those were the only 2 wrongs. The con artists want to use those wrongs to sneak in things that really are wrong and should be discriminated against. Homosexuality should be discriminated against and illegal immigrants should be respected as illegal immigrants not honored as citizens. If you're not a citizens your not a citizen.... why get upset it's the truth...it's not your country....you just have to do the things to become a citizen don't act as if we owe you anything.....you're in our house.
Your guess as to how he got from The Gays to The Illegals is as good as ours, but we have to say, it's awfully impressive that Vinnie here is willing to allow The Women and The Blacks to be real Americans, as long as they do sex the correct, non-masturbatory way.
[contextly_sidebar id="2JPxZ8bRBU6YBwCqD2NaBLAFC52aN1L1"]We also heard from a charmer with the username "GLAAD = NAMBLA," who can't seem to stop thinking about gay sex and pederasty, and had to let us know all about it in reply to our piece on yet another gay-hatin' Republican politician caught looking for all the gay sex he could find. "GLAAD = NAMBLA" had far more things to say than we want to share, but here are a few lowlights:
Bi does not exist. There is gay and not gay. This guy is gay. He will always be gay. He can get married to a woman and never visit one of those "Let's spread HIV and depravity as much as possible" gay hookup sites again, yet, he will still be gay. It's like committing a murder. Even if you serve your time, get out and become a model citizen, you are still a murderer.
Usually the liberal poo pushers and fem-nazis call anyone who makes a negative comment about a gay person a bigot and a homophobe. Those two words get tossed around so much that they have lost all meaning.
Gay men represent 2% of the population yet commit 30% of the molestations and are responsible for 63% of all new HIV cases, according to the 2010 CDC report.....nope, nothing wrong with this community....they are "normal"....just stick your head back in the sand or up some poo pushers backside....nothing to see here folks.
Do I win the prize of being banned? I hope so. Listening to you liberal poo pushers and fem-nazis often leaves me depressed. How can people be so fucking stupid and blind? How do they not smell the shit-like odor that accompanies everything they say?
We'll give him this much; he was absolutely correct about one thing: He did indeed get banned. Also amusing is this person's comment history -- he warned in an article about 3-D printing that The Gays are using the devices to make enticing colorful plastic devices, then "placing them in their HIV infected butts and then leaving them at public parks. They then watch children pick them up and play with them." We guess that's a bit like Pat Robertson's exposé on the Secret Gay AIDS-ring, which they use to spread HIV via handshakes: "they'll have a ring, you shake hands, and the ring's got a little thing where you cut your finger." Science is a wonderful thing. "GLAAD = NAMBLA" also explained a few years back that "90% of medical conditions do not exist" -- they're just made up by greedy doctors and Big Pharma.
[contextly_sidebar id="7xWa3IjeIMPrOa7gY9re8phEkLJ2fk9w"]Our story about the Courageous Idaho Patriots who are freaking out over the prospects that a community college's refugee resettlement program may be the gateway for an invasion by ISIS terrorists drew the attention of one "Gentlemanandscholar," whose avatar is an inspiring image of a handgun lying atop a folded American flag. "Gentlemanandscholar" couldn't believe how blind we stupid liberals all are to the urgent threat posed to America by the tens of refugees being resettled in Idaho:
I'm so glad this site came across my radar. I didn't realize how many of you there are that are so naïve
Unfortunately, now that we're on his radar, he didn't clarify what he intends to do about that fact -- warn all his patriot pals not to read our commie propaganda? Fire a Lib-seeking missile at us? Punch a refugee, just to be on the safe side? As a former member of the US Air Force, "Gentlemanandscholar" has "been all over the world" and has "seen more of this type of problem then you have" -- the problem, apparently, being ISIS radicals sneaking into Idaho. He also explained that he and his patriot immigrant-despisers doesn't afraid of nothing:
Anger is not the same as fear but apparently you can't tell the difference
Got it. He's tired of His America being taken over, and he will be vigilant to "keep an eye on the traitors" he seems to believe are lurking everywhere. And once the Islamic radicals that are infiltrating everywhere start forcing us to pray toward Mecca five times a day, we'd better not expect any help from the True Patriots: in reply to another commenter who congratulated the anti-immigrant demonstrators on not "[shooting] themselves in the butt defending us from ISIS," Gentlemanandscholar replied,
I hope none of them end up defending you from ISIS
So be warned, Wonkers, and change your ways: When the shit hits the fan and the sleeper cells arise, we will not be protected by the armed loons of the "III Percenter" movement. Now, who'll protect us FROM the armed patriotic loons is another question entirely. Happily, the answer is obvious: better buy another gun.
[contextly_sidebar id="lekKznIR4vm7YxnZlwbXVnqegDbTIQbO"]Finally, a brand-new form of Deleted Comment: Some Alex Jones fan apparently found out that Yr Wonkette sells high-quality tee-shirts featuring the likenesses of Elizabeth Warren and Hillary Clinton, and left the following amusing "product reviews"! This one came from "Michelle," whose email address was, curiously, Michael@redacted.com, which seems a rather surprising bit of gender confusion from an Alex Jones fan:
What a neat shirt! What I'd really like to get my 38D bust into is one of those Alex Jones InfoWars.com trending tee shirts! You know, the Hillary For Prison 2016 one. Like me: It's HOT! Keep up the good work. Hitler,Stalin,Mao – Lyndon Johnson,George H.W.Bush,Bill Clinton,George W.Bush, and Barack/Barry Obama/Soetoro/Marshall or whatever his real name,would be proud of your Socialist,Facist,Nazi,Communist New World Order AGENDA!
[contextly_sidebar id="5513mDJZzhrxae3jAfKoR6RSgCBS6kwK"]Our Elizabeth Warren shirt received a couple of similar reviews from a different fake email address:
the socialist realism graphics never fail to elicit a 'what, are you a commie' response from anyone over 60. buy 2 or more. [Correction: Thanks a lot, Poe's Law! Commenter jviscont1 cops to having written that one as genuine snarky praise, because being called a commie is something to be proud of. Fair enough!]
Hi! It would be so trendy if you carried the InfoWars.com-Hillary For Prison 2016 -Tee shirts! I've heard East Germany is re-forming and is looking for good Communist,Fascist,Nazi,Socialist Sheeple. They would appreciate your help. Hope and Change! Yes We Can!

PRESIDENT RAND PAUL 2016
Well, golly. That's some innovative alternate advertising, if nothing else. We're not especially impressed by the INFOWARS tee design, but we bet some people find it a barrel o' laffs: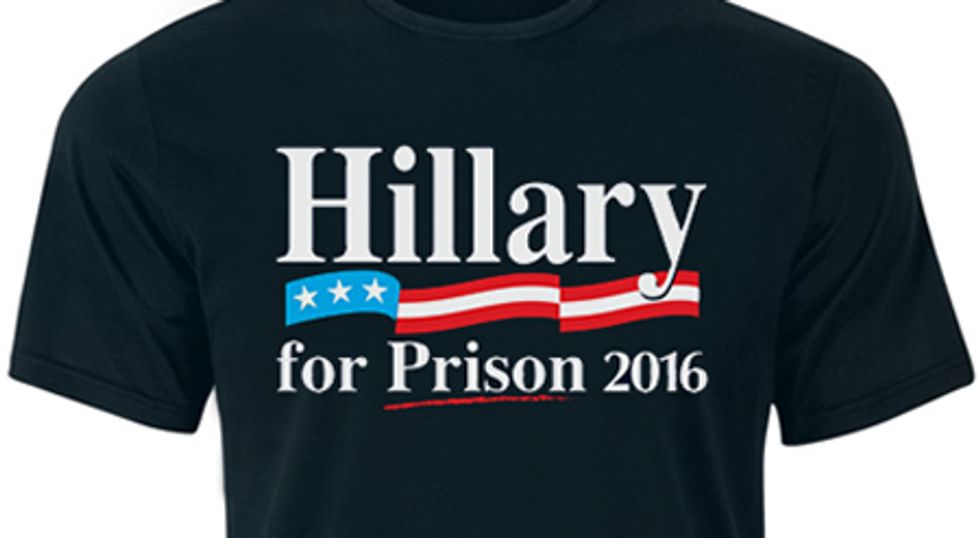 We dunno. Is there a shirt with this on it?