Deleted Comments: Wingnuts Have ONE Joke About Elizabeth Warren. Guess What It Is? Guess!
Elections
May 08, 2016 03:12 PM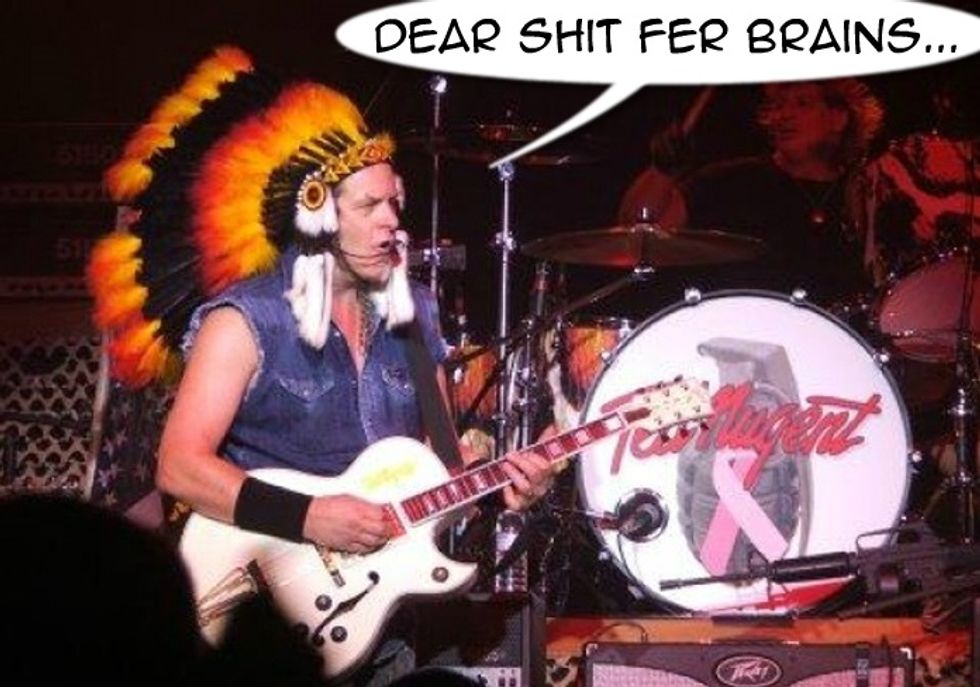 You liberals can't complain about this and still support Warren, because Reasons
---
Yr Wonkette ran a story about Elizabeth Warren counter-trolling Donald Trump on Twitter, and we learned one very important thing from the now-deleted visitors from the Trumposphere: Jokes about Elizabeth Warren being a Native American are the funniest goddamned thing in the world. As you recall, Warren once checked off a box on a form at Harvard saying she had partial Cherokee ancestry, based on old family lore. While her claim turned out not to be backed by anything but family stories, she also never received any affirmative action benefit from it, either -- although on the right, the myth has now arisen that she got her job as an affirmative action hire.
The very idea of a blond, blue eyed woman perfesser at HARVARD claiming any Native American ancestry was so outrageous that Scott Brown made it his main campaign point when she ran against him. Remember this hi-larious video of his white campaign workers doing the Tomahawk Chops and the war whoops, to show how offended they were at Elizabeth Warren's racism?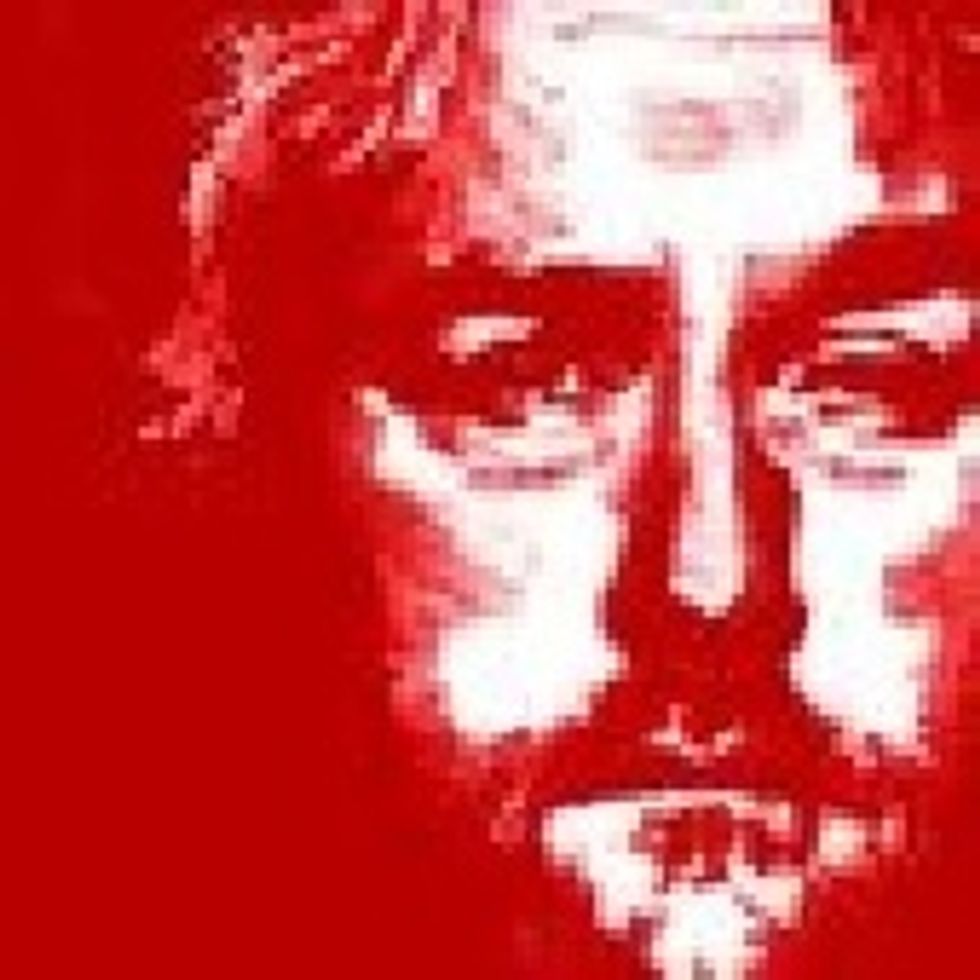 And Brown lost to Warren, spectacularly. But ever since, the "Elizabeth Warren is a fake Indian" trope is simply the funniest joke in the world to some people, as we learned from deleted commenter "Andrew Interrupted," whose Disqus avatar is a tiny picture of Saint Andrew Breitbart. This is a guy who not only loves him some Trump, but loves him some Scott Brown -- so much so that when someone said Warren was elected to the Senate seat formerly held by Ted Kennedy, he "corrected" the comment (as if we allowed comments in the first place) by pointing out Warren actually "holds the seat previously held by a guy who will be Trump's running mate. A guy named Scott Brown." He proved this with a picture of Brown shaking Trump's hand, so you know THAT'S gonna happen.
Breitbart Interruptus had a whole LOT to say about why nothing Elizabeth Warren ever says about anything is credible, because she's a TOTAL FAKE, and also, Native Americans hate her too. In fact, said "Andrew," there's a reason Warren wants to be Hillary's Veep -- never mind she's expressed no interest in the job -- she's afraid to face another election:
Warren is just smart enough not to make that mistake. New Englanders are licking their chops for another shot at her--as are dozens of tribes.
ZING! But wait, he had more! He had a very funny joke about Elizabeth Warren's "combat experience," too!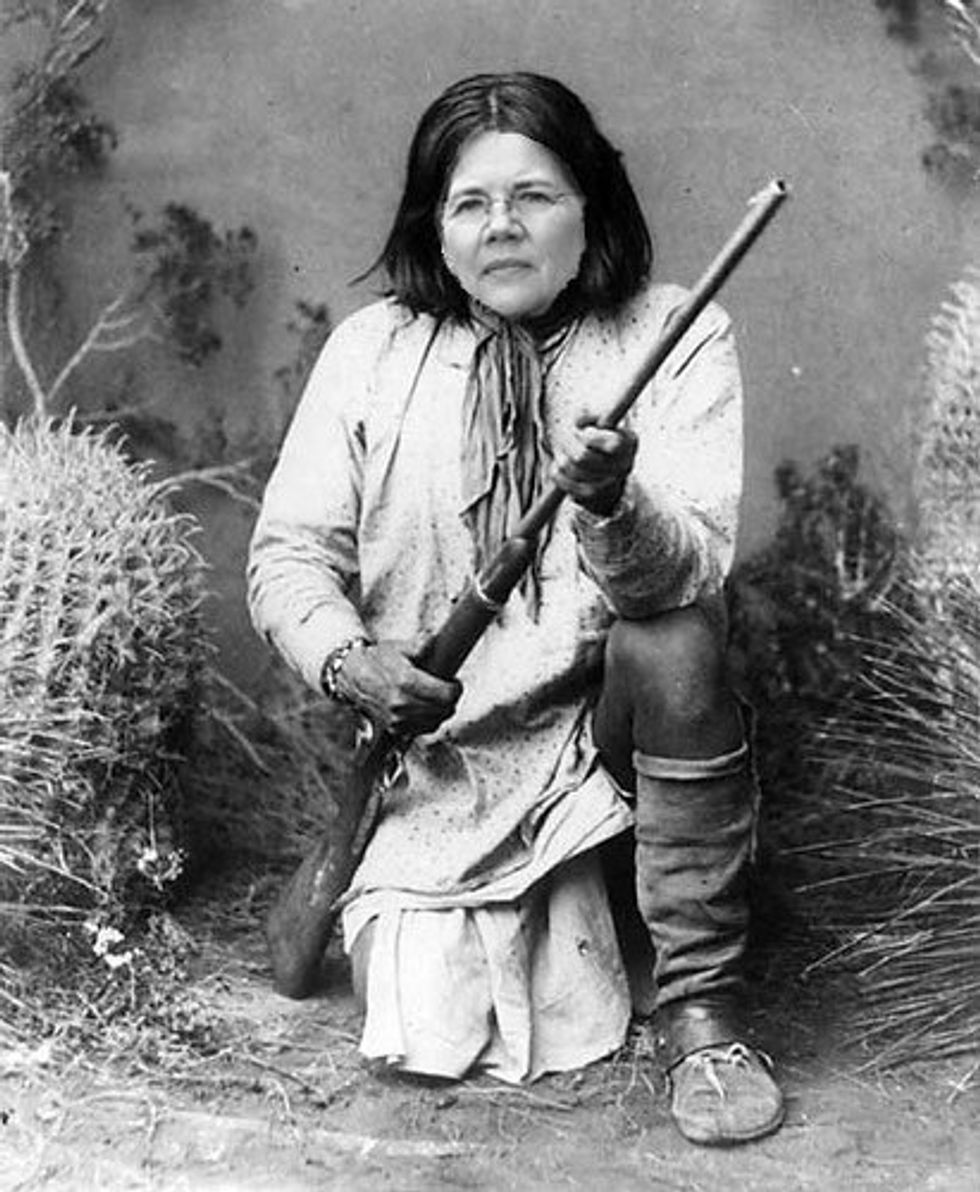 He even copy-pasted "one blogger's entry" from the 2012 Senate race -- a "blog entry" whose text we haven't found anywhere except in other comments posted by Andrew Interrupted on various sites, so you know it's true. It relies on an extremely careful examination of Ancestry.com, which is all the proof you need. We won't post the whole tiresome thing, but you have to admire the passion of the indignant, all-caps closing; we're not sure if this is supposed to be the Expert Genealogy Blogger or Andrew's addition. It's in quotes, so we suppose this is the "expert":
ELIZABETH WARREN DOES NOT HAVE ONE DROP OF CHEROKEE BLOOD IN HER ENTIRE BODY. I HAVE NO DOUBT SHE WAS FULLY AWARE THAT BEFORE 1907 AND OKLAHOMA BECOMING A STATE THE AREA WAS CLASSIFIED "THE OKLAHOMA INDIAN TERRITORY" UNDER THE CONTROL OF THE U.S. ARMY. THOSE SOLDIERS AND THEIR WIVES AND CHILDREN BORN BEFORE 1907 DID NOT MAGICALLY BECOME CHEROKEE INDIANS EITHER. ANY GENEALOGIST WITH SOME KNOWLEDGE CAN DEBUNK HER CLAIMS IN ONE EVENING BY SIMPLY RESEARCHING HER "WHITE CAUCASIAN RELATIVES."

FOR YOUR INFORMATION THERE ARE NUMEROUS PHOTOGRAPHS OF ELIZABETH WARREN'S ANCESTORS DATING BACK TO 1795 AT ANCESTRYdotCOM. NONE OF THE PEOPLE IN THE PHOTOGRAPHS LOOK INDIAN...."
Yep, as another commenter pointed out, the photographic records going back to 1795 are pretty comprehensive, all right. Claim disproven, so don't listen to anything Warren says about bank regulations, because she is a LIAR.
"Andrew" had a few other thoughts on the clear supremacy of Donald Trump, such as the indisputable fact that if we'd already had a 100-foot wall constructed in 2009, then
Kate Steinle would still be alive today. Are people like Kate "acceptable losses" to suicidal liberals like yourself?
Steinle was, of course, the San Francisco woman shot by an undocumented immigrant in July 2015, and literally the only shooting victim wingnuts have ever really given a damn about. (We should point out here that liberals, not being sociopaths, have never claimed Steinle never existed, or that her shooting was a false flag incident invented to incite anti-immigrant sentiment.)
We also heard from a HILARIOUS Trump fan on Twitter, "France With Trump" -- yeah, go figure out THAT username -- who posted this brilliant riposte: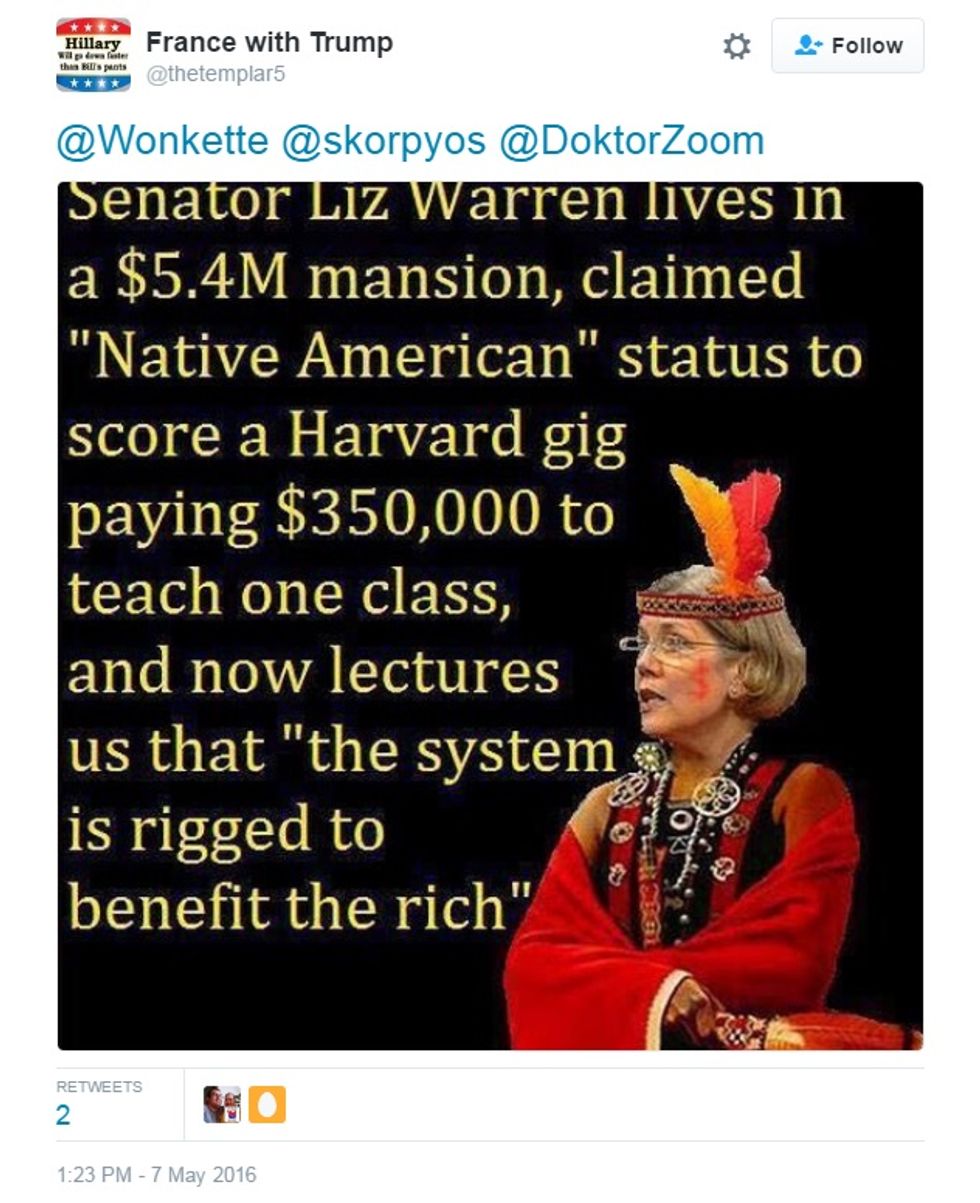 Then there was "ms4130" who had this thoughtful critique of Warren's tweets:
Warren came off as unhinged. Just saying 'mic drop' does nothing. She ended with usual slurs that mean squat now. Racist sexist bigot xenophobe blah blah yawn. Then she went home and drank a whole box of wine in her teepee. Next story.
So, to summarize: Conservatives think the funniest thing in the world is photoshopping Elizabeth Warren's face onto pictures of Native Americans. It's almost as funny as images of Barack Obama with a bone through his nose. Also, why are liberals such racists?
Starbucks' plan to open a store in Ferguson,
Missouri. Oh, sure, maybe they're making sure to buy locally-sourced baked goods, to hire a diverse group of local workers
and
management, and to include a conference room for community meetings. But Horst Wassel wants us to know there's one thing Starbucks didn't account for: The Blacks in Ferguson are ANIMALS:
As someone who lives in Ferguson, let me offer this prediction: The blacks will pick fights with the cashiers, food handlers, baristas and managers at the new Ferguson Starbucks because they have demonstrated that they can berate, scream and go over the counter and punch employees at any fast food restaurant and no one will stop them. Then it will escalate even further, and they will be marching down West Florissant Road and screaming they were mistreated by someone who served their coffee. Within a year, Starbucks will have pulled out of Ferguson because it's impossible to do business here.
We know that IP address tracking isn't an exact science, but we should point out that "Edward Wassel" actually appears to be posting from an IP located in Chesterfield, Missouri, about 25 miles away. So hey, he must be an expert! Hope Starbucks consults with him before that store opens. Oh, also, he's a racist shitstain.
Our story on a
KKK Imperial Wizard endorsing Donald Trump
(another one?) brought this word of caution from "100E," who simply wanted to let us know, as a "fellow liberal," that we'd better not talk about the KKK too much, because GUESS WHY? YOU WILL NEVER IN A MILLION YEARS GUESS! (sorry, we've gone and caught a case of capslock):
We may want to avoid this subject. The California KKK donated $20,000 to Hillary (but not Bernie). How do we explain that? Also, this talk of the KKK just reminds people that the KKK was started as the armed wing of the Democrat Party, and that one of our Icons, Robert Byrd, was a leader of the KKK.

We'd be wise to pick another topic.
Oh wow. We are SO burned! We members of the Democrat Party have got to be more careful how we talk about that stuff. Also, some KKK guy said he'd organized $20K in untraceable small-sum donations to the Clinton campaign, except for how it's probably all bullshit.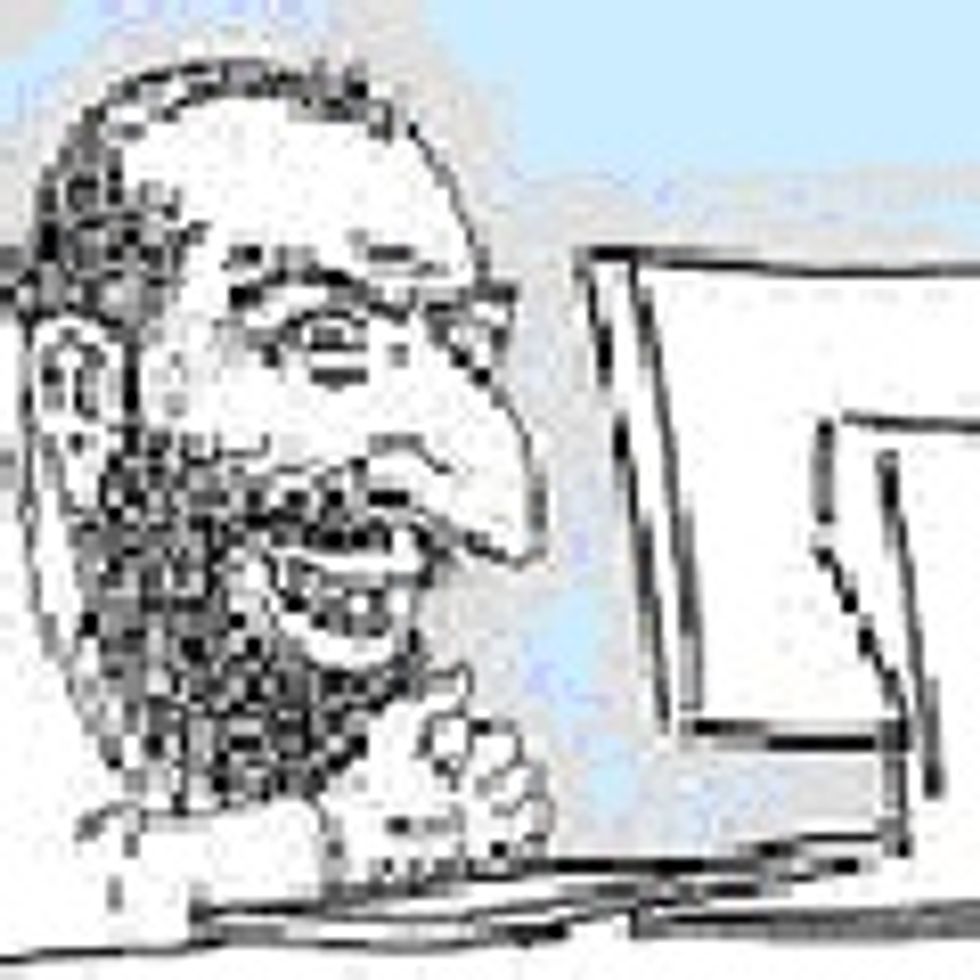 And finally, a very amusing person with the username "Gaski88" (and this very amusing profile pic) objected to our story on Donald Trump not seeing why he'd want to condemn anti-Semitic slurs and threats sent to the author of a mildly unflattering profile of Melania Trump. How dare we describe the anonymous late-night phone calls from people claiming to be coffin vendors and murder site cleanup contractors as "death threats" -- shame on us!
THERE WERE NO DEATH THREATS, JEWSMEDIA LIES. IF THERE WERE THEY WOULD HAVE BEEN INVESTIGATED.
For what it's worth, our original story on the threats did mention that Ioffe had reported the calls and harassment to police. But that's not the point. Nor is the point that subtle username or image. (We all know, don't we, that "88" is code for "Heil Hitler, right?) The point is that our little anti-Semite troll here provided the most hilarious fake email address ever: "gaski88@catlover.com." Aw... he likes kitties, he MUST be a nice person!
[Atlantic]