Deleted Comments: You Know What Causes School Shootings? Porn And Not Loving The Founders.
Guns
April 08, 2018 03:05 PM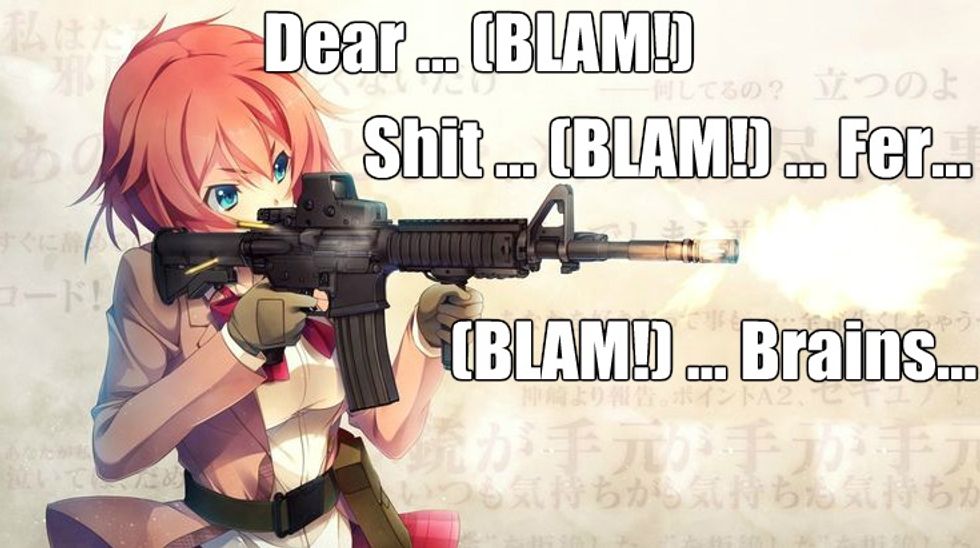 Then there's the immeasurable damage done by cheesecake pics of anime girls with guns.
---
Yer Dear Shitferbrains is back, baby, and my goodness we have a big backlog of deletia to dig through! Let's dive -- or wade, wearing appropriate protective gear -- right into the slushpile!
Robyn's piece a couple weeks back -- on the unfortunate habit of media to
dismiss as "lovesick"
the boy who murdered a high school girl who rejected his romantic advances -- brought an astute analysis of the situation from one
"Silence Dogood,"
who took his pseudonym from the
wise old widow persona
that a 16-year-old Benjamin Franklin used to sneak his way into print. "Silence" distinguished himself from your average wingnut troll by demanding that anyone wanting to reply to him first pass a literacy test:
What a dimwitted simpleton the author is!!

We didn't have this issue before 1960. Why? One word. Porn.

If you don't understand the relationship, read "Sexual Sabotage".

Please do not respond with google propaganda criticizing a book you've never heard of. Thank you in advance to all the simpletons who have never read five biographies of Americas Founders, have filthy mouths, use porn, use drugs, and have the reasoning abilities of a bilberry.
Now, Yr Wonkette will happily admit we have not read Sexual Sabotage, not because we are illiterate fools, but because it's a seriously crap book. Oh, mercy, how can we say that without having read it, and what sort of horrible hypocrite are we?
As you can see from the linky, the publisher is WND books, so there's a red flag right there. The author, Judith Reisman, is a frequent WND contributor who is obsessed with Alfred Kinsey and pornography, and who attributes virtually every social ill in America to one, the other, or both. Her 2010 book masquerades as scholarship, but hasn't been taken seriously by anyone outside the Rightosphere. It has made no inroads among social scientists, because they're all perverts too. One serious reviewer, Diederik F. Janssen, called the book
a paranoid sermon on American decency held together by acerbic ad hominems, a tapestry of slippery slope arguments, a string of unwholesome linkages ("Nazi serial pedophiles"), and a litany of medieval, Victorian, and McCarthyian diagnostics ("plague," "sexual psychopaths," "sexual deviancy," "perversions")."
You know, objective scientific research. (Oh heavens, we Googled that, so please ignore it.) We do have to acknowledge how very satisfying "Silence Dogood" must find his closed-loop thinking: This is the book that tells the truth about porn and social ills, and anyone who says otherwise has clearly been corrupted by bankrupt leftist academic indoctrination, Kinseyan perversion, and Google propaganda.
And of course, Simple Dogwood adds another layer of shielding: You can't talk about American politics if you haven't met his reading test. Why five biographies of the Founders? Because he said so. More on that in a minute. But first, a question we wish we'd asked before we showed him the door: Has Judith Reisman read five biographies of the Founders? Bet she hasn't.
Most of Silas Doodle's replies to Wonkers follow a pretty predictable pattern. See if you can tell!
What a dunce you are, we fix [violence against women] by learning virtue. http://liberty1.org/virtue.htm
What an ignorant and filthy mouthed simpleton you are.
The issue is porn, read "Sexual Sabotage" you deluded dunce.
We need deluded people like you to shut up.

How's that for toxic masculinity.

I have more where that came from.

Unless you've read five biographies of the Founders of America and sent on any meds, don't talk to me.
Virtue means right living. That means no psychotropic drugs, no sex outside of marriage, including masturbation or porn, and acquiring Wisdom and having a work ethic. Those are the main things.
The first amendment was not created to legalize perversion. Don't comment until you've read five biographies of the Founders. You'll be blocked if you do.
Listen, you halfwitted oaf, fail to name five biographies of the Founders of your nation, and you are blocked for gross ignorance. Take your happy self to the library, dunce.
Poor twit. The liberal media and schools turned you into a mindless parrot.[yes, link is to a piece by noted education expert David Clarke -- Dok Z]
The rape rate has tripled from 1960 until today. It's gone up even more but the police started cooking the books in 1992, when Billy Jeff became president. Also, women are far less likely to report rape because men who use porn are more likely to disbelieve them. 2% of men in 1942 viewed porn. 100% of men today have.
Please shut up unless you are working on banning porn. We didn't have these issues before porn was legalized in 1969.
So, clearly a scholar. There were no social problems before porn came along, and you can't assail Silent Doofus's facts because you haven't even met his reading test. And will reading any five popular biographies of any five Founders truly give anyone the knowledge they need to qualify as educated? Well, DUH:
Yes. Read enough of them, and you find the truth.
Mind you, you can't learn anything from works of history, oh, no, never -- biographies only, you deluded cur. Why? Because he said biographies, now didn't he? I decided, for the hell of it, to see how he'd reply to something that was close, but deliberately no cigar by his very narrow standards:
I've read McCullough's Adams biography and Sarah Vowell's brilliant book on the Massachusetts Bay Colony, The Wordy Shipmates, but have otherwise stuck to the primary texts, like selections from the Federalist papers, Paine's "Common Sense" and "The Rights of Man" -- now there was a guy who knew how to start a flame war! -- Jefferson's Notes on the State of Virginia, De Toqueville's Democracy in America (admittedly, well past the actual founding) and other foundational thinkers like Mill's On Liberty, Hobbes's Leviathan, and of course the invaluable Benjamin Franklin text, "To the Royal Academy of Farting" (also published later as "Fart Proudly.")

Oh dear, now you're going to have to block Benjamin Franklin for being a potty mouth.
And yes, I've actually read those, most of the primary sources in American Lit and rhetoric classes 30 years ago; I'll confess I only dipped into excerpts of the Federalist Papers and the Jefferson history that were assigned. As I expected, I failed his test, because did he say anything about reading other foundational documents? He did not:
I said five Founders biographies. You obviously didn't learn much from what you did read.
Needless to say, Slimous Dogfucker had no patience for a Wonker who tried to play his own game, because damn it, it's his game and you need to meet his exacting standards:
Wonker: How many books on psychology have you studied? How many anthropology classes have you taken? How many papers written on the brain and behavior?

I'm mildly curious why reading a book on the life of Jefferson would help me understand why rejected American males shoot people, but not a lot. I mean, I'm glad you're somewhat literate, but if you use your personal hobby as an excuse for thinking that you're smarter and otherwise better than folks whom you know only from a few forbidden comments on a mommy blog, you're setting yourself up for some serious embarrassment down the road. Assuming you can be embarrassed.

"Silence Dogood": Psychiatry is rubbish. Freud was a fraud.

Knowing the Founders is a basic duty of an American citizen. If you don't even know that, you hand no business commenting on politics or even voting.
It's a completely specious argument, of course, but a surprisingly unmeetable standard even for the average well-educated American, because unless you're a fan of Colonial/Revolutionary history or the Founders, most of what you know will have come from other sources, like general education, reading about topics that touch on the Founders but which aren't biographies, and so on.
Not that Enjoy The Silence, Doggone It would necessarily accept any five biographies, either; we looked at his astonishingly prolix comment history (haw-haw, he calls that gun-grabbin' kid "David Hogwash"!) and found yet another stricture on what counts as a valid biography:
Biographies written in the last fifty years are suspect. Historians respect primary sources, and reading information about figures written long after they lived is not as reliable as reading their own words, and from their peers.
So apparently Jefferson's "Notes" and the two Paine pamphlets might have counted -- or not, since elsewhere, our intrepid scholar has insisted that there were exactly 204 "Founders," which apparently is the total number of signatories of the Declaration of Independence, the Articles of Confederation, and the Constitution, plus 95 members of the first federal Congress. Paine, by those criteria, is right out, which is fitting enough, since he rejected Christianity.
After warning him to do more interesting trolling than just blocking anyone who cussed him or who hadn't met his rigid standards, we eventually had to banhammer poor Silent Hill Do-Over for getting tedious. Especially after he linked to a Lyndon LaRouche website after calling someone a sophist, which was pretty poor form. When I pointed out he was on his way out, because Sophist libel and this PhD in Rhetoric knows from sophism, he offered one more parting shot on what an uneducated moron I am:
Typical sophist. Your college degree is WORTHLESS, you stupid dunce!! Get that through your thick skull. Go read all of Lincoln's writings so you can educate that addled pate of yours on the total idiocy of your college education, when a man who had only one year of second grade formal education is far more erudite and wise than you.
That "second grade formal education" is a tad misleading, since while Lincoln only attended a couple of years of school, that was in his early teens. And he may have had a bit more than that, according to scholars -- USELESS SOPHISTS! -- who in 2013 found two pages of a math notebook that indicated Lincoln had been doing some schoolwork in 1826, when he would have been 17.
Still, the facts certainly indicate that Lincoln simply loathed institutions of higher education. How else can we explain his 1862 signing of the Morrill Land-Grant Acts, which funded colleges and universities across the country? If Lincoln were alive today, he'd surely call for the demolition of such land grant institutions as Purdue, MIT, Rutgers, Cornell, and Penn State, and would insist instead that all Americans instead read five biographies of the 204 Founders. And NO MARTHA WASHINGTON.
Follow Doktor Zoom on Twitter. Caution: he may cuss.
Are you a fairly regular Wonkette reader and have had a nagging little voice for some time saying "you should throw Wonkette a buck every month"? That is called your conscience. Listen to it! It feels good!