Democrats Forget They Hate Koch Bros. Long Enough To Ask For Money
News
July 08, 2011 09:38 AM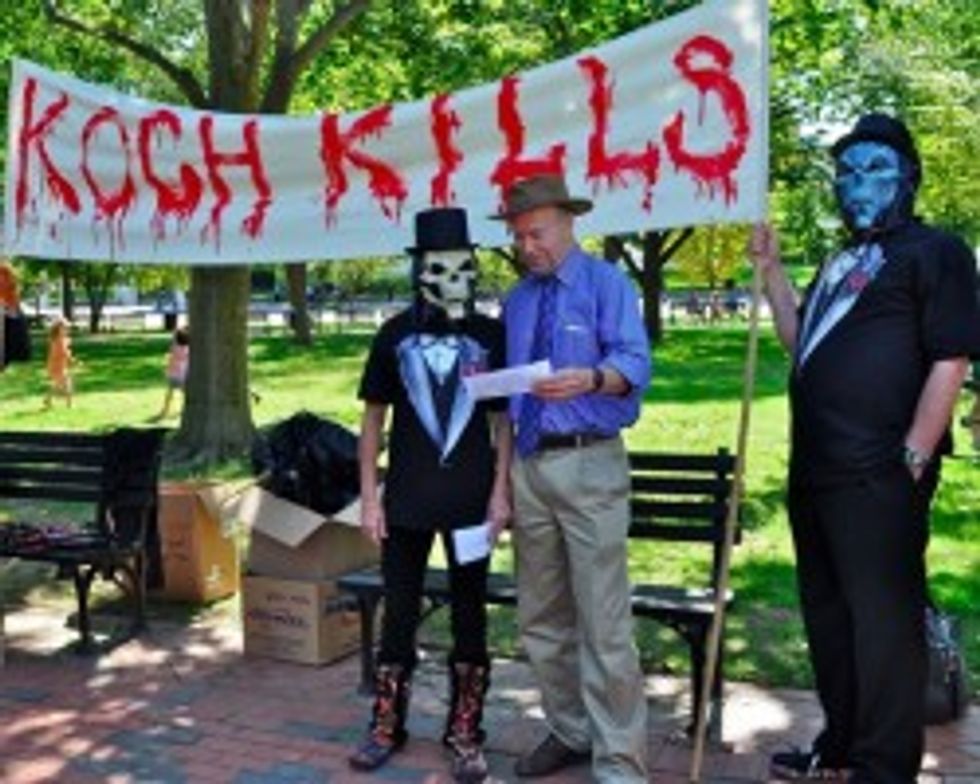 What do Democrats and Republicans have in common these days, besides atotal disinterest in governance and a massive crush on Twitter slapfights? They both love those sweet-tasting Koch bucks printed on paper made of ground orphans. DSCC Chairwoman Sen. Patty Murray called up Koch Industries and left a voicemail asking for the Kochs to renew their $30,000 DSCC donation from last year, oh and, would those nice Koch boys like to join the Democrats for a special summer picnic retreat? Uh, go kochsuck somewhere else, was the public reply from Koch Industries president Philip Ellender, who is still laughing. Are we amused, also? Kind of, except it is more like a horrible burning sensation. Can this filthy kind of Koch humor give you herpes?
---
Ellender wrote back a letter to Murray which he published online. It goes like this: does it matter if Harry Reid sent out an email to everyone announcing that the Koch brothers love to squirt napalm at school teachers and firefighters? Yes, it matters, go the hell away:
Dear Senator Murray:

For many months now, your colleagues in the Democratic Senatorial Campaign Committee leadership have engaged in a series of disparagements and ad hominem attacks about us, apparently as part of a concerted political and fundraising strategy. Just recently, Senator Reid wrote in a DSCC fundraising letter that Republicans are trying to "force through their extreme agenda faster than you can say 'Koch Brothers.'"

So you can imagine my chagrin when I got a letter from you on June 17 asking us to make five-figure contributions to the DSCC. You followed that up with a voicemail* indicating that, if we contributed heavily enough, we would garner an invitation to join you and other Democratic leaders at a retreat in Kiawah Island this September.

I'm hoping you can help me understand the intent of your request because it's hard not to conclude that DSCC politics have become so cynical that you actually expect people whom you routinely denounce to give DSCC money.
Uh, yeah, that's exactly what the Democrats were expecting. How long have you guys been in politics? [KochFacts via Teagan Goddard]
UPDATE: DSCC Executive Director Guy Cecil says the DSCC contacted the Koch Industries by mistake, and he wrote a snarky letter of his own, SO THERE.