Dense Pence. Wonkagenda For Thurs., Dec. 6, 2018
Cops
December 06, 2018 09:05 AM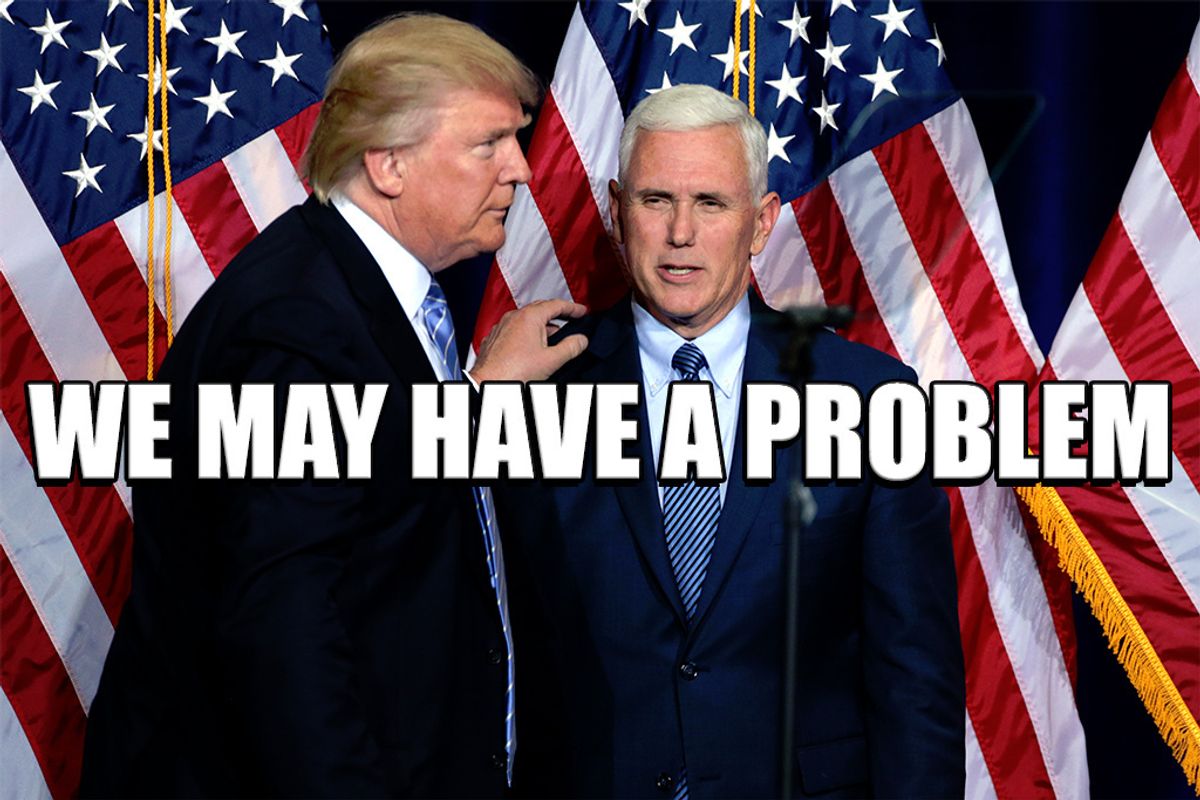 Morning Wonketariat! Here's some of the things we may be talking about today.
---
Trump didn't throw a tantrum during the funeral for Poppy Bush; now he's president and Jon Meacham can lick the stank from Trump's taint while praying to the ghost of Ronald Reagan.

Michael Flynn may be rolling over and begging for Robert Mueller, but that might not stop federal prosecutors from trying to LOCK HIM UP. The New York Times reports Flynn was lobbying for the Turkish government when he called a critic of Turkish dictator President Recep Tayyip Erdogan a "shady Islamic mullah" who needed to be kicked out of the US, and was given just over half-a-million dollars to do Erdogan's dirty work in DC.

The sleazy Republican boyfriend of ALLEGED Russian spy Maria Butina, Paul Erickson, may be facing his own spy charges for trying to build a link between the 2016 Trump campaign and the Kremlin via the NRA. WOAH, if true! [Morning Maddow]
It looks like the Saudis were paying hundreds of thousands of Ameros for a veterans group to stay at Trump's DC trash palace as part of a failed lobbying effort. WaPo's David Fahrenthold reports that the vets were unaware the Saudis were basically bribing them to kill legislation pushed by Sept. 11 families aimed at punishing state-sponsored terrorism. SAD!
The Daily Beast reports Trump doesn't care about the national debt because he "won't be here" when the looming debt crisis reaches a critical breaking point. Citing anonymous current and former senior advisors, the Beast says Trumponomics is all about growing our way out of debt, whatever that means.

The Fed's Community Advisory Council is warning the rent is too damn high and sending us toward a new housing crisis that will disproportionately affect "low-income renters and renters of color, particularly women of color." Whatever, we can just grow our way out!
Congressional Democrats don't really want to sign on to the turd sandwich trade deal Trump unimaginatively calls "USMCA," so he's threatening to pull the US out of NAFTA. Political geeks aren't sure Trump even has the authority, but it's not like rules or laws have ever stopped the toddler in chief from making a mess.
Climate scientists are warning that greenhouse gas and carbon emissions increasing like a "speeding freight train" this year thanks to the US, China, and India's addiction to fossil fuels. Sigh.
We're going to give a tepid golf clap to Arizona Republican Sen. Jeff Flake for being such an obnoxious asshole that Republicans decided stop packing the lower courts with Trump(/Heritage Foundation) judicial nominees (for now). Clap. Clap. Clap.
The young whippersnappers heading into the House are demanding Nancy Pelosi back term limits for committee chairs, and the olds are not happy. Politico reports Pelosi is warm to the idea, but the CBC and the Hispanic caucus are pissed about getting passed over (again).
The RNCC still hasn't let Sheldon Adelson and the Koch Brotherstop Republican donors know what, if any, personal information was stolen after someone (*cough* Russia *cough*) hacked into the RNCC and made off with tons of data. One donor tells Buzzfeed, "You would expect a little better customer service."
There's a fight brewing in the DNC over voter data. States don't want to pool all their voter data with a large entity that can raise shitloads of money because they're worried it could squeeze out scrappy underdogs, but the party bigwigs say Democrats need to get their shit together if they want a shot at dethroning Trump in 2020.

Gabe Sherman gossips that John Kelly has been whispering in Trump's ear and telling him to kick Mike Pence from the 2020 ticket. The reason for the backstabbing is that Pence adds nothing to Trump's political capital, but the rumor mill just off the Hill is that Kelly is trying to murder the career of Pence's personal aide, Nick Ayers, who's been not-so-secretly gunning for Kelly's job. LOLOLOLOL, fuck all these awful people.
Colorado Democratic Gov. John Hickenlooper thinks nobody will have a problem sticking signs on their front lawn with his name on them next year. #HesRunning.
Fun Fact: Palm Beach County, Florida, is still counting ballots, but it doesn't matter since the state already certified its shady election. The good news is that they MIGHT be done counting ballots before Christmas, though local election officials aren't making any promises.
Jeff Sessions says he's been "clearing my brain" and that he's done with politics. Bye, Felicia!
Wisconsin Republicans have been busy! Aside from stripping the newly elected Democratic governor of power during the lame duck session, they just steamrolled 82 Scott Walker appointees to state boards. I guess elections no longer have consequences?
Even though the people of Florida voted to restore the franchise to felons who have served their time, state Republican legislators are slow rolling information on newly eligible voters to counties. This led one county supervisor to tell the Tampa Bay Times, "It's going to hit the fan."
Texas will seek the death penalty for Juan David Ortiz, the Border Patrol agent who confessed to "hunting" and murdering sex workers in the bordertown of Laredo. Local officials say that Ortiz saw himself as a vigilante who was cleaning up "scum of the Earth."
North Korea's nuclear program is alive and well according to new pictures released to CNN. Roughly around the same time Donald Trump had his "Nixon goes to China" moment, someone took photos of a new long-range missile facility being built just down the road from a recently decommissioned facility. Good things they're best friends!
Alt-Reich politicos in Denmark want to send "unwanted" immigrants to an island used for studying sick and contagious animals. According to a government statement, the facility will house only 100 people who can't be deported for humanitarian or security reasons.
At the request of the US, Meng Wanzhou, the CFO of Chinese telecom giant Huawei, has been arrested in Canada for violating sanctions in Iran, Cuba, Sudan and Syria. China is calling it "hooliganism," but others feel it's more shots fired in Trump's trade war. The move comes amid further pressure from other countries to squeeze out Huawei from the telecom industry under the suspicion that the Chinese government uses Huawei to spy on people.
Buzzfeed is reporting that the Yellow Jacket riots in France started, and are being coordinated on, (what else) Facebook, just like the Whatsapp lynchings in Brazil, and Myanmar's genocide of the Rohingya Muslims. The gist is that Facebook tweaked its algorithm to emphasize groups and local news, thus creating an echo chamber for old people, cranks, anti-vaxxers, chemtrail truthers, and the alt-Reich to scream (en Français) about speed limits and fuel prices (and spread fake news).
Yesterday MP Damian Collins released internal documents from Facebook that show Facebook tried to block competitors' access to user data in order to maintain its monopoly on shitposting and social media, as well as forcing app companies to turn over their data if they used Facebook. The documents also show Facebook brass, including Mark Zuckerberg, openly discussing selling user data. In a post on Facebook (natch), Zuckerberg says it isn't what it looks like, and that this is all being blown out of proportion (as usual). [ALL THE DOCS]
With Facebook facing an unending series of scandals over the past two years, it was only a matter of time before Facebook employees started their own civil war. Like most corporate meltdowns, the camps have been divided between blind sycophants who will happily follow Mark Zuckerberg and Sheryl Sandberg to the gates of corporate Hell, idiotic political blowhards who think everything is part of some grand media conspiracy, and idealists who are full of sads upon the realization that Facebook has made the world a terrible place. Unsurprisingly, the latter are openly asking their former colleagues for job search help amid declining Glassdoor rankings and stock prices.
SURPRISE! Facebook bankrolled political candidates who blocked bans on conversion therapy. Facebook says it's against praying away the gay, but financial disclosures say that's a lie.
ICYMI: Tumblr has decided to ban porn in order to make itself more attractive to people who don't browse Tumblr (for porn), but the bigger story is how Verizon was butthurt after it bought Yahoo and found Tumblr (its subsidiary) quietly held watch over a massive amount of free boobies on the interwebs.
Poor ALLEGED rapist Harvey Weinstein has had "one hell of a year," according to friends who've leaked HIS EMAILS to TMZ where he complains about being the victim of the #MeToo movement.
After people started pointing and laughing at Milo Yiano-whatever being poor, he tried to stage a comeback using Patreon, but was banned within 24 hours for being a Nazi. The perks of giving Milo money ranged from "free Milo ringtones," a poster, a coffee mug, a birthday phone call, and a personal dinner (on your dime).
And here's your morning Nice Time! The ... Nutcracker?

The Nutcracker (NATURE Style!)www.youtube.com
Follow Dominic on Twitter and Instagram!

We're 100% ad-free and reader-supported, so consider buying us coffee, or get a subscription!
Dominic Gwinn
Dominic is a broke journalist in Chicago. You can find him in a dirty bar talking to weirdos, or in a gutter taking photos.