Deputy AG Lets Mueller Off His Leash. Wonkagenda For Mon., Aug. 7, 2017
Russia
August 07, 2017 09:21 AM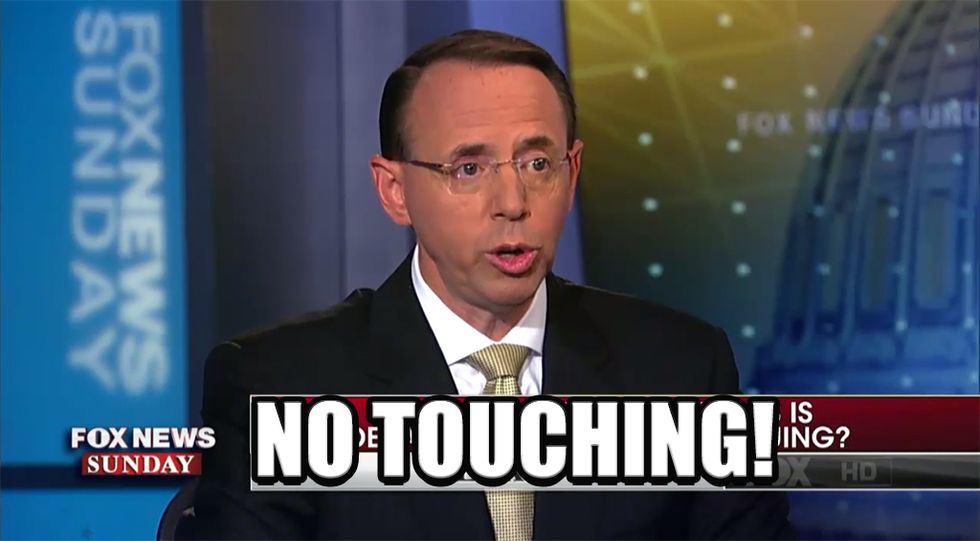 And a Good Monday to you, Wonketariat! Hope you had a good weekend! Here's some of the things we may be talking about today.
---
On Sunday, Deputy Attorney General Rod Rosenstein said Robert Mueller can investigate whatever he needs to, stating that DOJ doesn't "engage in fishing expeditions" like House Republicans whenever Hillary Clinton wanders out of the woods.
Trump has been secretly outsourcing policy making to lobbying groups according to new lawsuits that accuse Trump of trying to obscure the basic functions of government with parlor tricks and shadow puppets.
Bernie Sanders has been busting his ass to save the ACA when he's not hitchhiking around the country.
Republicans might not get a chance to screw with tax codes due to Trump's insistence on killing the ACA, causing Republican Senator Orrin Hatch to state "We're not going back to healthcare. We're in tax now...I'm sick of it."
10 congressional members have sent the FCC a mean letter that criticizes its attempts to destroy net neutrality, and laying out in simple language all the ways FCC chair Ajit Pai has been fucking up.
Ajit Pai personally intervened in Sinclair Broadcasting's push to buy Tribune Media by reauthorizing UHF standards, but without the high quality programing.
State Department staffers are sounding off about REXXON and his management style, or lack thereof, after he flushed a bunch of staffers and money down the toilet and then taking a nap.
REXXON says that the State Department will respond to the ousting of US diplomats in Russia by Sept. 1, but first he needs to form a committee he can micromanage, grab some lunch, and take another nap.
Oil lobbyists notched a big win right before the Senate fucked off for vacation, approving Republicans Neil Chatterjee and Robert Powelson to the Federal Energy Regulatory Commission. They're expected to pave the way for pipelines across America. It's about priorities.
Republicans are already running a not-so-secret shadow campaign ahead of 2020 with Tom Cotton, Ben Sasse, John Kasich, and people are even eye fucking Mike Pence, an allegation that has sent Pence cowering under Mother's dress .
Arizona Republican Sen. Jeff Flake is running his mouth about Trump (again) as he makes the rounds to promote his new book, and drag his poll numbers out of the gutter.
Rural farmers are wallowing in pig shit as the rest of the world moves ahead on international trade deals that Trump and President Bannon think are killing the US economy.
Trump is dumping regulations on federal lands so that a few coal miners can chop down mountains and put some sludge into the water cycle.
Republican governors are increasing police in distressed neighborhoods without talking with local cops, activists or residents in an effort to crack down on violent crime. What could go wrong?
The Department of Veterans Affairs inspector general released a report highlighting the psychological impacts of non-VA doctors prescribing opiates to veterans, because things weren't already bad enough for vets.
Salt Lake City Mayor Ben McAdams has been secretly hanging out in homeless shelters in order "deepen" his understanding of the current homeless system. Somebody give this man a hug!
The city of Chicago wants to sue the Justice Department for withholding money from sanctuary cities. Chicago Mayor Rahm Emanuel accused the DOJ of being blackmailed, a crime which if familiar for every politician in Chicago.
Afghans are worried Trump might "You're Fired" Gen. John Nicholson Jr., with one senior Afghan official stating that the uncertainty carries a risk that "America will lose its credibility." So, the good news is America still has some credibility...in Afghanistan...for now.
As Moscow dumps soldiers and shadow media campaigns into Eastern Europe, the US is training soldiers to operate in Baltic States as part of a NATO build up that old people getting nostalgic hardons for the Cold War.
In a bold step at eradicating the kaiju menace, Japanese Prime Minister Shinzo Abe asked the world to abolish nuclear weapons on the 72nd anniversary of the Hiroshima bomb
A military base in Venezuela was attacked by a group calling for a rebellion against President Nicolas Maduro, who has been cracking whips and skulls against protesters while ratcheting up his particular brand of authoritarianism.
Cambridge Analytica has been fucking around in Kenya ahead of its presidential elections. A recent survey found that over 90 percent of Kenyans had seen bogus news stories, with both candidates dumping oodles of cash to woo potential voters.
A Swiss prosecutor resigned from a UN panel investigating war crimes in Syria when it became apparent that nobody really wants to fuck with Syrian cooties.
The UN Security Council voted to place new sanctions on North Korea, and now North Korea's manbaby-in-chief is throwing a temper tantrum.
CNN's ex-resident Trump spox Kayleigh McEnany just surfaced as the host of Trump's teevee channel on BookFace to spout some state-sanctioned propaganda in Newspeak about all the winning, straight from the the Ministry's of Love and Plenty.
Mark Zuckerberg has "Your Hired" Hillary Clinton's pollster, Joel Benenson, because he's a philanthropist and he's thinking about his philanthropy, and totally not exploring a run at the White House in 2020.
Ana Marie Cox had a nice interview with Nicole Wallace, who may or may not be our new super secret talking head teevee crush.
And here's your late night wrap-up! Stephen Colbert asked if Jesus was pissed about the WWE's trademark of "3:16"; Chelsea Handler had a pre-exit interview with Sarah Huckabee Sanders; Bill Maher pointed out the hypocrisy of Republicans; John Oliver 'splained Border Patrol hiring practices;
And here's your morning Nice Time! African Penguins!
We like money just as much as you do, so why not share some of your Ameros with us? 
Dominic Gwinn
Dominic is a broke journalist in Chicago. You can find him in a dirty bar talking to weirdos, or in a gutter taking photos.