Deutsche Bank Whistleblower Spills The Beans On The Beancounters
Russia
May 20, 2019 11:32 AM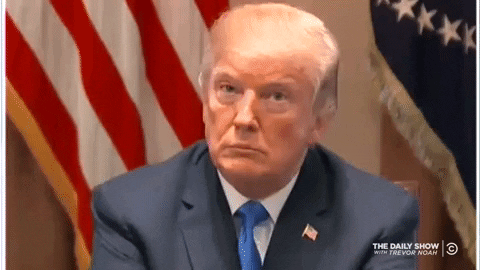 Deutsche Bank shitcanned its own internal compliance reports to disappear suspicious Trump and Kushner transactions and make sure Treasury never got wind of them? You mean the bank that continued to make loans to Trump after every other lender tapped out, that accepted his overnight doubling of his "net worth" by claiming his brand was worth $4 billion, that continued to write him checks after he defaulted and then sued them claiming the 2008 financial crisis was an "act of God?" Those prudent beancounters cut corners to benefit their wealthy clients? FAM, WE ARE SHOOK.
No, not really. It would be shocking to find out that the private wealth managers let algorithms work their magic on high net worth individuals and turned the reports over to Treasury like they would for some guy making $75,000 who got a $19,000 wire from the Isle of Man. The rules for rich people are different, and Deutsche Bank did not get to be part of the "Global Laundromat" by taking all those anti-money laundering statutes literally. (And if you think the other big banks aren't doing the exact same thing, the Easter Bunny has a bridge to sell you. This is why Elizabeth Warren freaks the finance guys out -- she knows where all the bodies are buried.)
At the same time, this story in the New York Times about Deutsche Bank compliance officer Tammy McFadden getting fired for pointing out Trump and Kush's hinky transactions in 2016 -- including some with Russians, natch -- is pretty ridiculous. With regulators on two continents breathing down their necks for laundering Russian money, DB's private wealth bankers were allowed to swoop in and save their clients from any of that icky federal snooping into their questionable transactions.
---
Ms. McFadden, a longtime anti-money laundering specialist in Deutsche Bank's Jacksonville office, said she had reviewed the transactions and found that money had moved from Kushner Companies to Russian individuals. She concluded that the transactions should be reported to the government — in part because federal regulators had ordered Deutsche Bank, which had been caught laundering billions of dollars for Russians, to toughen its scrutiny of potentially illegal transactions.

Ms. McFadden drafted a suspicious activity report and compiled a small bundle of documents to back up her decision.

Typically, such a report would be reviewed by a team of anti-money laundering experts who are independent of the business line in which the transactions originated — in this case, the private-banking division — according to Ms. McFadden and two former Deutsche Bank managers.

That did not happen with this report. It went to managers in New York who were part of the private bank, which caters to the ultrawealthy. They felt Ms. McFadden's concerns were unfounded and opted not to submit the report to the government, the employees said.
Huh, we were led to believe that the Fake News Media only used unnamed sources who do not exist. And yet here's Ms. McFadden with her name and face on the front page of the Failing New York Times. Go know!
....fashioned, but true. When you don't need or want money, you don't need or want banks. Banks have always been av… https://t.co/IXUYijWfMu

— Donald J. Trump (@Donald J. Trump) 1558351253.0
Here on Planet Earth, the "King of Debt" couldn't even get cash from DB in 2016 to finance his Scottish golf course, since the bank's senior executives overrode the private wealth managers and put the kibosh on a loan that might have forced them to foreclose on the president of the United States. Trump lent himself the $200 million because he had no choice.
Luckily, DB was still willing to look the other way when its compliance people picked up suspicious transactions, though. What are old friends for, right? Especially old friends whose business is being policed by the Treasury and Justice Departments controlled by their vindictive, impulse-disordered client.
After Mr. Trump became president, transactions involving him and his companies were reviewed by an anti-financial crime team at the bank called the Special Investigations Unit. That team, based in Jacksonville, produced multiple suspicious activity reports involving different entities that Mr. Trump owned or controlled, according to three former Deutsche Bank employees who saw the reports in an internal computer system.

Some of those reports involved Mr. Trump's limited liability companies. At least one was related to transactions involving the Donald J. Trump Foundation, two employees said.

Deutsche Bank ultimately chose not to file those suspicious activity reports with the Treasury Department, either, according to three former employees. They said it was unusual for the bank to reject a series of reports involving the same high-profile client.
Multiple employees who complained about DB's lackadaisical approach toward high-profile clients were reprimanded for "having a negative attitude" -- turn that moneylaundering frown upside down! -- and one resigned in protest. As for Ms. McFadden, she was transferred to another department after complaining to HR about persistent problems at the private banking division. Her workload was then cut, and she was terminated in 2018 for "failing to process enough transactions." Which is, with all due respect to Ms. McFadden, a really good way to get someone outside the tent pissing in. We're guessing that's why House Financial Services Chair Maxine Waters specifically asked DB for any internally generated suspicious activity reports regarding Trump, Kushner, and the whole rotten retinue.
Heckuva coincidence that this story breaks just as Trump is trying to persuade a court to block subpoenas by the House Financial Services and Intelligence Committees demanding DB and Capital One turn over Trump's documents, eh? Almost like these documents are already floating around out there, and if Trump gets on Twitter and tries to lie about them, or if his lawyers try to make the case that there is nothing to see here, the documents themselves might start appearing in the press.
Luckily, President Poker Face knows how to play it cool.
.....was very good and highly professional to deal with - and if for any reason I didn't like them, I would have go… https://t.co/DqGD4u3UzZ

— Donald J. Trump (@Donald J. Trump) 1558351254.0
Spoiler Alert: Poppy, they already got your docs. They're just waiting for the court to make it official.
[NYT]
Follow your FDF on Twitter!

Please click here to fund your Wonkette, who reads the president's batshit Twitter feed so you don't have to. MONEY US!
Liz Dye
Liz Dye lives in Baltimore with her wonderful husband and a houseful of teenagers. When she isn't being mad about a thing on the internet, she's hiding in plain sight in the carpool line. She's the one wearing yoga pants glaring at her phone.