Dickhole Smegma-Face Jason Chaffetz Needs A Manners Lesson, And Wonkette Is Just The Blog To Give It To Him
Elections
January 24, 2017 10:00 AM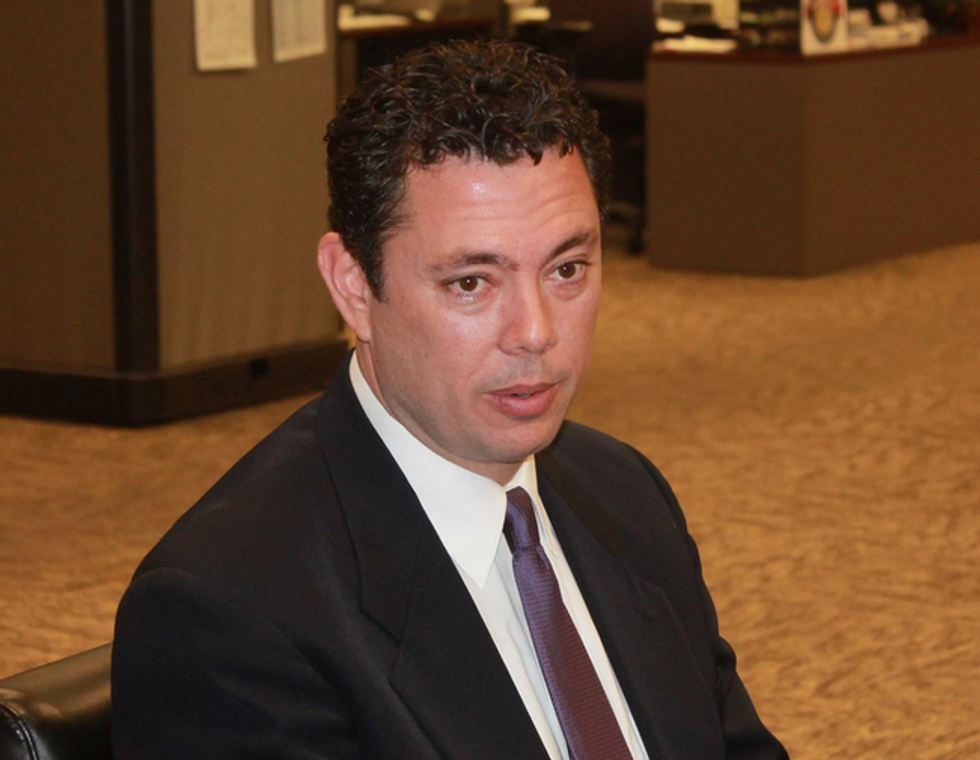 We don't know how we missed the news on Friday (yes we do, we were drinking shots with your compatriots at the Bottom Line bar). But did you know Congressman Jason Chaffetz is a tiny hard pellet of a really noxious turd?
---
AHEM. AHEM. Bugs Bunny style opera throat warmup mi mi mi MI mi mi mi.
I don't believe the good people of Utah sent Jason Chaffetz to the House to BE SO FUCKING RUDE and HAVE NO FUCKING MANNERS. YOU DON'T POST A SELFIE WITH SOMEONE AND THEN TELL THEM THEY SUCK AND YOU ARE GOING TO PUT THEM IN JAIL UNLESS YOU ARE TAKING SELFIES WITH IDI AMIN. IS HILLARY CLINTON IDI AMIN? NO. SHE IS A NICE LADY WHO GOT BONED BY A CONFLUENCE OF THE 'DEEP STATE' (DIDN'T SEE GLENN GREENWALD BITCHING ABOUT THAT ONE, DIDJA?) AND THE RUSSIAN STATE AND ABOUT A HUNDRED THOUSAND UNCOUNTED VOTES IN DETROIT, NOT TO MENTION THE ONE POINT ONE MILLION VOTERS PURGED FROM THE ROLLS BY KANSAS SUPERVILLAIN KRIS KOBACH AND HIS "CROSSCHECK," WHICH COUNTED SUCH "DOUBLE VOTERS" AS
Donald Alexander Webster Jr. of Ohio who is accused of voting a second time in Virginia as Donald EUGENE Webster SR.
SO, YOU KNOW, THERE'S THAT.
Jason Chaffetz. Chaff. Baby. YOU VOTED TO CUT EMBASSY SECURITY AND THEN YOUR PALS IN THE HOUSE HELD ONE HUNDRED AND TWO INVESTIGATIONS INTO WHY ALL THOSE PEOPLE (FOUR PEOPLE) GOT MURDERED AT BENGHAZI, AND EVERY TIME YOU WERE LIKE "HMMM, GUESS HILLARY CLINTON DIDN'T MURDER ALL THOSE PEOPLE, MAYBE IT IS TIME TO INVESTIGATE HER FIFTY-FIVE TIMES FOR 'EMAILS'" EVEN THOUGH COLIN FUCKING POWELL DIDN'T EVEN HAVE A PRIVATE EMAIL SERVER SET UP SECURELY BY PROFESSIONALS, HE HAD A GODDAMN AOL ACCOUNT AND I DON'T SEE YOU PROMISING TO LOCK HIM UP, YOU SNIVELING GREASEBALL PUBEHEADED MONSTER.
In conclusion, you are a spineless, craven little weasel, you're ugly, your mama raised you poorly, and you aren't fit to lick the boots of the woman who could do this with class and fuckin' grace, which you would never understand.
Fuck you is why.
Love,
Wonkette
Rebecca Schoenkopf
Rebecca Schoenkopf is the owner, publisher, and editrix of Wonkette. She is a nice lady, SHUT UP YUH HUH. She is very tired with this fucking nonsense all of the time, and it would be terrific if you sent money to keep this bitch afloat. She is on maternity leave until 2033.