Did Bilderberg Monsters Just Crown Mitt Romney Your Next Leader?
News
June 06, 2012 03:20 PM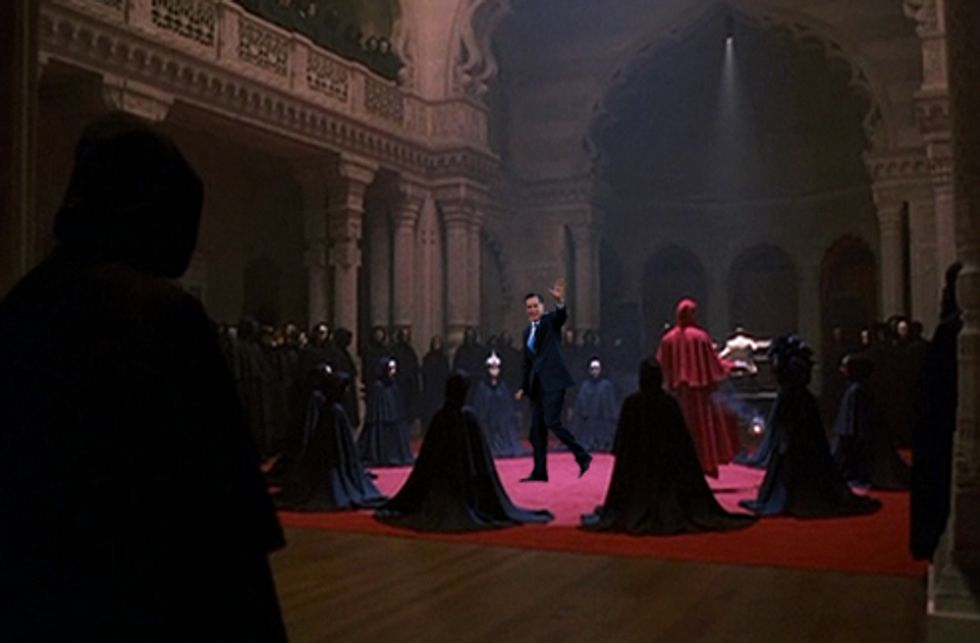 Hot rumors suggest that Mitt Romney may have been in attendance at last weekend's top secret Bilderberg enclave in Virginia, where he may or may not have been anointed America's next ruler by the world leaders of government, finance, media and technology and also possibly imbibed a chalice of Henry Kissinger's blood as an oath of obedience, or not. ("Or not" meaning the blood. The obedience was undoubtedly sworn.) There were witnesses!
---
No press is ever allowed inside the conference or even inside the hotel, so that the participants may plot freely and munch loudly on the bones of the poor, we hear. Guardian Bilderberg maven Charlie Skelton was nonetheless on the scene hanging out on the lawn again this year to collect all the hot dirt from the help:
Four eyewitnesses on the hotel staff told me Willard Mitt Romney was here at Bilderberg 2012. My four eyewitnesses place him inside. That's one more than Woodward and Bernstein used. Romney's office initially refused to confirm or deny his attendance as Bilderberg is "not public". They later said it was not him.
Ha ha, FLIP-FLOPPER. This means he was there.
So, was he being crowned, or singing for his supper? Will Mitt Romney follow in the august footsteps of Clinton, Cameron and Blair to have attended Bilderberg and then shortly become leader? Four years ago, Senator Obama shook off his press detail and nipped (many think) into Bilderberg. This exact same hotel.

Did Romney have to get down on one knee in front of David Rockefeller? This sounds flippant, but it's a serious question: has Bilderberg switched allegiance? Are they going to toss away Obama after just one term?
We bet he wanted to write "two knees," but the Guardian is considered "respectable." None of that here! Now, can we find some vague circumstantial evidence to conclusively prove that Mitt Romney was handing out sex favors at Bilderberg?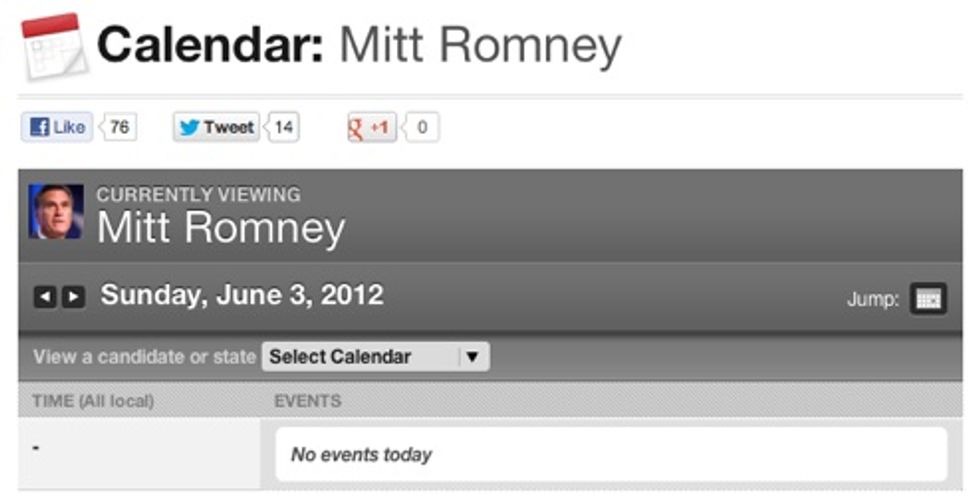 There it is! According to POLITICO's handy calendar of Mitt Romney's schedule, he was officially doing nothing on Sunday and Monday, which means secretly doing something else. CASE CLOSED. [Guardian]