Did You Need More Proof Trump Knew There Was No Fraud? Okay, WaPo Brought You Some.
popular
February 13, 2023 01:51 PM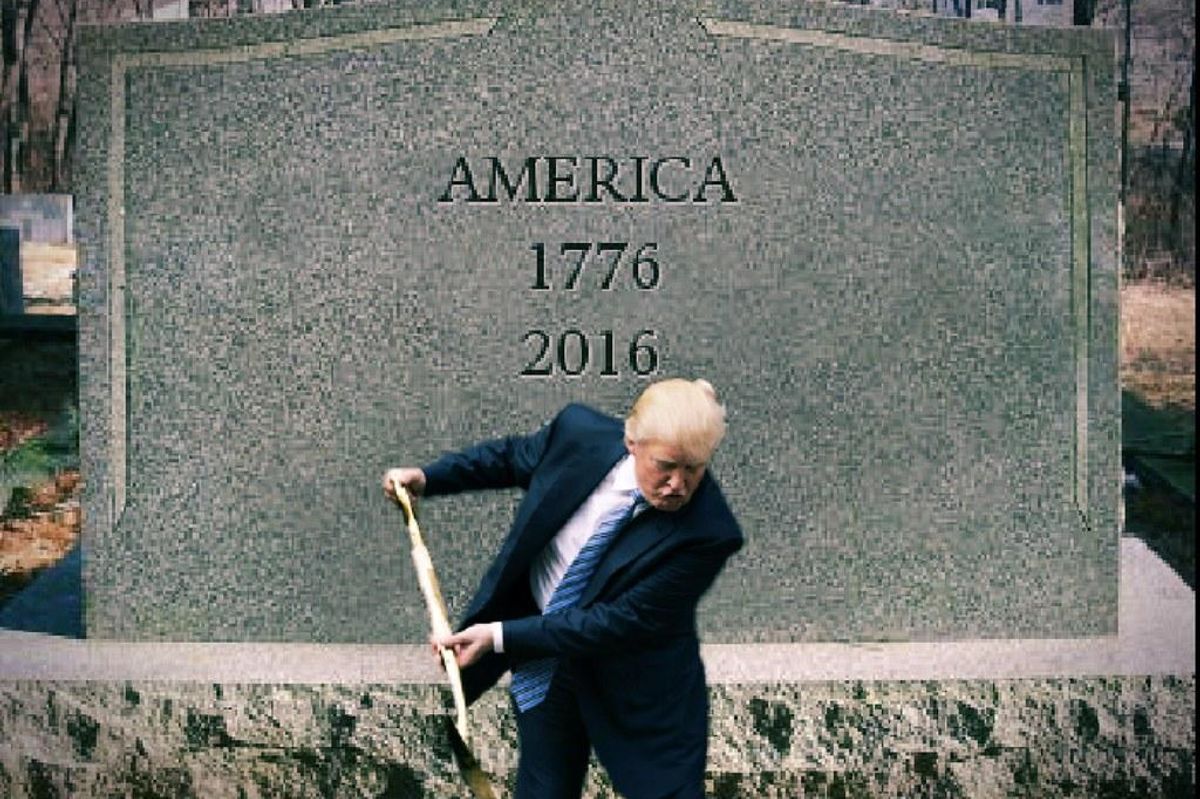 www.flickr.com
Donald Trump's claim to have thought the 2020 presidential election was rigged took yet another hit this weekend when the Washington Post reported that outside number crunchers hired by the campaign investigated every crackpot theory and Internet rumor put forward by the weirdos in Trump's orbit and found they were all horse shit. Because of course they were all horse shit — Trump announced that the election had been stolen on November 3, before the votes had even been counted.
"Frankly, we did win this election," he told crowds at the White House after a drunken Rudy Giuliani convinced him to declare victory, just as Steve Bannon had promised he would. The Big Lie was always a lie in search of a back story to make it "true," and the people who believed it continue to believe it because acknowledging that the country soundly rejected their filthy orange deity would break their brains. It's true because you believe it, and not the other way around.
The analysis was performed in the weeks after the election by the economics consulting firm Berkely Research Group. The campaign funded the work through a series of corporations, which may or may not have been an attempt to shield it from public view. It's worth it to take a step back and ask why this coming out now. Might it have something to do with Special Counsel Jack Smith's grand jury investigating the former president's role in the lead-up to the January 6 Capitol Riot? Because he's been all the way up the ass end of that campaign, as well as the PACs that doled out cash. So ... hmmm.
---
Whatever the reason, it seems this analysis was commissioned as part of an effort by the campaign to either marshal proof of Trump's vote fraud claims for use in his dozens of law suits, or, failing that, to talk the old man down so he would go quietly to Florida and not light the country on fire. If so, it failed spectacularly in both goals. Despite the diligence of the firm's econometricians, who chased down every breathless report that the election was #RIGGED in seven swing states, no evidence of significant fraud or anomalies emerged. Because, of course, there was none.
"They looked at everything: change of addresses, illegal immigrants, ballot harvesting, people voting twice, machines being tampered with, ballots that were sent to vacant addresses that were returned and voted," a source told the Post. "Literally anything you could think of. Voter turnout anomalies, date of birth anomalies, whether dead people voted. If there was anything under the sun that could be thought of, they looked at it."
But this failed to put the issue to rest for Trump or his MAGA faithful:
Senior officials from Berkeley Research Group briefed Trump, then-chief of staff Mark Meadows and others on the findings in aDecember 2020 conference call, people familiar with the matter said. Meadows showed skepticism of the findings and continued to maintain that Trump won. Trump also continued to say he won the election. The call grew contentious, people with knowledge of the meeting said.
That would appear to confirm that Trump had actual knowledge that the stories he was feeding to his pistol-waving supporters about rampant electoral fraud were bullshit. You know, in case we needed more evidence besides every sane lawyer in the White House from Bill Barr on down telling him there was no fraud. (No, we do not count Jeff Clark, that guy gives brain worms a bad name.) FFS, Trump's own campaign data guy told him days after the election that there was no fraud and he'd lost.
And yet that demented terrorist is still spraying his faithful with toxic lies:
Will Trump Hating Prosecutor Jack Smith be investigating the FACT that they SPIED on my campaign, even as I was in the Oval Office, they Stuffed the Ballot Boxes (per 2000 Mules), used Covid to cheat, that the FBI pushed Twitter & Facebook around, causing massive voter disruption, and so much more? That's really what he should be looking at, not asking a very decent Mike Pence why he didn't send the votes back to State Legislatures for scrutinization, which he could have done. Get the RIGGERS!
That post is from Friday of last week. It has 41,000 likes, even in the airless vacuum of Trump's janky Truth Social platform.
Meanwhile the New York Times tells us that the special counsel is going balls to the wall in an attempt to finish up before the 2024 election gets into high gear. Which is cool and all, but hurry the fuck up, man! It's two years after the crime, and the perpetrator is out there promising to do it again. All due haste is well in the rearview mirror — we're already at nick-of-time-thirty. In fact, it's nigh on too-damn-late o'clock.
Can we LOCK HER UP now already, please?
Click the widget to keep your Wonkette ad-free and feisty. And if you're ordering from Amazon, use this link, because reasons.
Liz Dye
Liz Dye lives in Baltimore with her wonderful husband and a houseful of teenagers. When she isn't being mad about a thing on the internet, she's hiding in plain sight in the carpool line. She's the one wearing yoga pants glaring at her phone.