DNC Chair Day Late And Dollar Short On Regulating Payday Lenders, Now Owes $300?
US of America News
June 11, 2016 12:30 PM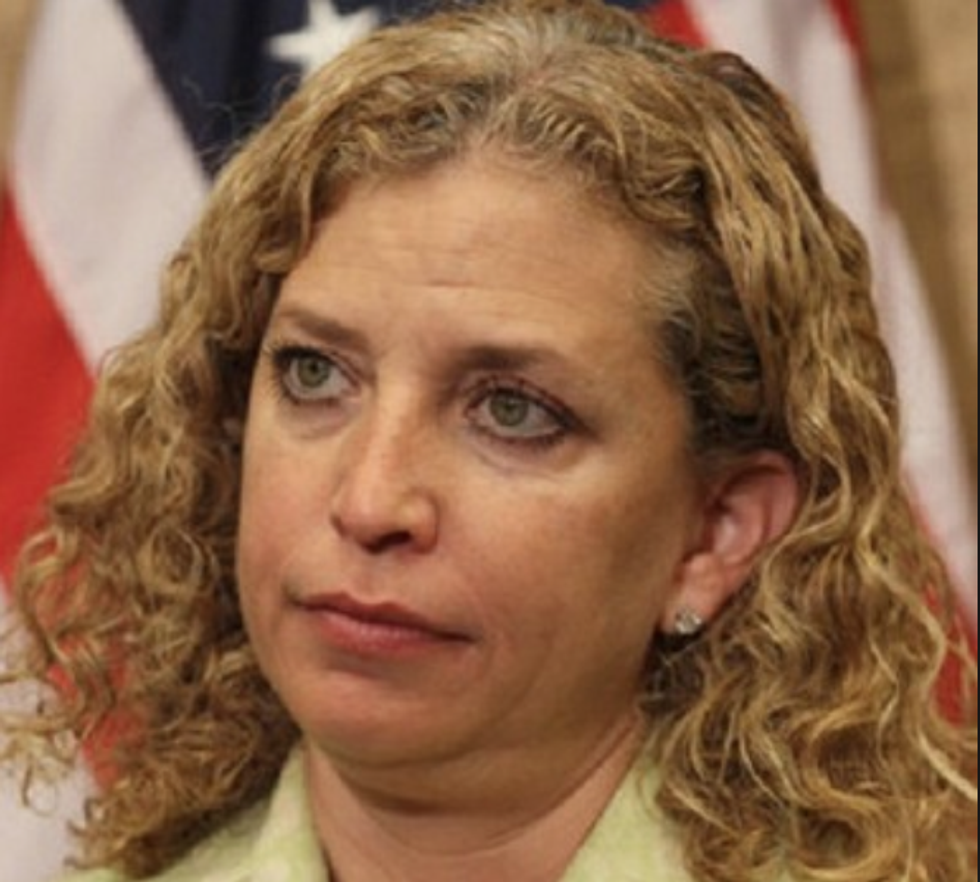 Debbie Wasserman Schultz, Head of your Democratic National Committee is, um, not the best. How is she reflecting poorly on Democrats these days? By being her best Debbie.
---
You may remember DWS joining with Republicans in an effort to defeat regulation of payday lenders, the folks who prey on the working poor by using ungodly interest rates to loot the limited resources of those behind on their bills. We use the word "ungodly" because the Bible repeatedly frowns on usurious lending yet is strangely silent on abortion. (It drags a little in the middle, but overall a solid read.)
Last week, Comrade Elizabeth Warren's Consumer Financial Protection Bureau finally proposed new rules to (kind of) protect Americans from the oily underbelly of the lending community. The rules put limits on roll over loan issuance but drop the really important part of previous proposals that would limit monthly payments to no more than 5 percent of the borrower's expected gross income over the same period. Like Wasserman Schulz, these proposals in their current form are disappointing and underwhelming.
The Pew Charitable Trusts' small-dollar loans project is especially critical of the proposal. According to its analysis, the new rules would still allow lenders to make high-interest, fee-laden loans — and give a green light to these peddlers of ruin all over the country.
How does DWS fit into this? Late last year, DWS co-sponsored Dennis Ross' (R-FL) ''Consumer Protection and Choice Act'' which, like biscuits and gravy, sounds awesome and delicious, except that the law would essentially gut regulation and leave all the consumer protection to the states. States like Florida, where payday lenders recently climbed past burmese pythons on the invasive species list and contributed thousands of dollars to politicians like DWS.
But in a move that definitely has nothing to do with her primary battle against Handsome Progressive, DWS decided she's fine with the watered down rules she relentlessly fought to circumvent and water down. Leadership!
Illinois AG Sues Disgusting Sandwich Shop For Disgusting Terms Of Employment
Jimmy John's is upset - and not just in the soul-crushing way like when you show up for a lunch meeting and the food provided is a tray of Jimmy John's. As previously chronicled, the sandwich chain likes to simultaneously treat its staff like low wage peons but also like tech executives by throwing non-compete clauses into workers' employment agreements.
asked the Cook County Circuit Court to void the noncompete agreements
signed by employees of Jimmy John's at its Illinois stores.
The state cracking down on companies cracking down on the free movement of labor is sooo un-American. If Subway learns to shred lettuce the Jimmy Johns Way, JJ's competitive advantage is lost in a sea of mass marketed sandwiches that somehow simultaneously taste like nothing and taste like vomit. How bad could the language really be?
The company's definition of "competition" goes well beyond the usual suspects such as Subway, Potbelly and Jersey Mike's; any business within 3 miles of a Jimmy John's that derives at least 10 percent of its revenue from sandwiches is included.
So it's almost as if low wage workers already suffering from a lack of mobility might have exactly one employment option. Wonder if they'll get good wages and benefits?
Jimmy John's responded with the Cross Our Hearts And Hope To Die defense:
Though the attorney general never indicated to us that any worker had ever reported a concern about the agreements, we made clear to the attorney general that we would never enforce a noncompete agreement against any hourly employee that might have signed one.
Just trust them! That sounds reasonable. Like not forcing employees who handle food to come in when they're sick. Oh. Bad example.
[http://www.nytimes.com/2016/06/03/opinion/a-lame-response-to-predatory-loans.html?_r=0 / Moyers & Company / Crain's Chicago Business / IWW]