DNC Night Three: Let's Meet This Tim Kaine Person, Shall We? Also, Barry Bamz! A Livebloog
Elections
July 27, 2016 07:51 PM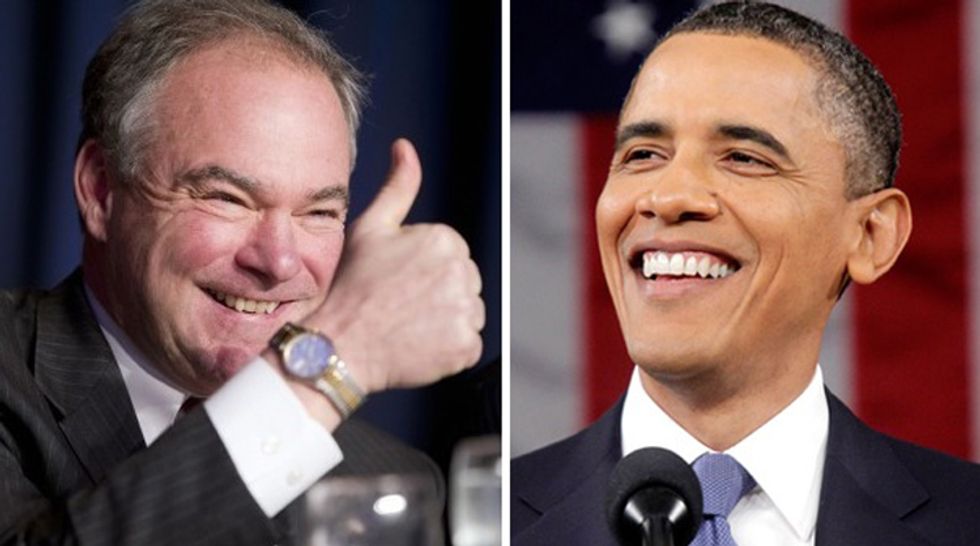 Welcome to your livebloog of Night Three (or is it week three? We're really tired!) of the Democratic National Convention! The big speeches tonight are VP nominee Tim Kaine and master of speeches Barack Obama, who is probably going to be fired up and ready to go. Both of 'em, for that matter. If you missed Kaine's debut Saturday in a joint Florida appearance with Hillary Clinton, you should be in for a treat, because this guy gives one hell of a good speech. What else is happening tonight? We'll have genuine hero Gabby Giffords and her husband, mere astronaut Mark Kelly, Sen. Sherrod Brown, former NYC mayor Michael Bloomberg, and (be still our hearts) Dr Jill Biden and Old Handsome Joe Biden his ownself. 1967 Corvette not included, although for all we know, maybe they'll wheel a bitchen' Trans Am out on stage for him.
---
A little earlier this evening, the DNC featured a brief documentary by James Cameron, "Not Reality TV," which reminds us that America has one party that says science is real, and one party that's paid to say it isn't. It's just gone up on the YouTubes:
7:50 We're taking this livebloog live right now, but we aren't going to be making any jokes just yet. We're joining as survivors of victims of mass shootings address the convention, and we'll let them speak for themselves.
7:55 Christine Leinonen just spoke; her son was killed in the attack on the Pulse nightclub in Orlando. She pointed out it took longer for the bell to toll the number of the victims than it did for the killings to take place with a semiautomatic rifle.
Speaking now is Connecticut Senator Chris Murphy, who helped lead the House's sit-in for gun safety legislation.
7:58 Next speaker is Erica Smegielski, the daughter of Sandy Hook Principal Dawn Hochsprung.
8:00 "I should not be here tonight. I don't want to be here tonight. I should be home watching this on TV with my mother...but my mother was murdered."
8:02 "I'm here alone, without my mother, while too many politicians cower in fear behind the gun lobby."
8:03 Former Philadelphia Police Commissioner Charles Ramsey, one of the people who Donald Trump lied about when he said the DNC "isn't talking about our police."
8:10 Angela Bassett introduces Felicia Sanders and Polly Sheppard, survivors of victims of the Mother Emanuel AME Church shooting in Charleston, South Carolina.
8:12 These women found the strength to forgive Dylan Roof. It doesn't end there -- the work of love involves taking action.
8:15 Mark Kelly introduces his wife, former congresswoman Gabrielle Giffords.
8:18 Capt. Kelly says Hillary will take on ISIS and take on the gun lobby here at home. Donald Trump will no doubt take credit for the mention of ISIS.
8:20 Gabby Giffords truly is a superhero. You want courage? Here is courage.
8:25 Gabby's speech has improved so much over the past couple years. Breaks my hear every time I see her. As I know from family experience, head injuries are horrible. But damn, she has come such a long, long way.
8:28 Not even going to be cynical about Broadway singers singing a rather sappy song from the '70s. Because What's So Funny About Peace, Love, and Understanding?
8:35 And now it's time to transition to the National Security portion of the evening. This video is terrific, a parade of bipartisan security experts -- with a bias toward Republicans -- criticizing Donald Trump's lack of qualifications to be commander in chief, mixed with old clips of leaders talking about the responsibility. Well done.
Retired Admiral John Hutson: There are two things that I know about, unlike Donald Trump: Law and order.
8:38 Hutson says Trump's suggestion that Russia should do some hacking of the DNC isn't merely not law and order -- "it's criminal intent." And on John McCain: "Donald, you're not fit to polish John McCain's boots."
8:40 What does this admiral know about fighting a war? He thinks we need to have law and civilization? "Donald Trump is a walking, talking recruiting poster for terrorism."
8:41 "I taught national security law. Praising dictators was an automatic 'F'"
8:43 Kristen Kavanaugh, former Marine Corps captain, doesn't think Donald Trump would be all that good at national security. Imagine that!
8:45 Smart presentation here: Chain of command starts with a trustworthy Commander in Chief. Might be good to have a C in C with at least a portion of the discipline of the troops. "His recklessness means more deployments for my friends...and more young heroes never coming home."
8:48 Leon Panetta, former Secretary of Defense and CIA Director, also isn't fond of the idea of a hotheaded bully being Commander in Chief. "In this election, there is only one candidate who has the experience, the judgment, and the temperament" for the job. That would not be Trump.
8:50 Say, was it an impulsive real estate mogul who's easily distracted who decided to go after Osama bin Laden? It wasn't.
8:52 Panetta knows a thing or two about fighting terrorism. But feel free to ignore him, since he didn't say the Magic Words.
8:53 Or, maybe we could end the threat of ISIS by just chanting "No More War." That ought to be very convincing.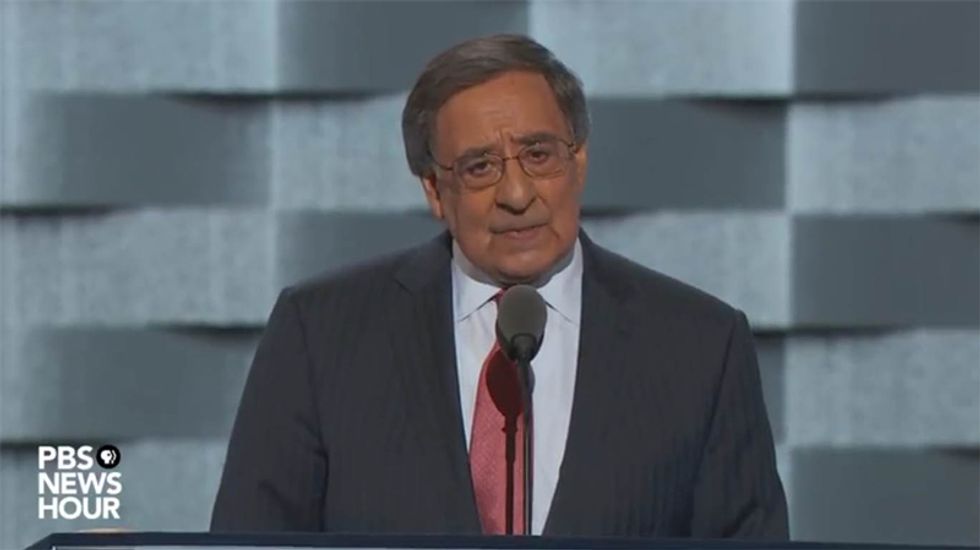 8:55 "In an unstable world, we cannot afford unstable leadership."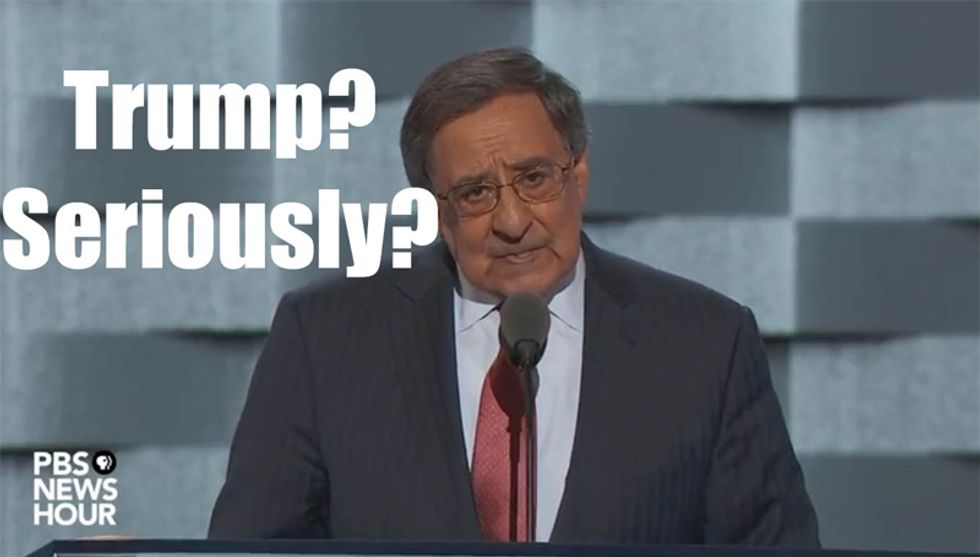 8:58 Dr. Jill Biden! That is all!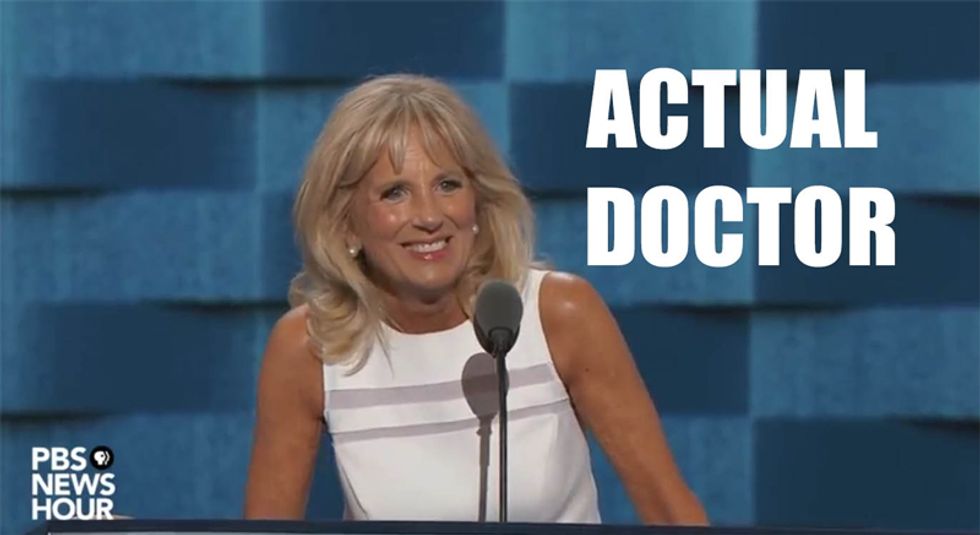 9:02 OHJB movie. Oh, this guy. We love this guy. Violence Against Women Act, fought against apartheid, called for intervention in the Bosnian genocide, fought the NRA. Plus, he's dreamy, in that creepy uncle way.
9:05 We would totally vote for this Biden guy.
9:07 It's good to be a Gangsta.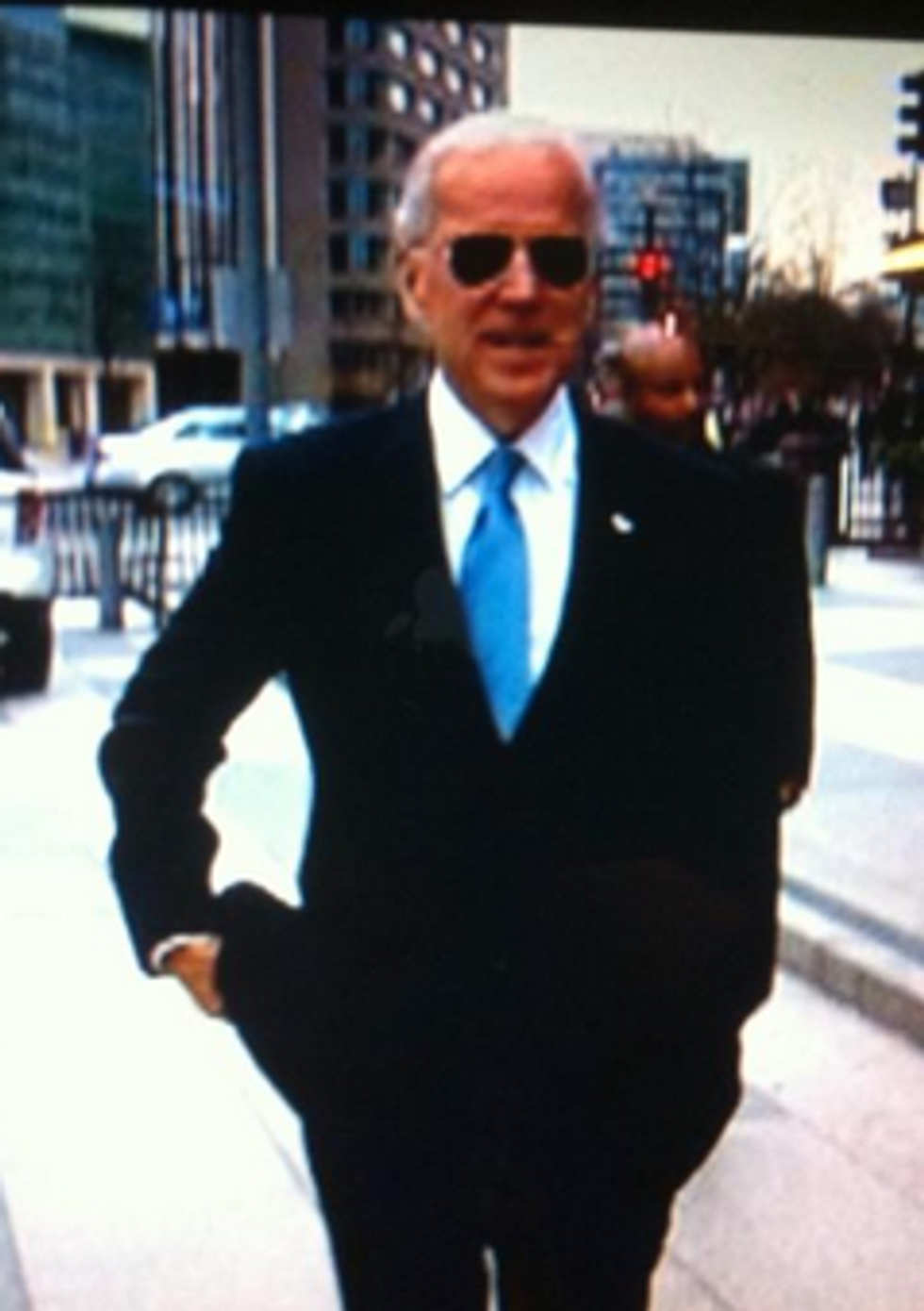 9:08 Prediction: among the first 25 words he says will be "Scranton."
9:10 OK, so he went with his relationship with Barry, instead. That works, too. "One of the finest presidents we have ever had." He really could have said "literally" there.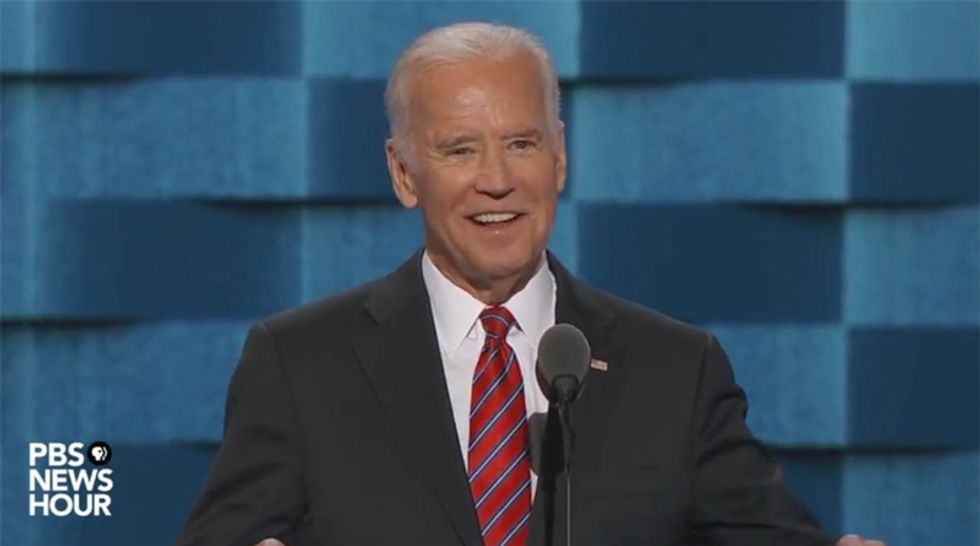 9:12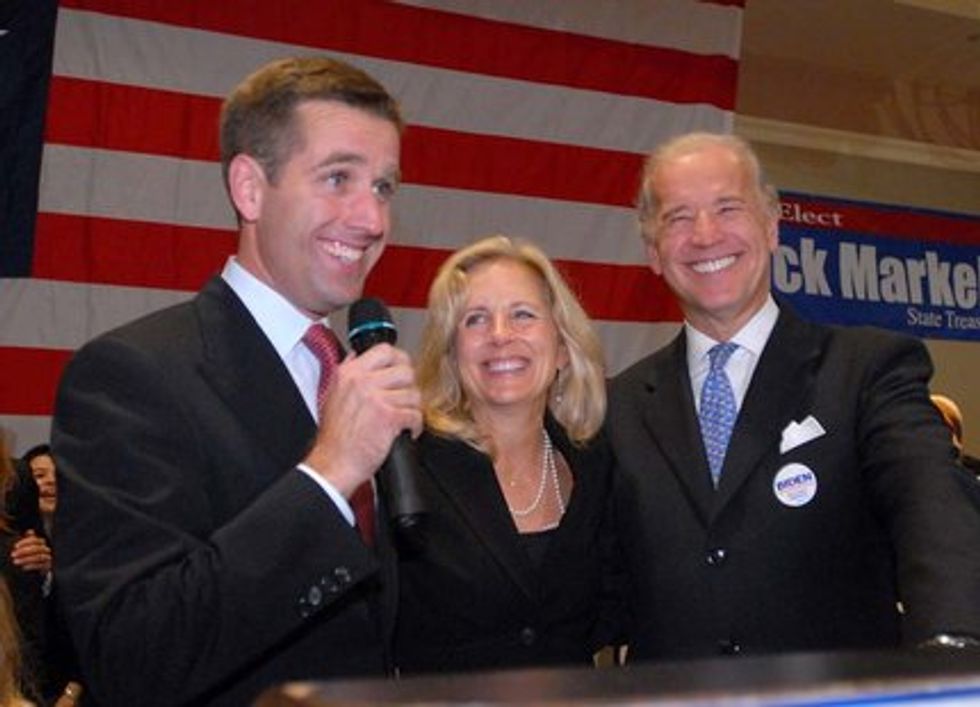 9:15 And like the good man he is, Joe Biden takes his loss and uses it to help him think of others. We love this man unreservedly.
9:17 "Being a teacher is not what they do. It's who they are." This is a far better vision of America than the hellscape the Republicans were painting. It's more realistic, for one thing.
9:20 Trump's lack of empathy is summed up in the term he's made most famous: "You're Fired." "He tries to tell us he cares about the middle class? Give me a break! That's a bunch of MALARKY!"
Drink! Though Joe does not.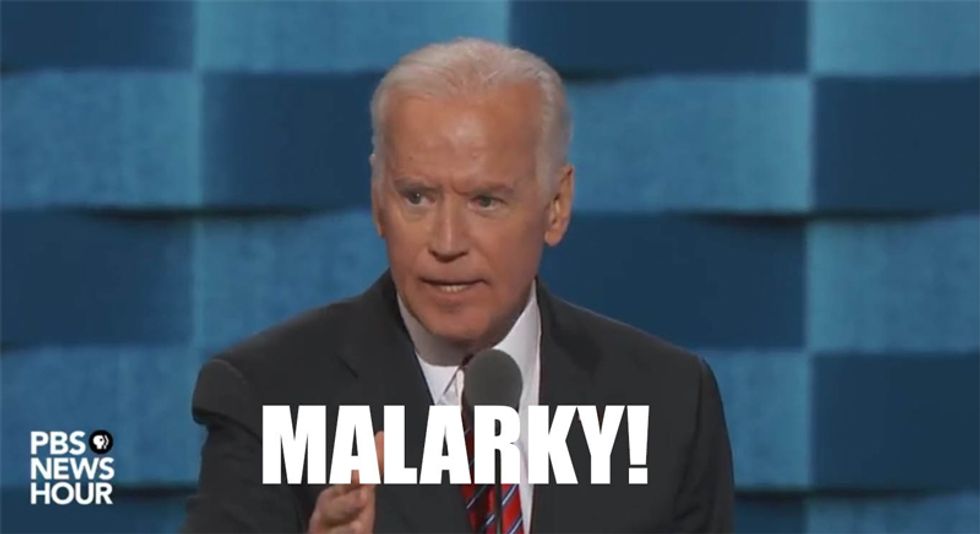 9:25 We would like to see Donald Trump debate Joe Biden on foreign policy. Or woodworking, for that matter.
9:26 This is one hell of a speech -- positive, upbeat, and tough. "C'mon! We're AMERICA!"
9:27 We will now pause so that members of the audience can change their panties.
9:28 Atlanta Mayor Kasim Reed. He seems nice, but he's no Joe Biden. But who is? Oh, yes, and the Great Recession was awful, and Obama/Biden turned it around. OK, that works.
9:32 Oh, OK, Reed is here to introduce Michael Bloomberg. We have a hard time getting excited about Bloomberg, too. Maybe he'll wow us. Maybe we'll get a beer.
9:35 still not wowed. You know, Applejack had a tree she named "Bloomberg." It was a big apple tree.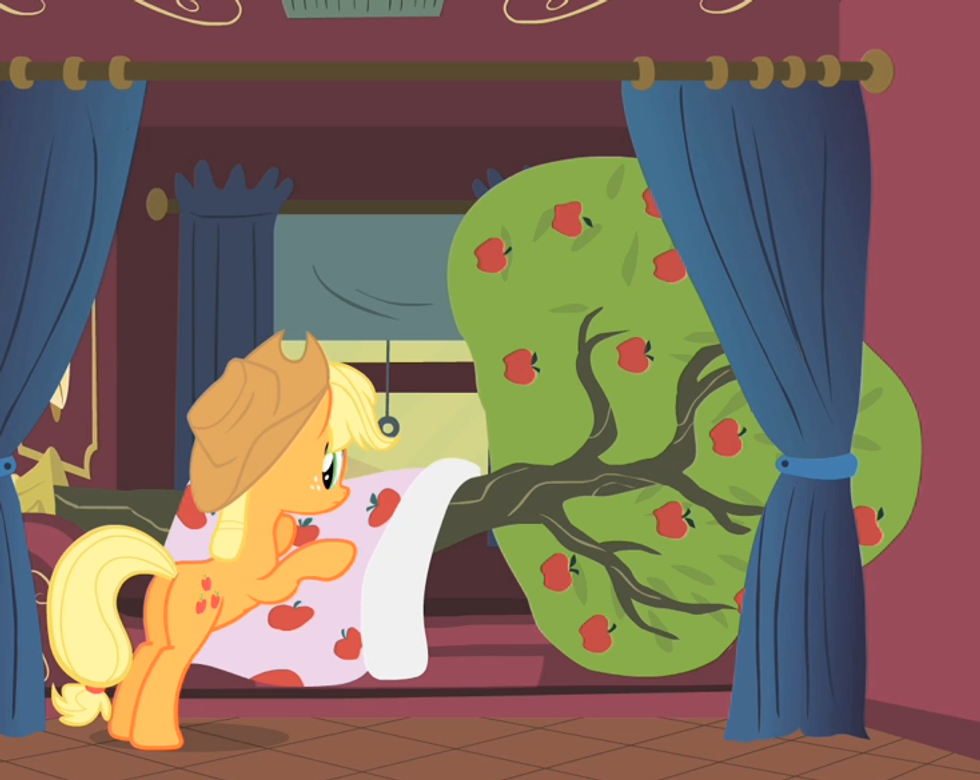 Bloomberg. The tree is literally named 'Bloomberg.' You could look it up
9:38 "I built a business, and I didn't start it with a million dollar check from my father." OK, that was a good line. As was, "I'm a New Yorker, and I know a con when I see one." That was good, too.
You know, that's the same episode where Fluttershy says she'd like to be a tree. It's pretty cute.
9:44 At least Bloomberg really is a millionaire. Hey, Donald, how about those tax returns?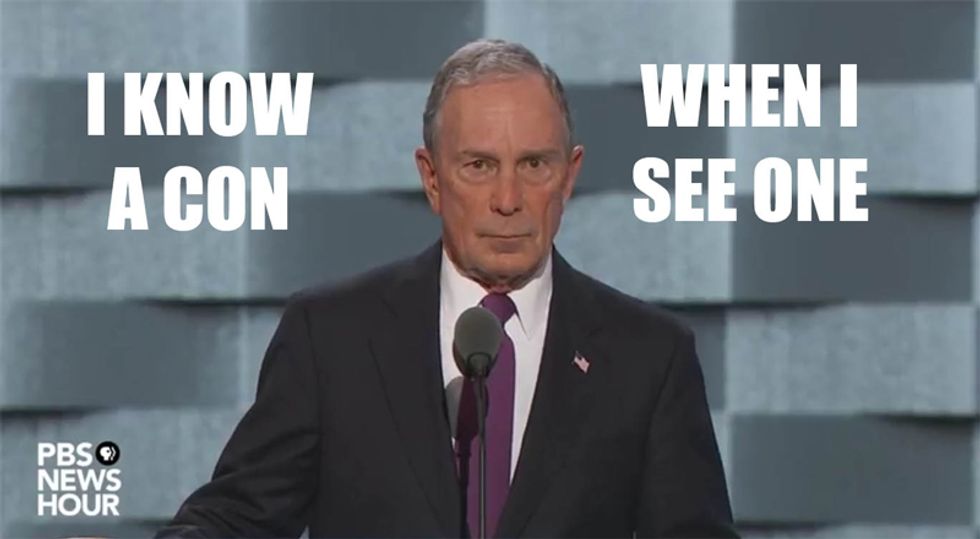 Bloomberg's underlying theme: "Yeah, I know Trump. He's full of shit."
9:45 another Donald featurette, on debt. We were promised Lenny Kravitz.
9:46 Oh, the bleeping bit is cute. Trump would indeed be a shitshow. By 2024, the bleeps will be gone.
9:50 This is actually Lenny Kravitz, and an excellent time for a restroom break. Sorry, Lenny, you knew it when you signed on.
9:53 Music and audience dancing at DNC: 20% cooler than at RNC. 120%.
9:56 Group "Fight Song" reprise. It really doesn't help that I mostly associate this with a Ford Explorer commercial.
9:58 Somebody has to have made an annotated version of this thing for people who don't recognize entertainment people
10:00 Rep Bobby Scott of Virginia introduces Tim Kaine. He looks like he'd play a bank manager on the Brady Bunch.
10:03 Tim Kaine was born in St Paul, Minnesota, the state where mamas dandle their babies on their knees and say "Someday YOU can grow up to be Vice President!" (thanks, Mr. Mondale)
10:05 Tim Kaine, GOD OF SEX AND VOODOO!
10:08 Oh, yes, My son the Marine? He's keeping America's commitment to NATO. Still a great line. And will keep coming up.
10:10 Here's a guy who knows about running a business without having a million bucks of seed money from his dad. And he thinks being a social justice warrior is a GOOD thing.
10:12 Get ready for the inevitable whining about having to hear Spanish. "WE DIDN'T EVEN PRESS OCHO!"
10:14 Kaine told this story of meeting his wife, whose dad, Linwood Holton, was the governor who integrated Virginia schools, on Saturday. And it's still wonderful.
10:15 At the risk of seeming shallow, we must note that young Tim Kaine was quite the hottie.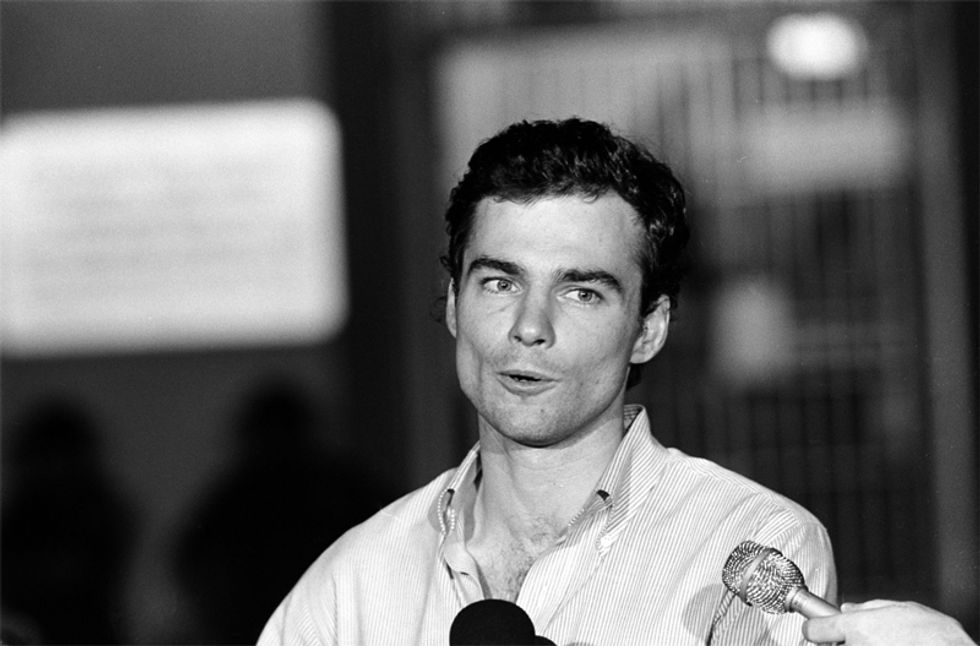 But also a very effective civil rights lawyer!
10:19 'We all should feel the Bern -- and we should all not want to get burned by the other guy" -- It's OK. Not quite zingy. But good.
10:20 "Can I tell you a funny thing about the Senate?" OK, that won us over. He's a sweetheart. And now he's getting some excitement building.
10:21 We keep hearing that everyone who knows Tim Kaine says he's an incredibly kind man. That's a contrast to both members of the other ticket -- although Trump's kids insist he's kind, too.
10:25 Kaine doing a terrific sales job for Hillary here.
10:28 Kaine hits Trump on taxes. It's super-effective! "Most people who run for president don't just tell you 'Believe me,' they tell you how they'll get it done." And then he sends us to Clinton's website where you can see the plan. Nicely played. "Here's the question: Do you really believe him?"
Audience: NO!
10:30 this "Believe me" riff is going over great. And it's going to get under Trump's thin pasty skin. Oh, it really will. The twitter whining will be beautiful to see.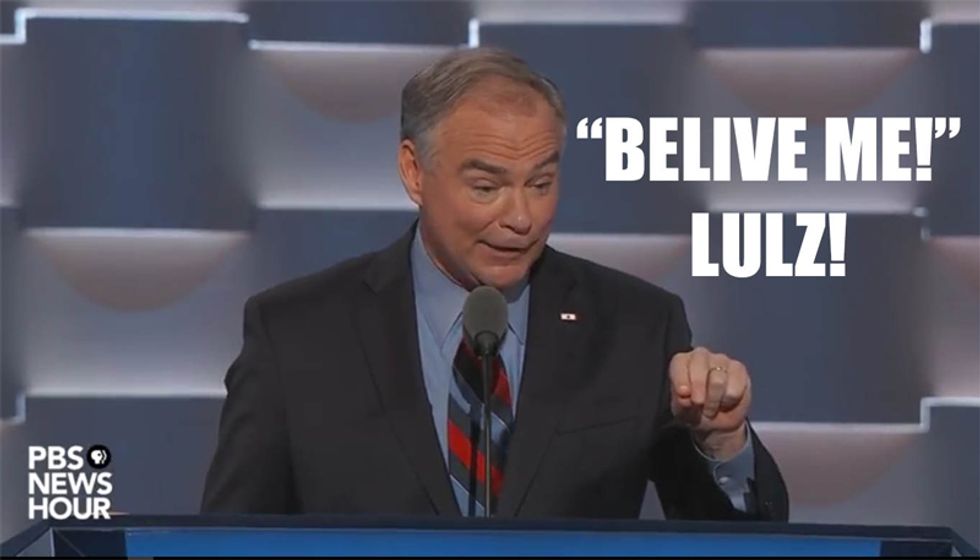 10:33 Kaine is CRUSHING it.
10:35 Are you guys looking forward to seeing Tim Kaine debate that stiff Pence? Whooo.
10:37 Sharon Belkofer from Ohio is the mother of Lt. Col. Thomas Belkofer, who was killed in Kabul, Afghanistan by a suicide bomber. Trump will complain we didn't talk about the troops.
10:40 Inspired by a couple of hugs from Barack Obama, she decided to run for school board. At the age of 73. And when she won, Barack Obama sent her a handwritten note to congratulate her.
10:42 "I wish every American could hug President Obama." Motion seconded. And we wish we could hug Sharon Belkofer.
10:45 Remember: We have a
deep, thoughtful, sober president.
It's pretty awesome. Let's not trade that away.
10:48 Barack Obama has given far too many speeches about massacres. There's something very wrong with a country where so many people think the problem is that Barack Obama was the one giving those speeches.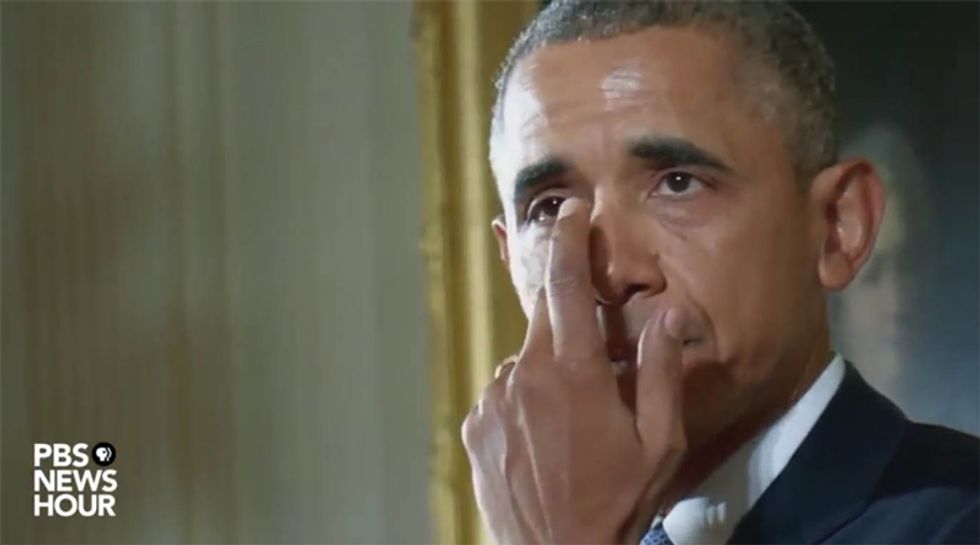 10:53 And now the victory montage, ending with marriage equality: A More Perfect Union.
10:53 It's been a good eight years. We're already missing President Obama.
10:56 Barry's first DNC address was 12 years ago tonight.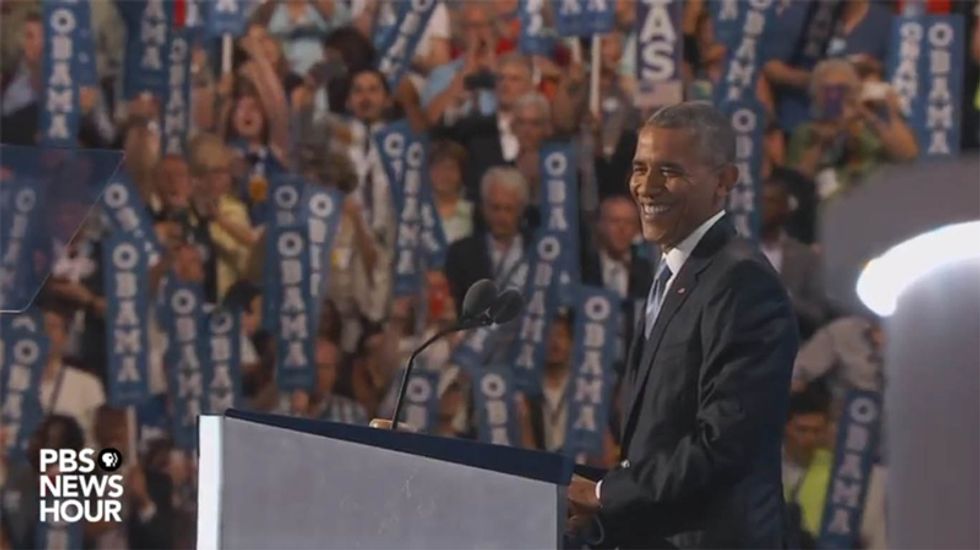 10:59 "I am more optimistic about the future of America than ever before. How could I not be, with all we've accomplished together?"
11:01 You know, he got some stuff done. Despite an entire party dedicated to blocking him at every possible chance. To mark this speech, House Republicans will hold a special session tomorrow to repeal Obamacare again.
11:04 You mean to say not everything's perfect, there's more work to do?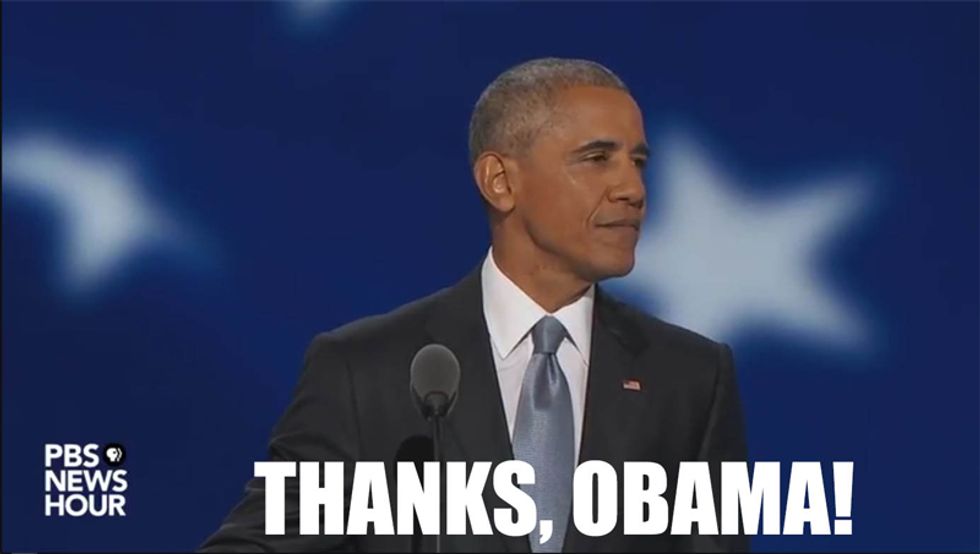 11:06 A few "No on TPP" shouters get out a couple rounds before being glared into silence.
11:08 Hillary Clinton is Ginger Rogers. And also a hell of a sales tool for Doris Kearns Goodwin's Team of Rivals.
11:10 We really have killed bin Laden a hell of a lot tonight. What is this, the sixth or seventh time? Not that we'd prefer him not dead.
11:12 Fact Check: Comments on Hillary's resume, TRUE.
11:13 "And then, there's Donald Trump...Don't boo, VOTE."
11:14 Donald isn't really a "plans" guy. Or a "facts" guy. Loving this.
11:15 Incongruous wolf-whistle!
11:16 Oh, Obama finally mentions ISIL. That was all Donald Trump's doing. That, and the two years of bombing them.
11:17 "America's promises do not come with a price tag. We meet our commitments."
11:18 "Our greatness does not depend on Donald Trump" Or on any one person. And wow, contrasting Reagan's "shining city" with Trump's "divided crime scene."
11:20 The guy who's always being accused of tyranny by the rightwingers points out that America does not need a strongman. Sweet.
11:21 America isn't about what one man says he'll do for us. It's about what we can do together.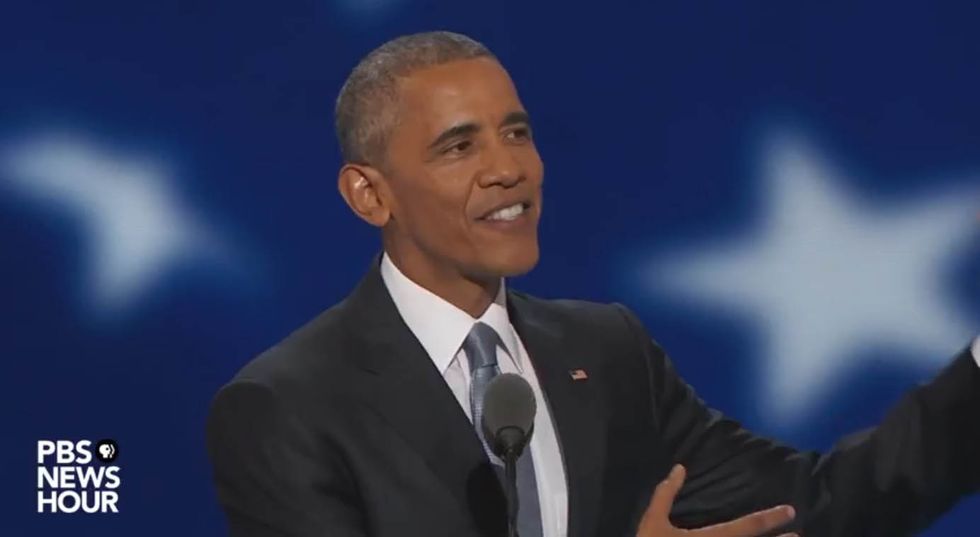 11:23 "The American Dream is something no wall will ever contain."
11:28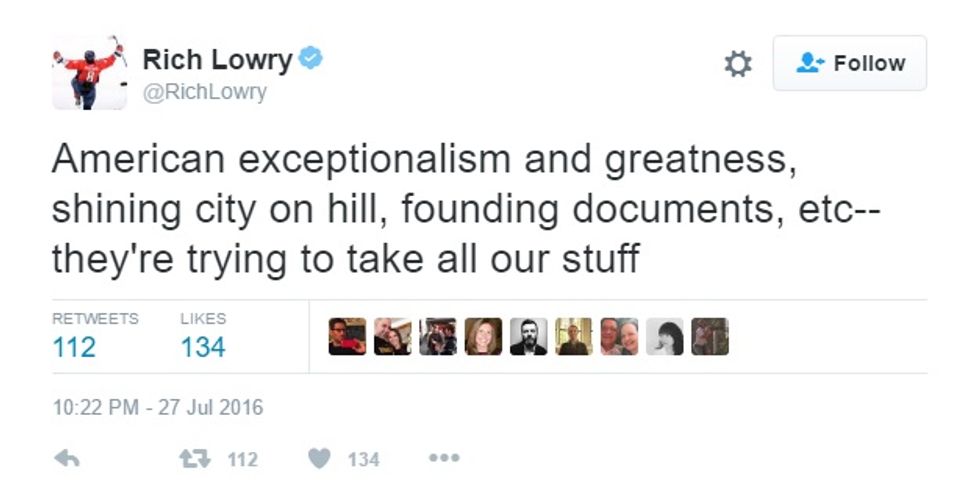 Um. You do not OWN the founding documents or America's greatness. E Plebnista, motherfucker.
11:30 Beautiful case for not staying home and pouting. "It's not 'Yes he will' or 'yes she will' -- it's about 'YES WE CAN'"
11:31 Barack Obama still believes in a place called Hope.
11:33 This is a beautiful callback to Barry's 2004 DNC speech. This is the guy we fell in love with. "These values haven't changed. They haven't gone anywhere."
11:35 Anyone who threatens us, whether fascists, or communists, or terrorists, or home-grown demagogues, can never succeed. Damn!
11:38 We didn't know about that owl in the oval office.Update: We looked, but can't find an image. the painting was given to President Obama by the parents of Grace McDonnell, and it hangs in his private study, just off the Oval office. Here's Grace: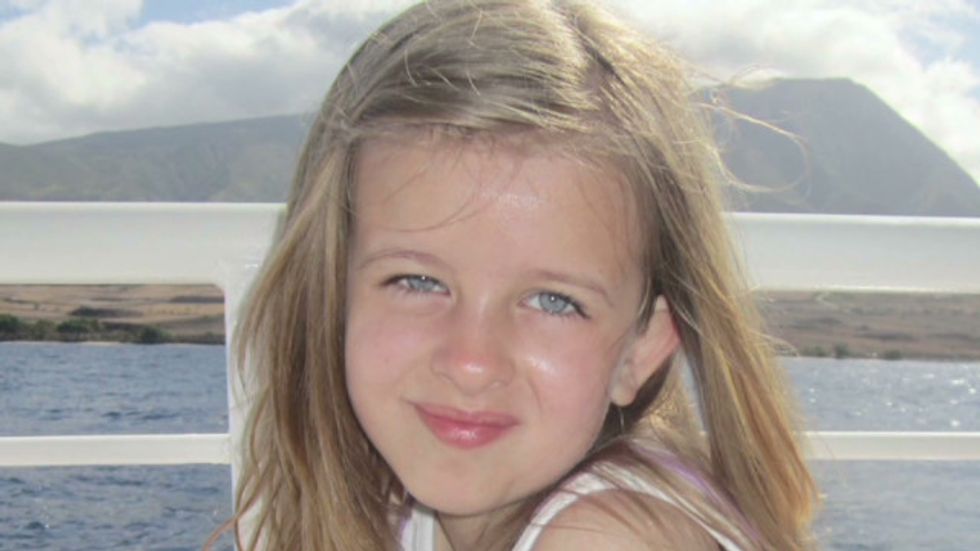 In a January 16, 2013 speech on guns, Barack Obama said,
[E]very time I look at that painting, I think about Grace. And I think about the life that she lived and the life that lay ahead of her, and most of all, I think about how, when it comes to protecting the most vulnerable among us, we must act now — for Grace. For the 25 other innocent children and devoted educators who had so much left to give.
Also, thanks to commenter OddMan for finding a photo of Grace's painting.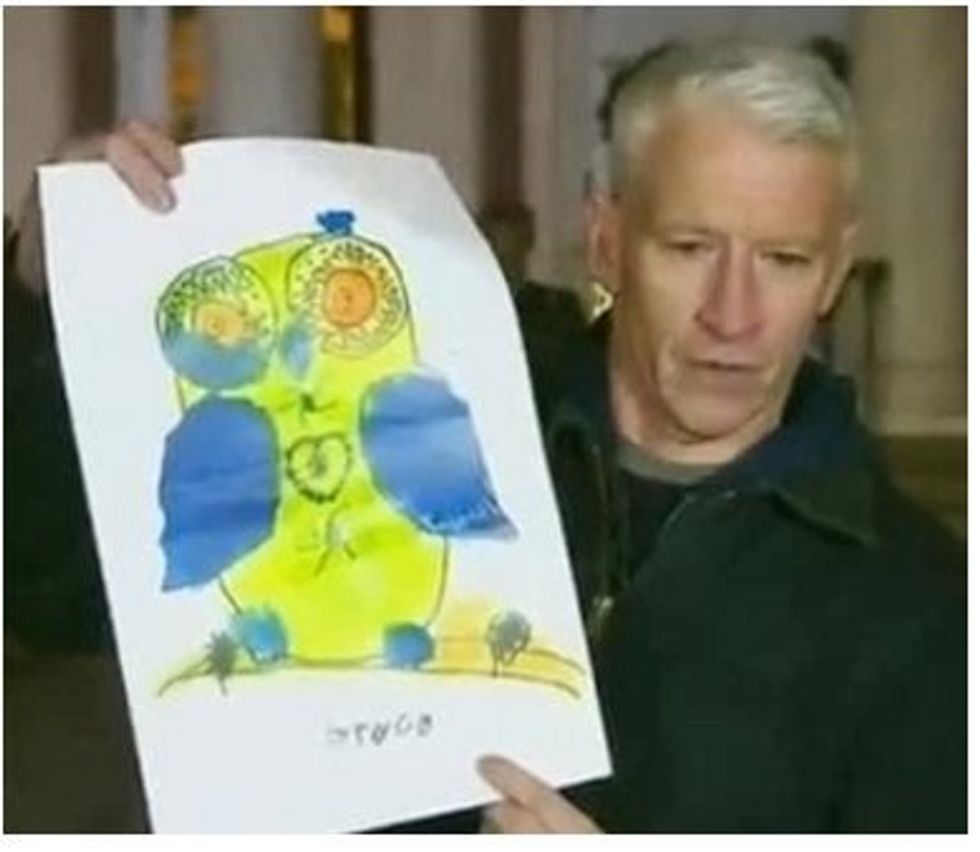 11:40 Damn, this is one beautiful farewell and baton-passing. Thank you, President Obama.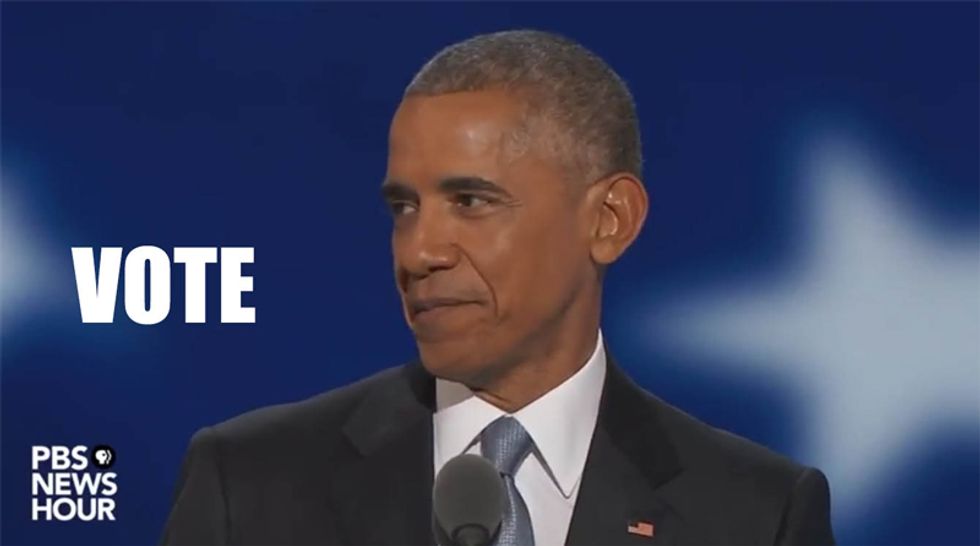 11:42 Oh, hey, look who just came out to say hi to her old boss!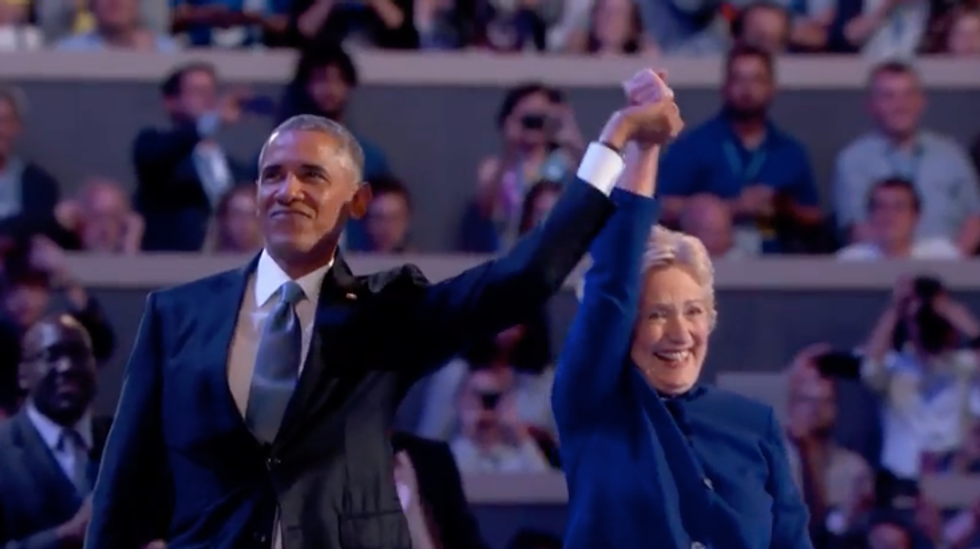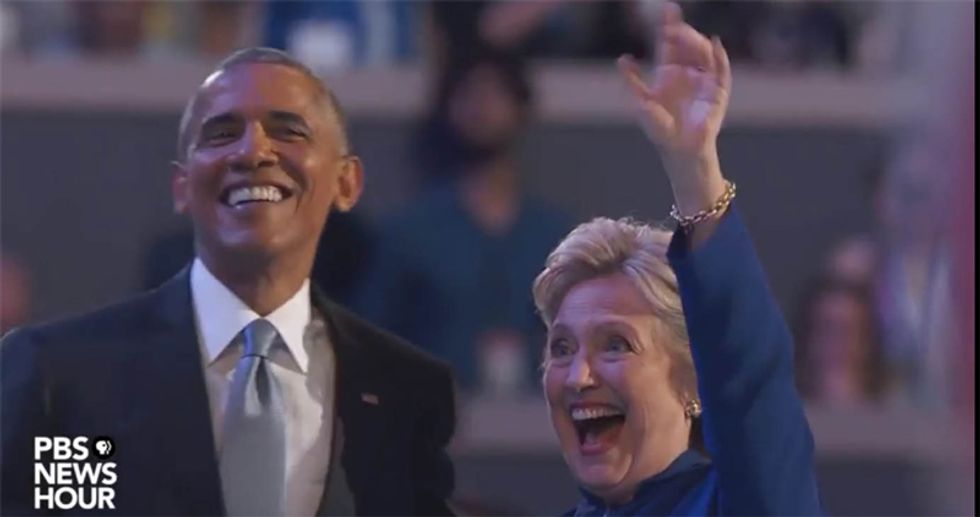 11:50 You know, looking at the people who have been coming onstage for three days for Hillary, and the people who were onstage last week for that one guy with the hair? We're feeling cautiously optimistic. Fear and anger are hard to sustain for an entire election... Then again, as we've seen since the day after Obama's inauguration, fear and anger are good business, too. It's been great liveblooging with you folks for the last week; Rebecca should be back tomorrow night. Depending on whether the interwebs are hooked up at her new house. G'night!
11:55 OK, one parting thought, from somebody who knows: Michelle Obama.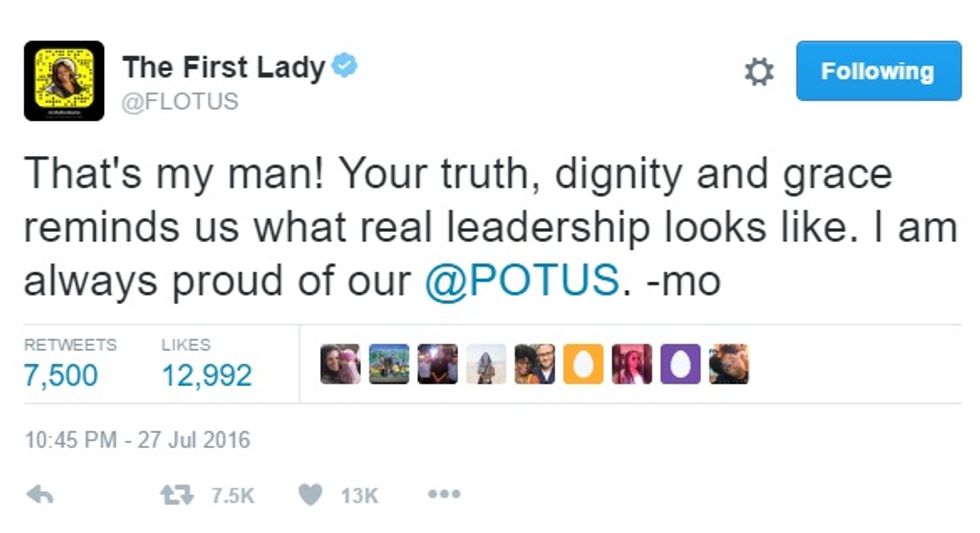 Damn, they're a cute First Couple. G'night!