Donald Trump, Flaccid Man Of Chinese Steel: Yr Corporate Roundup
News
October 22, 2016 12:00 PM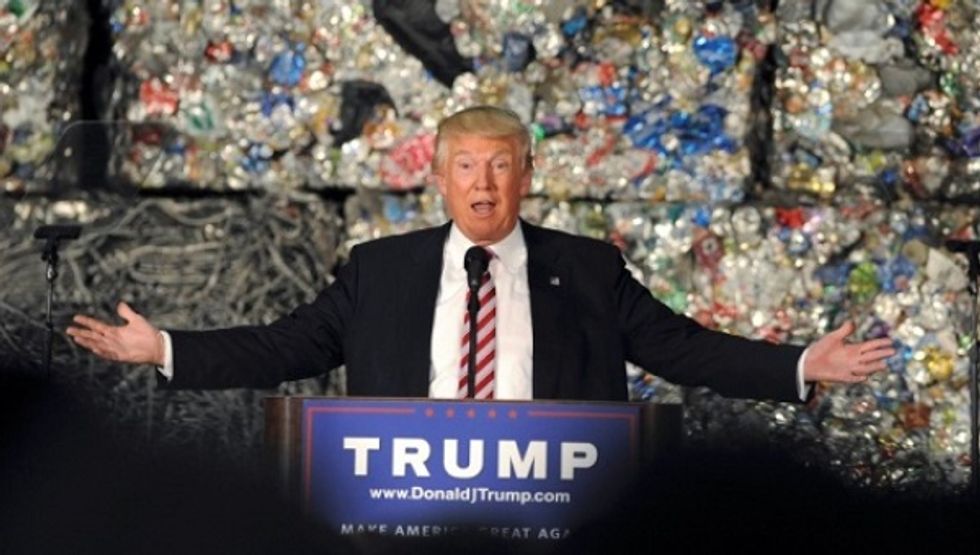 adjacent to trash...
---
Of all the fun times in all the bizarre debates, this was one of our favorites fun times:
Trump: "I sat in my apartment today, in a very beautiful hotel ..."

Clinton: "Made with Chinese steel"
Ice cold, ma'am. ICE COLD. But we should talk about this since Trump's going to create 25 million jobs. And unlike her opponent, Hillary Clinton isn't simply making stuff up as she goes along. Donald Trump has several erections of Chinese steel.
During the campaign, of course, the maniacal Cheez Whiz(TM) sculpture has constantly talked mad shit about China. Speaking earlier this year to a crowd in Fort Wayne, Indiana, 40% of whom know all about China from eating at Panda Express:
"Don't forget. We're like the piggybank that's being robbed. We have the cards. We have a lot of power with China," Trump told an audience in Fort Wayne, Indiana. "When China doesn't want to fix the problem in North Korea, we say, 'Sorry, folks, you gotta fix the problem.' Because we can't continue to allow China to rape our country. And that's what they're doing. It's the greatest theft in the history of the world."
It was a Great Moment in Rape Metaphor History. But can Trump really stop China's rapin'? Will it be before or after he unilaterally renegotiates NAFTA and publicly urinates on the TPP? Let's ask Newsweek. The print outlet reported that for at least two of Trump's last three construction projects, Trump purchased his steel and aluminum from Chinese manufacturers rather than United States corporations based in Steel States of Swing like Pennsylvania or Ohio.
Through the use of shell companies that purchase the steel from Chinese suppliers, Trump is able to save hundreds of millions of dollars and lend a helping hand to the blue collar workers of the People's Republic of China. Chicago's Trump Tower is a beacon of Trumpian enrichment and shiny testament to Chinese steel production. For that project, Trump reportedly obtained loans from Deutsche Bank and hedge funds funded by The George Soros -- OH MY GOD -- DRUDGE COME HITHER! (BTW, George,you're late with WONKETTE'S check so we can do all the caviar and voter fraud. Just a friendly reminder.)
As Trump enters these mutually beneficial and indirect arrangements with the Chinese companies usually funded by Communist Party-controlled banks, American steel and aluminum workers get totally shafted. Who'd have thought!
Trump purchased the [Chinese] aluminum used in the Chicago project for what is called the "curtain wall" -- the glass and metal exterior designed to save energy. Assuming an admittedly light weight of a pound per foot, American companies lost out on more than $350 million in sales.

To construct the exterior panels, Trump hired an entity called Permasteelisa Cladding Technologies Ltd., which is based in Connecticut. That company, in turn, is a division of Permasteelisa North America Corp., which, despite its name, has been identified by the American government as an importer of steel, aluminum and other metals from its affiliated companies [...] During the time of the Trump Chicago construction, according to documents filed with the United States Court of International Trade by the Department of Justice and the Department of Commerce, Permasteelisa was dumping aluminum used in curtain walls, meaning it was using predatory pricing to sell the products below the cost of production or the amount charged in China.
As privately held entities, most of Trump's "companies" don't fall into the same categories as other Corporate People we tend to discuss. That being said, it also means he's not beholden to shareholders or prickly Boards of Directors. He structures his dealings so he can basically do whatever the fuck he wants. Shocker, we know. And what Donald Trump wants to do is build phallus-shaped buildings and garner a shitload of money and notoriety for himself and his creepy family. Sometimes he's good at it and sometimes he's awful at it, but that's pretty much his whole thing, or at least it was, until he figured out he could just let others take all the risks and buy the "Trump" name to slap on the finished product. There's not much there there. So Sorry, Donald. As Chris Christie learns on a daily basis when he opens his mailbox searching for a response to his fan letters, Springsteen ain't ever writing that Working Man's Hero song about you. (At least not as the hero...)
Wells Fargo Update: Financial Service Providers providing their services
told-ya-so zeal
. From CEO John Stumpf's Capitol Hill
spanking at the hands of Nasty Elizabeth Warren
to Stumph's
resignation and sad retreat
into his Scrooge McDuck severance vault. And thanks to recent lawsuits and interviews,
we now know the people these bankers typically targeted
. Is this new information surprising? That's a rhetorical question.
Meet Antonio: he's an immigrant who speaks limited English and needs a credit card to pay his cell phone bill so he can keep in touch with his family back Guatemala and play Candy Crush.
Say 'Hi' to Haley: she's a college student who's working at night and just opened her first savings account. She doesn't know it now, but the part not vacuumed by Wells Fargo fees will soon be ravaged by interest payments to private student loan lenders.
Then there's your Great Aunt Karen: She uses her checking account to send you $50 for your birthday every March 3rd, even though your birthday is in July. We love Karen.
Is this an episode of Awkward Jeopardy? No. These are the folks who Wells Fargo retail bankers preyed upon in order to meet ridiculous sales goals. (Don't worry, we made up these specific ones -- sorry Karen, you're a composite -- but they're typical of the vulnerable people Wells Fargo targeted). To be clear, despite a stated corporate goal of a dystopian debt-ridden hellscape where each Wells Fargo customer holds 8 separate accounts, upper level management was totally unaware of the widespread fraud. To be clear, despite the fact that a whistleblower gave Stumpf the heads up in 2007, the immune-from-prosecution former CEO didn't know about it. Wells Fargo
executives are shocked and appalled.
Ashlie Storms, a former banker at a Wells Fargo branch in West Milford, N.J., said she quit her job in August, soon after learning that a banker at another branch had manipulated the accounts of one of Ms. Storms's regular customers, an older woman with memory issues. The woman had come to deposit a large check, only to have the banker use it to open new checking and savings accounts without her approval. The next day, the customer and her daughters arrived at Ms. Storms's branch, confused about where her money had gone and why she could not gain access to it.

"What should have been a five-minute conversation turned into a three-hour complaint to corporate from the customer about the actions this banker decided to take without the customer's consent," Ms. Storms said. "The banker was a top producer for our region, always receiving recognition from management for her sales."
When bankers contact you, financial institutions are using people that have lots of problems. They have quotas and benchmarks. And they fraudulently induce you into unnecessary accounts with additional fees. They prey on our precious Oldz and other marginalized groups. They're probably doing drugs. They're criminals who will never be charged. And some, we assume, are good people.