Donald Trump Fucking Amazon To Own The Libs
Trump
April 03, 2018 12:04 PM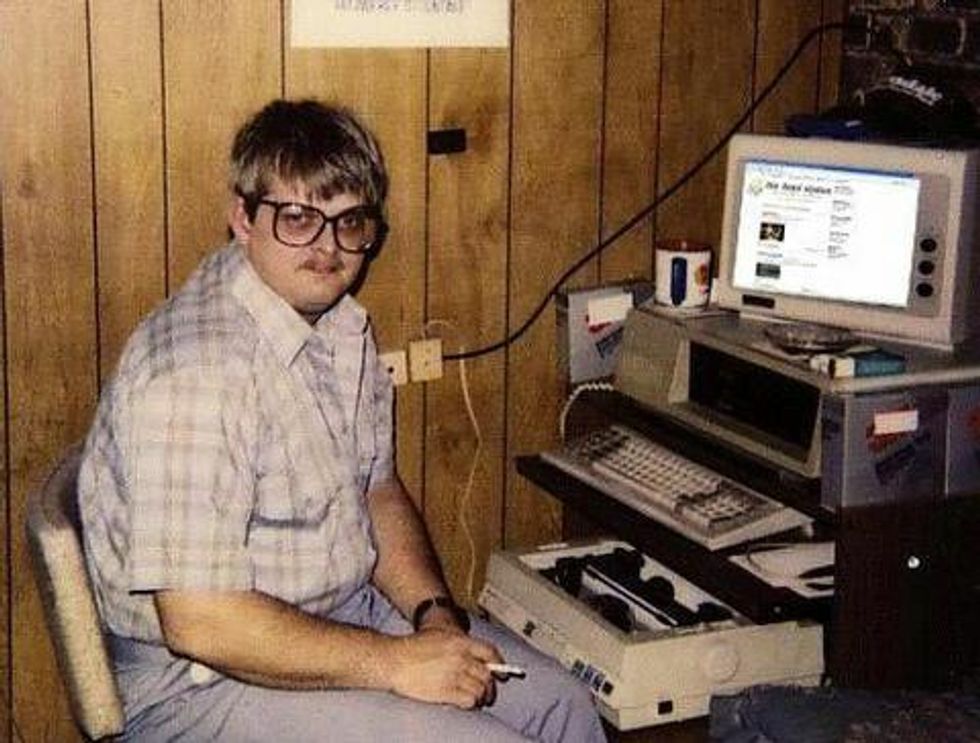 Oh. Not those Amazons?
---
Now that there's nobody left to even pretend they're putting Big Dumb Baby in the corner, Donald Trump's personal war on Amazon owner Jeff Bezos is really heating up, as are his bizarre claims that the Postal Service is losing money on delivering stuff. So of course, Trump continued his one-man crusade to tank Amazon stock today: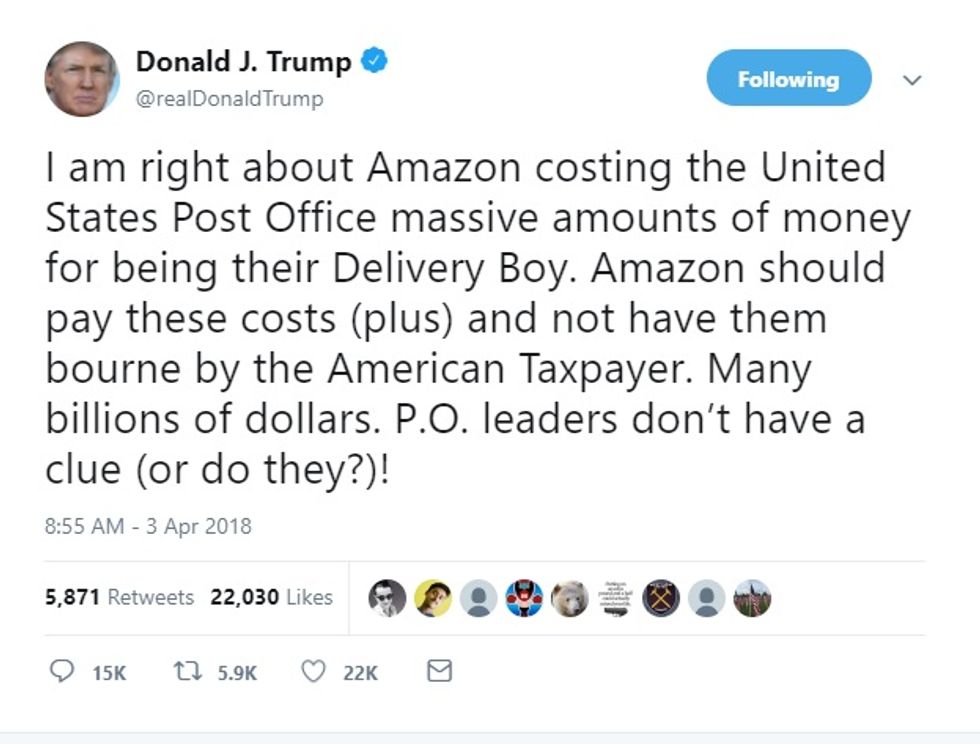 Yep, he's worried about the costs of Amazon deliveries being Jason Bourned by the taxpayers, which means we'll wake up some morning with Combat Tweeting Skills we don't remember learning. As Yr Wonkette noted yesterday, Amazon does get a discounted -- but still profitable -- rate for delivering packages, and the postal service is required by law to make a profit on shipping packages. So yeah, Trump's still lying, just like he lied about the US balance of trade with Canada.
Which is not to say the lies aren't effective: Amazon stock was down by 5 percent yesterday, and the Nasdaq index, which is loaded with tech business, was down 2.7 percent for the day, and down 9.5 percent from its high point last month. Some of it is probably due to disenchantment with Facebook and uncertainty about trade with China, too, but as Gabriel Sherman notes in Vanity Fair, Trump is simply delighted by the chance to hurt Jeff Bezos, so he's likely to keep up the attacks. US economy? What US economy? The guy's having fun!
Now, according to four sources close to the White House, Trump is discussing ways to escalate his Twitter attacks on Amazon to further damage the company. "He's off the hook on this. It's war," one source told me. "He gets obsessed with something, and now he's obsessed with Bezos," said another source. "Trump is like, how can I fuck with him?"
No matter how many times he's been told the US Postal Service makes buttloads of money from Amazon, Trump wants to direct the USPS to raise rates on Amazon, because that would hurt Bezos. Hurting Jeff Bezos is a matter of national importance, because Bezos owns the Washington Post, and the Washington Post has been very unfair to Trump by continuing to do journalism at him. Very good journalism at that -- when other papers have been shedding reporters, Wapo has been hiring.
Ergo, it is simply logical that Amazon must suffer, especially because new White House Economic Adviser Larry Kudlow has yet to remind Trump that the Postal Service really needs Amazon, since email has taken away much of the system's revenue:
"Trump doesn't have Gary Cohn breathing down his neck saying you can't do the Post Office shit," a Republican close to the White House said. "He really wants the Post Office deal renegotiated. He thinks Amazon's getting a huge fucking deal on shipping."
Yes, we really are in 2018, not the Gilded Age, but this really is a US "president" who wants to set postal rates to punish a guy he doesn't like. People in TrumpWorld are also "encouraging Trump to cancel Amazon's pending multi-billion contract with the Pentagon to provide cloud computing services," says Sherman, because isn't that what political power is supposed to be used for? Of course, as former US Attorney Preet Bharara points out, Bezos just might have some leverage of his own:
What if Jeff Bezos bought Twitter with the change in his pocket and shut Trump's account?
— Preet Bharara (@PreetBharara) April 3, 2018
Trump just plain doesn't believe repeated statements by Bezos and WaPo that Bezos has no involvement in editorial decisions. Don't be silly! Trump knows how newspapers work, because his pal David Pecker does such a fine job of ensuring the National Enquirer covers Trump positively, right down to buying the rights to stories Trump would rather see buried, like that affair with the gal from the naked-lady books. Hell, if Donald Trump owned a newspaper, he'd definitely tell that newspaper what to print every day, right down to selecting headlines. At least for the few months before the newspaper's inevitable trip to bankruptcy court.
Yr Wonkette is supported by reader contributions. Please click here to send us money. It'll really piss off Donald Trump
[WaPo / Vanity Fair]