Donald Trump Gives Boring Wrong Speech On Economy, But At Least Says 'Titties'
Elections
August 08, 2016 03:22 PM
Boob Says 'Titties'
---
Donald Trump gave another blisteringly wrong speech from a teleprompter Monday and managed not to go off script much, which should be good for at least a few hours of somebody on TV saying yet again that he's begun his pivot to acting "presidential," at least until he decides for some reason he hates Hmong people or one of the other five or six demographics he hasn't yet alienated. We're not sure it's working so great. Even the staid New York Times ran with the headline "Donald Trump, Hoping to Change Subjects, Says He Will Bring Prosperity." In an address to the Detroit Economic Club, Trump laid out a bold new agenda of tax cuts and shit expected to benefit the wealthy, while lying through his teeth about the current state of the economy.
For the rich, Trump offered such innovative Republican ideas as ending the estate tax, capping the business income tax rate at 15 percent, and throwing out the Paris climate agreement, because science isn't real. He also offered a heartwarmingly vague promise to place a moratorium on new financial regulations until there's "significant growth" in the economy, which would somehow have to beat the 77 consecutive months of growth under Barack Obama since the recovery began. As the Washington Post points out, that moratorium on regulation is awfully flexible, and "weirdly parallels his proposal to halt immigration by Muslims until federal officials 'figure out what's going on.' It's a sweeping step with vague boundaries."
At least there was one entertaining moment where Trump said "titties" instead of "cities," which is pretty much all we needed to get us through the rest of the day:
Also, he lied again about a whole bunch of stuff that he's been corrected on before, but who cares, because without lies, the man has practically nothing to say after stating his name. Here are just a few of the many Bullshittings he didst spread, as tweeted by WaPo's fact-checkers Glenn Kessler and Michelle Ye Hee Lee:
On the "labor force participation rate":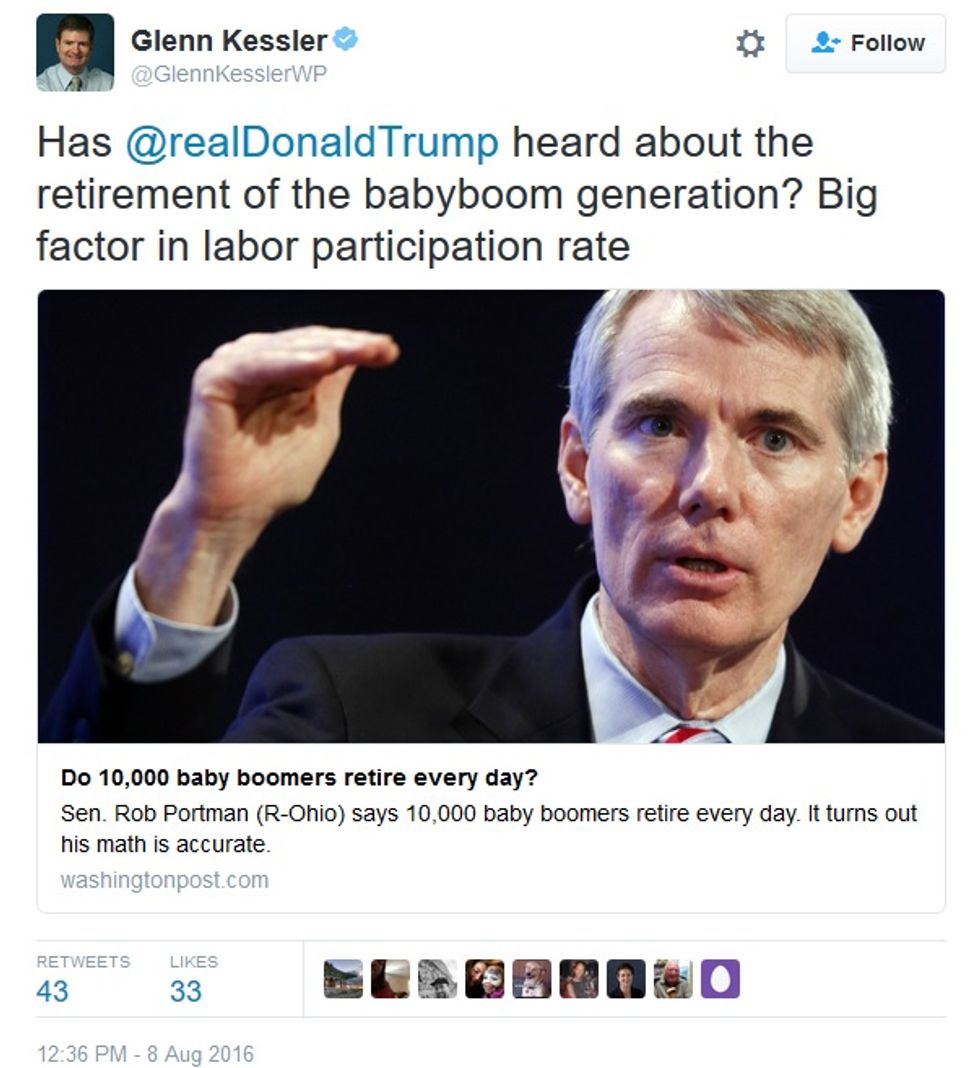 On the claim that Obamacare would kill two million jobs -- only refuted two years ago, but why lose a good (false) line?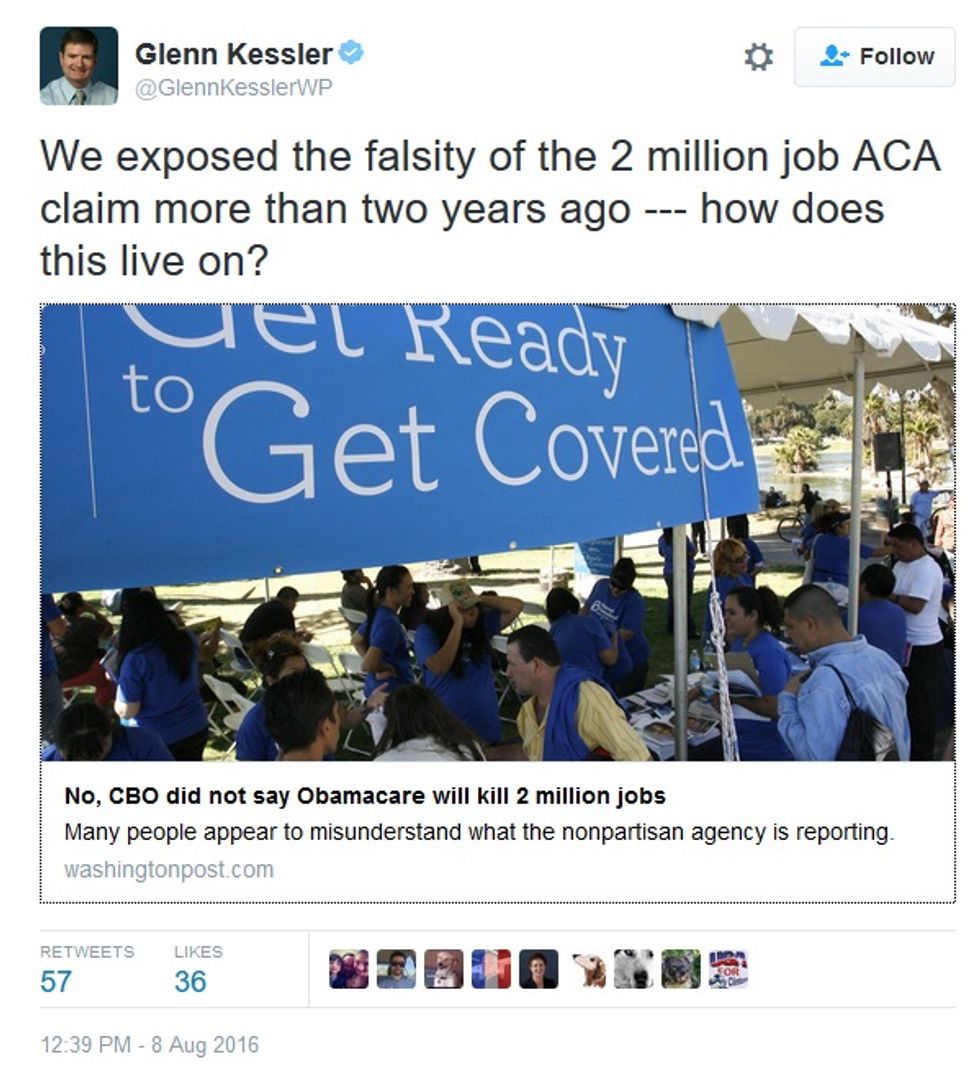 On Trump's bullshit claim that the unemployment rate is really 23 percent: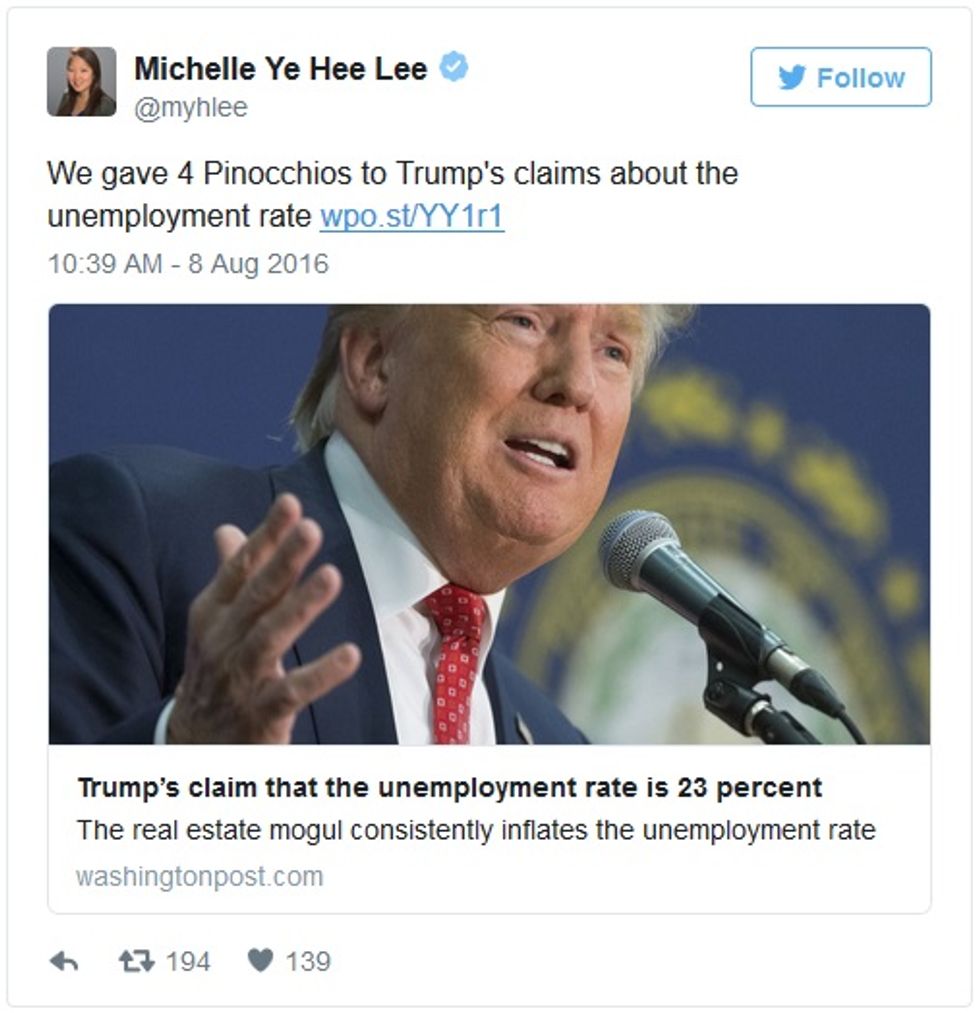 And so on; Media Matters has a bunch more. It's easier to summarize what wasn't a lie: We're fairly certain Mike Pence remains Trump's running mate, and that the two of them were in Detroit. We can't prove it wasn't a green screen.
Of course, Trump also repeated his
dumb campaign ad lie
that Hillary Clinton told a crowd last week that she plans to raise taxes on the middle class. In reality, she said "
aren't
going to raise taxes on the middle class," but it sounded a little like she said "are" instead, which by playground rules of logic makes it her official policy and invalidates her
actual tax plan.
By the same property, we could now insist that Donald Trump genuinely plans to invest trillions of dollars in America's titties. The reality, of course, is that Mr Trump is only interested in the titties of close family members.
[NY Times / WaPo / The Hill / Media Matters]